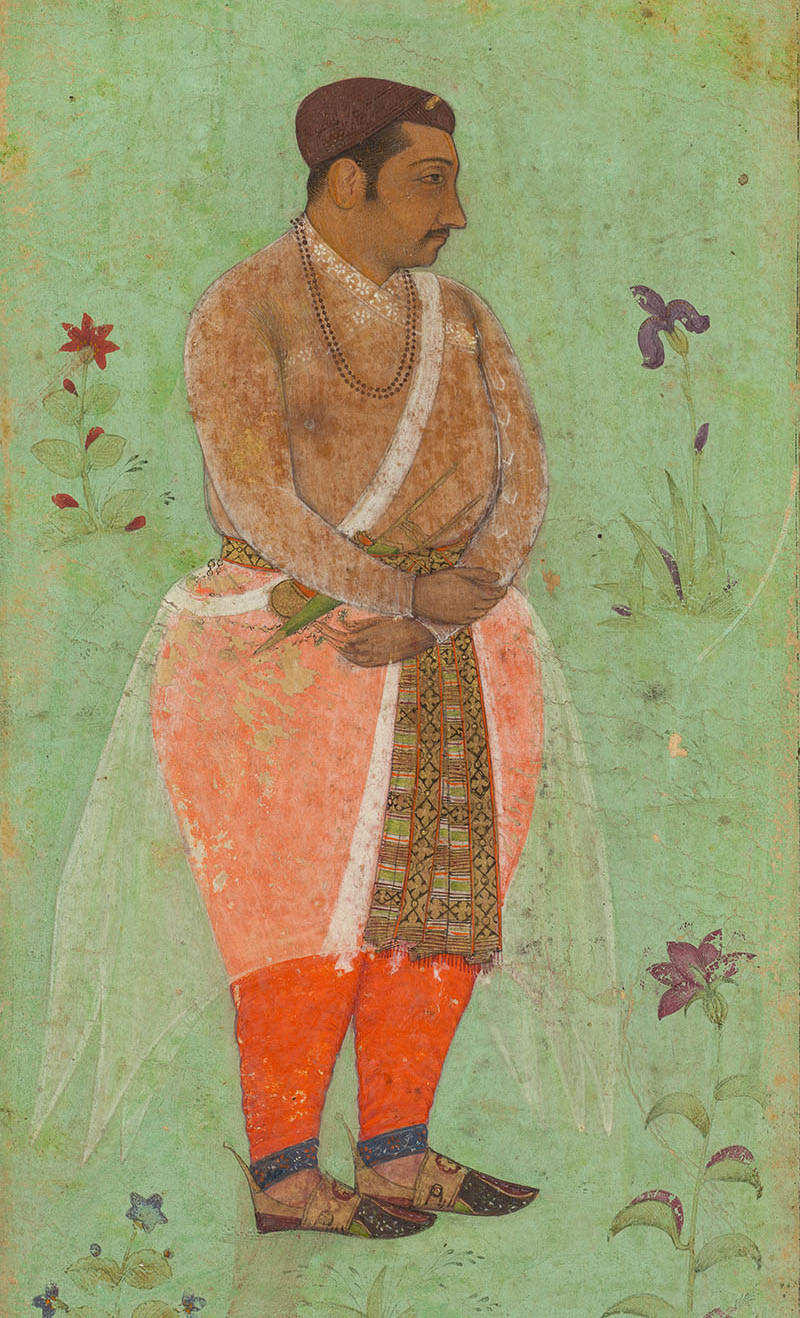 Portrait of Suraj Singh Rathor, Raja of Marwar and Maternal Uncle of Shah Jahan (A Page from the Prince Khurram Album).; Bishandas, Mughal, Northern India; c.1600; Opaque watercolour with gold on paper; 29.1 x 19 cm; Cleveland Museum of Art
A seventeenth-century artist of the Mughal painting school, Bishandas was well-known for his naturalistic portraits. Painting in the court of Mughal emperor Jahangir, Bishandas was the nephew of Nanha, another painter active in the courts of Akbar and Jahangir. He was also one of the court artists working for Jahangir before his reign in Allahabad as well as during his reign in Agra.
Bishandas' most significant commission was when he was sent to Persia (now Iran and Iraq) – where he remained from 1613 to 1620 – to paint portraits of the Shah Abbas I and the chief members of his court. After his trip to Persia, emperor Jahangir showed the portraits to the Persian courtiers who judged them for authenticity. Impressed by Bishandas' work, Jahangir gifted him an elephant, which was considered a magnanimous reward at the time. Other significant works by Bishandas include The Birth of Prince (1610–15), a part of Jahangirnama (Book of Jahangir) as well as the Shahnama (Book of Kings) and a book of fables called Anwar-e Suhayl (The Lights of Canopus).
Bibliography
Britannica. "Bishandas." Accessed December 10, 2021. https://www.britannica.com/biography/Bishandas
Google Arts and Culture. "Bishandas." Accessed December 10, 2021. https://artsandculture.google.com/entity/m075lsk
McINERNEY, TERENCE. "THE MUGHAL ARTIST JALAL QULI, ALSO ENTITLED THE 'KASHMIRI PAINTER.'" Artibus Asiae 73, no. 2 (2013): 479–501. http://www.jstor.org/stable/24240821.
Verma, Som Prakash. Mug̲h̲al painter of flora and fauna: Ustād Manṣūr. India: Abhinav Publications, 1999. https://www.google.co.in/books/edition/Mug̲h̲al_Painter_of_Flora_and_Fauna_Us/sVikgEevb-IC?hl=en&gbpv=1&dq=bishandas&pg=PA163&printsec=frontcover
Verma, S.P. "MUGHAL PAINTING, PATRONS AND PAINTERS." Proceedings of the Indian History Congress 61 (2000): 510–26. http://www.jstor.org/stable/44148128.