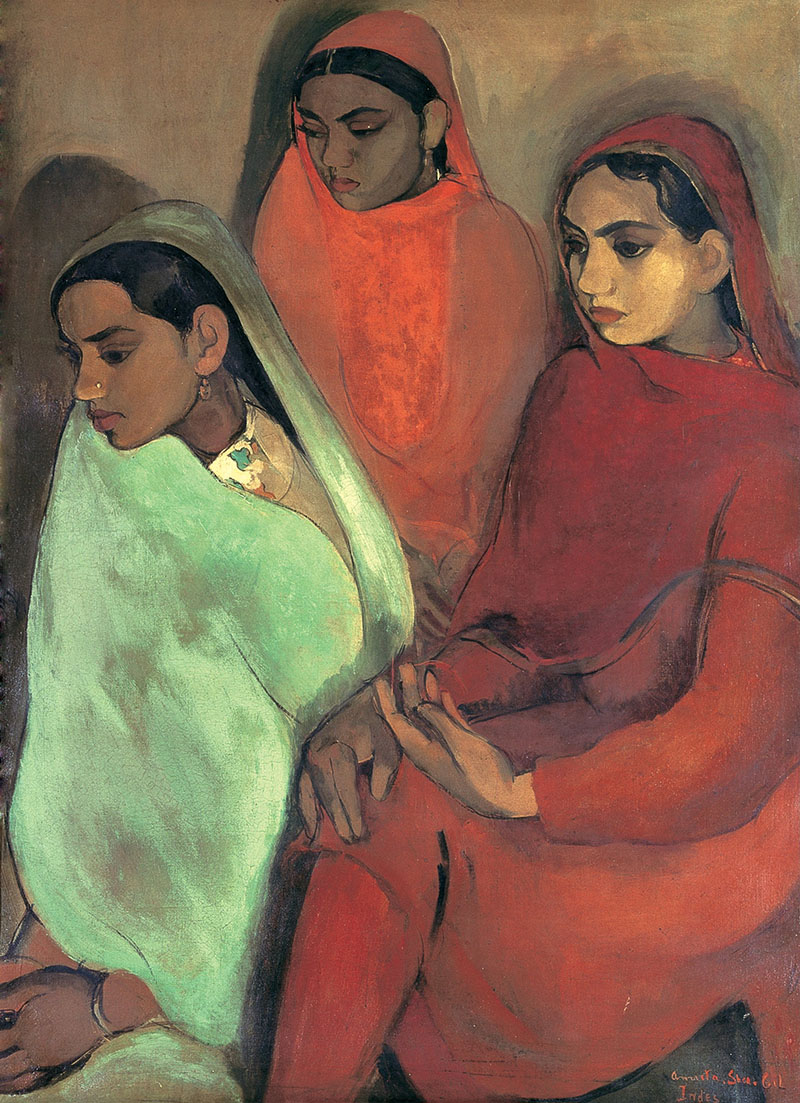 Group of Three Girls.; Amrita Sher-Gil; c. 1935; Oil on canvas; 73.5 x 99.5 cm; Wikimedia Commons
A Hungarian-Indian Modernist painter, Amrita Sher-Gil is considered the first professional woman artist in India. She is primarily known for her paintings of rural India and her self-portraits, which reflected her engagement with her identity and the country. Her works are characterised by bold colours and flat planes, partly inspired by the works of Impressionists such as Paul Cézanne, Paul Gauguin and Amedeo Modigliani.
Sher-Gil was born in Budapest, Hungary, to Umrao Singh Sher-Gil and Marie Antoinette Baktay, and spent the early years of her childhood in the city, following the outbreak of World War I. She began drawing and painting at an early age. The Sher-Gil family returned to India in 1921 and settled in Shimla, where Sher-Gil began to be trained in painting by art tutors engaged by her parents, one of whom recognised her talent and suggested that she be tutored abroad. Following this advice, she was sent to the Santa Annunziata Boarding School, Florence, in 1924. However, she was dismissed from the institution owing to her protests against the school's orthodoxy as well as after she was found painting a nude. Subsequently, she began dividing her time between Shimla and her paternal uncle's home in Saraya, Uttar Pradesh. In 1927, following her maternal uncle's suggestion, she began using live models for her human studies, primarily the people around her such as the household help.
As her artistic aptitude became increasingly apparent, Sher-Gil's family moved to Paris in 1929, where she studied painting at the Académie de la Grande Chaumière under Pierre Vaillent, then the Ḗcole des Beaux-Arts to train under the supervision of painter Lucien Simon. From 1930–32, she undertook several studies of human anatomy, sketching male and female nudes in charcoal. She also began working with oil paints in 1930, which would later become her preferred medium. She produced over sixty paintings during this period, consisting chiefly of self-portraits and portraits of her acquaintances, as well as landscapes, still lifes and nude studies. In 1933, Sher-Gil was inducted as an Associate of the Grand Salon, Paris, when she was just nineteen.
In 1934, she and her family returned to India, where she briefly stayed at her family's mansion in Amritsar, Punjab, and her uncle's estate in Saraya before settling down in Shimla. She soon began exhibiting across the country, finding critical acclaim for her work, especially in Bombay. She won two prizes for her self-portraits at the Delhi Fine Arts Exhibition in 1936 and the gold medal for Three Girls (1935) at the annual exhibition of the Bombay Art Society in 1937. Her prominent works during this period, such as Mother India (1935), reflected her preoccupation with poverty and its abjectness. Towards the end of 1935, Sher-Gil painted Hill Women and Hill Men, which are known for their flat planes and deep hues.
In 1936, Sher-Gil became increasingly interested in Indian miniature paintings, which inspired her to use bright and vivid colours in her own work. She also developed an appreciation for other artistic traditions such as the Ajanta murals. Soon after, she travelled to the Ajanta and Ellora caves; Madurai and Cape Comorin (now Kanyakumari), Tamil Nadu; and Cochin (now Kochi), Trivandrum (now Thiruvananthapuram) and Mattancherry, Kerala, and recorded her travels in works such as Fruit Vendors (1936), Bride's Toilet (1937), Brahmacharis (1937) and South Indian Villagers Going to Market (1937).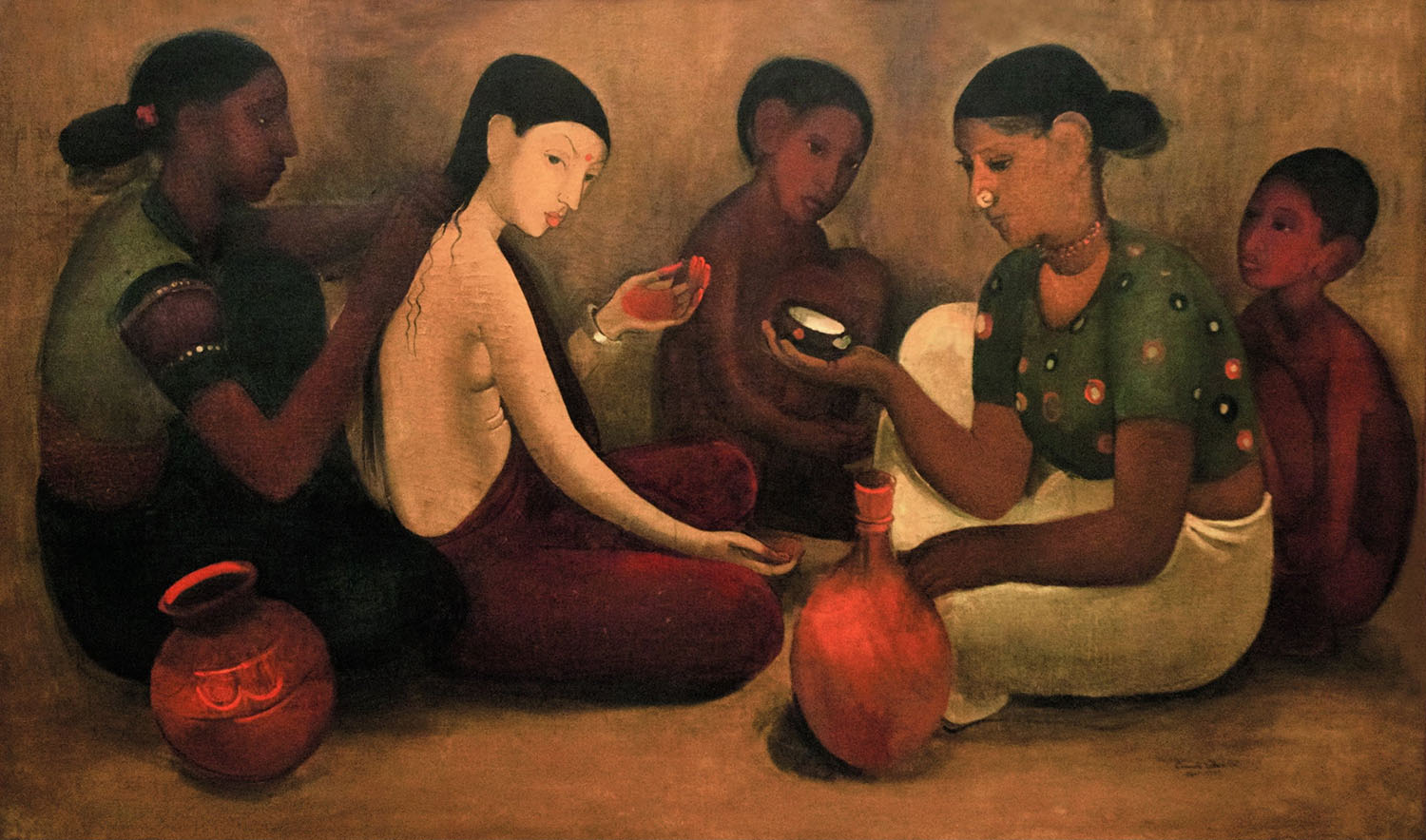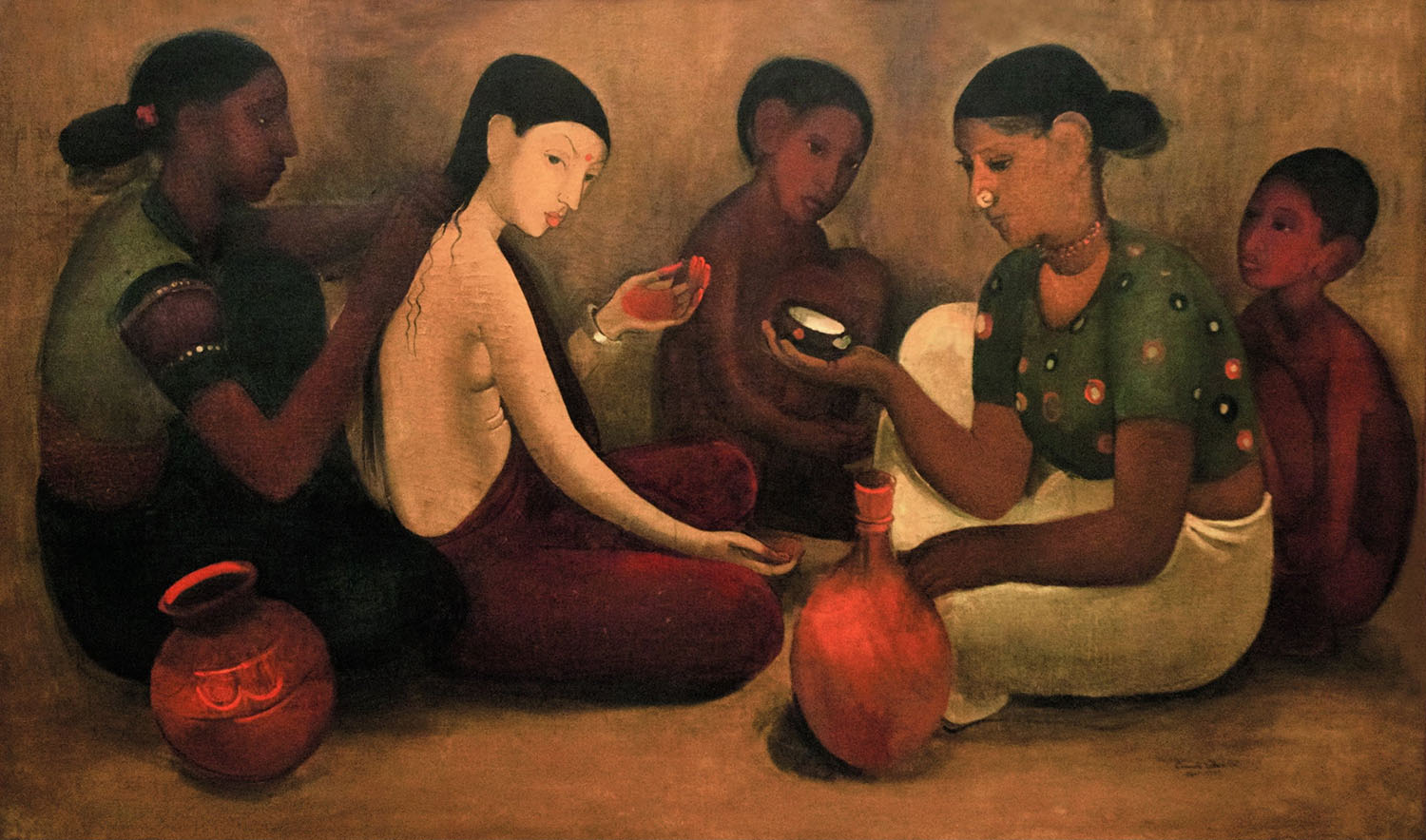 Sher-Gil also employed Primitivism in her work, which was balanced by a formalist emphasis in her art, prompted by an introspective approach to her work as well as her disdain for historicism in Indian painting, such as that practised by the Bengal School and which she found shallow and stunted. Consequently, Sher-Gil developed a visual language that combined the bright hues of Rajput and Pahari miniatures — reds, browns and yellows — with the figural monumentality of the Ajanta murals, creating figures that occupied the frame of her canvas. In the following years, Sher-Gil shifted towards smaller figures that were closer in size to those in miniature paintings. She also began depicting natural elements in her work, such as in Elephants Bathing in a Green Pool (1938), Red Clay Elephant (1938) and The Verandah with Red Pillars (1938), introducing the element of decoration in the form of plants and animals.
In 1938, Sher-Gil briefly moved to Hungary, where she married Victor Egan. Subsequently, she returned to India, where she lived at the Saraya estate before moving to Lahore, Pakistan (formerly in British India) in 1941. Some of Sher-Gil's most famous works were painted during these years in India, such as The Ancient Storyteller (1940), The Bride (1940) and Woman Resting on a Charpoy (1940).
Sher-Gil died in December 1941, a few months after moving to Lahore. Following her death, her family donated several of her paintings to the National Gallery of Modern Art, New Delhi. Her works were declared a National Art Treasure by the government of India in 1976, making it illegal for them to be transported out of the country without official permission. India Post also released a stamp featuring her work Hill Women in 1978.
Bibliography
Our website is currently undergoing maintenance and re-design, due to which we have had to take down some of our bibliographies. While these will be re-published shortly, you can request references for specific articles by writing to hellomapacademy@map-india.org.