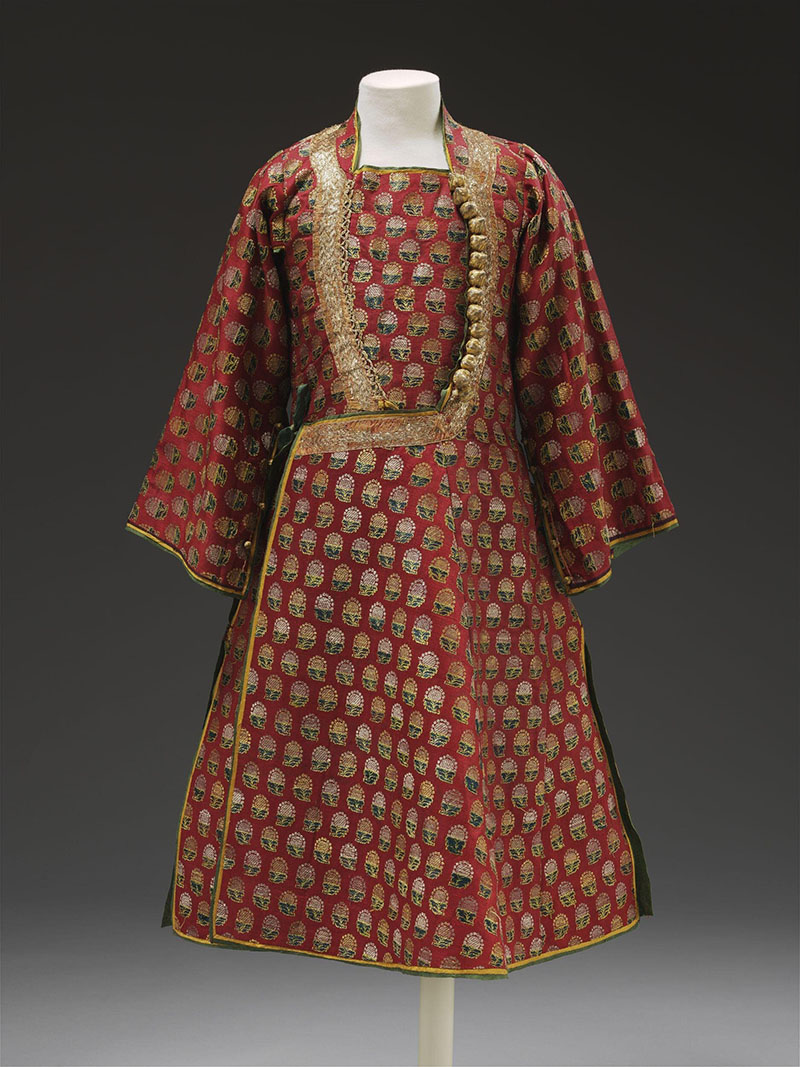 Child's Angarkha; India; Mid 19th century; Silk, woven with metal-wrapped thread, and trimmed with silk; 114.3 x 76.2 cm; Victoria and Albert Museum
A loose-fitted tunic that is tied on the side around the waist, derived from the jama, angarkha derives its name from the Sanskrit word angaraksha which means "that which protects or covers the limbs."
Angarkha bears a very close resemblance to the jama, with the difference being that unlike jama it is not fitted around the breast, but the waist. Its length and flare vary, but it is known to commonly be nearly knee-length and frock-shaped. A version named angarkhi, denotes a shorter cut that reaches just below the hips. Little is known about the point at which angarkha was developed separately from the jama but its relative lightness is attributed to a point of origin, perhaps in Rajasthan, where it was a formal dress in the ceremonial court known as the kamari angarkhi, reaching only the until the waist. Often, it has an opening around the chest, which is covered by a parda (inner flap) and tied around the waist.
Angarkha became a prominent costume of the court of the Nawab of Awadh during the eighteenth and nineteenth centuries and was made in a range of materials and styles – from muslin and chikankari in the summers to brocade and velvet for festive occasions. It was worn with a churidaar pajama underneath.
Bibliography
Our website is currently undergoing maintenance and re-design, due to which we have had to take down some of our bibliographies. While these will be re-published shortly, you can request references for specific articles by writing to hellomapacademy@map-india.org.