A style of metal thread embroidery characterised by the use of thin, flattened gold or silver wires called badla, which are threaded through a delicate base fabric such as malmal without the use of a thread or glue. Badla wires are used to create two distinct types of embroidery: kamdani, in which entire patterns are filled using badla, and mukaish or fardi ka kaam, in which the metal wires are inserted and twisted into the fabric to create small dots of floral and geometric patterns. Badla embroidery is also referred to as sachcha kaam due to its traditional use of pure gold and silver.
This style is believed to have been introduced to India by the Mughals. It flourished in Lucknow and surrounding areas in the eighteenth and nineteenth centuries, under the patronage of the Nawabs and the upper classes of Awadh. By the nineteenth century, the practice also became widespread among embroiderers in West Asia and southeastern European regions, including Greece, Egypt, Syria and Turkey.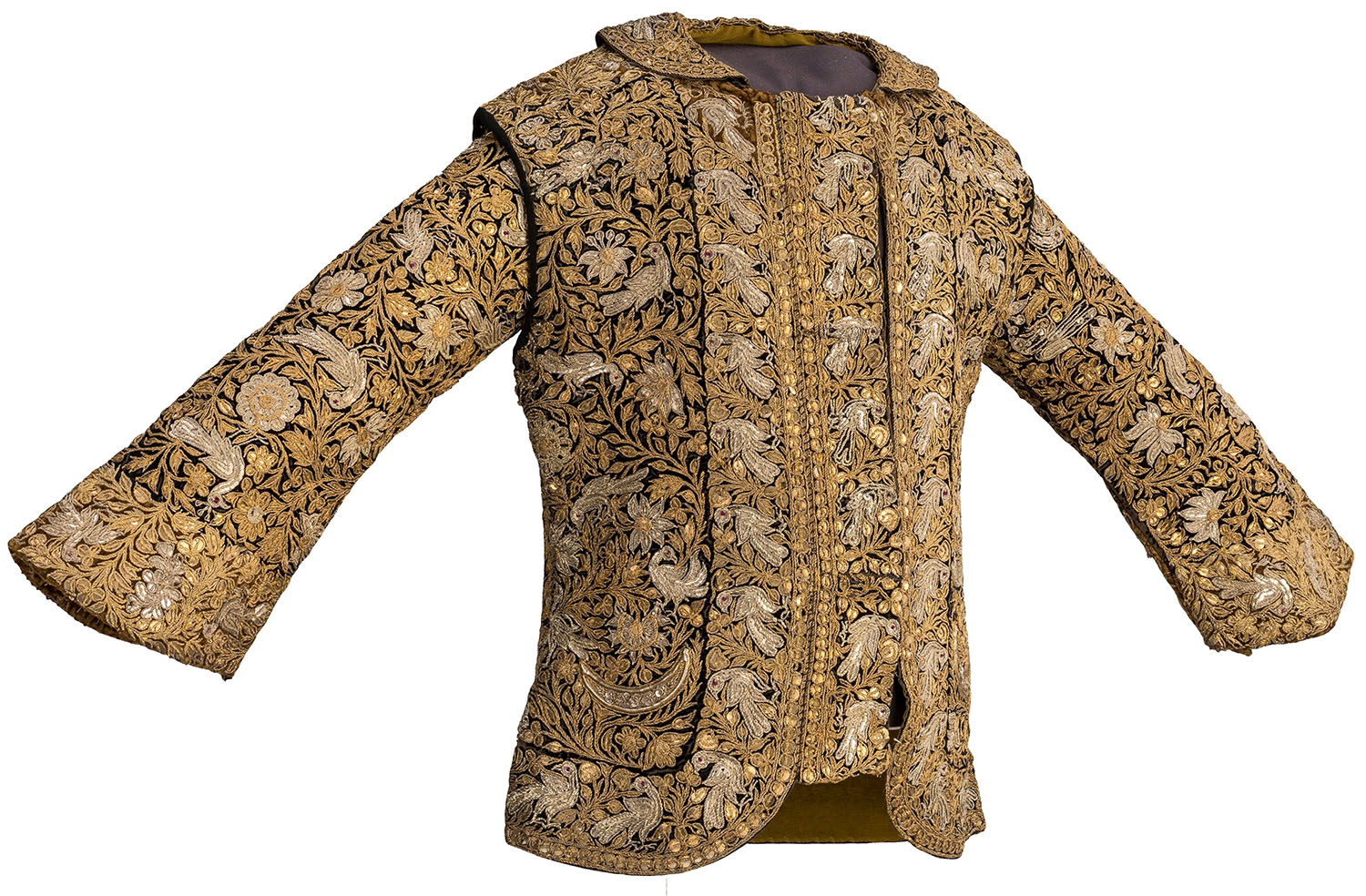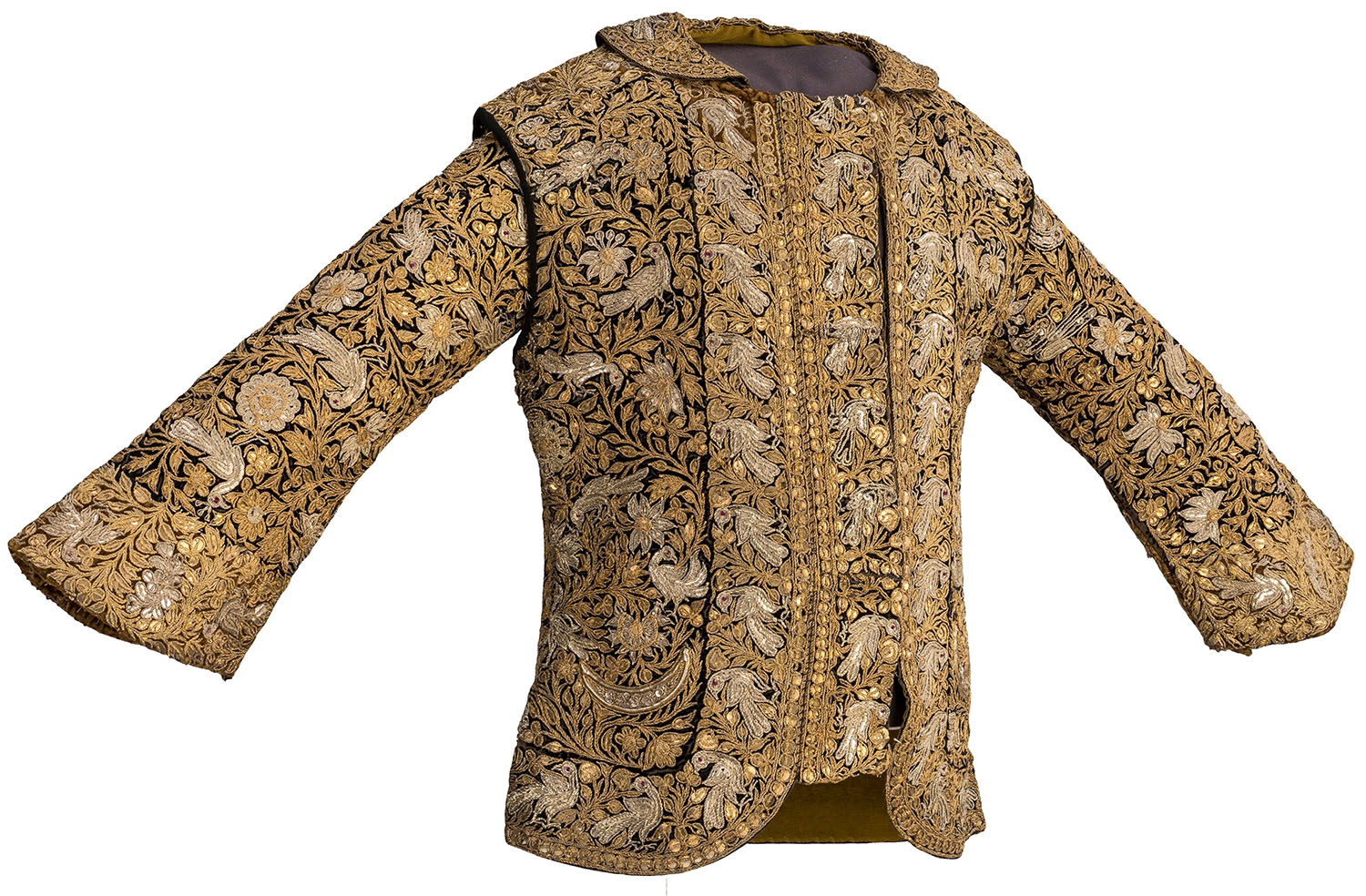 Unlike other intricate forms of embroidery, badla work does not use a frame to hold the fabric taut; instead, artisans use their fingers to control both the fabric and the badla wires. To prepare the fabric, a design is first traced on it by hand. A porcupine quill or a sharpened ivory stick is then used to create perforations, called fardi, along the traced patterns, through which the sharpened badla is then inserted, with the aim of preserving symmetry on both sides of the fabric. As the last step, the embroidered fabric is laid flat and a cowrie shell is rubbed over the embroidered parts to flatten the wire against the fabric and burnish it to a shine.
Common designs in badla embroidery include jaali patterns, paisleys, bel and floral motifs, and depictions of animals such as fish and peacocks. This style of embroidery is often rendered on fine, semi-transparent fabrics; for instance, sarees with badla work feature gold and silver thread-work over delicate fabrics such as pure chiffon and georgette. Badla work can also be combined with other embroidery techniques such as chikankari and tilla. It has also been used for decorating curtains, bags, and saddles used on horses and elephants.
Since the mid-twentieth century, gold and silver badlas have increasingly been mixed or replaced with other, less expensive materials such as copper or metallised polyester film. Today, the number of artisans who practise the original technique — many from Muslim communities in Uttar Pradesh — has dwindled, and newer generations of artisans are apprehensive to take up the practice owing to long work hours, lack of government support and poor working conditions. Currently, badla-based embroidery is also practised in Jaipur, Jodhpur, Ahmedabad and Hyderabad.
Bibliography
Our website is currently undergoing maintenance and re-design, due to which we have had to take down some of our bibliographies. While these will be re-published shortly, you can request references for specific articles by writing to hellomapacademy@map-india.org.