Handwoven using locally grown mulberry silk, tussar or wool in West Bengal, the Baluchari (or Baluchar) saree features elaborate brocade work on the pallu, which depicts scenes from the social life and traditions of the region. They are one of the only sarees from South Asia's late medieval period that prominently feature human figures as motifs. The intricate pictorial depictions are woven almost entirely from silk without the use of zari, distinguishing them from other silk sarees and brocade traditions of India. They typically have dark colours such as maroon, deep blue, deep green and purple. The Baluchari saree further stands out among the silk weaving traditions of India for its monochromatic impressions created despite the use of four or five differently coloured pattern wefts in the weaving process.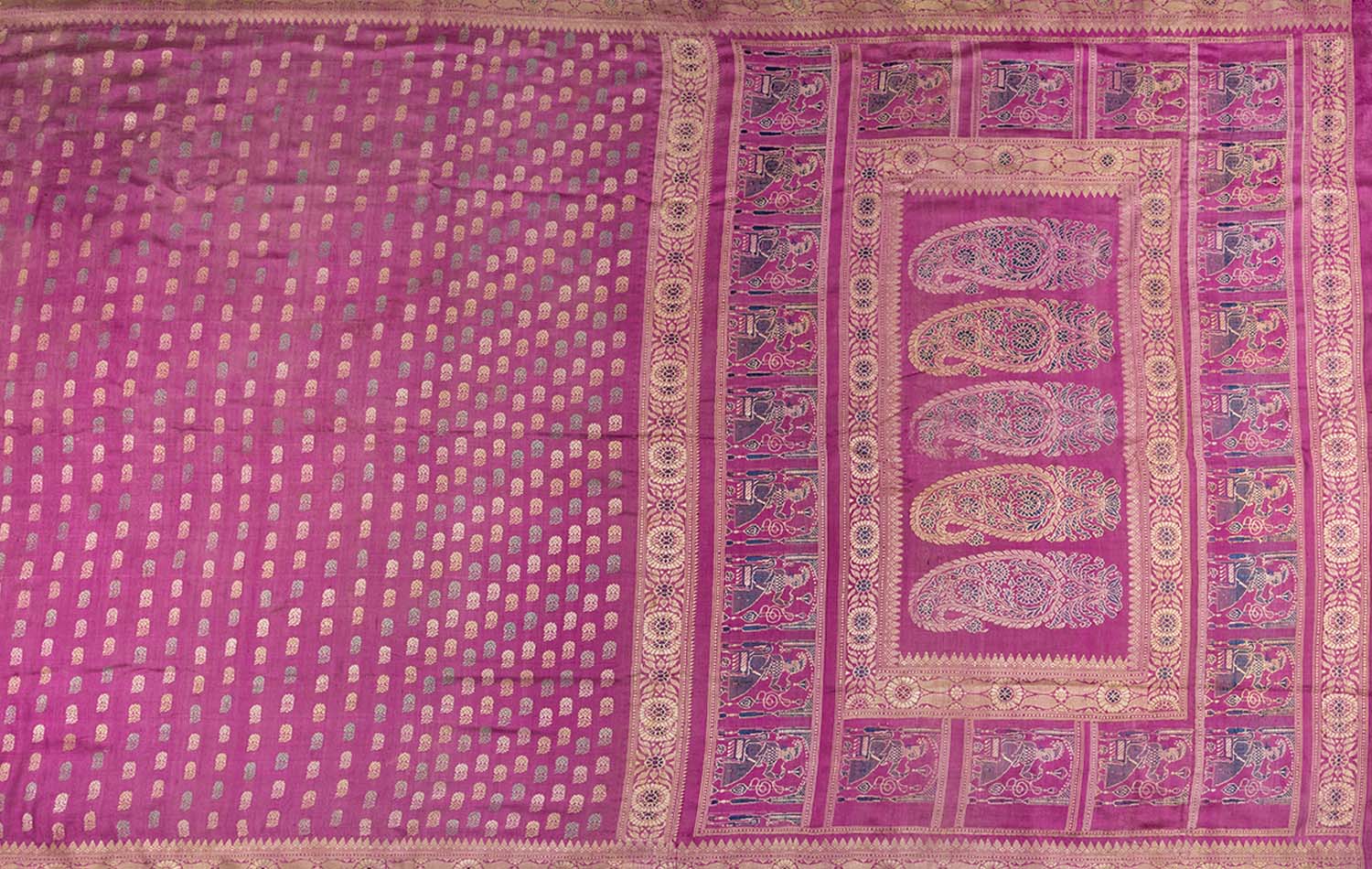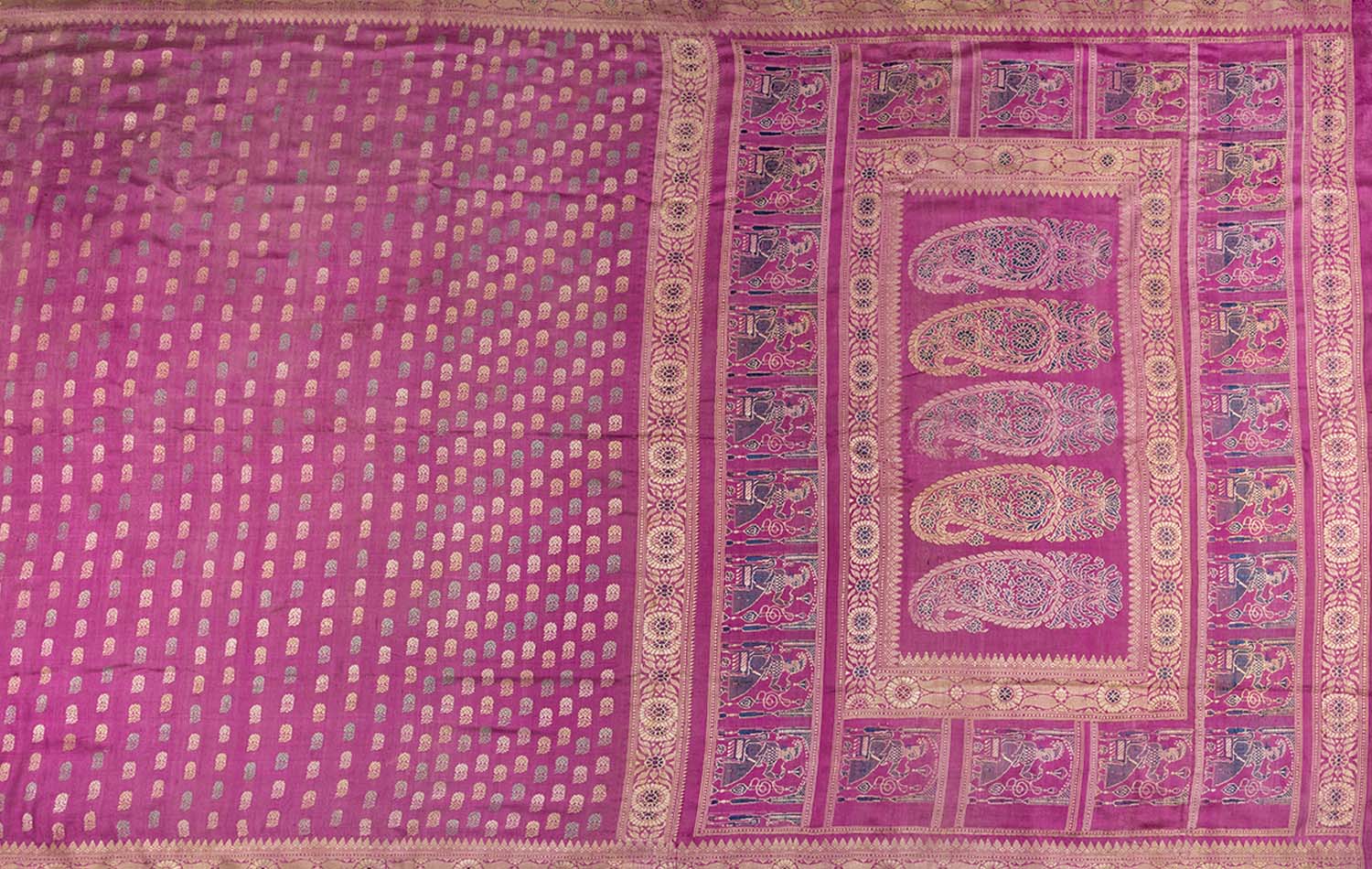 The production of the Baluchari saree can be traced to Murshidabad, when the Nawab of Bengal, Murshid Quli Khan (1717–27) relocated his kingdom's capital from Dhaka to Murshidabad and brought a community of weavers who settled in surrounding villages, including Baluchar. In addition to Murshidabad, the sarees were also produced in Dhaka and parts of undivided Bengal.
Woven from mulberry silk, a distinctive feature of Baluchari sarees is the use of large kairis or paisleys as central motifs on the pallu, which have intricate and broad borders. Historically, these sarees were renowned for their depictions of aristocratic men and women smoking hookahs, Nawabs reclining on bolsters, European officers in conversation and modes of transport such as trains and steamboats. While earlier Baluchari sarees depicted social scenes from the Nawabi court, representations of Company officials and other Europeans became increasingly common after the Battle of Plassey in 1757.
The motifs are first drawn on graph paper, then punched into cards used in a jacquard loom, making it simpler to transfer the designs onto the sarees. The saree is woven with its reverse side facing up, and the karigar uses a mirror to be able to see the weaving. Although similar to Gujarati and Benaras brocades, Baluchari sarees are distinguished by the numerous human and animal motifs interspersed between jaalis and floral vine borders, creating a homogenous design throughout the garment. The motifs face inwards from the borders of the saree and culminate in a central pictorial depiction on the pallu, which is sometimes almost two metres long, indicating that it may have been created to be draped over the shoulder to cover the upper body, similar to the Gujarati drape.
The production of Baluchari sarees peaked between the second half of the eighteenth century and the first half of the nineteenth century — a period during which undivided Bengal was annexed by the British East India Company. In the latter half of the nineteenth century, due to frequent flooding in Murshidabad, production moved to other parts of the town and further south to Bishnupur. The weavers soon began using tussar silk and motifs inspired by the architecture of Bishnupur temples and Islamic ornamentation, thus capturing and narrating the changing scenario of colonial Bengal, specifically Murshidabad.
Low demand due to competition from inexpensive alternatives and the increasingly popular Benaras brocade hampered the production of Baluchari sarees in the twentieth century. There have since been numerous attempts to revive the tradition by introducing weavers to the jacquard loom as well as the Benarasi jala to help preserve motifs and encourage intricate weaving. In 2009, Baluchari sarees received a Geographical Indication (GI) status from the Government of India for their territory-specific production and characteristics, authenticating only those sarees manufactured in Bankura district as genuine.
Bibliography
Ahmed, Monisha, ed. 2015. "Sahib, Bibi, Nawab: Baluchar Silks of Bengal 1750-1900." Marg Magazine 66 (3): 92–95. https://www.marg-art.org/product/UHJvZHVjdDo0ODk3.
App, Urs. 2011. The Birth of Orientalism. University of Pennsylvania Press.
Chishti Ṛta Kapur, and Martand Singh, eds. Saris of India: Tradition and Beyond. New Delhi: Lustre Press, 2010.
Dhamija, Jasleen. 1995. The Woven Silks of India. Marg Publications.
Dhamija, Jasleen. 2019. Baluchars: The Woven Narrative Silks of Bengal. New Delhi: Niyogi Books.
Geographical Indications of Goods (Registration and Protection) Act, 1999, Act No. 48 (1999).
Ghose, Ajit. 1949. "Figured Fabrics of Old Bengal." Marg Magazine 3 (1): 38–43. https://www.marg-art.org/product/UHJvZHVjdDo1NTM=.
Haque, Zulekha. 2007. "Saree: Proud Heritage of the Women of South Asia." In Kalhār: Studies in Art, Iconography, Architecture, and Archaeology of India and Bangladesh. New Delhi: Kaveri Books.
Museum of Art & Photography. n.d. "Saris, Odhanis and More: Woven Tales from India." Google Arts & Culture. https://artsandculture.google.com/exhibit/saris-odhanis-and-more-woven-tales-from-india-museum-of-art-photography/cQIyk7E6So7LLw?hl=en.
Parikh, Meena, and Aditi Ranjan. 1992. Jala Weaving of Benaras: Craft Documentation Series. Ahmedabad: National Institute of Design.
Ranjan, Aditi and M.P. Ranjan, eds. 2009. Handmade in India: A Geographic Encyclopaedia of Indian Handicrafts. New York: Abbeville Press.
Reddy, Sowmya S. 2020. Tana Bana: The World of Saree. Notion Press.
Shah, Darshan and Mayank Mansingh Kaul. 2016. Baluchari: Bengal and Beyond. Kolkata: Weavers Studio Resource Centre.