ARTICLE
Beetle Wing Embroidery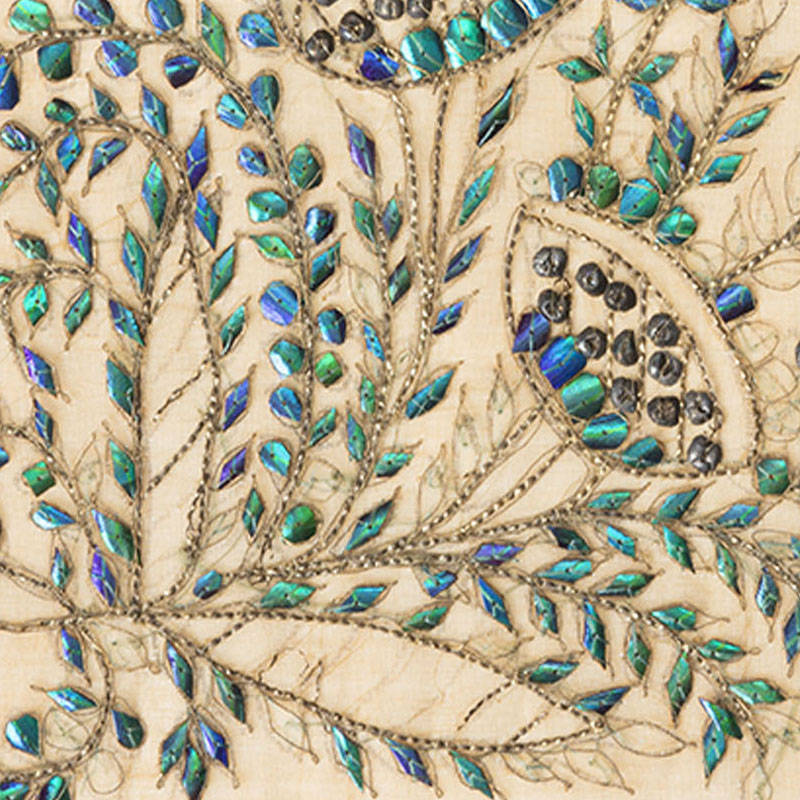 Detail, Fragment with Floral Vines Adorned with Beetle Elytra. ; India ; 19th century ; Cotton ground, beetle elytra, gold foil strips, gilt sequins, gold metal-wrapped silk thread; 24.2 x 17.3 cm; Cooper Hewitt, Smithsonian Design Museum
Used to embellish clothing as well as home furnishings with the iridescent wings, or elytra, of the Jewel beetle of the Buprestidae family, beetle wing embroidery has been historically used in India, Southeast and East Asia and the Middle East. Their earliest recorded use in India dates back to the fifteenth century when the blue-green jewel tones of beetle wings were often paired with lustrous zardozi embroidery to decorate clothing worn to signify high status in the Mughal courts. Examples of this form of surface decoration began to appear in Europe, especially in countries such as England and France, which had well-established trade and colonial relations with Asia.
During the Victorian era in Europe, this style of embroidery began to appear on gowns and accessories, and by the nineteenth century such embroidery work was being created in Benaras (now Varanasi), Calcutta (now Kolkata), Hyderabad and Madras (now Chennai), solely for the export market. A famous example of this was the "Peacock Dress" worn by Mary Victoria Leiter, or Lady Curzon the Vicereine of India, at the 1903 Delhi Durbar. The dress, now at Kedleston Hall, Derbyshire, was patterned like a peacock's tail and was embroidered with zari and beetle wings.
The wing casings of the Sternocera aequisignata are usually preferred because of their blue-green-purple iridescence as well as their durable coat of colour. In Japan, the wing casings of Chrysochroa fulgidissima, known as Tamamushi ('jewel insect'), are used instead. The process of decoration is generally the same with minor regional variations. The casings are either sewn as a whole onto the material to be embroidered or are cut into small pieces, shaped and then stitched on the fabric, usually fine muslin or net, like sequins. In traditional examples like Mughal era clothing and turbans, they are usually added only around the edges of fabric due to their fragility and pierced using a fine retaining thread. In a few cases, particularly Victorian garments such as Lady Curzon's Peacock Dress, one can see the casings embroidered in the body of the cloth as well.
Today, medieval and colonial examples of beetle wing embroidery are preserved in the collections of the Victoria and Albert Museum in London, the City Palace collection in Jaipur, the Bharat Kala Bhavan at Benaras Hindu University and the National Museum in New Delhi. Since the beetle wing casings were part of elaborate garments that were rarely worn, they have largely survived well, even in cases where the textile itself may have deteriorated.
Bibliography
Our website is currently undergoing maintenance and re-design, due to which we have had to take down some of our bibliographies. While these will be re-published shortly, you can request references for specific articles by writing to hellomapacademy@map-india.org.