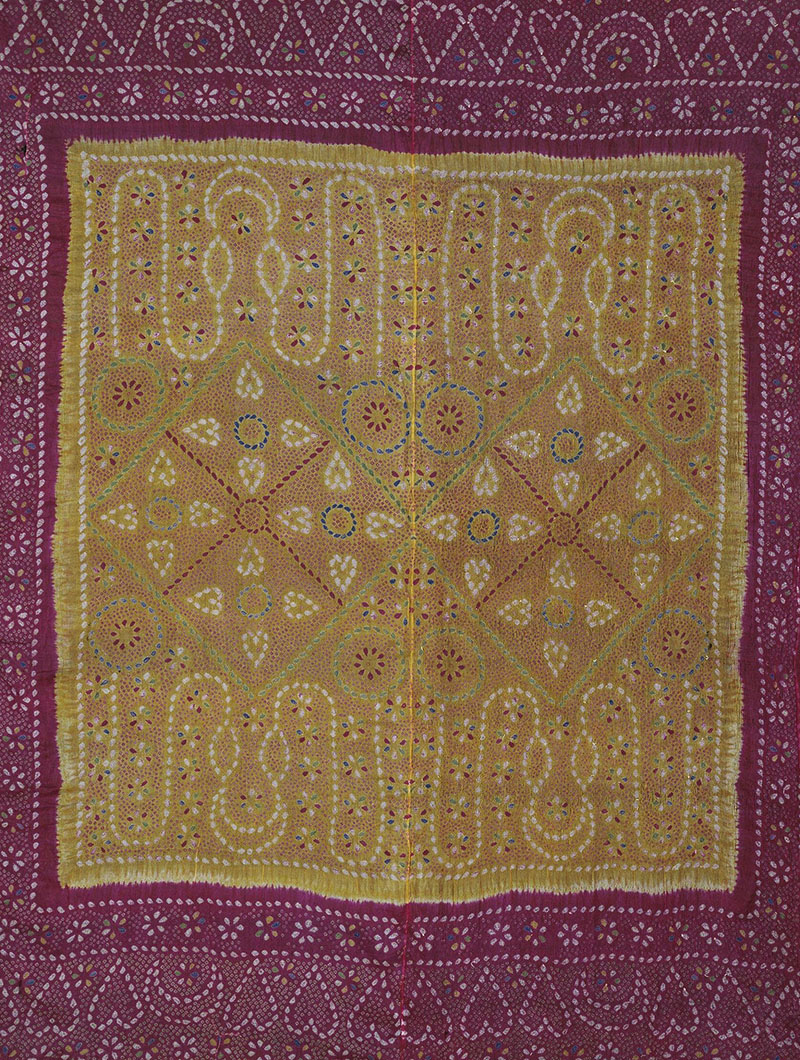 Odhani; Bikaner, Rajasthan, India; Mid 20th century; Tie-dyed and stitch-resist dyed silk chiffon; 169 x 225 cm; Victoria and Albert Museum
A sheer, lightweight fabric that resembles a fine net or mesh upon close inspection, chiffon is believed to have originated in France in the 1700s and derives its name from the French chiffe, meaning "cloth". Despite being lightweight, the fabric has considerable strength and durability. While originally woven using pure silk, the fabric gained popularity in the 1930s, after it began to be woven in nylon, which allowed it greater resilience and lowered its cost of production.
Chiffon is woven with a balanced plain weave — the warp and weft threads used on the loom are of the same weight. The threads are woven in a crisscross pattern, which gives the fabric its characteristic checker-board appearance on close inspection. The yarns are alternately twisted in an "S-twist" and "Z-twist", by spinning the S-twist yarns in one direction and Z-twist yarns in the opposite direction. Due to this twist, a chiffon fabric crumples in different directions, lending the fabric some stretch and a rough feel.
The use of chiffon gained popularity in India in the 1960s following increased patronage from royal families, particularly Maharani Indira Devi of Cooch Behar, who was central to the import of chiffon from France. Indian cinema in the 1970s also played a role in popularising the use of chiffon in sarees and dupattas. Today, the fabric is woven with a wide variety of cotton, silk or synthetic fibres such as nylon, polyester and rayon. In India, it is used to make sarees as well as bandhej and leheriya fabric.
Bibliography
Our website is currently undergoing maintenance and re-design, due to which we have had to take down some of our bibliographies. While these will be re-published shortly, you can request references for specific articles by writing to hellomapacademy@map-india.org.