One of the ten Mahavidyas from the Shakti Tantric pantheon, Chinnamasta is a goddess represented in the nude; her left hand holds her decapitated head, which drinks from one of three streams of blood gushing from her severed neck. Her attendants Dakini and Varnini stand on either side, feasting on the other streams. She usually stands or sits atop Rati and Kama, who are engaged in sexual intercourse. As a Mahavidya, Chinnamasta is believed to be a fierce form of Devi, the mother goddess. Chinnamasta is depicted holding a knife in her right hand, with a skull-lined rosary, necklace made of bones and a serpent around her neck.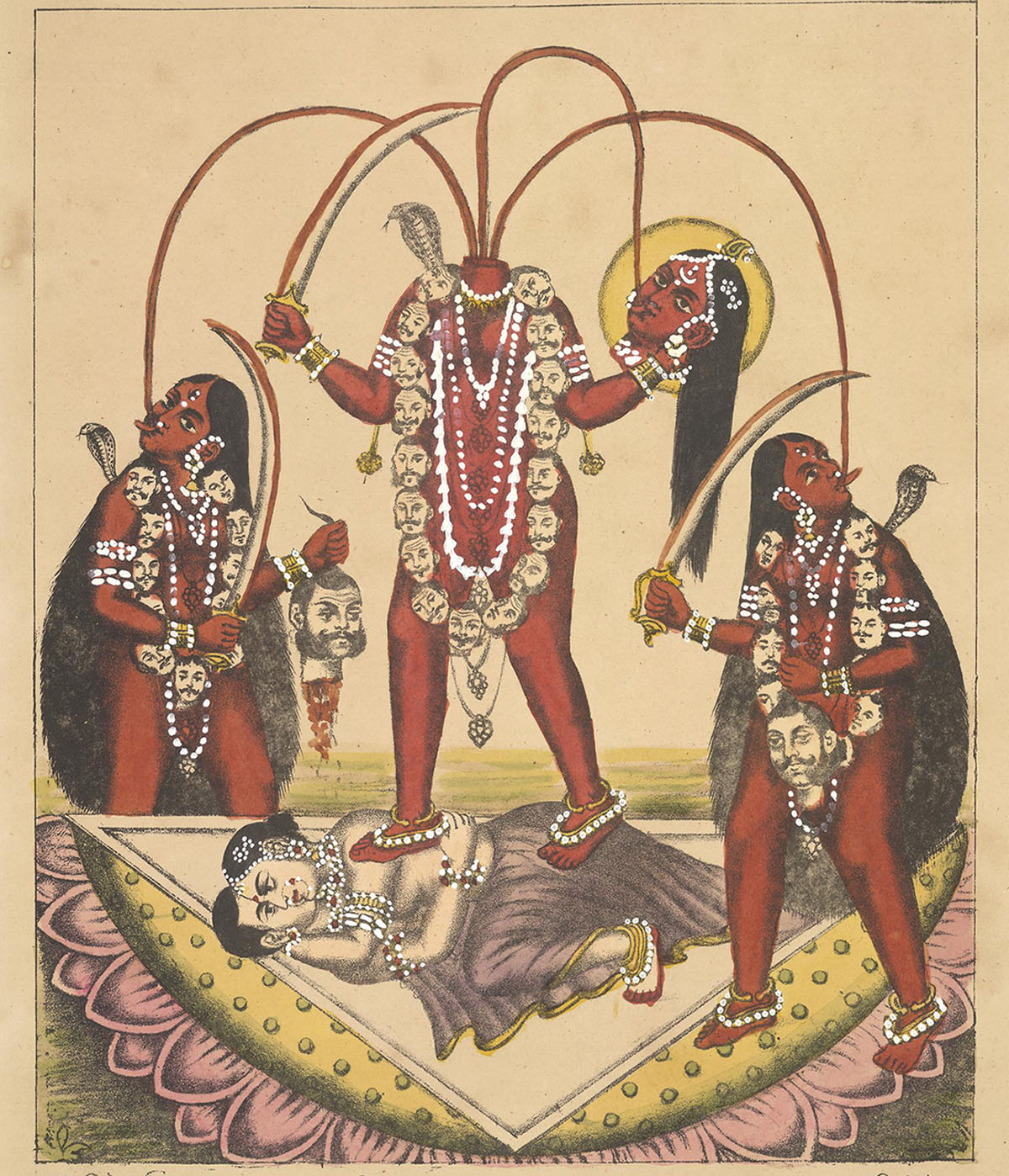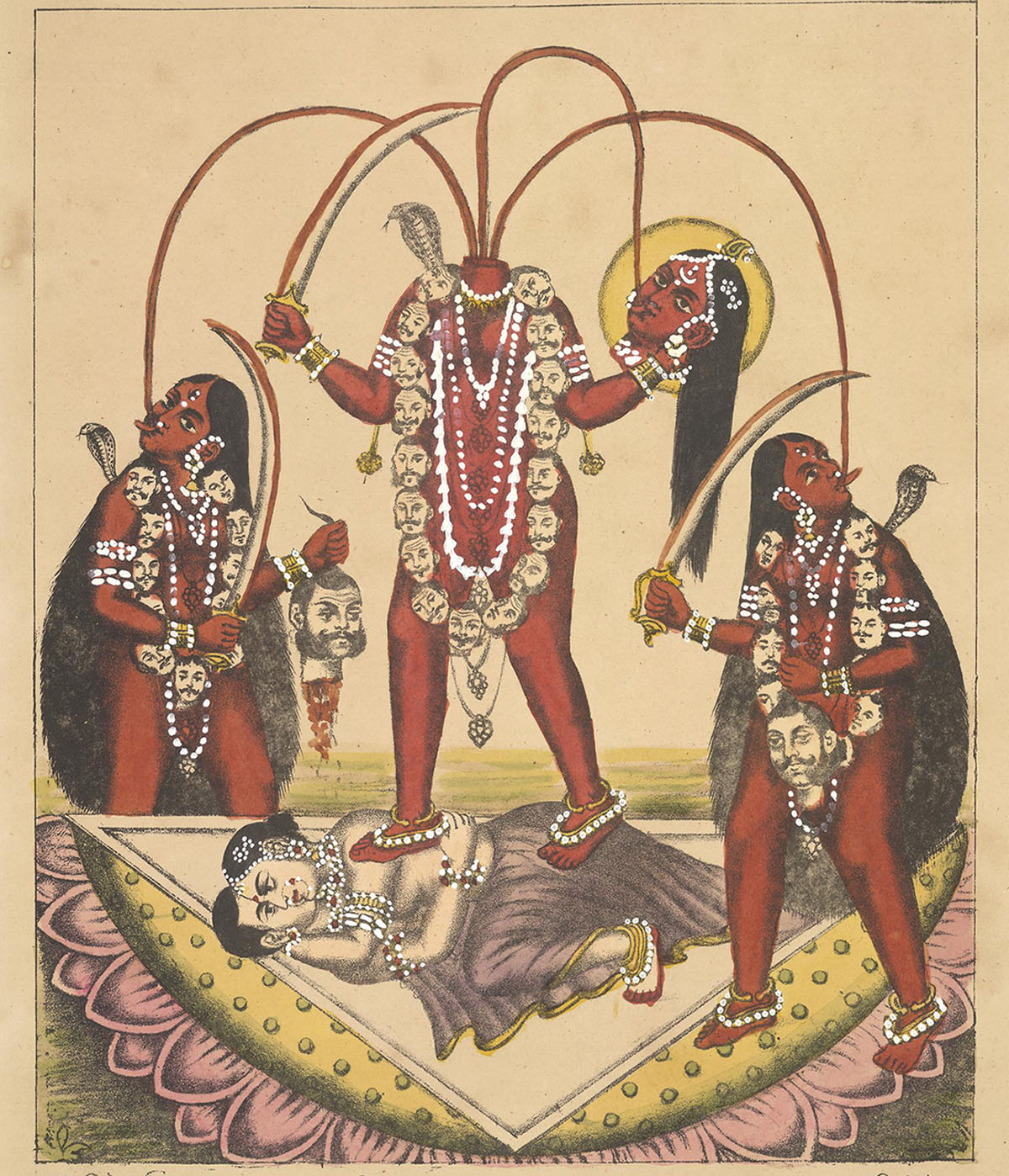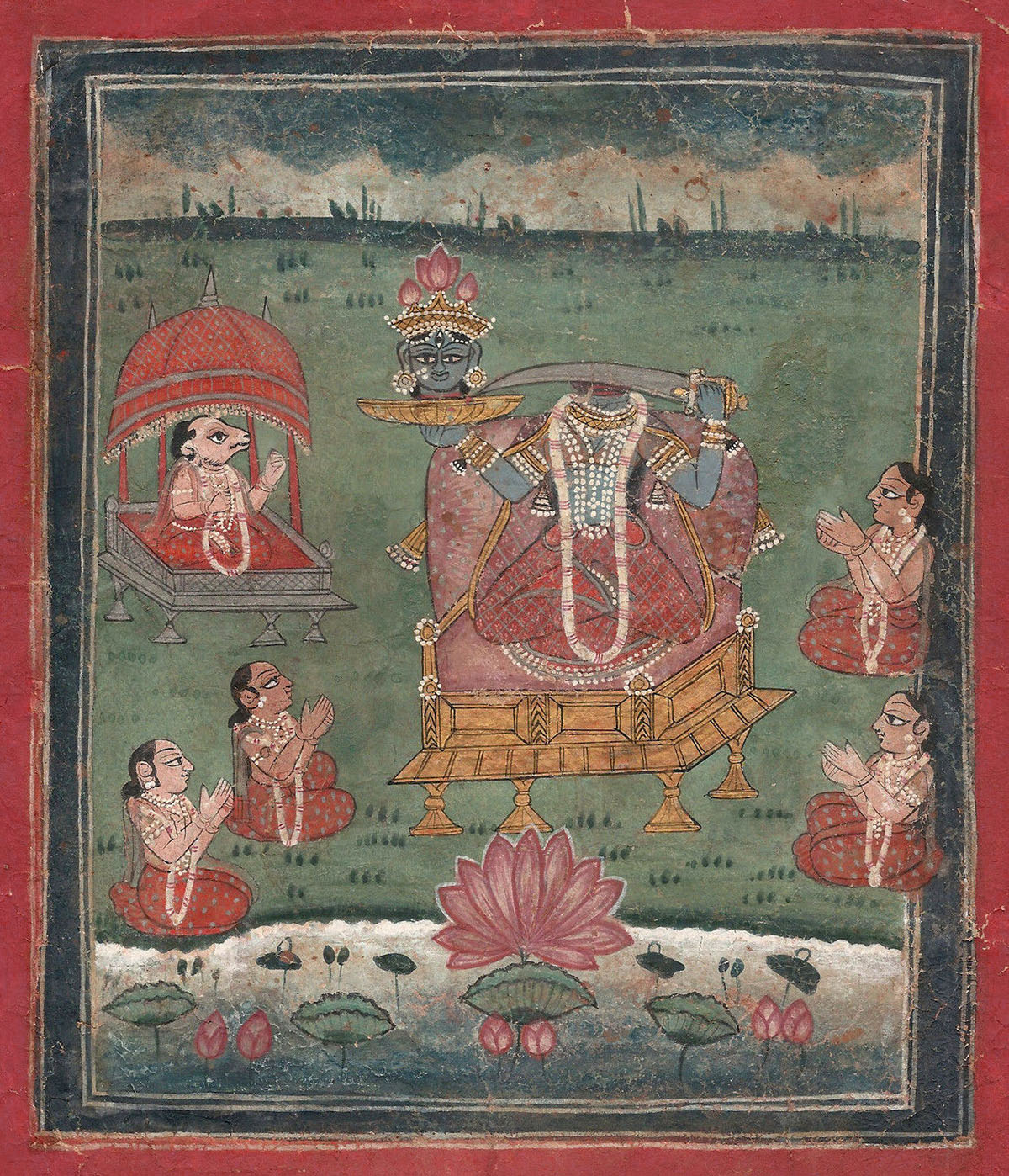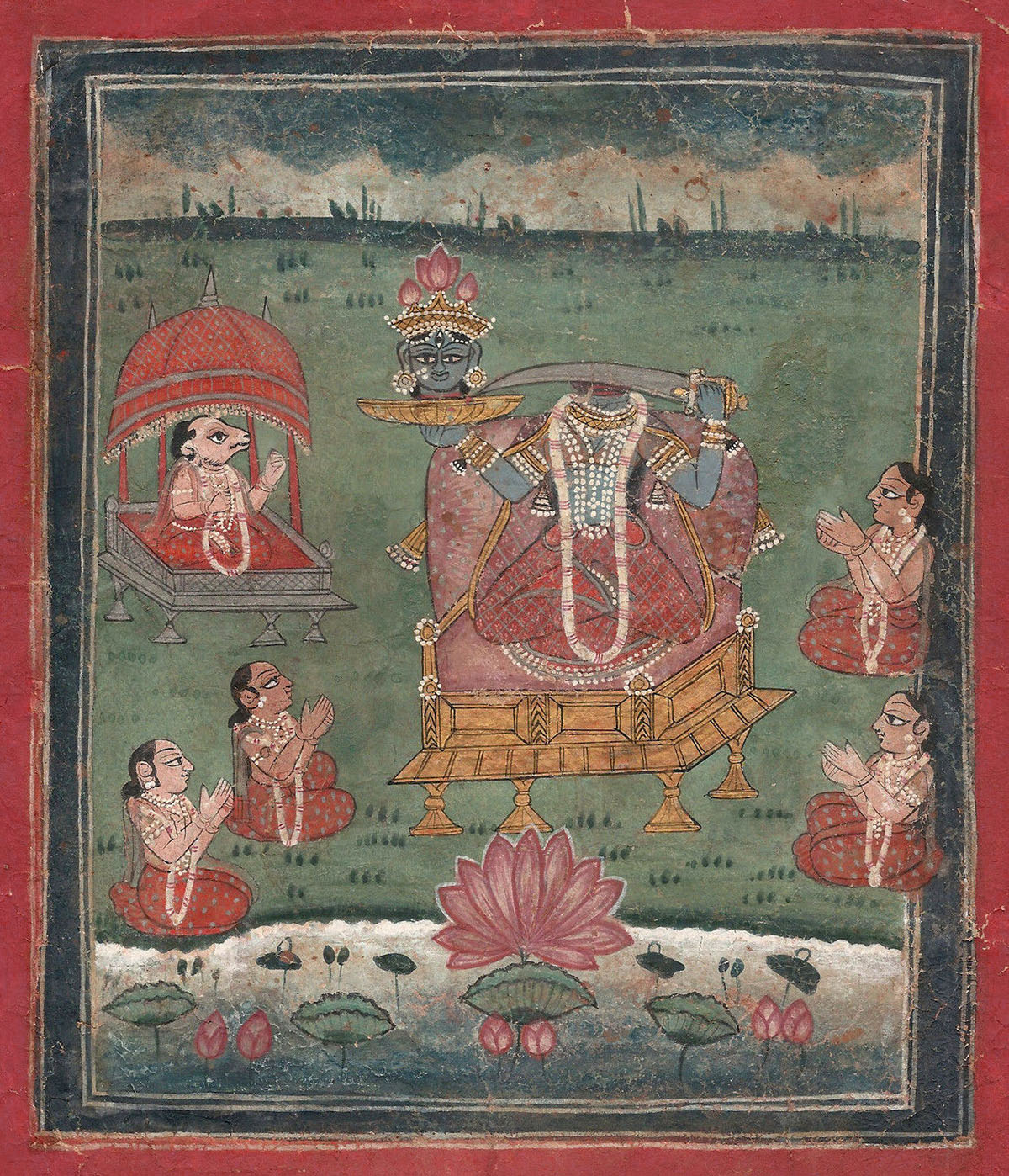 Scholars have compared the iconography of Chinnamasta to earlier images of headless or faceless nude goddesses with their genitals on display. These early images, unlike those of Chinnamasta, emphasise the deity's genitalia and regenerative powers, rather than their decapitation. Fierce goddesses such as Kotavi and Korravai have also been suggested as possible precursors of Chinnamasta; she may also be related to the somewhat earlier tantric Buddhist goddess Chinnamunda or Trikaya Vajrayogini.
According to some scholars, the presence of Rati and Kama in depictions of Chinnamasta may suggest her ability to defeat sexual desire, a demonstration of self-control. Others have opined that the goddess may be channeling their sexual energy, which then emerges through the stream of blood from her neck; this is supported by the close interlinking of blood and sex in tantric philosophy. Some representations of the goddess show her sitting on top of Shiva in the act of sexual intercourse, lending further credibility to her association with eroticism, desire, and the practices of kundalini yoga.
Although Chinnamasta was represented in temples alongside the other Mahavidyas, she was worshipped most prominently by tantric adepts. She was represented mostly in illustrated manuscripts of tantric texts from the eighteenth and nineteenth centuries, as seen in Kangra and Bundi paintings.
Chinnamasta continued to be depicted in early lithographs from the late nineteenth and early twentieth centuries, though her worship and popularity has since faded.
Bibliography
Bernard, Elisabeth Anne. Chinnamasta: The Aweful Buddhist and Hindu Tantric Goddess. New Delhi: Motilal Banarasidass Publishers, 1994.
Kinsley, David. "Chinnamasta: The Self-Decapitated Goddess." Tantric Visions of the Divine Feminine: The Ten Mahavidyas. New Delhi: Motilal Banarsidass Publishers, 1998 144–167.
Kinsley, David R. Hindu Goddesses: Visions of the Divine Feminine in the Hindu Religious Tradition. Los Angeles: University of California Press, 1988.
Saxena, Neela Bhattacharya. "Mystery, Wonder and Knowledge in the Triadic Figure of Mahavidya Chinnamasta: A Sakta Woman's Reading." In Woman and Goddess in Hinduism: Reinterpretations and Re-envisionings, edited by Tracy Pintchman and Rita D Sherma, 61–79. New York: Palgrave Macmillan, 2011.