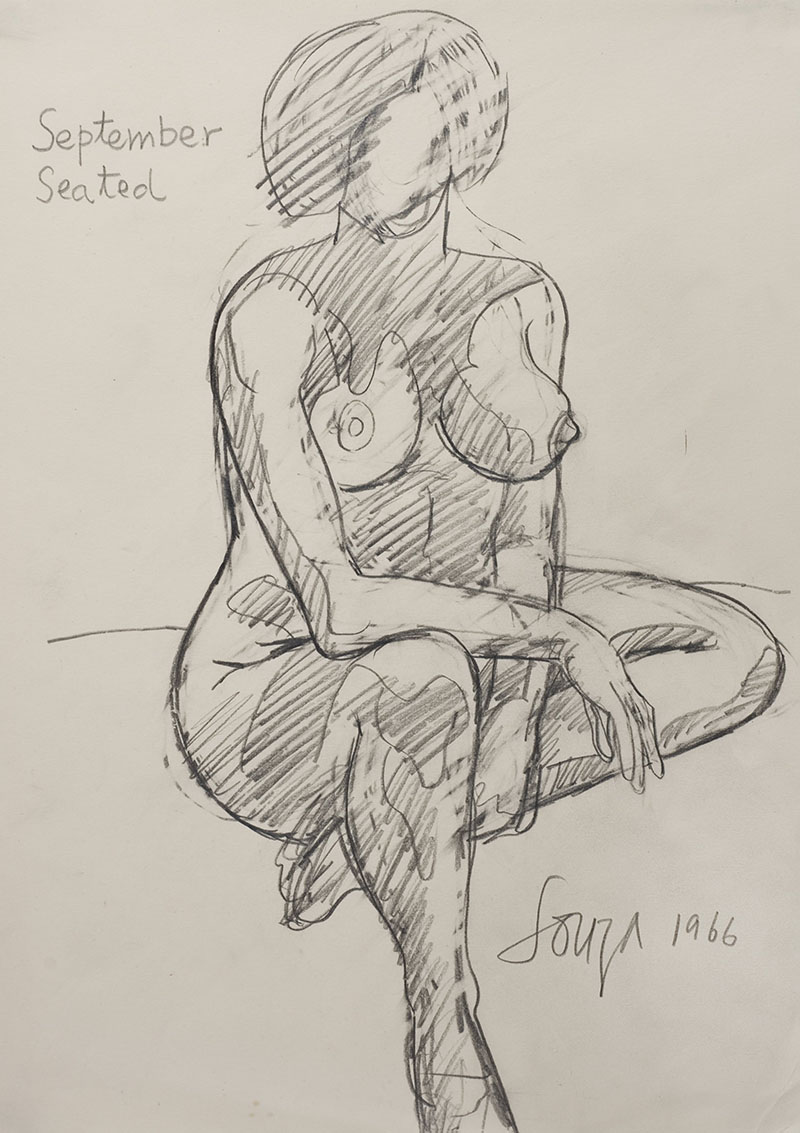 Untitled; Francis Newton Souza; Kiran Nadar Museum of Art, Google Arts and Culture
One of the founding members of the Bombay Progressive Artists' Group, writer and artist FN Souza is known for his work with various media, including ink, watercolours, oils and gouache on paper and canvas and board, using a thick application of colour with quick brushstrokes and palette knife-work. His paintings feature Christian figures and iconography, and often dwell on the presence of religion — as well as associated themes, such as death — in everyday life. 
Born in Saligao, Goa, to Roman Catholic parents, Souza moved to Bombay (now Mumbai), Maharashtra, in 1929 to attend St Xavier's College, where he was exposed to art through oleographs and prints of religious figures. In 1940, he enrolled in Sir JJ School of Art in Mumbai to study fine art. 
Souza's early works were watercolours of the rural Goan landscape. He also developed an early fondness for stained-glass windows and church music, and drew inspiration from Catholic iconography, including the architecture of churches, the robes of Catholic priests and depictions of Christ's crucifixion. He is also known for his strong figurative depictions of the human body, primarily the female nude, which serve to juxtapose the sacred element of religion with the supposed profanity of the naked human figure through the use of a bright colour palette, aggressive brushstrokes and erotically charged, often violently portrayed figures.
In 1945, Souza was suspended from the JJ School of Art following his participation in the Quit India Movement. Subsequently, he joined the Communist Party of India (Marxist) (CPI(M)) and began depicting class struggles in society. With assistance from the CPI(M), he also exhibited his work in the working class colonies of Bombay. Paintings from this period include the oil-on-board Untitled (Indian Family) (1947) — a depiction of poverty in Goa that is reflective of Souza's communist and radical sympathies — and the oil-on-canvas Pieta (1947) — depicting Jesus Christ nailed to the cross while the Virgin Mary crouches in the foreground, which references his Catholic influences. Both works contain elements of Expressionism, with straight, black outlines and vibrant colours, resembling stained-glass windows in churches.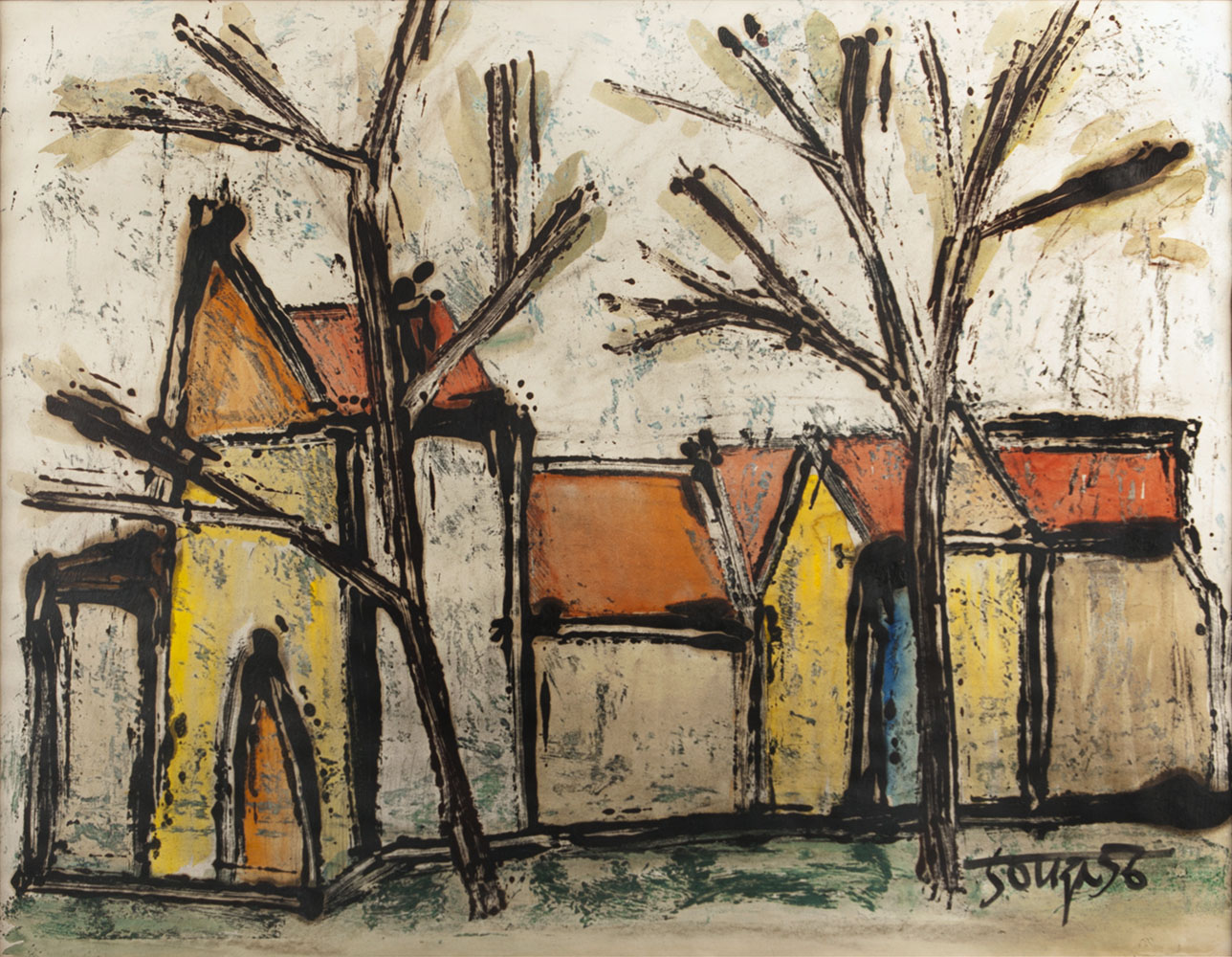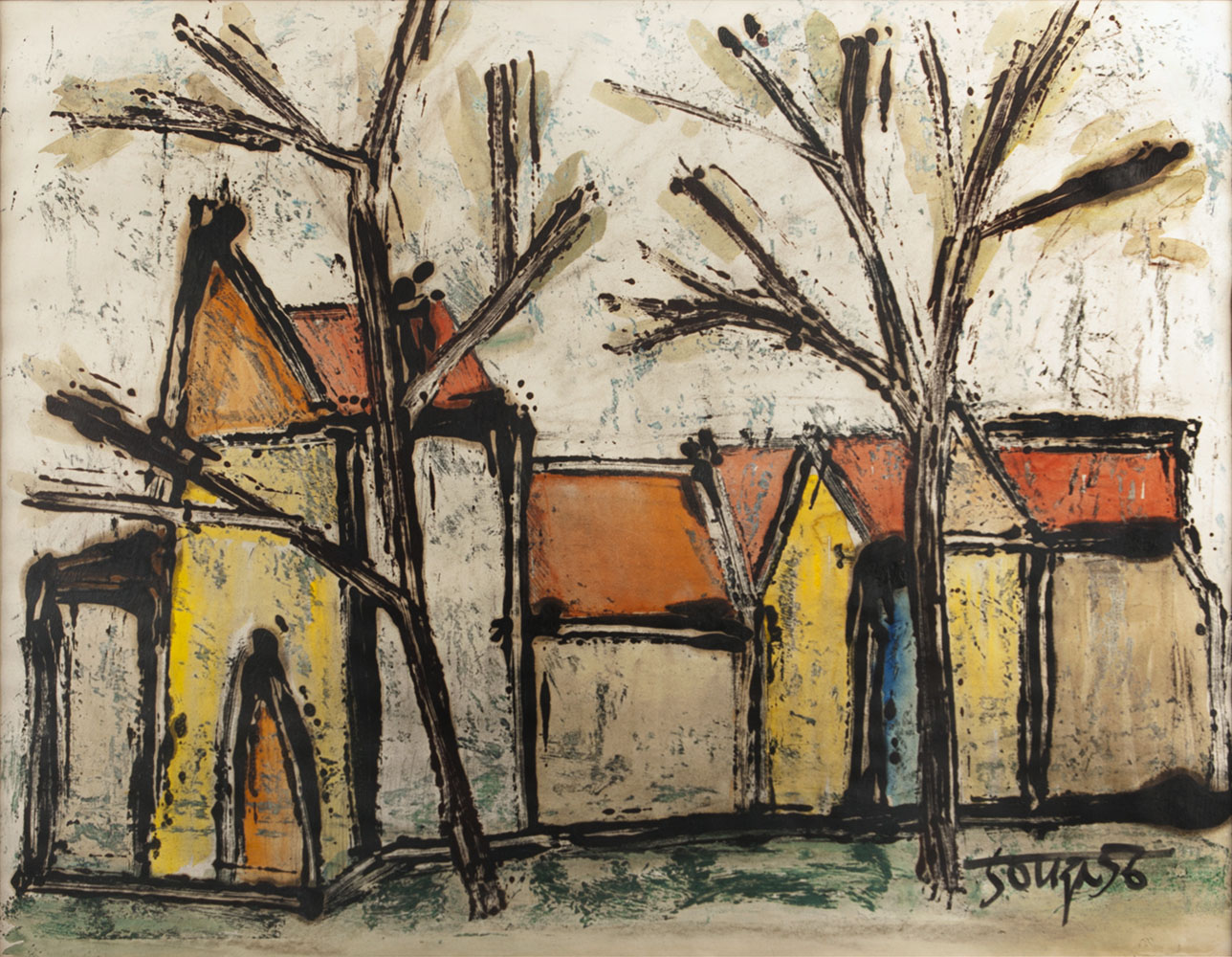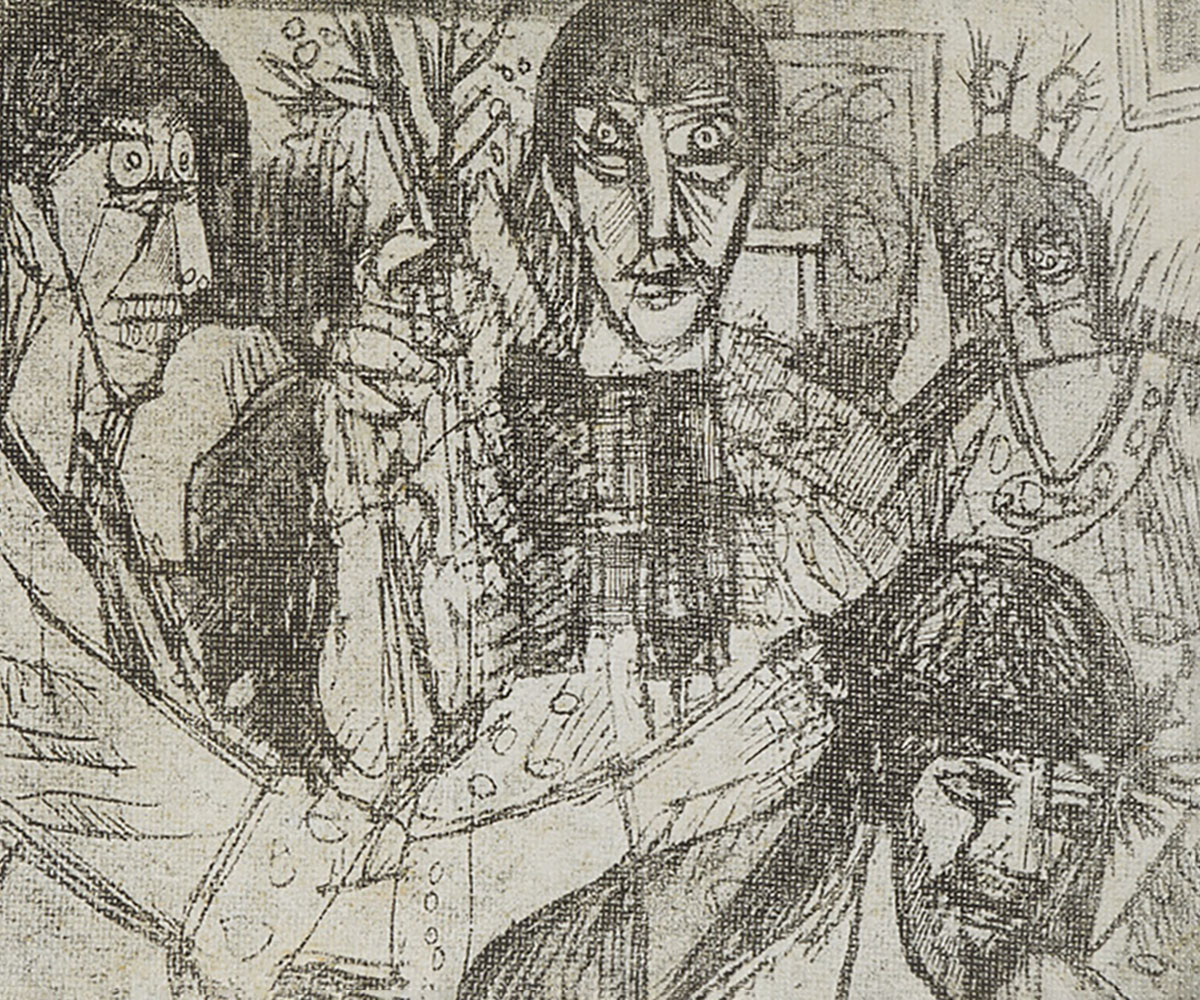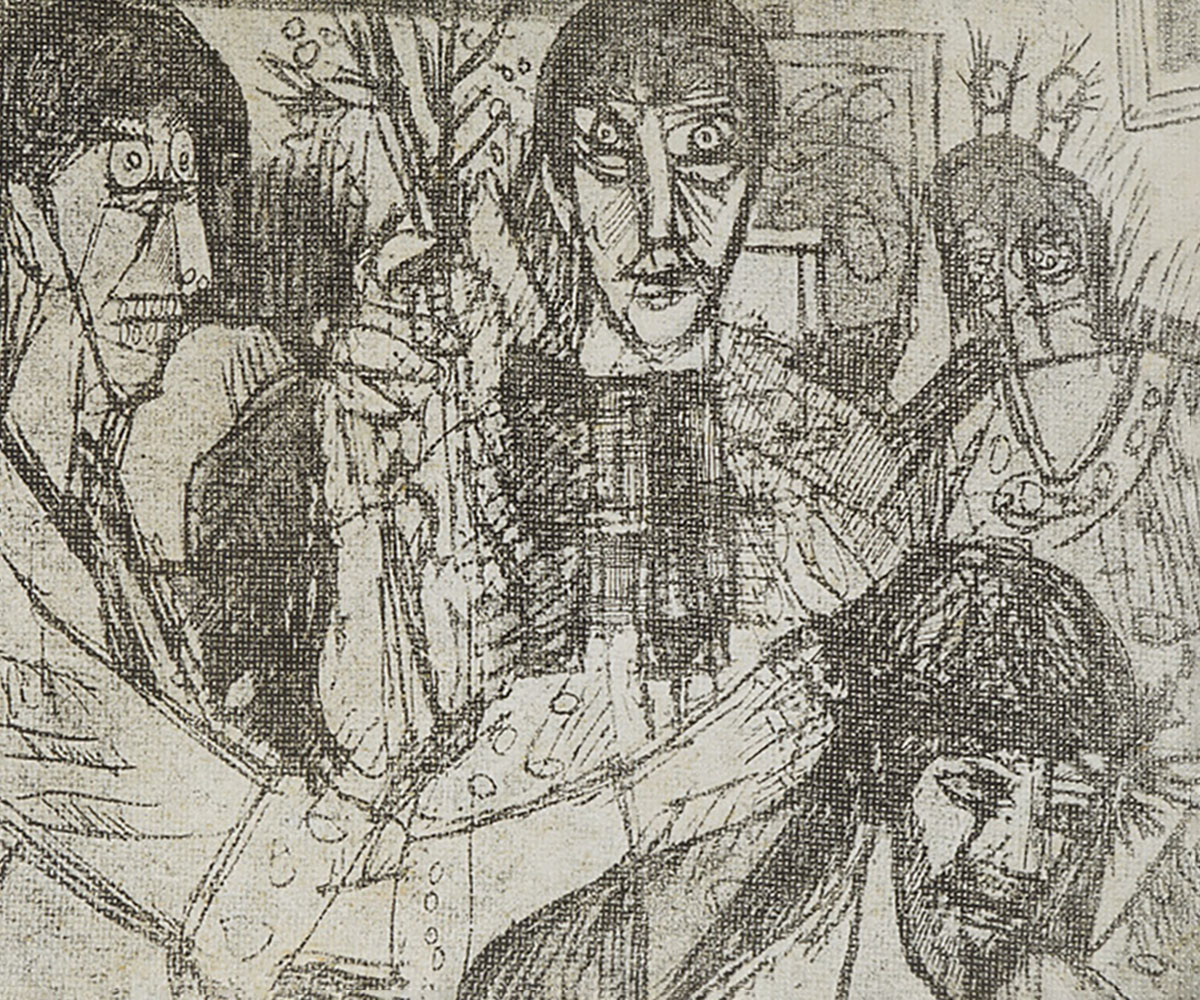 In 1947, Souza, along with SH Raza, MF Husain, KH Ara, HA Gade and SK Bakre, founded the Bombay Progressive Artists' Group (PAG). Souza wrote the group's manifesto, stressing on the need for independence and freedom of expression. Due to Souza's political connections, the PAG often held its early meetings at the offices of the CPI(M). However, around the time the PAG held an exhibition with the Bombay Art Society in 1949, he had begun questioning the ideologies of the group, denouncing the 'Leftist fanaticism' that had informed their motivations and insisting that a common aesthetic sensibility be the unifying factor among the members. 
In 1948, Souza exhibited at the Royal Academy of Arts, London, and moved to London the following year. However, owing to the financial uncertainty in the aftermath of the Second World War, Souza worked in obscurity until 1955, when his autobiographical essay "Nirvana of a Maggot" was published in the London-based Encounter magazine. The publication was run by British poet and essayist Stephen Spender, who introduced Souza to the English art collector Peter Watson, resulting in some of Souza's works being exhibited at the Institute of Contemporary Arts, London, in 1954. Souza held his first solo exhibition in the same year at Gallery One, London, and went on to display his work alongside those of artists such as Francis Bacon and Henry Moore. 
By this time, Souza had begun fusing various elements from Christian iconography, bronze sculptures from the Chola period, temple carvings from Khajuraho and Mathura and European Modernism, resulting in a style inspired by the post-War Art Brut movement and elements of British Neo-Romanticism. In 1955, Souza painted Birth (1955), depicting a naked, pregnant woman in the process of giving birth while an attendant dressed in a heavy red tunic — often associated with Catholic clergy — stands at the woman's feet. In the background, a window opens up to a cityscape that is reminiscent of London. The painting is particularly notable for bringing together all the elements of his style, including the female nude, the sexually charged body language and the autobiographical quality of the red-robed male figure.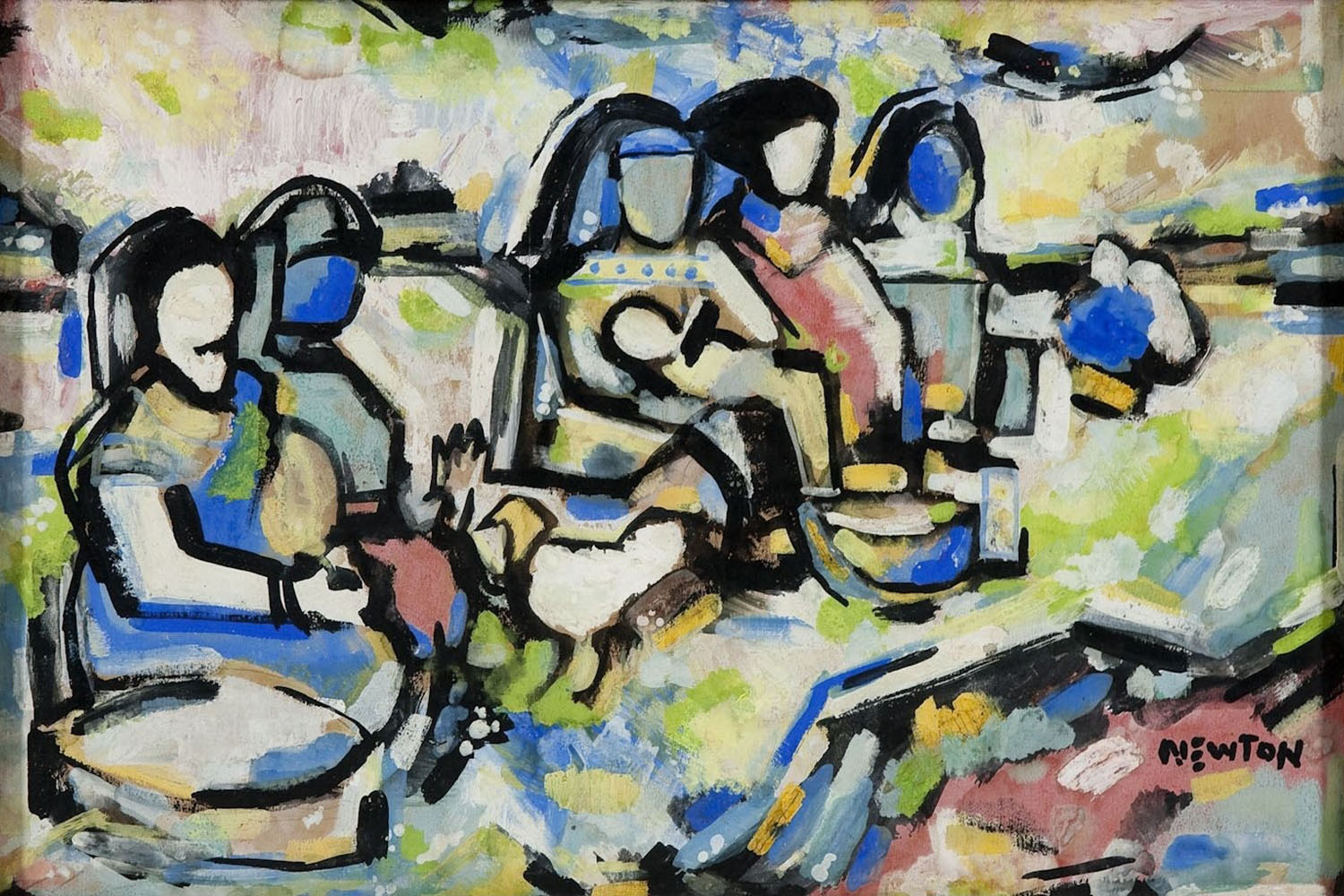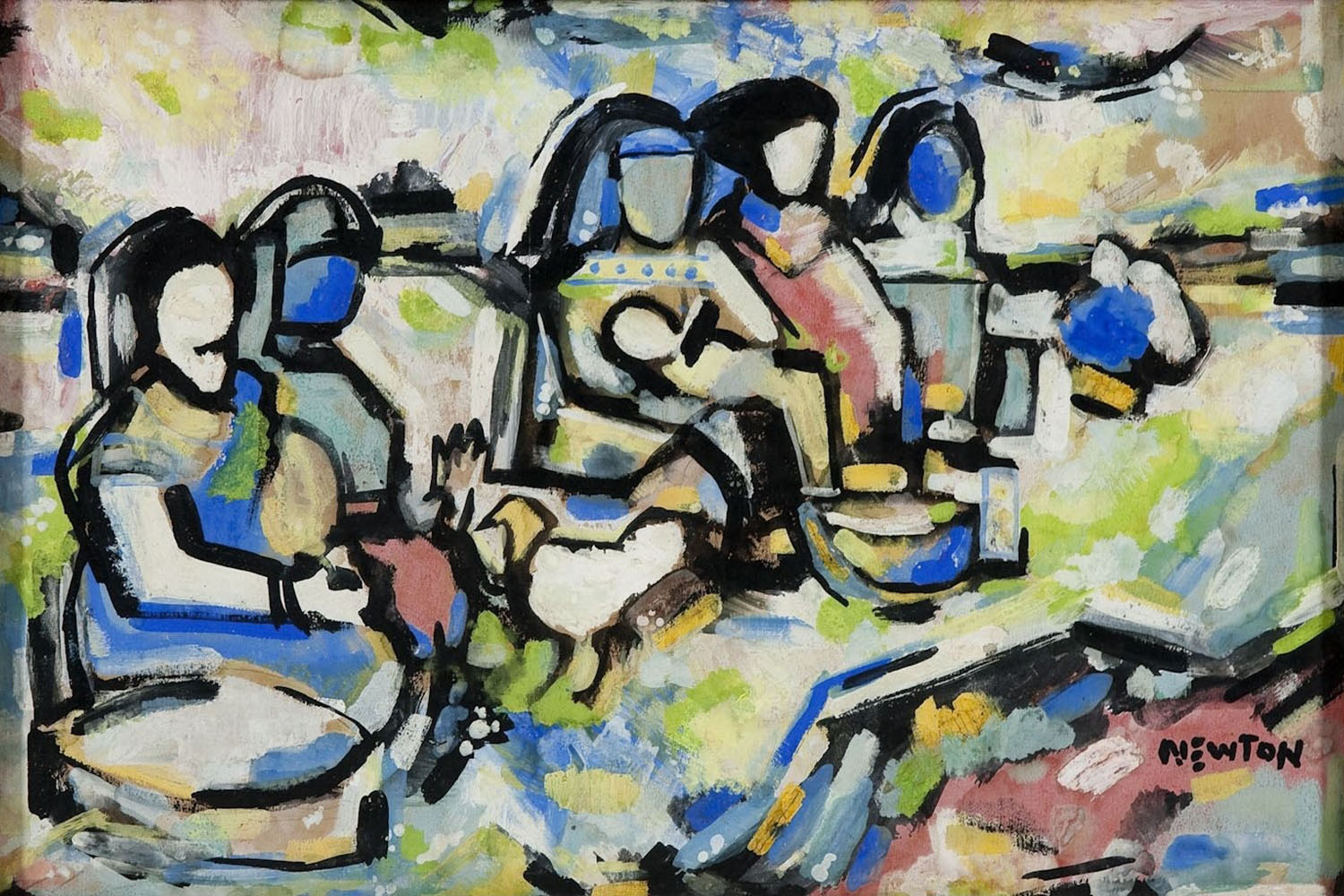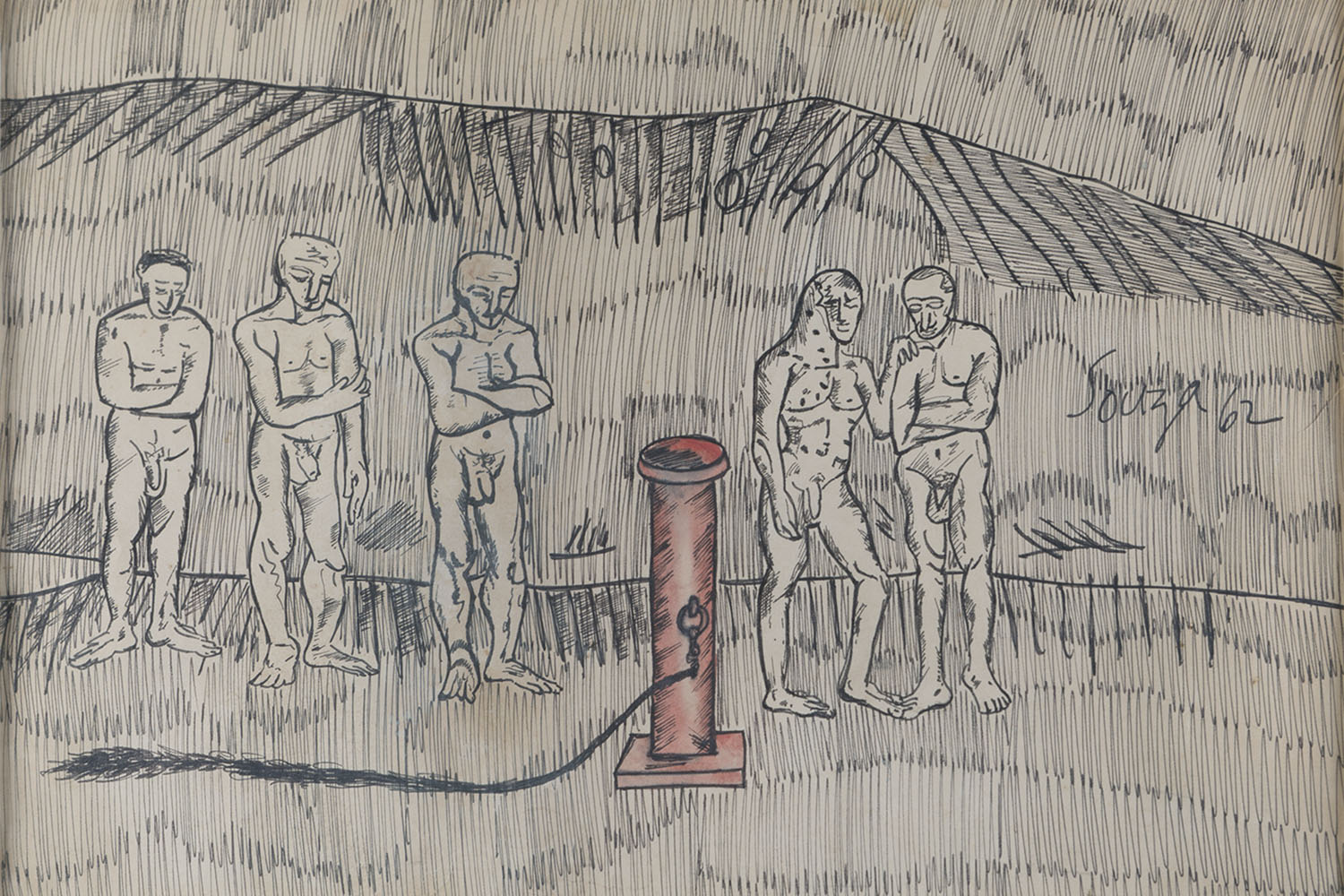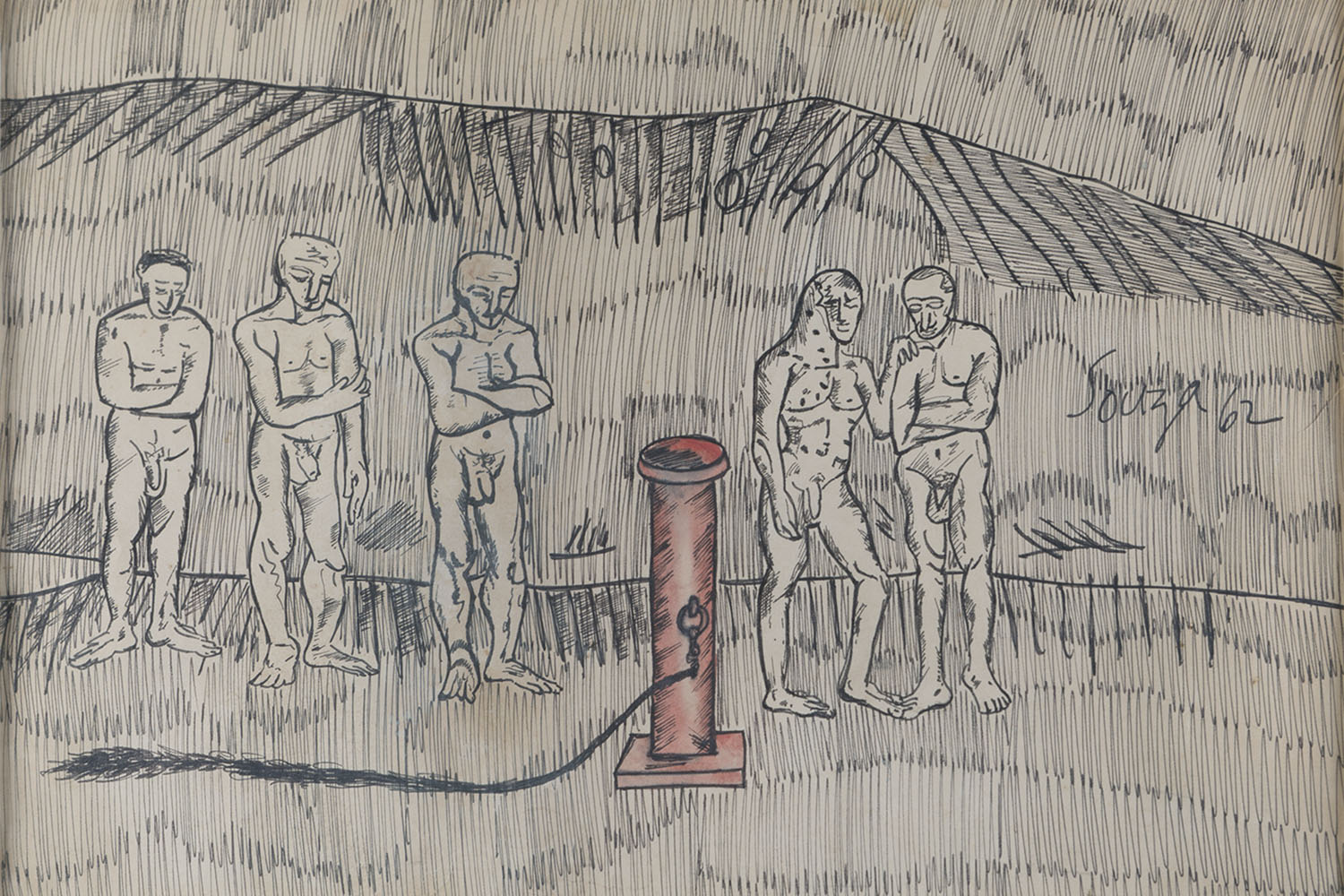 In 1967, Souza moved to New York, ushering in a marked change in his palette; he began incorporating bright, warm colours in his work, which were applied using thick brushstrokes. He also started depicting American cityscapes, as in the oil-on-canvas Oklahoma City (1971), which is painted with bright colours using the impasto technique and captures the three-dimensionality of skyscrapers using large globules of colour squeezed directly on the canvas. The black outlines from Souza's earlier work are not visible in this painting or in other paintings from this period, and the depicted forms barely follow a coherent structure. This period also saw Souza experiment with various other media and techniques, such as chemical alteration of magazine paper. In these works, he painted over and drew figures on pages torn from magazines, catalogues, printed photographs and newspapers and sprayed chemicals on the painting to manipulate the layers of printed ink.
Souza's work has been exhibited at many solo and group shows, including at the Gallery Creuze, Paris (1954); the Grosvenor Gallery, London (1966); Arts 38, London (1975, 1976); Pundole's, Mumbai (1985); Dhoomimal Gallery, New Delhi (1986); and Galerie 88, Kolkata (2001). Souza was also the recipient of the Guggenheim International Award in 1967. In June 2008, his painting Birth sold for USD 2.5 million, setting the record for most expensive painting by an Indian artist sold at auction. In 2015, the painting was auctioned for USD 4.085 million, breaking its own record. His works are part of the collections of the Tate Modern, London, and the National Gallery of Modern Art, New Delhi. 
Bibliography
Our website is currently undergoing maintenance and re-design, due to which we have had to take down some of our bibliographies. While these will be re-published shortly, you can request references for specific articles by writing to hellomapacademy@map-india.org.