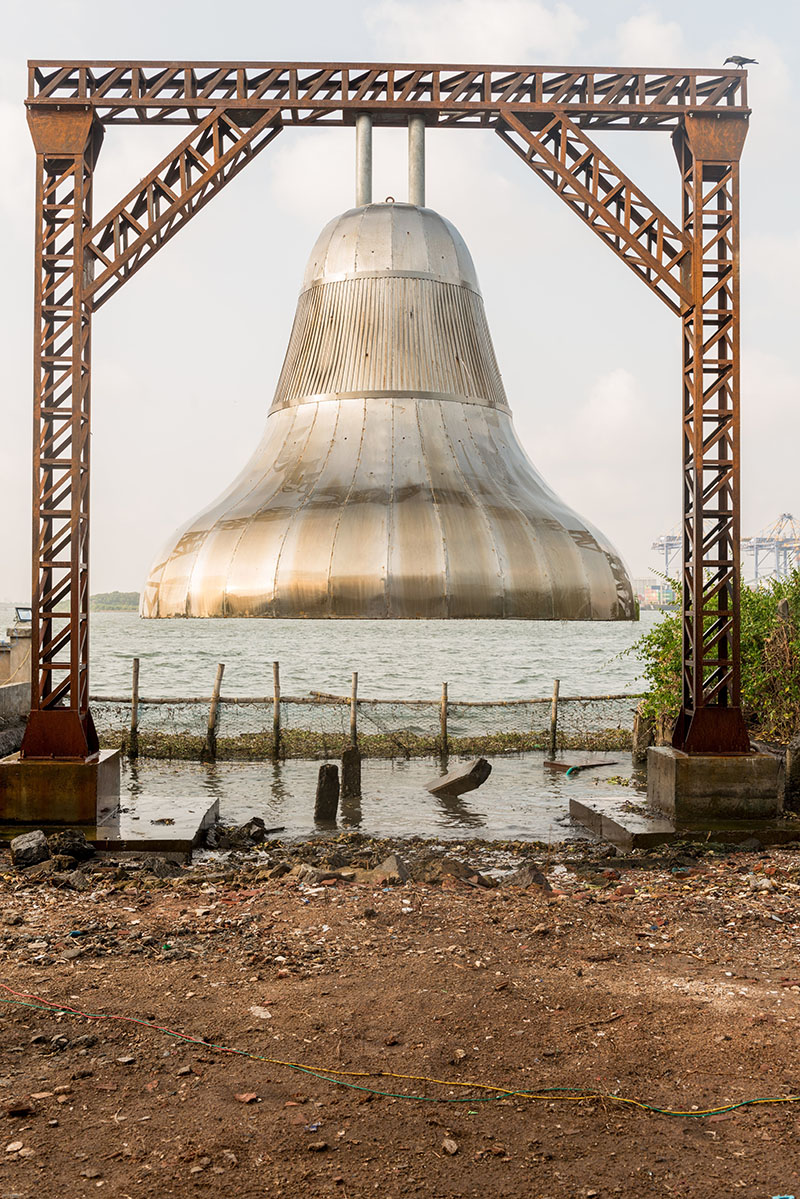 Chronicle of the Shores Foretold; Gigi Scaria; c. 2014; Stainless steel, motored pump system, water; Bell: 16 x 8 ft, Structure: 22 x 20 ft; Kochi-Muziris Biennale, Google Arts and Culture
A multimedia artist specialising in video art and sculpture, Gigi Scaria is known for his works that serve as a commentary on urban development, migration and the juxtaposition of the individual and the collective. Over the course of his career, Scaria explored several mediums and modes, eventually establishing himself as a sculptor and video artist who incorporated photography and installations in his work.
Born in Kothanalloor, Kerala, Scaria received a BFA from the College of Fine Arts, Thiruvananthapuram, in 1995, followed by an MFA in 1998 from Jamia Millia Islamia University, New Delhi. Subsequently, he began teaching art at Deepayan Vidya Niketan — a post he held until 2002. The same year, he received an Inlaks Shivdasani scholarship and the opportunity to attend an artist residency at the University of Ideas and Cittadellarte-Fondazione Pistoletto in Biella, Italy.
Scaria mainly focuses on the theme of urbanisation and its material and philosophical issues, drawn from his own experiences of alienation, displacement and bias after relocating from a small town to Delhi. He emphasises the physicalities of the process and spaces of urbanisation — as seen in architecture, urban planning and construction sites — and their influences on inhabitants. Scaria views modern cities as spaces with strict social hierarchies, where progress is equated with expansion, and short-term gain and material wealth are valued over a sustainable future, which he explored in works such as Panic City (2007), Amusement Park (2009), Settlement (2010) and Hesitant Attempt (2018). He has also explored the impact of large cities on the ecology through works such as Shadow of the Ancestors (2015), Skin Deep (2017) and Detached (2017). Other areas of interest for the artist include national histories and the lives of public figures.
Scaria has exhibited at Palette Gallery, New Delhi (2007); the Ian Potter Museum of Art, Melbourne (2013); Kochi-Muziris Biennale (2014); Laumeier Sculpture Park, Missouri (2016); Aicon Gallery, New York (2017); and Vadehra Art Gallery (2018). Scaria received the Sanskriti Award in Visual Art (2005) and the Asian Art Fellowship from the Museum of Contemporary Art, South Korea (2007).
As of writing, he is Associate Professor at the Department of Art and Performing Art, Shiv Nadar University, Gurgaon, and lives with his wife Prerna Sharma in New Delhi.
Bibliography
Our website is currently undergoing maintenance and re-design, due to which we have had to take down some of our bibliographies. While these will be re-published shortly, you can request references for specific articles by writing to hellomapacademy@map-india.org.