ARTICLE
Homai Vyarawalla
(b. 1913; d. 2012)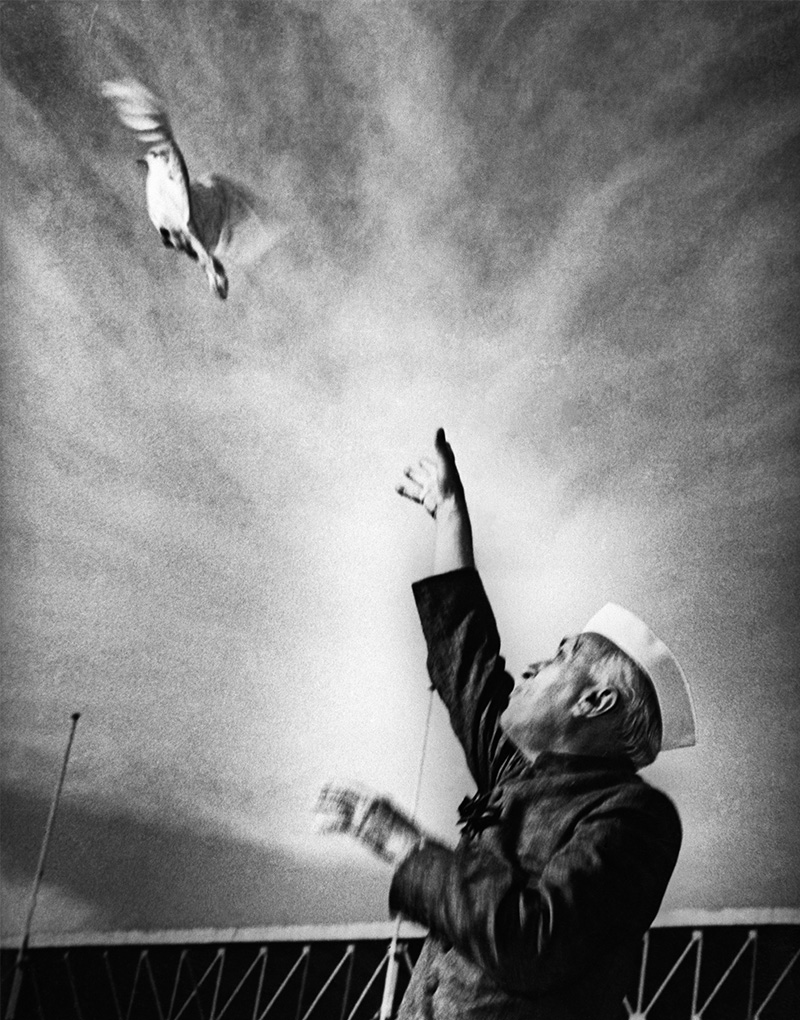 Jawaharlal Nehru Releasing a Dove at the National Stadium, New Delhi.; Homai Vyarawalla; c. 1951; Gelatin silver print; 22.8 × 17.7 cm; The Hugh Huxley Collection, London
An official photographer for the British government and a widely recognised photojournalist from the twentieth century, Homai Vyarawalla is best known for her work documenting the final days of the British Raj and the emergence of India as an independent nation.
She was born in 1913 to a Parsi family in Navsari, Gujarat. Her father was an actor, and after spending a few itinerant years travelling with his theatre troupe, the family settled in Bombay (now Mumbai). Encouraged by her mother, she went on to attend the Bombay University and the Sir JJ School of Art, getting degrees in teaching and art. She first encountered photography through her cousin, Maneckshaw Vyarawalla – a photographer and accountant with The Times of India, who she married in 1941.
Self-taught and using a Rolleiflex camera, Vyarawalla made images of urban life and young, modern women in Bombay. These were published in the Bombay Chronicle in 1939, following which she found work at the Illustrated Weekly of India in the early 1940s, publishing photographs depicting civil life during wartime. Entering photography at a time when the profession was a male preserve, she initially published her photographs using her husband's name or under her pseudonym, Dalda 13. More contemporary accounts of her life and work have widely recognised her as India's first female photojournalist.
With the outbreak of the Second World War, the British Information Services (BIS) relocated to India and sought photographers on the ground. The Vyarawallas were recommended for the job by Stanley Jepson, then-editor of the Illustrated Weekly. In 1942, they moved to New Delhi, with The Times allowing her husband to work for a year with the British Information Service (BIS), while Vyarawalla became a full-time employee, with the provision to take on freelance projects.
Vyarawalla's training at art school proved useful for her work at the BIS, which needed photographers to generate material for information, advertising and propaganda. It has been reported that she had a quick instinct with her compositions, melding her photographic skill with her knowledge of visual aesthetics. She worked for the BIS as an official press photographer until 1951, and as a freelancer until 1970, covering events and ceremonies at the British High Commission, photographs of which would get published in magazines, including Life. At the same time, she was also chronicling the transition of India from a British colony to an independent nation. Her photographs of Jawaharlal Nehru, Mahatma Gandhi, Lord Mountabtten and other members of the political establishment were published in national news outlets such as the Statesman and the Times of India, and internationally in the Picture Post. Some of the significant moments in India's history documented by her include the victory parade by the Allied Forces through Connaught Place, Delhi in 1945; the swearing in ceremony of Lord Mountbatten as the first Governor General of India in 1947; Nehru's first national address as Prime Minister at the Red Fort, also in 1947; Gandhi's funeral in 1948; the first Republic Day parade of India in 1950; and then-First Lady Jacqueline Kennedy's visit to the country in 1962.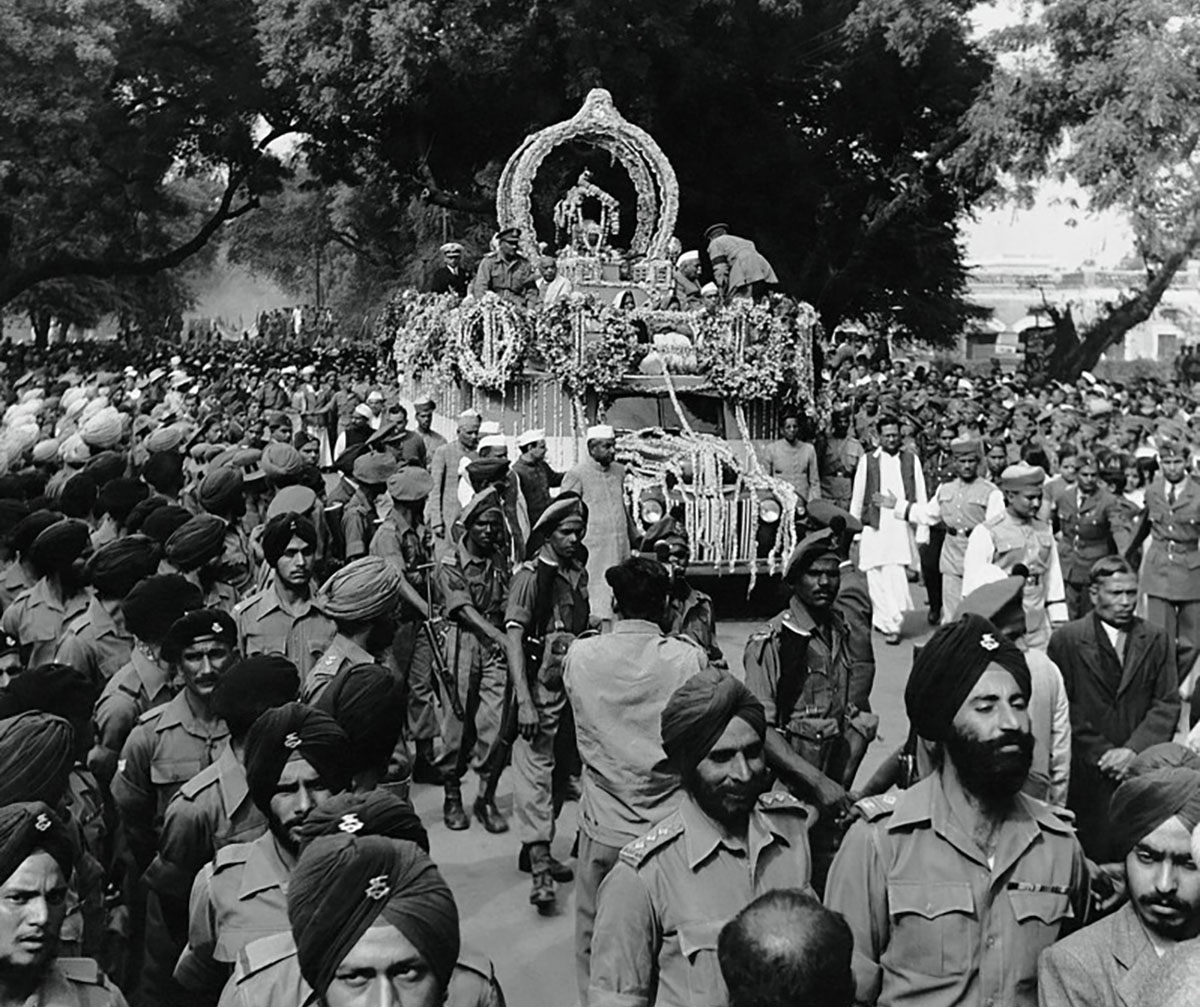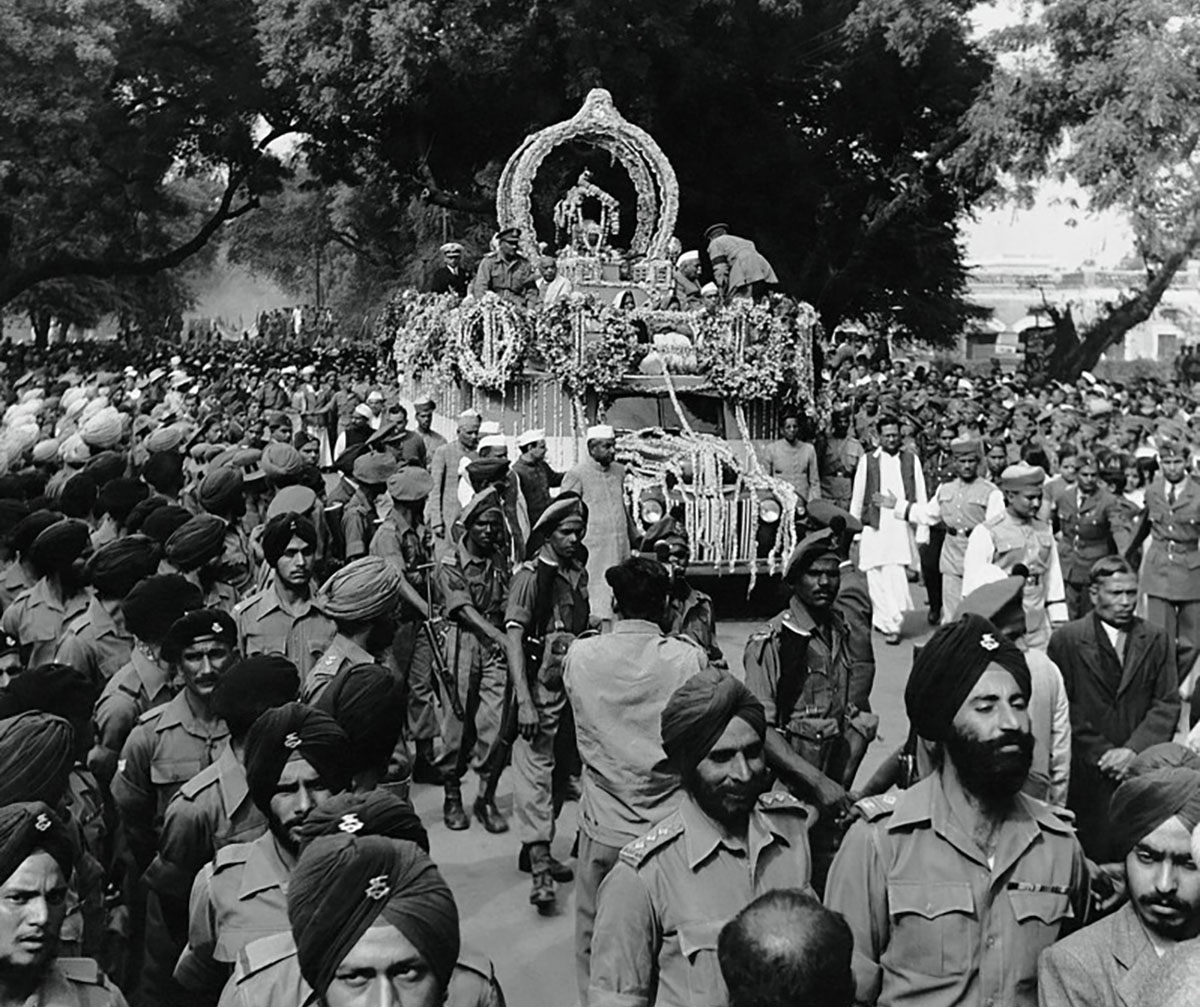 In 1947, Vyarawalla started using a Speed Graphic camera for her photography of political events and later settled on less cumbersome cameras such as those made by Contax, Nikon, and Pentax, which required less manual manipulation between exposures. She also became a founder-member of the News Cameraman's Association, one of the first photography unions of independent India, and presided over it for some time.
In 1969, Vyarawalla's husband passed away due to accidental poisoning. Grief-stricken by his death, she set her camera aside and retreated into semi-retirement. In 1982, she moved to Baroda (now Vadodara), where she lived until her death in 2012.
Her life and legacy faded out of public memory until 1998, when Sabeena Gadihoke's documentary Three Women and a Camera reignited interest in her work. Gadihoke's biography of Vyarawalla, Camera Chronicles of Homai Vyarawalla (2006), further brought her into the spotlight. In 2011, a year before her passing, she was awarded the Padma Vibhushan by the Government of India. As of writing, her work and photographs are in the collections of the Alkazi Foundation for the Arts and the National Gallery of Modern Art, New Delhi.
Bibliography
Aldabbagh, Siba. "History of Photography: An Introduction." Contemporary Practices Art Journal, Volume X. http://www.contemporarypractices.net/essays/volumeX/HistoryofPhotographyIntroduction.pdf.
Finkelstein, David. "PHOTOJOURNALISM: Arthur Fellig (Weegee) and Homai Vyarawalla". Journalism Practice 3, no. 1 (2009): 108–112.
Gadihoke, Sabeena. India in Focus: Camera Chronicles of Homai Vyarawalla. Mapin, 2006.
Gaskell, Nathaniel and Diva Gujral. Photography in India: A Visual History from the 1850s to the Present. Prestel, 2018.
Sen, Geeti. "Review: Documenting a Nation." India International Centre Quarterly 33, no. 1 (Summer 2006): 161-165.