The first Warli artist to begin painting on canvas, Jivya Soma Mashe is known for bringing the art form into mainstream national and international art markets by drawing it out of its associated ritual context.
Mashe was born in Dhamangaon, Maharashtra. At the age of seven, his mother passed away, the shock of which impacted his speech. For several years following his mother's death, Mashe would communicate through drawings in the mud, replicating the visual schema of Warli wall paintings done by women. Traditionally, the art form is mainly practised by women called suvasinis, who paint fertility images on the walls of their mud-houses using rice paste and herbs. When Mashe was eleven years old, the family moved to Kalimbipada (in present-day Palghar, Maharashtra). Later, he worked as a labourer there while continuing to paint as a hobby.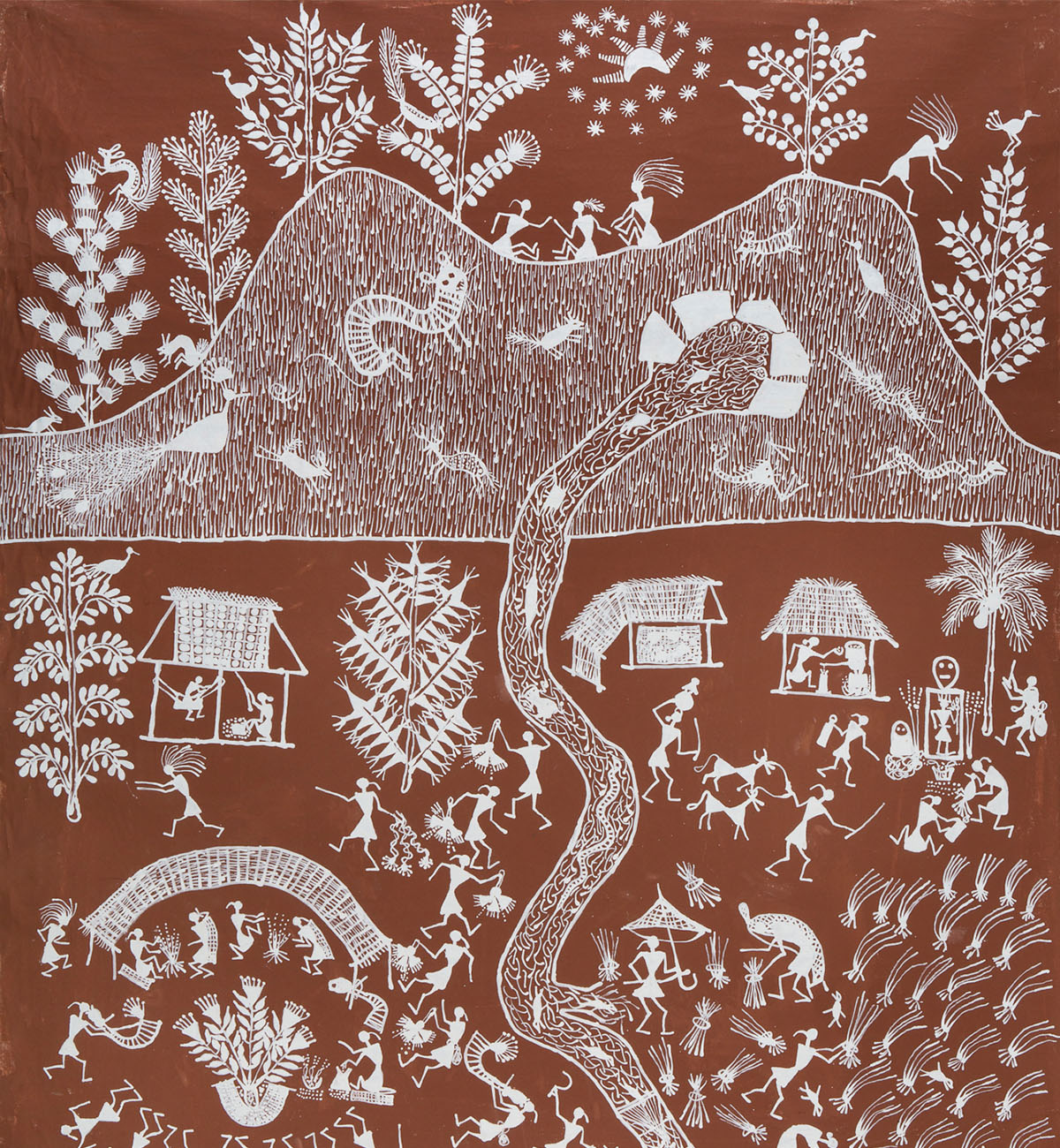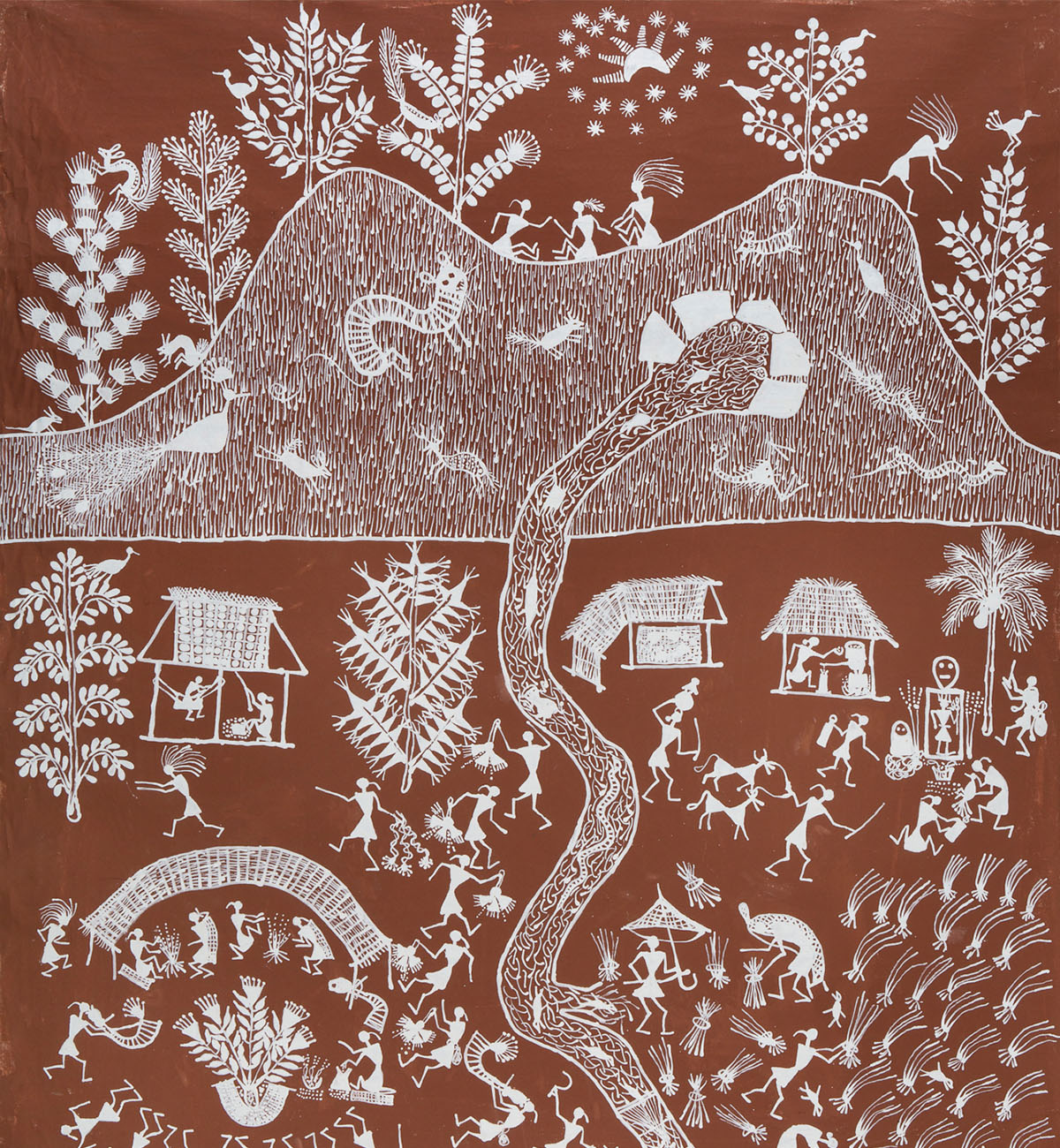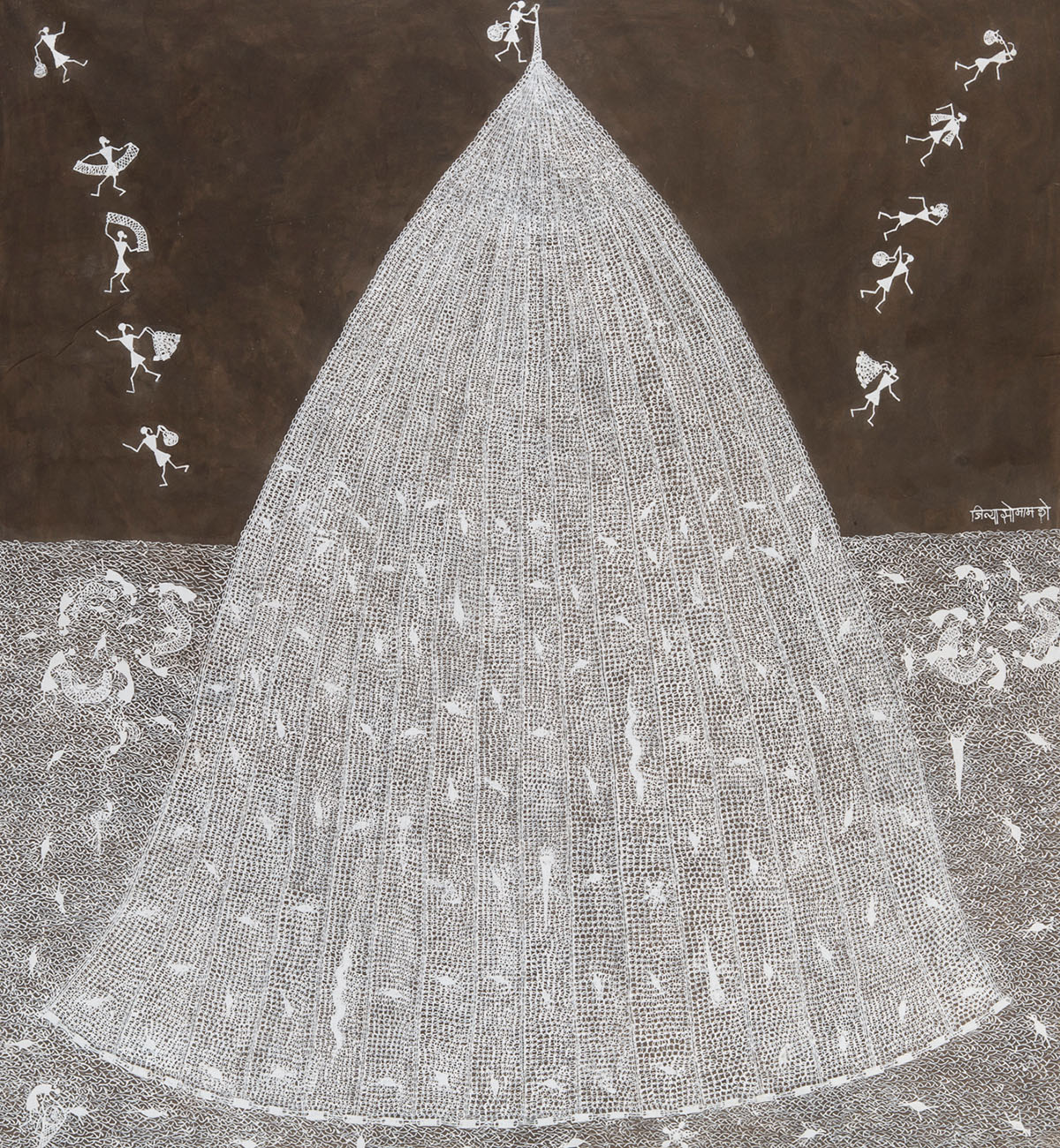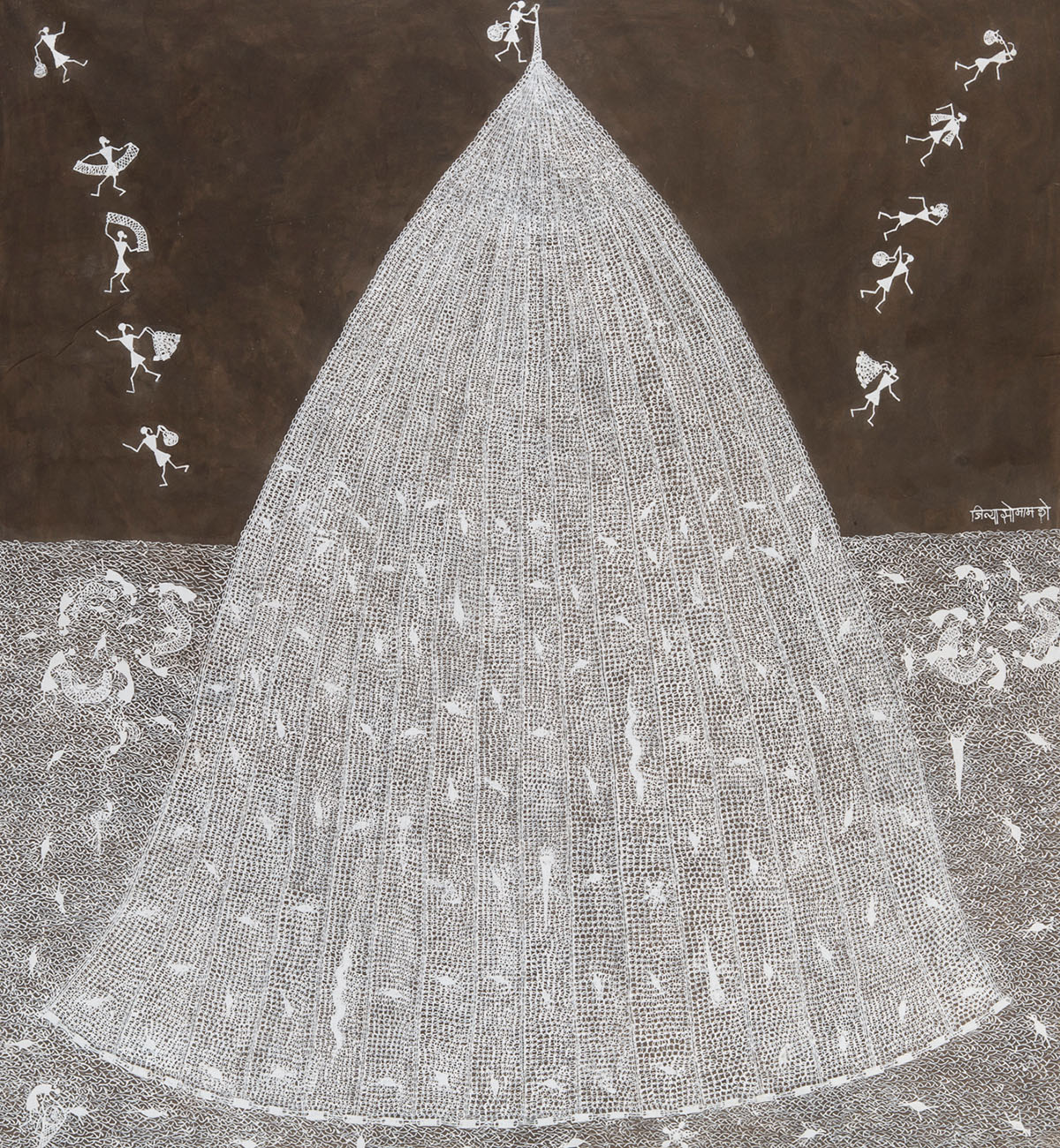 In the 1970s, the government of India had deputed a team to look for master-artists of folk traditions of the country. This team included Bhaskar Kulkarni, an artist and official attached to All India Handloom Board, who met Mashe in 1971 and arranged for his work to be exhibited at Pragati Maidan, Delhi, in 1973. After this, under Kulkarni's mentorship, Mashe's work was showcased at Chemould Gallery, Mumbai (now Chemould Prescott Road) in 1975. In 1976, Mashe had his international debut at Palais de Carnolès, France. 
The subjects of Mashe's work are drawn from daily life in the community, ceremonial and secular celebrations such as harvest festivals and weddings and Warli myths and legends. Mashe also represented his own socio-ethnic observations into his work using modern-day motifs and imagery. As a child, he painted with natural pigments and materials such as reed brushes. Under Kulkarni's mentorship, Mashe began to work on paper and canvas with poster colours. The visual vocabulary of Warli art is reinterpreted in his work; he uses simplified and minimal forms such as circles, triangles and squares, but his line drawings are stylised and contain symbolic harmony and movement. In his work, Warli iconography is updated with symbols that reflect his surroundings; for instance, bicycles, trains and fishing nets entered scenes of farm work, harvesting, hunting, dances and forests. Mostly executed with white paint over a brown or red background, his stick figures are emblematic of the life and labour of rural Maharashtra.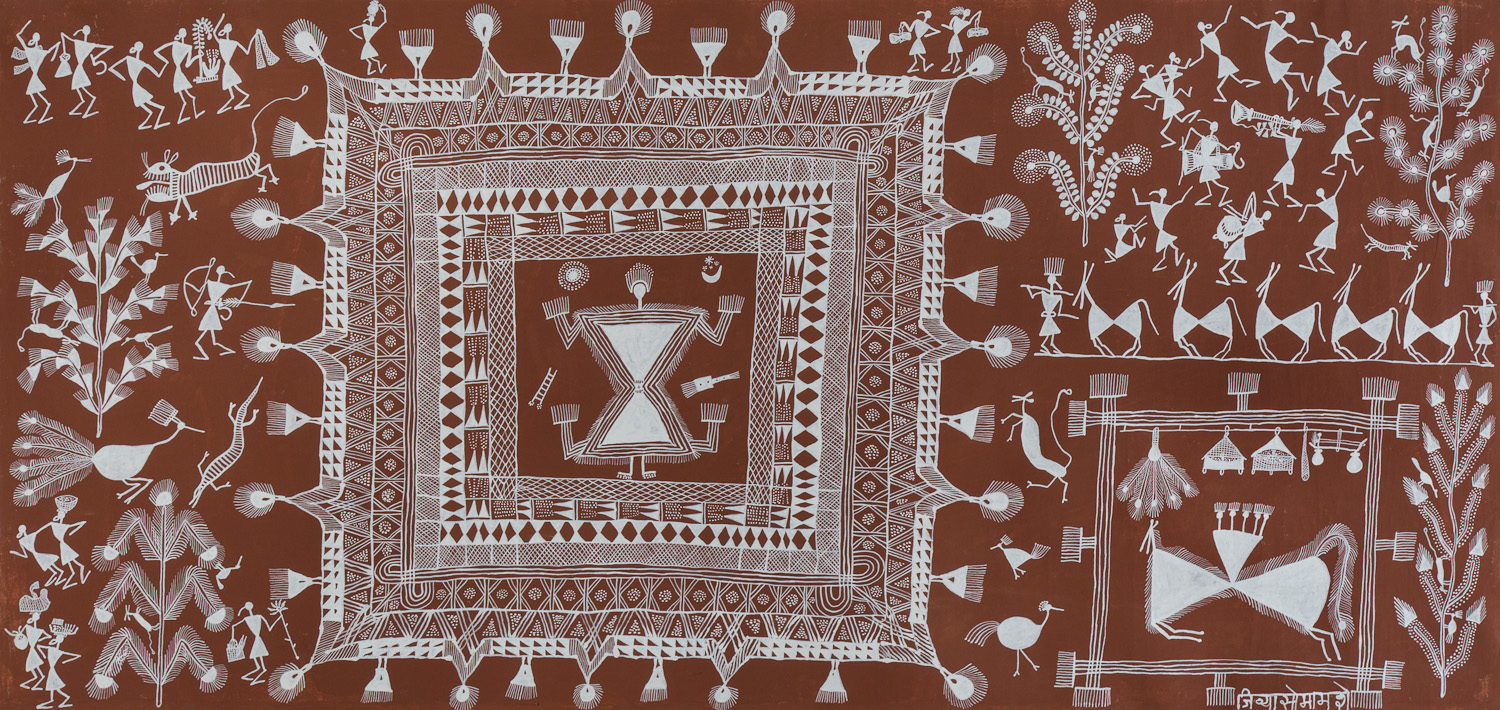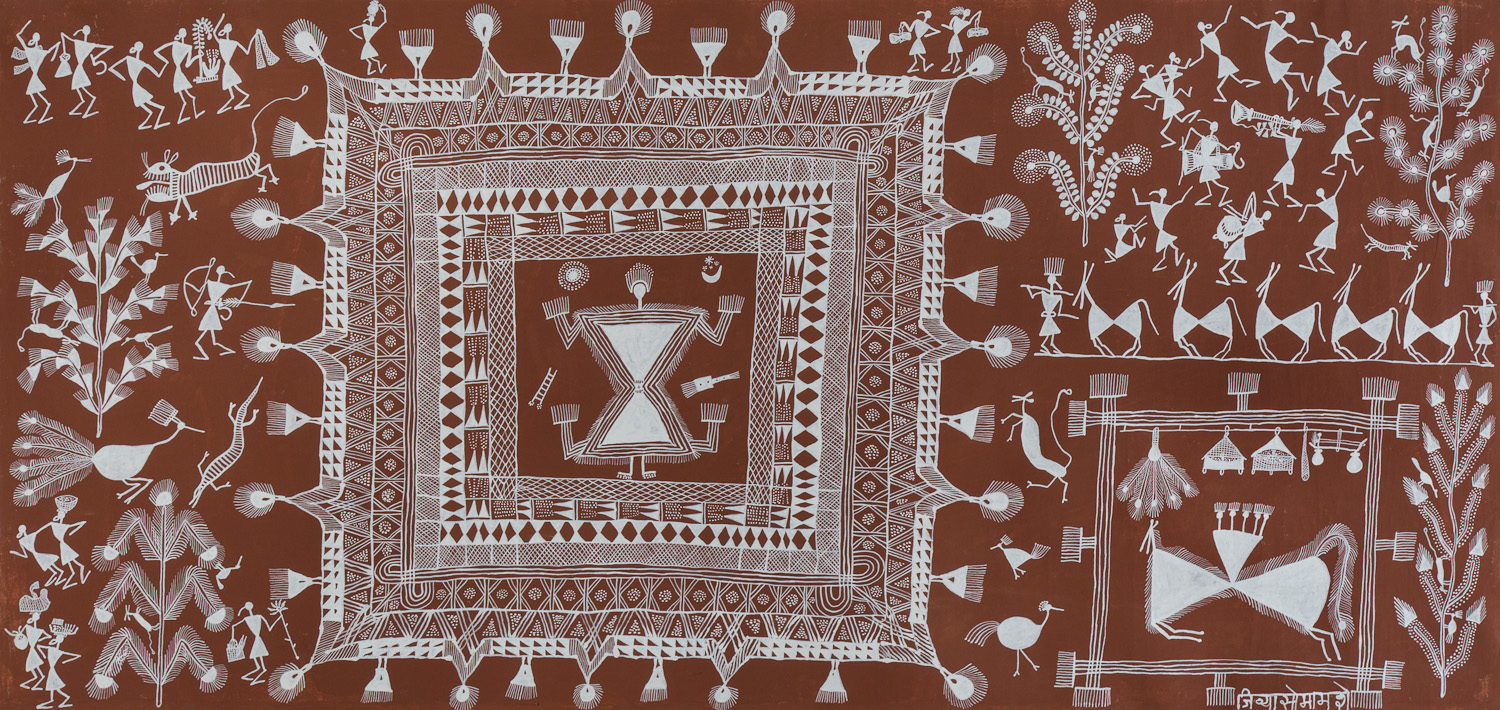 Mashe's work has been widely exhibited in India and abroad. In the wake of his rising fame, he collaborated with several international artists and photographers. Notable among these are the British sculptor and land artist Richard Long, with whom he exhibited at the Museum Kunst Palast, Düsseldorf, in 2003, and the French critic and collector Hervé Perdriolle. His work has been part of significant shows such as Other Masters of India (2010) at Musée du Quai Branly, Paris; Nek Chand (2007) at the Halle Saint-Pierre, Paris; Un Incontro (2004) at the Contemporary Art Pavilion, Milan; Dialog (2003) at Museum Kunst Palast, Düsseldorf; Other Masters (1998) at the National Crafts Museum & Hastkala Academy, Delhi; and Magiciens de la Terre (1989) at the Centre Pompidou, Paris.
In 1976, Mashe was awarded the National Award for Tribal Art as part of the drive by Pupul Jayakar to foreground minority cultures. He received the Shilpa Guru in 2002 and the Prince Claus Award in 2009. In 2011, he received the Padma Shri from the Government of India.
Mashe passed away in May 2018 at his residence in Dahanu, Maharashtra.
Bibliography
Our website is currently undergoing maintenance and re-design, due to which we have had to take down some of our bibliographies. While these will be re-published shortly, you can request references for specific articles by writing to hellomapacademy@map-india.org.