ARTICLE
Kantha Embroidery
A household craft practised by women from West Bengal and Bangladesh, kantha – derived from the Sanskrit word kontha, or "rags" – embroidery is applied on quilts, bags and other textiles made from reused fabric. Although kantha embroidery originated in undivided Bengal through the influence and patronage of Portuguese traders in the region, it can be traced to the sixteenth century text Chaitanya Charitamrita by Krishnadas Kaviraj, in which the titular character receives a textile made with old fabric from his mother. Apart from being used as a warm blanket or bed covering, kantha textiles can be adapted to a variety of purposes depending on the size and thickness. The style varies between regions, and to some extent even between households, as embroiderers are encouraged to apply their aesthetic to each quilt.
The raw material for kantha quilts is usually old sarees and dhotis in a single solid colour. These are cut to size and stitched into several layers depending on the intended purpose of the resulting textile. When the borders of the saree are detailed and decorated, they are repurposed as borders of the quilt and the threads used for embroidery are extracted from the sarees as well. In some cases, the embroidery is thick and closely stitched, making both sides of the textile appear identical. While the designs differ between the various styles of kantha, they are all typically done with a running stitch and use motifs such as flowers, vines, mangoes, swastika and Tree of Life symbols. Except Lep kantha, all kantha textiles have intricate borders and a large lotus motif in the centre.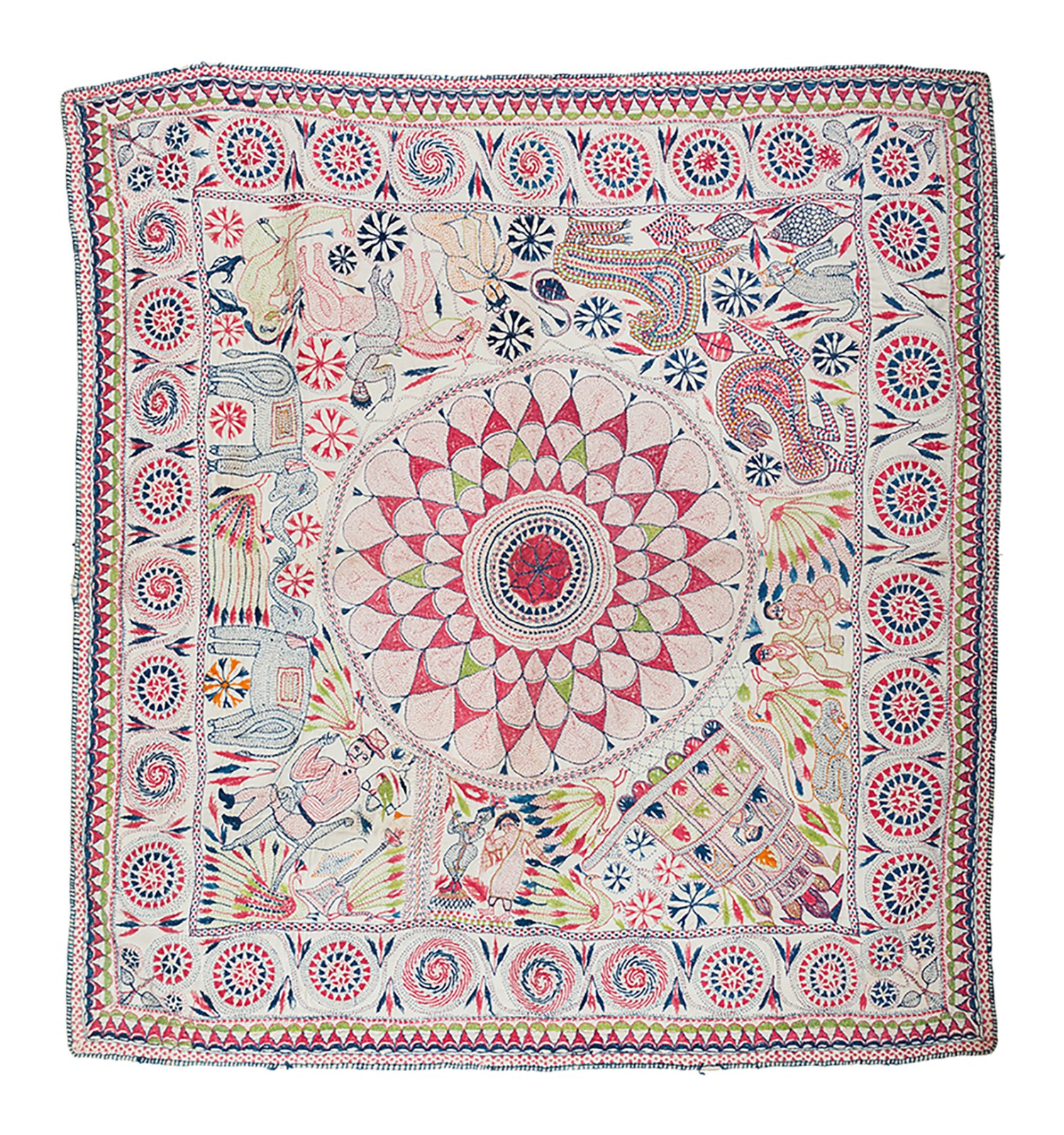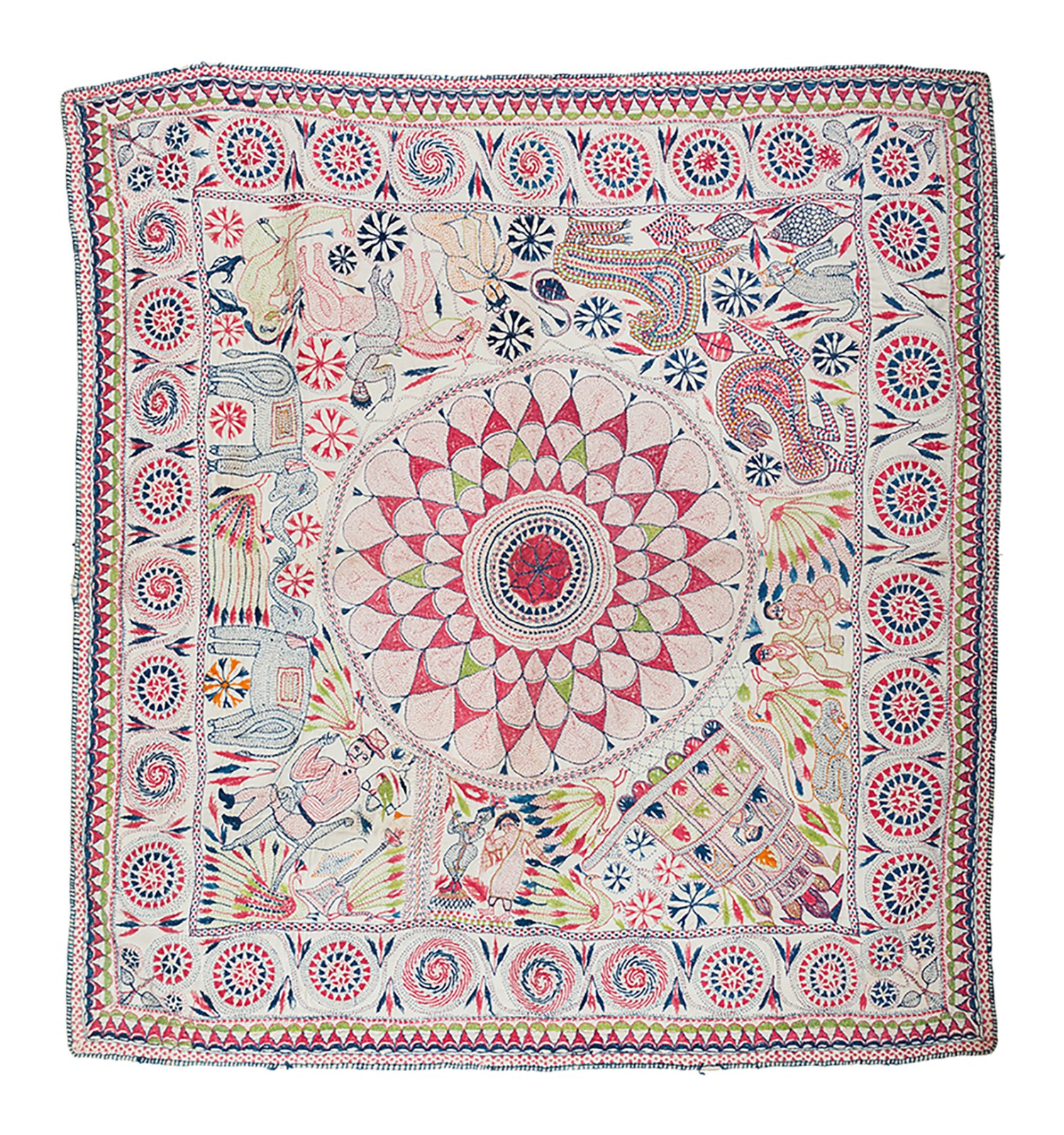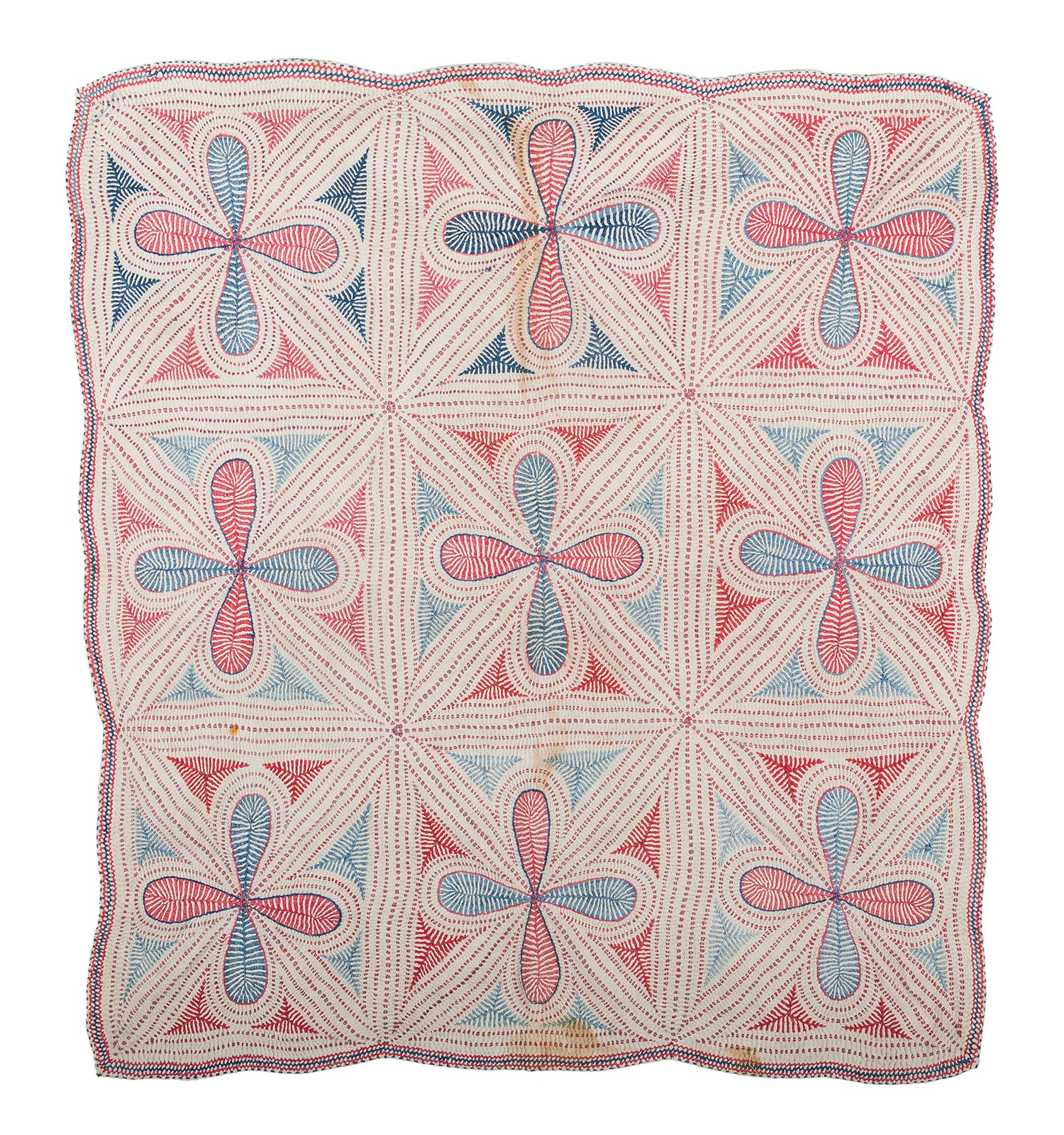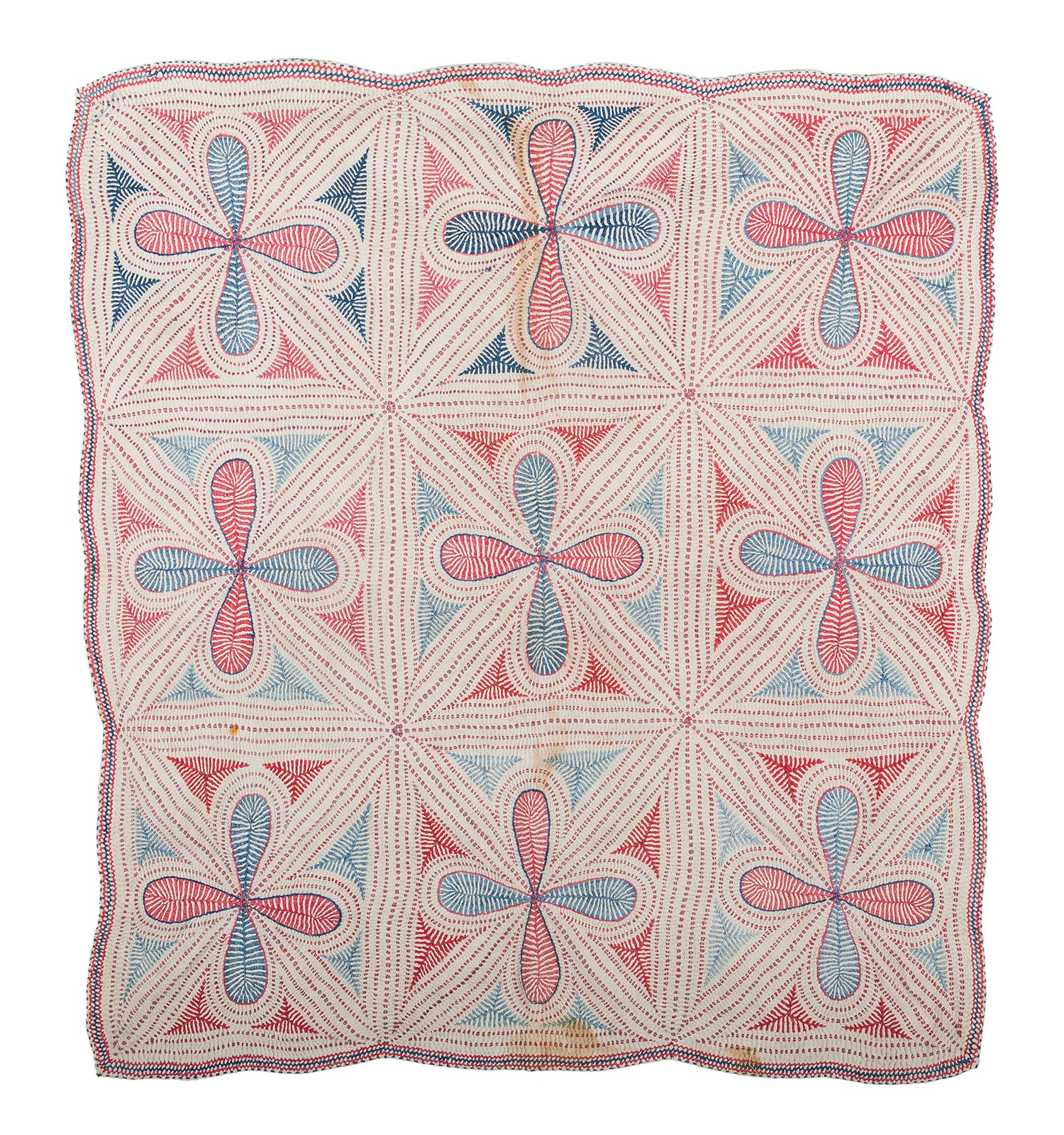 The running stitch is the basic building block of most designs; other stitches have been included through the influence of the changing textile market during the colonial rule such as cross-stitch, satin stitch, back stitch and herringbone stitch. Design elements derived from the choice of stitch include anaras (pineapple), wave-like lohori running stitch and the geometric par tola representing triangular kautar khupi and diamond-shaped borfi. Kantha embroidery made by Hindu women contains human and animal figures while Muslim women traditionally depict geometric patterns and repetitive floral imagery.
Broadly, there are eight kantha traditions that vary based on usage, stitch and imagery: Nakshi kantha, a quilt produced mainly in Bangladesh carrying natural imagery with large floral motifs in each corner and accompanied with a border; Sujani kantha is a large blanket embroidered in cross stitch with scenes from Indian epics or folk stories at the centre and a border with geometric patterns; Arshilata kantha is used to cover handheld mirrors, combs and cosmetics, usually bearing floral motifs around a mandala; Durjani kantha is a bag made by stitching together three corners of a square textile; Bayton kantha is a square cloth for wrapping books and is designed in a mandala format with a Satadala Padma design in the centre surrounded by motifs from Indian mythology and deities; Lep kantha is a thick quilt made with several layers of cloth and embroidered with floral and geometric motifs in a wave-like pattern; Oaar kantha is a pillowcase with a distinct border along the edge and embroidered with natural motifs in lines of running stitches; and Rumal kantha is a handkerchief with decorated borders and a lotus motif at the centre.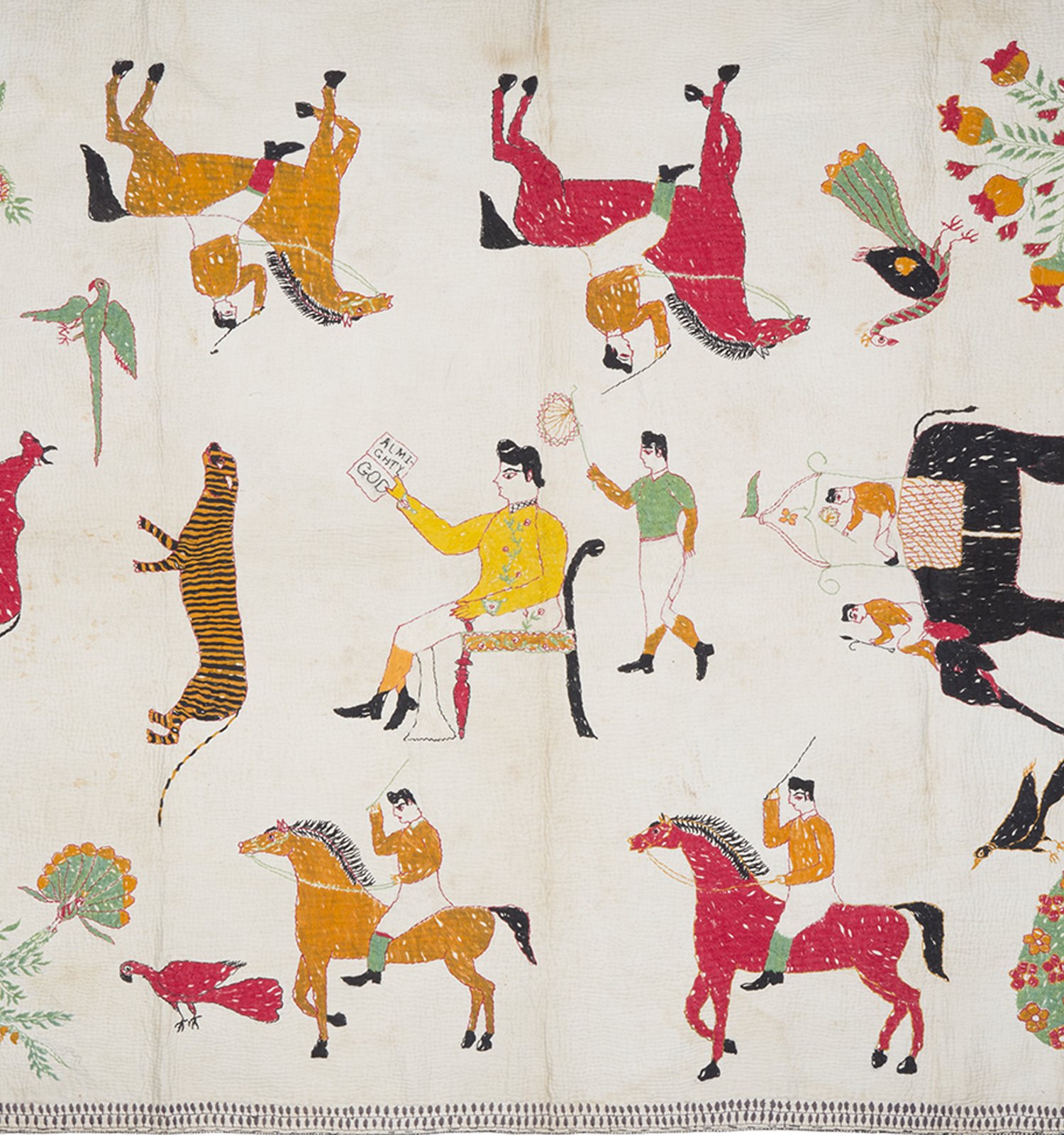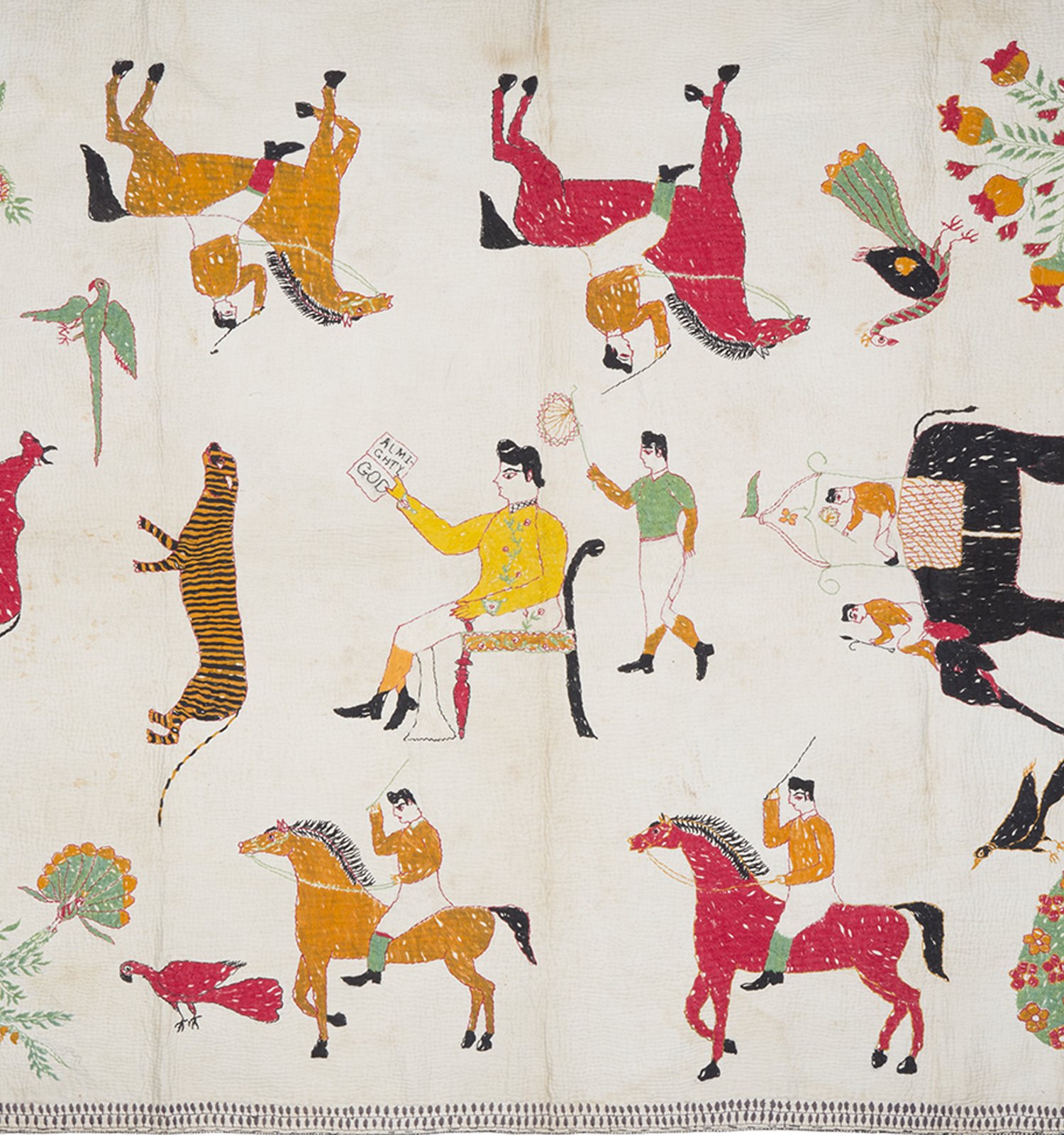 While kantha has historically been a household tradition in rural Bengal – the textiles primarily being given as gifts or used by the embroiderer's family – it has attracted a significant market in recent years. The craft received encouragement from Revivalist artists at Shantiniketan (now Visva-Bharati University) in the 1940s, and again in the 1980s through Shamlu Dudeja's organisation Self Help Enterprise (SHE) which incentivised women to practise kantha embroidery commercially. In Bangladesh, a renewed interest in Nakshi kantha has been attributed to artist and designer Surayia Rahman. Today, its distinct running stitch designs are often used to embroider sarees and blouses, although such garments are made with a new cloth material and in many cases are produced in states without an established kantha tradition, such as Gujarat and Rajasthan. Kantha embroidery continues to be popular, providing a significant income to many practitioners.
Bibliography
Our website is currently undergoing maintenance and re-design, due to which we have had to take down some of our bibliographies. While these will be re-published shortly, you can request references for specific articles by writing to hellomapacademy@map-india.org.