ARTICLE
Mitter Bedi
(b. 1926, d. 1985)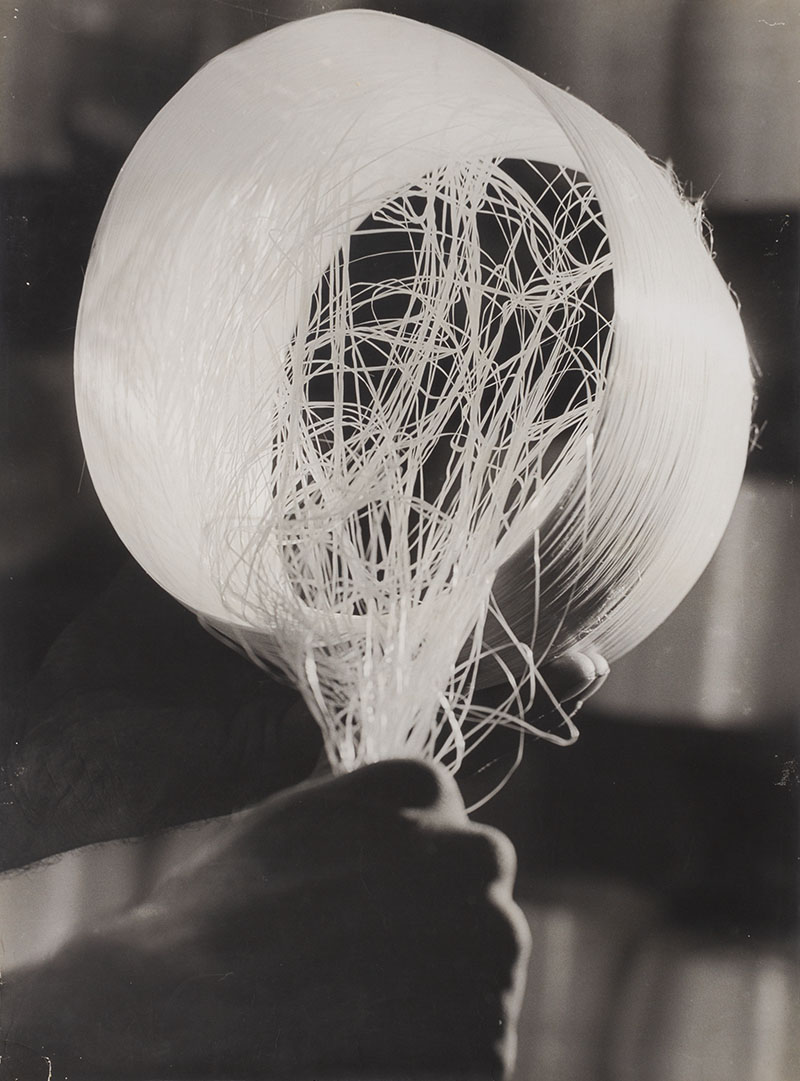 Untitled; Mitter Bedi; c. 1970; Silver gelatin print; 101.5 x 75.5 cm; Museum of Art and Photography (MAP), Bangalore
An Indian photographer best known for his industrial photography, Mitter Bedi was commissioned by several public and private enterprises, and extensively photographed projects across industries such as steel, oil, mining, hospitality, sugar while also photographing for the film and fashion industry, along with advertising. His stark images in black and white record a significant period of Nehruvian India, and demonstrate an expansion of the genre of industrial photography, wherein images were not just functional and representational, but also artistic. His photographs reveal a close study and relationship between his subject and its form: whether through its shape, design, or geometry.
Bedi was born in Lahore (now, in Pakistan) in undivided India. After receiving his school education from DAV School in Lahore, he moved to Mumbai in 1940, and studied at the Vidyasagar College, Kolkata, graduating in 1943. After unsuccessful attempts at finding employment in Kolkata, he moved back to Mumbai and started working in the city's emerging film industry. He joined the production house Filmkar as a publicity officer and later worked in motion pictures from 1947 to 1950. To supplement his income, he would cover birthday and wedding parties, and shoot celebrities and diplomats coming in at the airport. With his brother, he opened a small shop behind the Taj hotel, and began developing and selling photographs to sell to tourists.
Through a chance encounter, he received an opportunity from Standard Vacuum Oil Company, now Hindustan Petroleum, to take photographs of their company executives for their Annual Report in 1959. Through this assignment, he met his mentor, Arthur d'Arzien, who was an American photographer famed for his industrial photography Alongwith shooting for industrialists, he worked with advertising agencies who commissioned him to shoot their products. He went on to receive prestigious assignments from corporations like Air-India International, National Organic Chemical Industries Limited, Salgaonkar Mines, the Indian Tourism Development Corporation, Birla's, Lever's, Farex, and Kwality ice creams. He worked with the hospitality industry too, photographing Indian Hotels, ITDC, Taj Hotels, and Welcome Groups. He also shot for fashion campaigns for Digjam, for instance and the first Lakmé cosmetic campaign launched in india.
After suffering from a heart attack in 1981, Bedi shifted gears and started focusing on teaching. He held teaching positions at the KC College of Journalism, Mumbai (1974–75), National Institute of Design, Ahmedabad (1976), Rajendra Prasad Institute of Communication, Mumbai (1978), and SNDT Women's University, Mumbai (1978). He also wrote extensively about photography, and had a column in The Hindu, a national daily.
His work was recognised through several awards, including two Kodak International Awards, nine Advertising Club Awards, six Commercial Artists Guild (CAG) Awards, and a Photographer of the Year Award from the CAG in 1984.
He passed away in Mumbai in 1985, due to cardiac failure. His daughters Gayatri and Preeti continue to run his landmark studio in Colaba, Mumbai.
Bibliography
Doctor, Vikram. "Shot from the heart." The Economic Times. April 6, 2005. https://economictimes.indiatimes.com/shot-from-the-heart/articleshow/1069573.cms
Gehi, Reema. "Man and the Machinery." Mumbai Mirror. May 30, 2016. https://mumbaimirror.indiatimes.com/others/sunday-read/man-and-the-machinery/articleshow/52382963.cms
Kapoor, Coomi. "Mitter Bedi: The leader of industrial and commercial photography in India." India Today. December 5, 2013. https://www.indiatoday.in/magazine/society-the-arts/story/19850415-mitter-bedi-the-leader-of-industrial-and-commercial-photography-in-india-769964-2013-12-05
"Ways of Reading: Mitter Bedi Collection, Godrej Archives." in Domus India, volume 8, issue 3. January 2019. https://www.academia.edu/42816674/DI_80_IMPACT_Exploring_the_nation_s_design_histories p. 34.