ARTICLE
Prahlad Natak Masks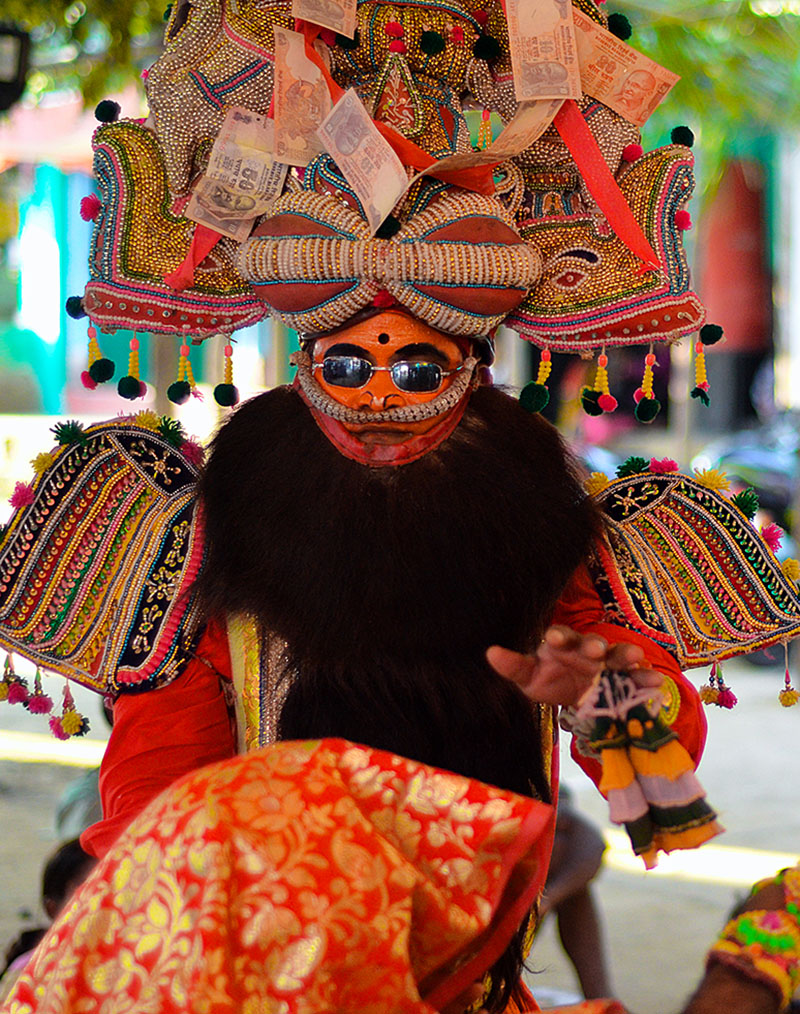 Hiranyakasipu in Prahalada Nataka; Prateek Pattanaik; c. 2018; Wikimedia Commons
Painted masks made of wood or papier mache, Prahlad Natak masks are used for Prahlad Natak performances in Odisha. The performative repertoire borrows from classical as well as folk sources. Though there are female roles in Prahlad Natak, performers tend to be exclusively male.
Prahlad Natak performances, as the name suggests, depict the story of Narasimha, who rescues the devotee Prahlad from his father, the demon king Hiranyakashipu. These performances also include several minor characters and a gahaka or narrator figure. Ganesha appears at the beginning to bless the proceedings, played by an actor wearing a papier mache mask. In some performances, Hiranyakashipu wears no mask, but his face is painted bright red to suggest ferocity. His moustache is made of thick black thread twined with golden zari. Narasimha, however, is always depicted using a massive wooden mask, and the actor wears a big turban to which it is fitted. The mask is accompanied by bright makeup and tapered brass nails to simulate claws.
The Narasimha mask is treated as a sacred object, and the wearer has to earn the privilege of donning it by performing a ritual to propitiate and invoke the spirit of the mask. This ritual includes water, flowers, coconut, sandalwood paste, incense, a lit lamp, and prescribed mudras. The worship is conducted off-stage prior to the performance, while the orchestra plays. While it is being conducted, all the performers gather around the mask and sing invocations to Vishnu. A similar ritual offering is performed throughout the year in the temples where the masks are kept. The oldest mask, believed to be as old as the Natak itself, is worshipped in one such temple at Sukunda near Brahmapur, Odisha.
As of writing, Prahlad Natak is fading in popularity, with only a few dozen troupes still active in southern Odisha.
Bibliography
Emigh, John. Masked Performance: The Play of Self and Other in Ritual and Theatre. Philadelphia: University of Pennsylvania Press, 1996.
Mahapatra, Sitakant. "Prahlada Nataka: A Window on a Syncretic Performative Tradition". Sahapedia, accessed October 12, 2021. https://www.sahapedia.org/sites/default/files/201903/Prahlada%20Nataka%20%20A%20Window%20on%20a%20Syncretic%20Performative%20Tradition%20-%20Sitakant%20Mahapatra.pdf
Patnaik, Sunil. "Rare art form finds few takers – 150-year-old traditional dance languishes in neglect". The Telegraph Online, December 2010, accessed October 12, 2021. https://www.telegraphindia.com/odisha/rare-art-form-finds-few-takers-150-year-old-traditional-dance-languishes-in-neglect/cid/455439