Commissioned in 1582 by Emperor Akbar, Razmnama is a translation of all eighteen books of the Mahabharata from the original Sanskrit to Persian. Due to the epic's large size, consisting of over 100,000 verses, the Razmnama (the Book of Wars), is an abridgement rather than an exact translation, and was completed between 1584–86. Apart from this version, there are three versions of the manuscript that exist in various collections around the world, but they are each unique in their composition and execution.
As part of a larger plan to pacify his Hindu opponents, Akbar had set up a translation bureau or the maktab khana, in 1574, to facilitate the translation of major Indian texts such as the Rajatarangini (The History of the Kings of Kashmir), the Ramayana and the Mahabharata into Persian. Mahabharata was chosen, in particular, as it was seen as the most comprehensive epic of Indian culture, but at the same time, it invited both Muslims and Hindus to question some of their traditional beliefs which the epic depicted through its stories.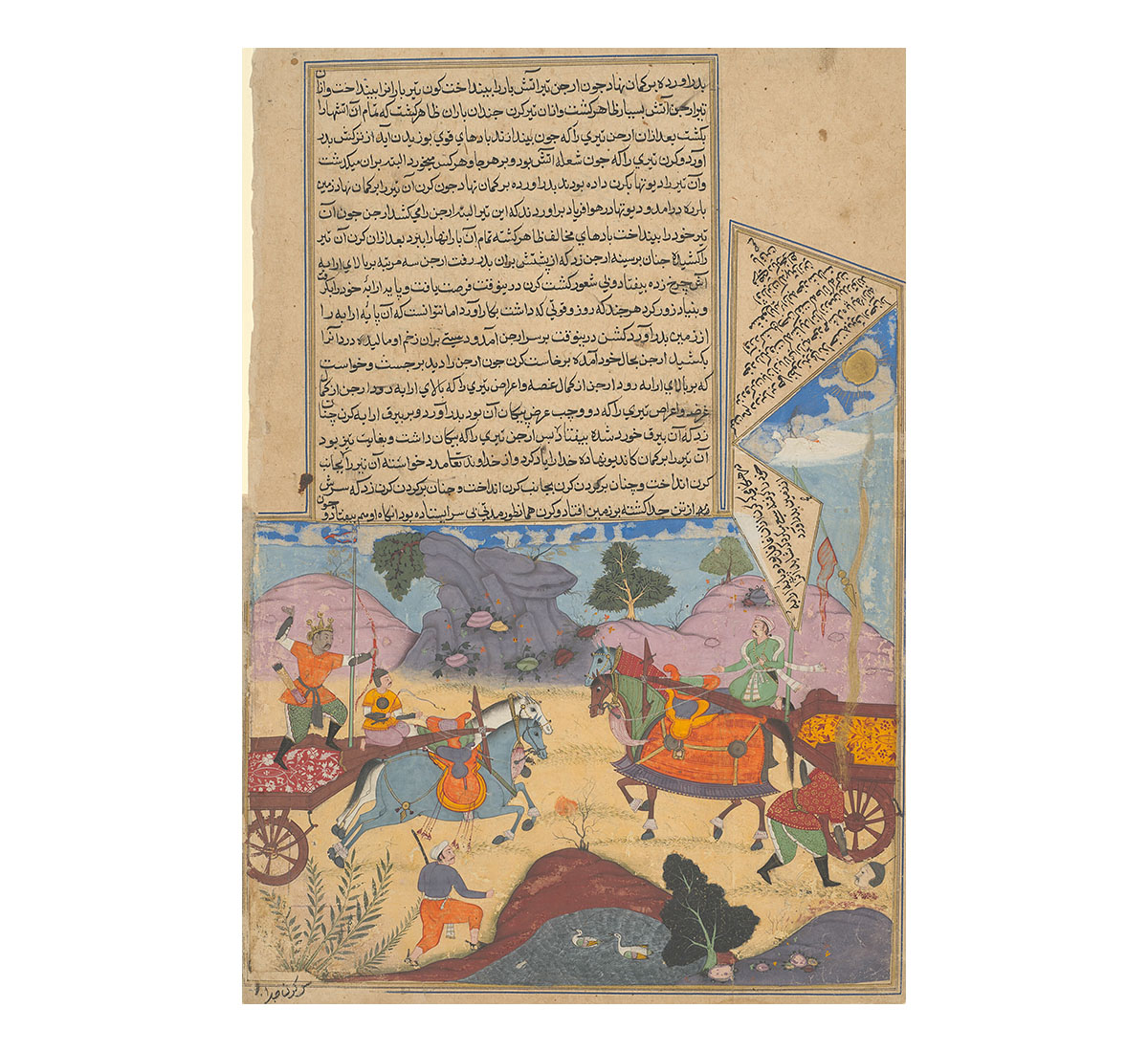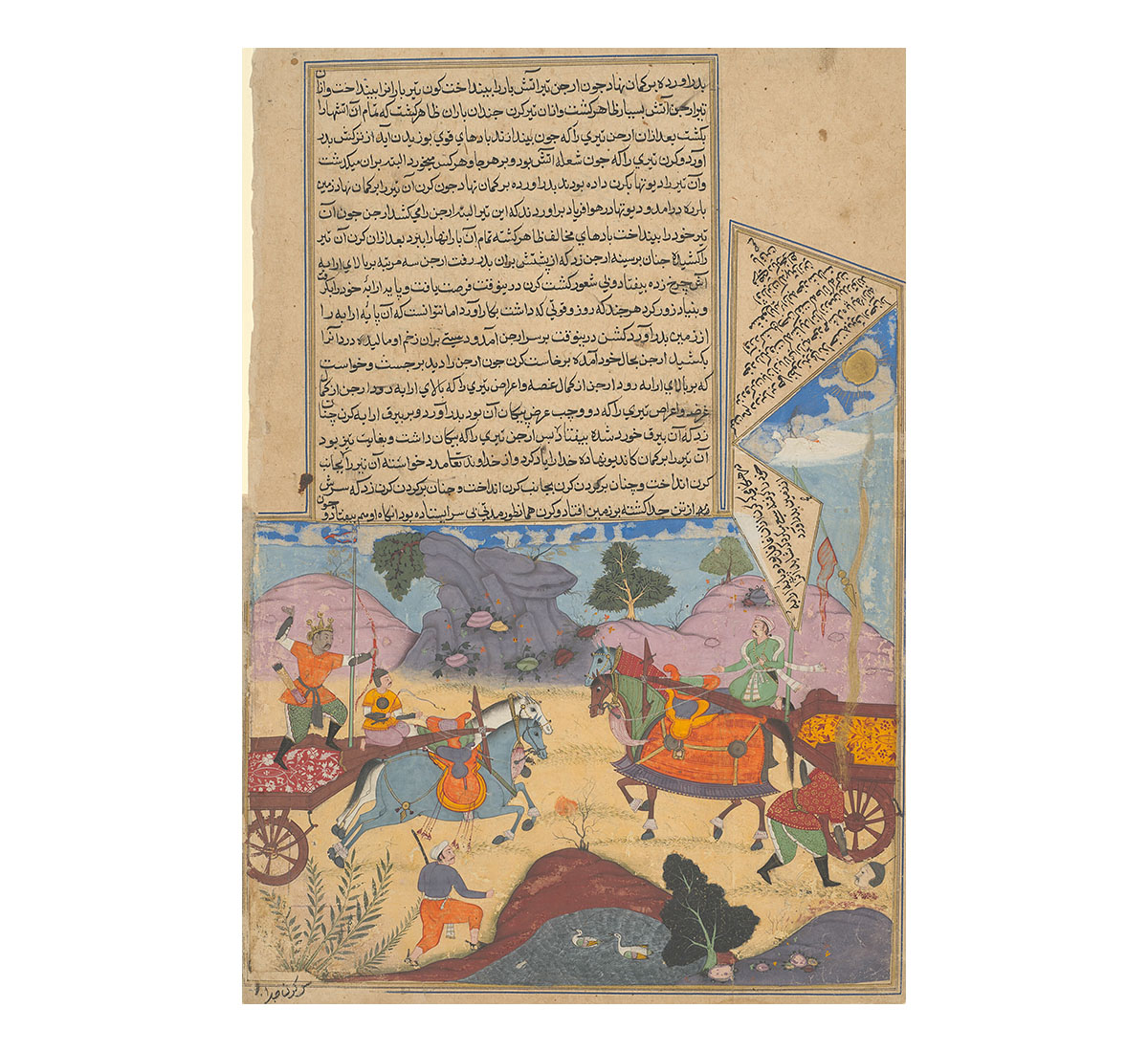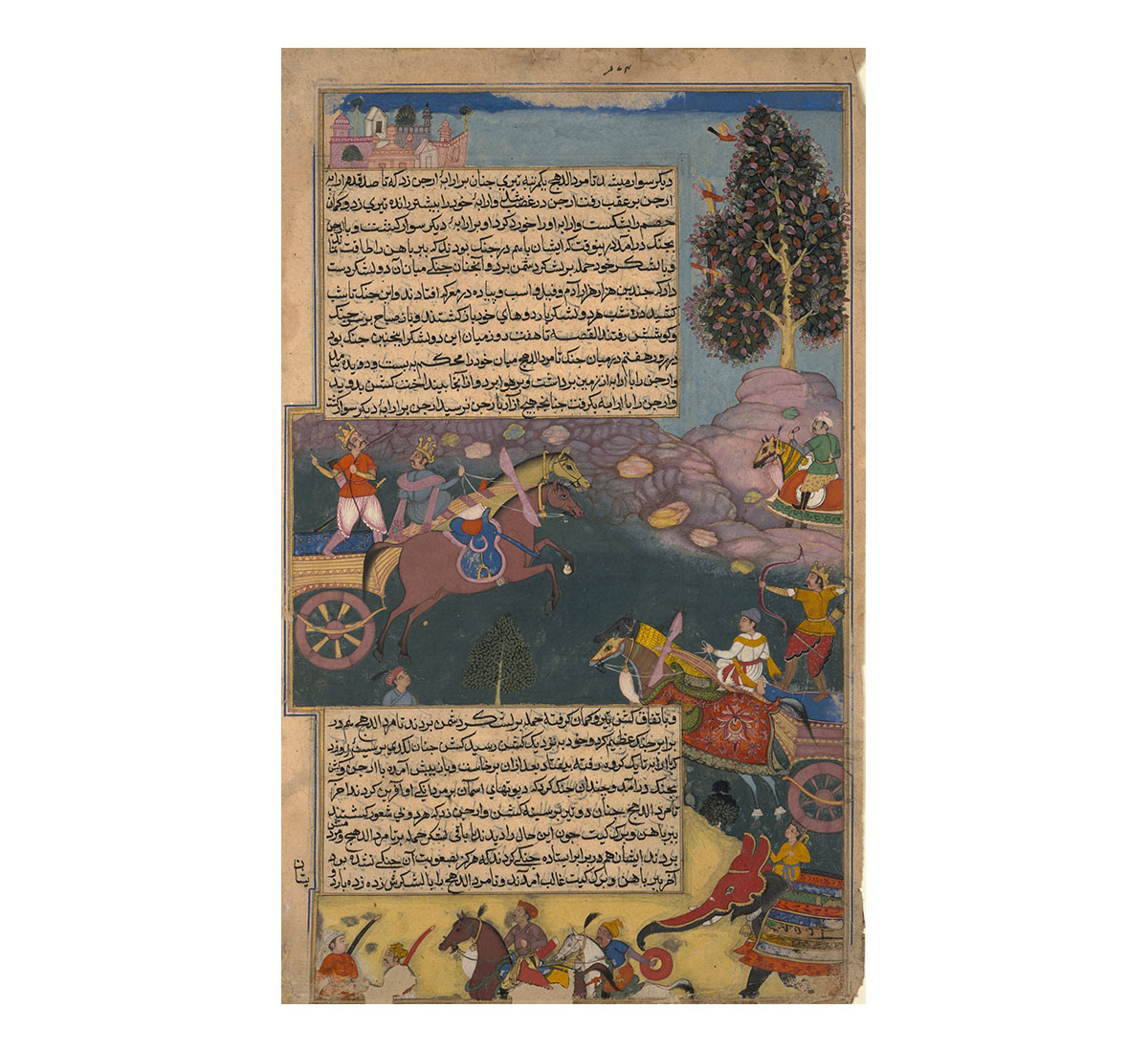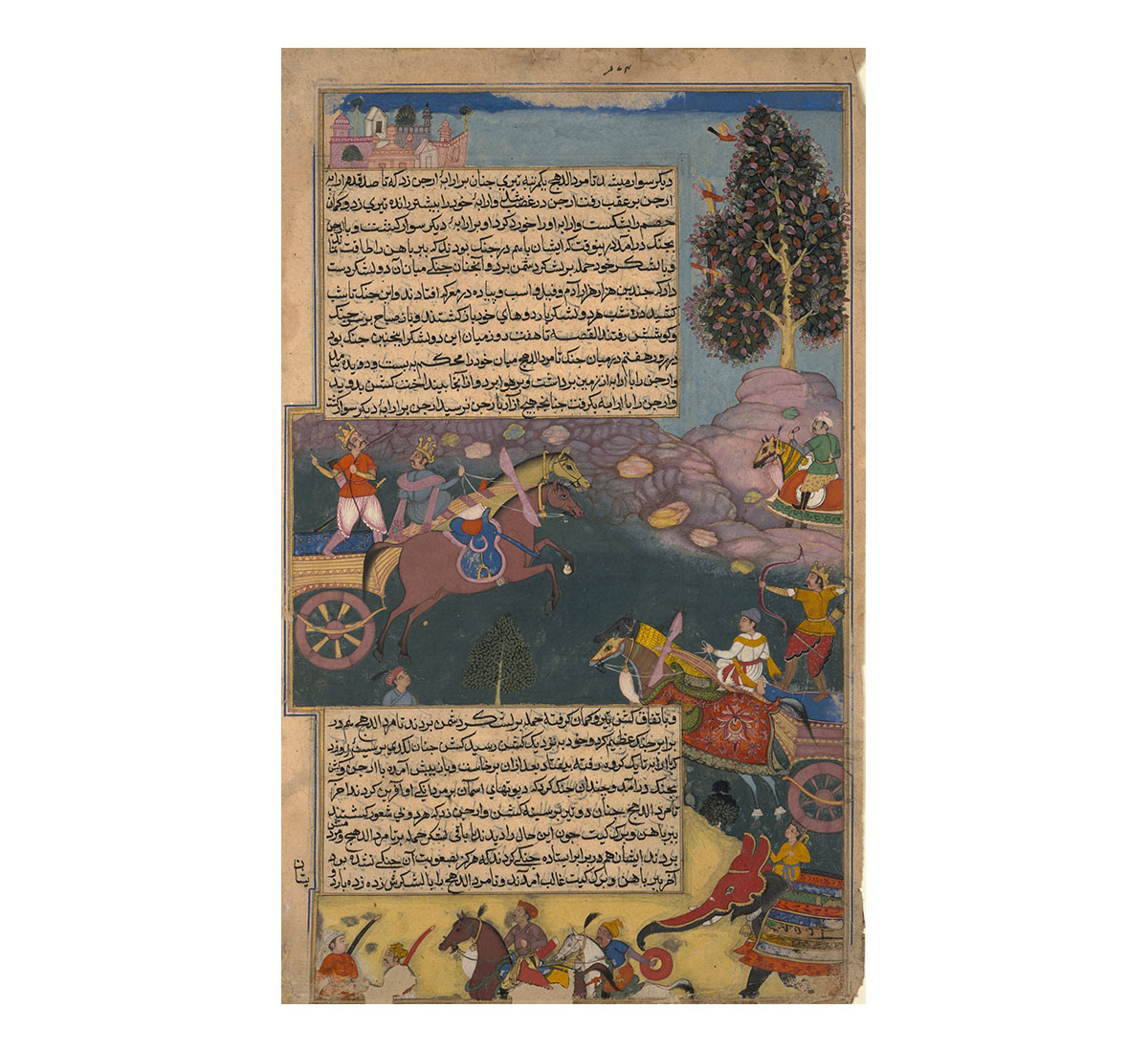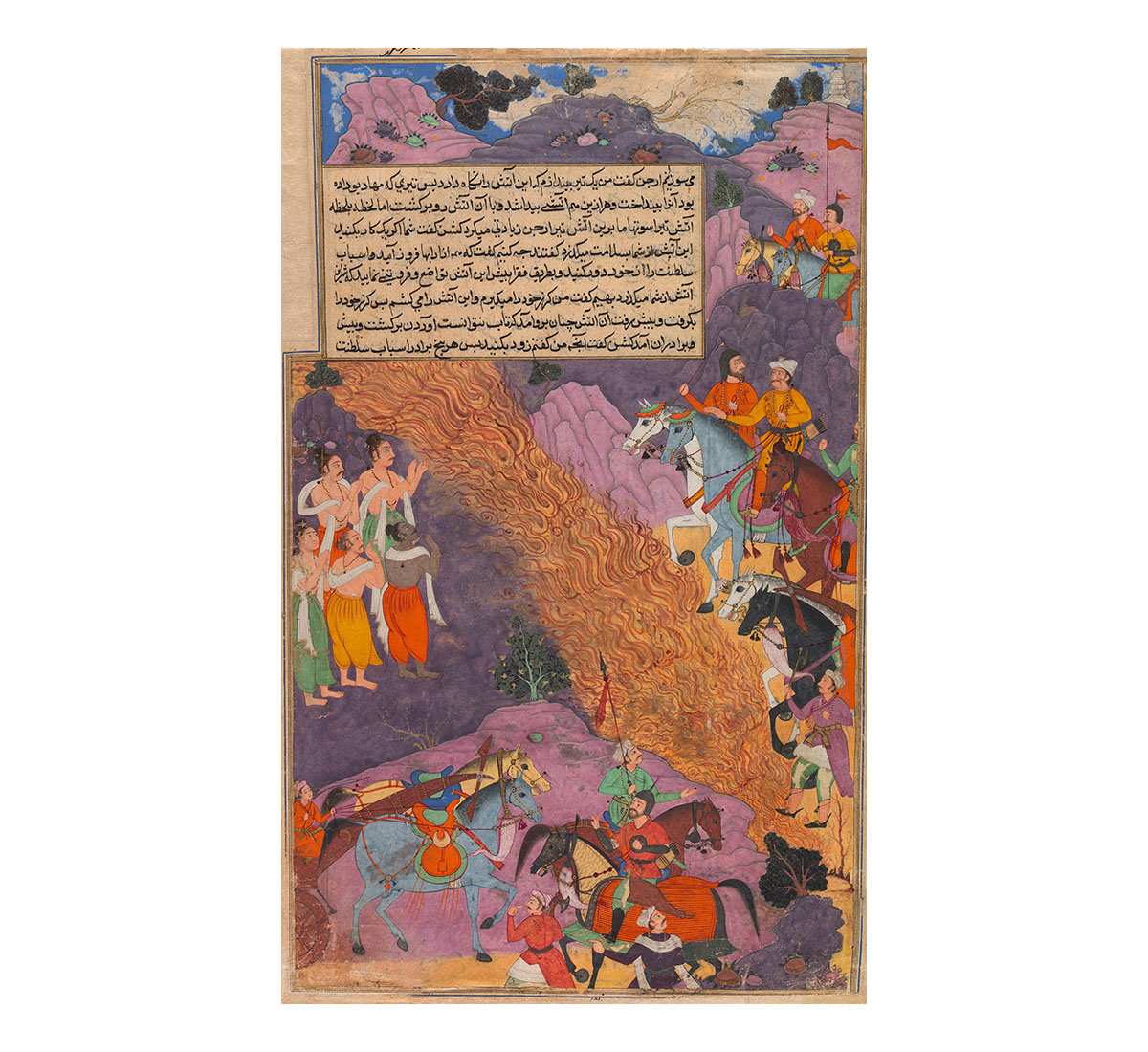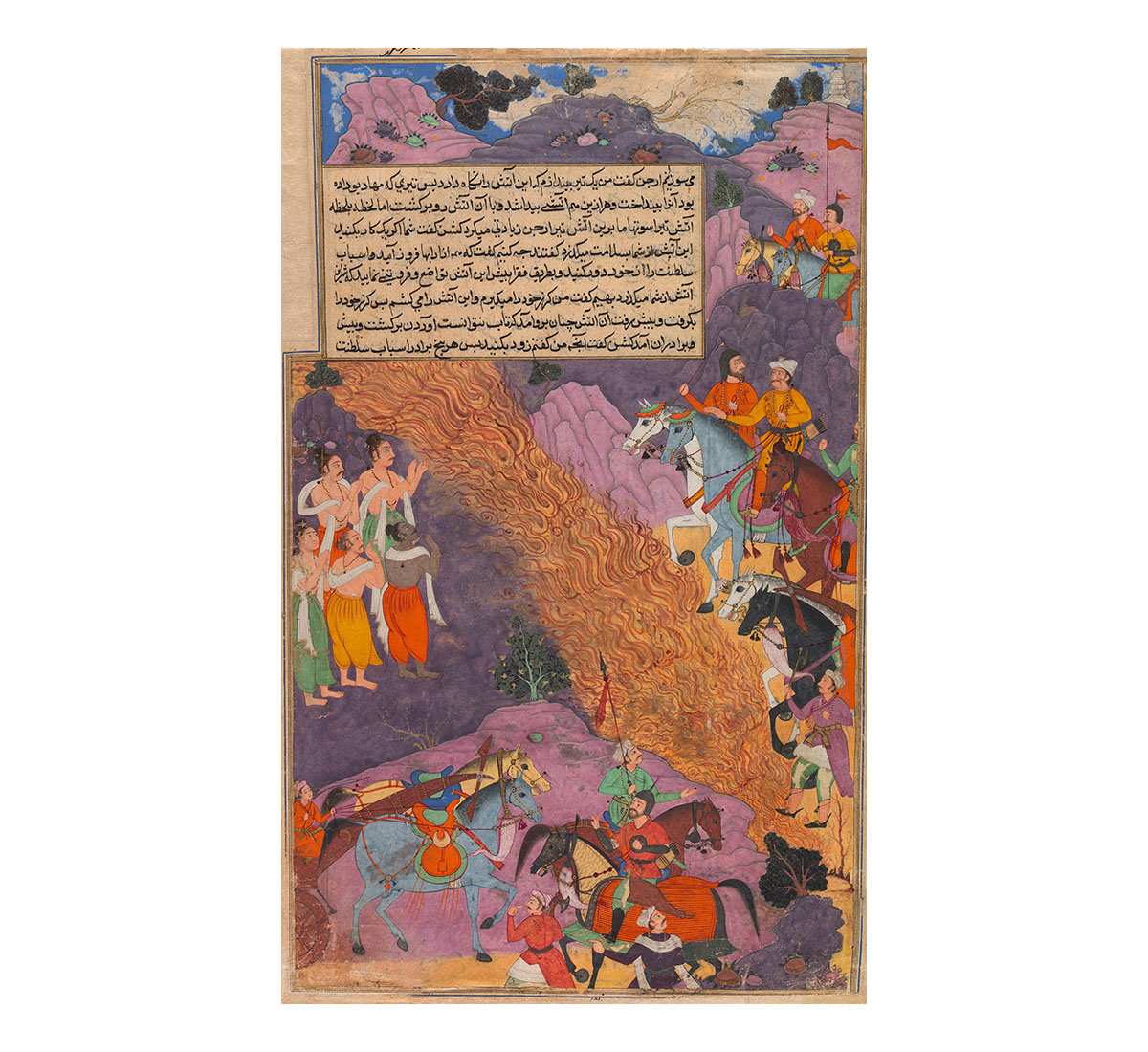 The process of translation for the Razmnama was arduous. Since none of the courtiers were sufficiently fluent in Sanskrit, Hindu scholars first prepared an explanation of the epic based on which Nakib Khan, Mulla Shah, Muhammed Sultan Thanesari and Abd-ul-Kadir Bada'uni prepared the first draft in Persian. The court poet Faizi then transformed this draft into prose. Since no codified tradition of rendering illustrations for the Mahabharata existed at the time in South Asia, the illustrations created for Akbar's manuscript were highly imaginative.
Furthermore, since Razmnama's commission had political intentions, Akbar wished for the manuscript to be popular across the kingdom and thus encouraged the nobility to have their own copies of the manuscript. This led to several versions of the manuscript being created of which three survive today. As compared to the first copy, which was created by the imperial atelier, the subsequent copies show visible differences in quality; this could either be a result of it being finished in limited time, the skills of the artists engaged or the change in patronage for their creation.
The oldest of the manuscripts, consisting of hundred and sixty full-page illustrations, is now housed at the City Palace Museum, Jaipur. But due to the limited availability of this manuscript for research, the other copies are seen as sub-imperial examples of manuscript painting. These are currently housed in the British Library and the Birla Academy of Art and Culture, Kolkata apart from other locations.
Bibliography
Our website is currently undergoing maintenance and re-design, due to which we have had to take down some of our bibliographies. While these will be re-published shortly, you can request references for specific articles by writing to hellomapacademy@map-india.org.