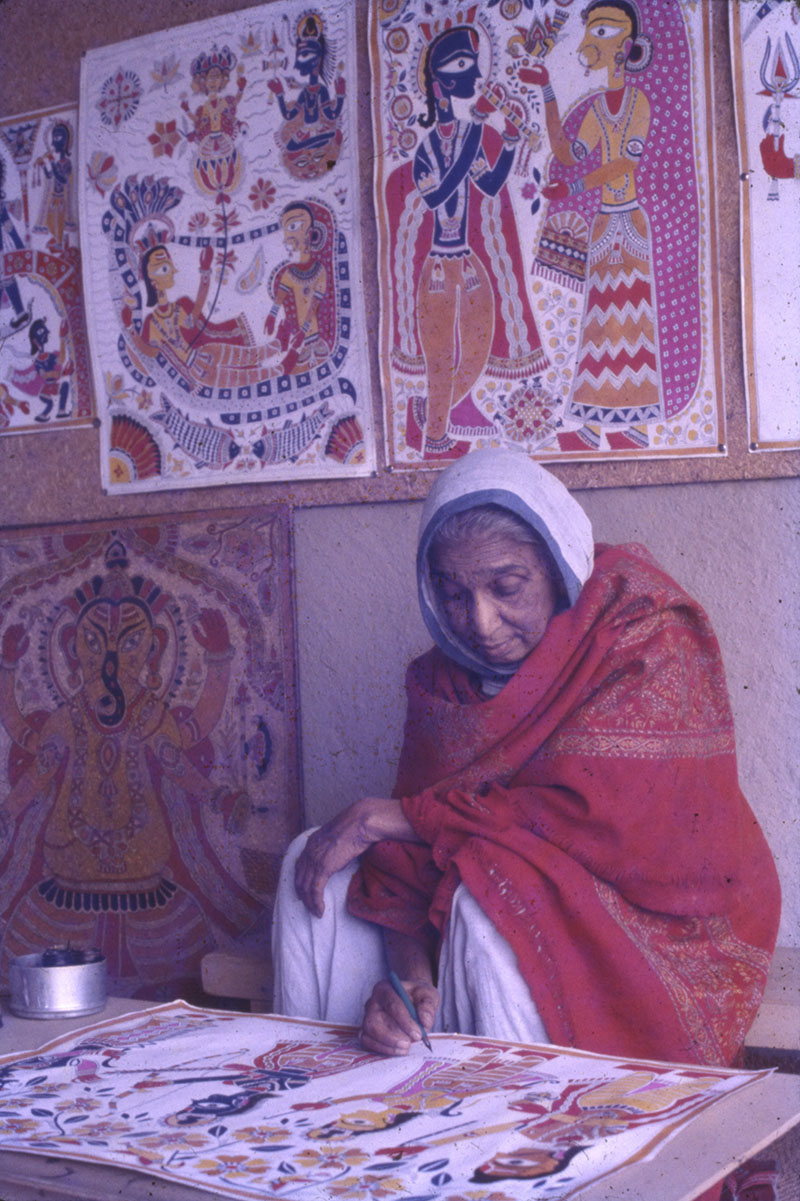 Madhubani Master Painter Sita Devi at Work; T. S. Satyan; Late 20th century; 35mm slide film; 2.4 x 3.6 cm; Museum of Art & Photography (MAP), Bengaluru
Considered a pioneer artist of Madhubani painting, Sita Devi's work and career brought attention to the artform and led to its formal adaptation outside the scope of tradition. Devi was born to a Mahapatra Brahmin family and moved to the village of Jitwarpur village near Madhubani upon her marriage.
Among the first artists of Mithila who started painting on paper and canvas, Devi popularised the bharni style of Madhubani painting wherein spaces were filled with colour instead of lines. Traditionally, paintings in kachini style using one or two colours and only linework were commonly rendered by Kayastha women, and bharni by Brahmins. Her paintings drew from cultural and mythological themes such as the images of Krishna, Radha and other deities. Besides this, Devi also went on to paint aspects of contemporary life and the world from her travels such as the World Trade Centre and the Arlington National Cemetery. One of her best known works is her painting of Krishna – painted in the 1970s on board instead of paper – in which he is flanked by two attendants and finely embellished with flowers and peacocks at his feet.
In addition to her artistic practice, Devi also worked towards the upliftment of her village. Her fame and lobbying efforts were successful in developing roadways, education centers and economic avenues for the residents of Jitwarpur.
During Devi's career, her work was exhibited and recognised nationally and internationally. She was an artist-in-residence at the National Crafts Museum & Hastkala Academy, New Delhi and was awarded a National Award in 1975, a Padma Shri in 1981 and Silpa Guru in 2006 by the government of India. In 1984, the government of Bihar awarded her with the Bihar Ratna Samman. Her work has been widely collected and is part of private and public collections in Victoria and Albert Museum (V&A), London; the Los Angeles County Museum of Art; the Philadelphia Museum of Art; Musée du Quai Branly, Paris; and Mithila Museum, Tokamachi.
She passed away in 2005, at the age of 92, in Madhubani, Bihar.
Bibliography
Our website is currently undergoing maintenance and re-design, due to which we have had to take down some of our bibliographies. While these will be re-published shortly, you can request references for specific articles by writing to hellomapacademy@map-india.org.