ARTICLE
Woman Riding Two Brahman Bulls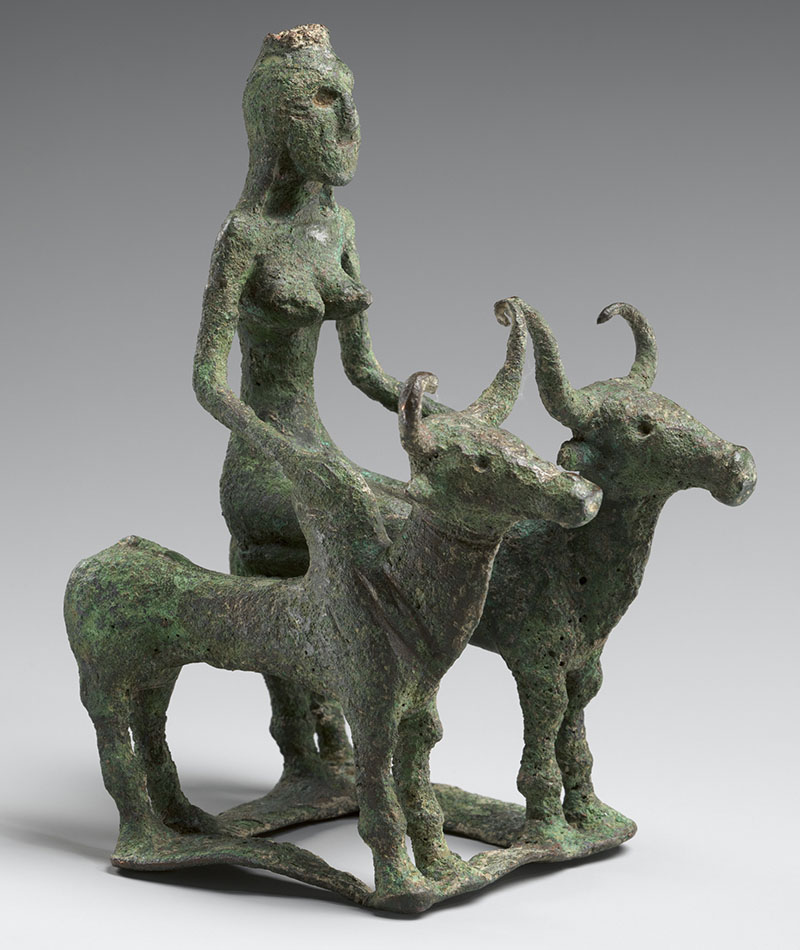 Woman Riding Two Brahman Bulls; Kausambi, India; c. 2000–1750 BCE; Bronze; 14 x 8.9 x 11.4 cm; The Metropolitan Museum of Art
A bronze figurine from the Indus Valley, Woman Riding Two Brahman Bulls depicts a woman kneeling on a platform resting on the backs of two Brahman bulls or zebu bulls, with her hands on their humped backs. The woman and the bulls are mounted on a rectangular frame, and the two seem to have been cast independently and later joined. Dated to the Late Harappan Phase, c. 2000–1750 BCE, the sculpture is one of the oldest surviving examples of Harappan bronze culture.
Excavated at Kaushambi, near Allahabad, in India, the sculpture measures 14 x 11.4 x 8.9 cm. The woman has a lean physique, conical breasts, shoulder-length hair, oval face, deep-set eyes and a diadem-like ornament on her head. The symmetry of her body has been reflected in other terracotta female forms from the Harappan period. Bulls were abundantly represented in Indus Valley cultures, notably on pottery and seals, highlighting the animal's economic and ideological value. The animal may also have been associated with important kin groups and officials.
Some scholars have identified the woman as a prototype for Hindu deities such as Durga, and it is likely that she symbolises an important deity, perhaps related to a specific clan. The sculpture could also indicate the influence of the Mesopotamian Civilisation, where images of animals being controlled by a human figure, usually male, were common. 
The sculpture has been on display at the Metropolitan Museum of Art, New York since 1991 and is the oldest bronze object in the museum's collection of objects from the Indian subcontinent.
Bibliography
Fairservis Jr., Walter. "Cattle and the Harappan Chiefdoms of the Indus Valley." Expedition Magazine, 1986. http://www.penn.museum/sites/expedition/?p=6017.
Gandhiok, Tarini. "Why You Need To Know About the Empowering Harappan Sculpture of Woman Riding Bulls." shethepeople, September 26, 2020. Accessed February 13, 2023. https://www.shethepeople.tv/news/why-you-need-to-know-about-the-empowering-harappan-sculpture-of-woman-riding-bulls/.
Lodrick, Deryck O. "Symbol and Sustenance: Cattle in South Asian Culture." Dialectical Anthropology 29, no. 1 (2005): 61–84. http://www.jstor.org/stable/29790728.
Mark Kenoyer, Jonathan. "Bull Seal, Harappa." Harappa. Accessed February 13, 2023. https://www.harappa.com/indus/27.html.
Sharma, Riya. "A Study of Terracotta Bull Figurine of Harappan Sites in Rajasthan (Indian Context)." Proceedings of the Indian History Congress 79 (2018): 744–55. https://www.jstor.org/stable/26906313.
"Woman Riding Two Brahman Bulls." Met Museum. Accessed February 03, 2023. https://www.metmuseum.org/art/collection/search/39126.