Every region in India produces its own variety of mango — Uttar Pradesh has rataul and langda, himsagar in West Bengal, kesar in Gujarat and Alphonso in Karnataka, to name a few. India is also the world's largest producer of mangoes, but not a significant contributor to international trade, since the Indian population consumes most of its homegrown produce. This abundance in the variety and scale of mango production and its significance in South Asian food practices has inevitably influenced art, politics and culture in India. The golden-yellow fruit, synonymous with summer in India, has become a symbol of wealth, a tool of diplomacy, an icon of sensuality, and an enduring metaphor for South Asia itself. A look at the various lives of mangoes allows us to trace this vast and colourful history.
The luscious mangoes that we see today were small and fibrous when they were first domesticated 4,000 years ago. The Mughals and the Portuguese, and countless other communities, improved the fruit through selective breeding. Babur, who pined for the melons, peaches, apricots and walnuts of Central Asia, came to admire the flavours of mango quite immediately. Akbar, Shah Jahan and Jahangir, too, remained steadfast in their commitment to maintaining orchards and groves and securing their favourite variety of mangoes every summer. Mangoes appeared in miniature paintings with scenes from gardens, groves and poetry recitals — and mango-picking promptly became a princely pastime. Early on, mangoes' deep sweetness lent itself also to desire and became a symbol of fertility and love, often occurring in paintings with young women at leisure, in groves as a setting for a scene or as a tree laden with fruits. Some miniature paintings also announced the arrival of monsoons with dark clouds and mango trees in the background. Thus, the mangoes symbolised both nature's fertility and the possibility of replenishing the earth by signaling the impending monsoons.
The allusions to fertility and abundance, however, were not restricted to paintings. The mango tree, which is also believed to be a kalpa-vriksha, or wish-fulfilling tree, is depicted in Jain, Buddhist and Hindu literature and sculptures. A twelfth-century sandstone sculpture of the Jain goddess Ambika shows her seated on a lion with a child under a mango tree, protected by yakshi, a nature spirit. The eastern arched gateway at Sanchi Stupa, a venerable Buddhist complex in Madhya Pradesh, contains a vrikshaka, or tree goddess, holding a mango tree above her. Kamadeva, the god of erotic love, desire and pleasure in Hindu mythology, is known to use an arrow tipped with mango blossoms to stir love epidemics in mythology. His companions — a cuckoo, a parrot, humming bees, and a gentle breeze — announce an amorous spring just as mangoes announce a hot summer.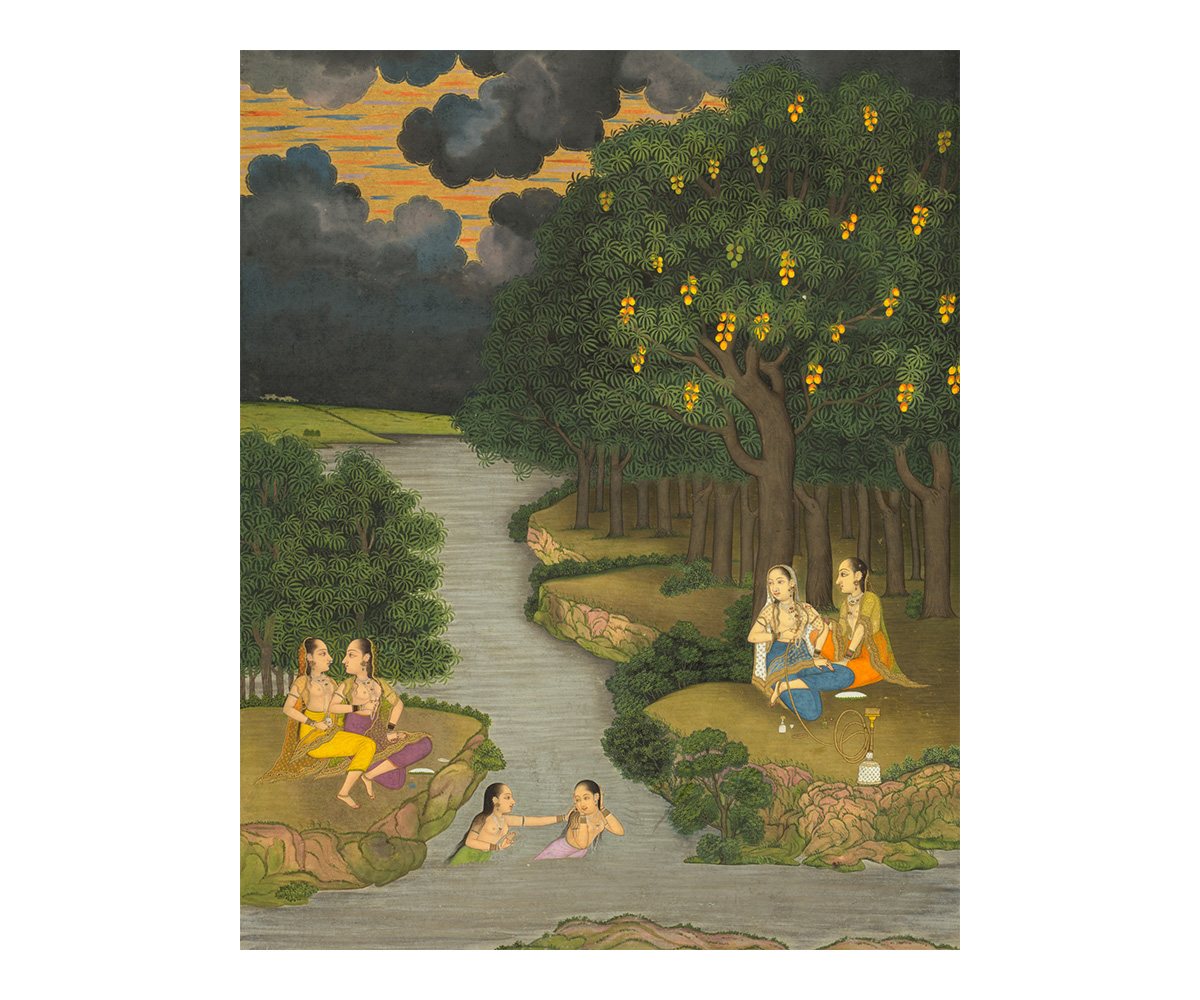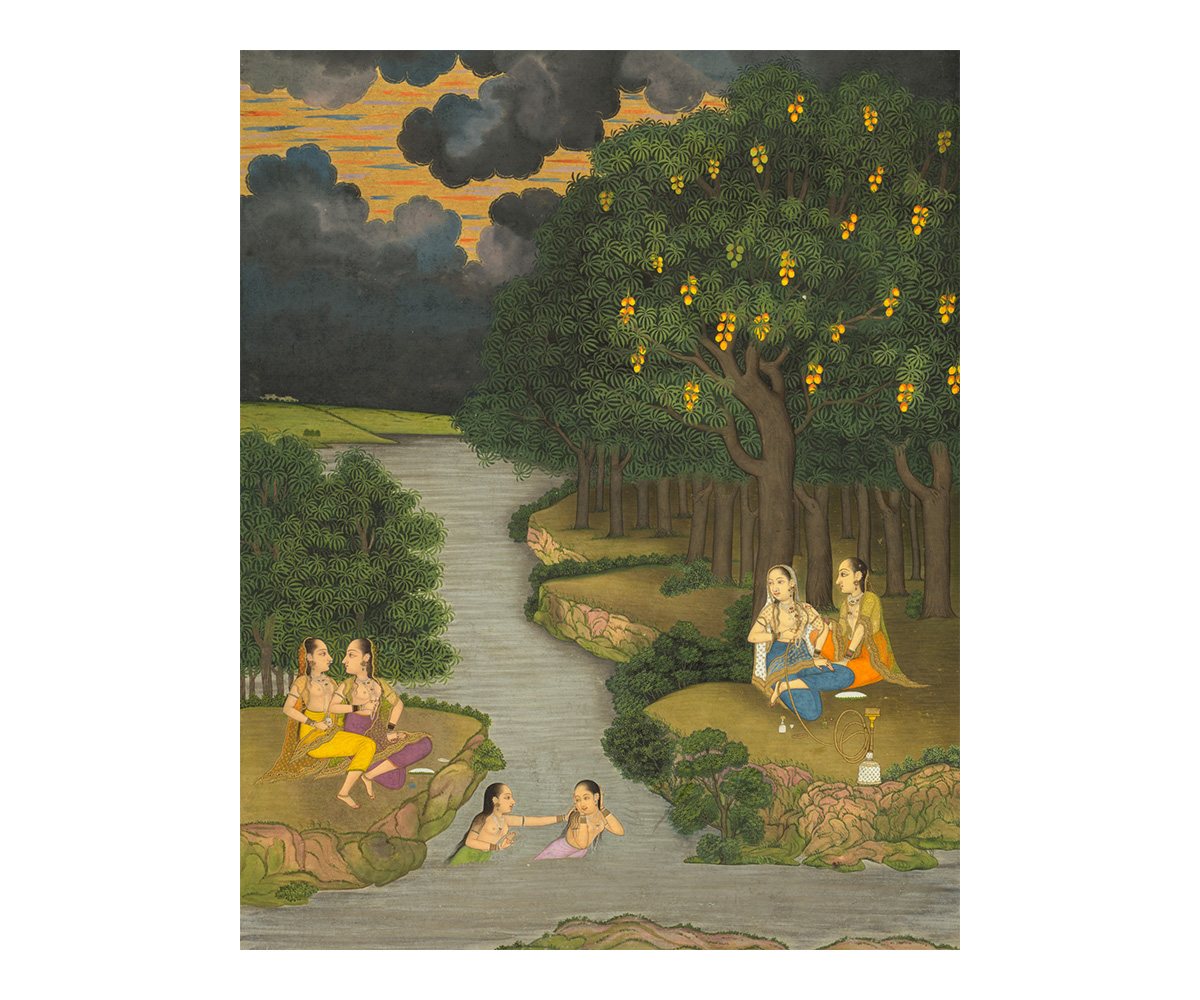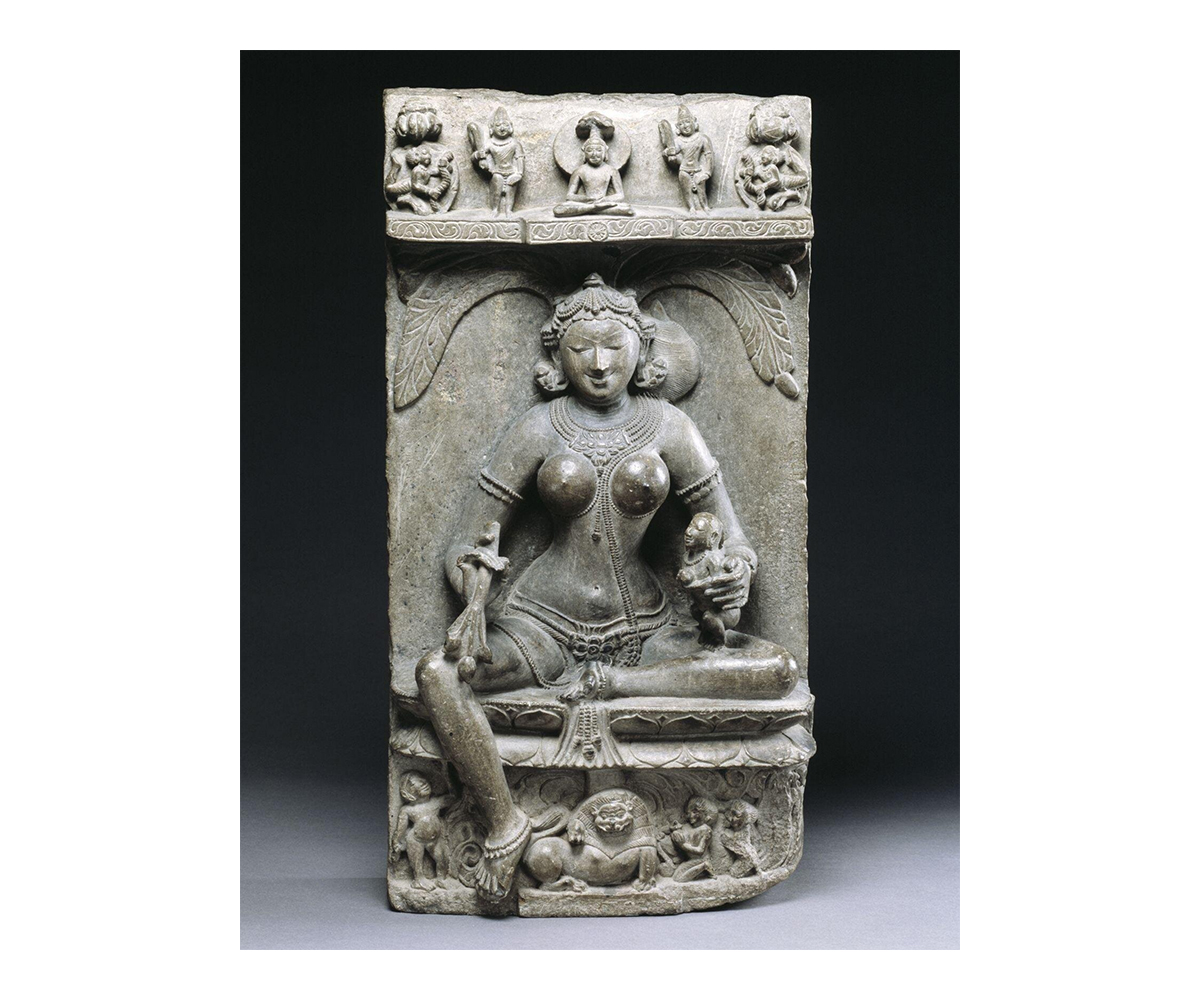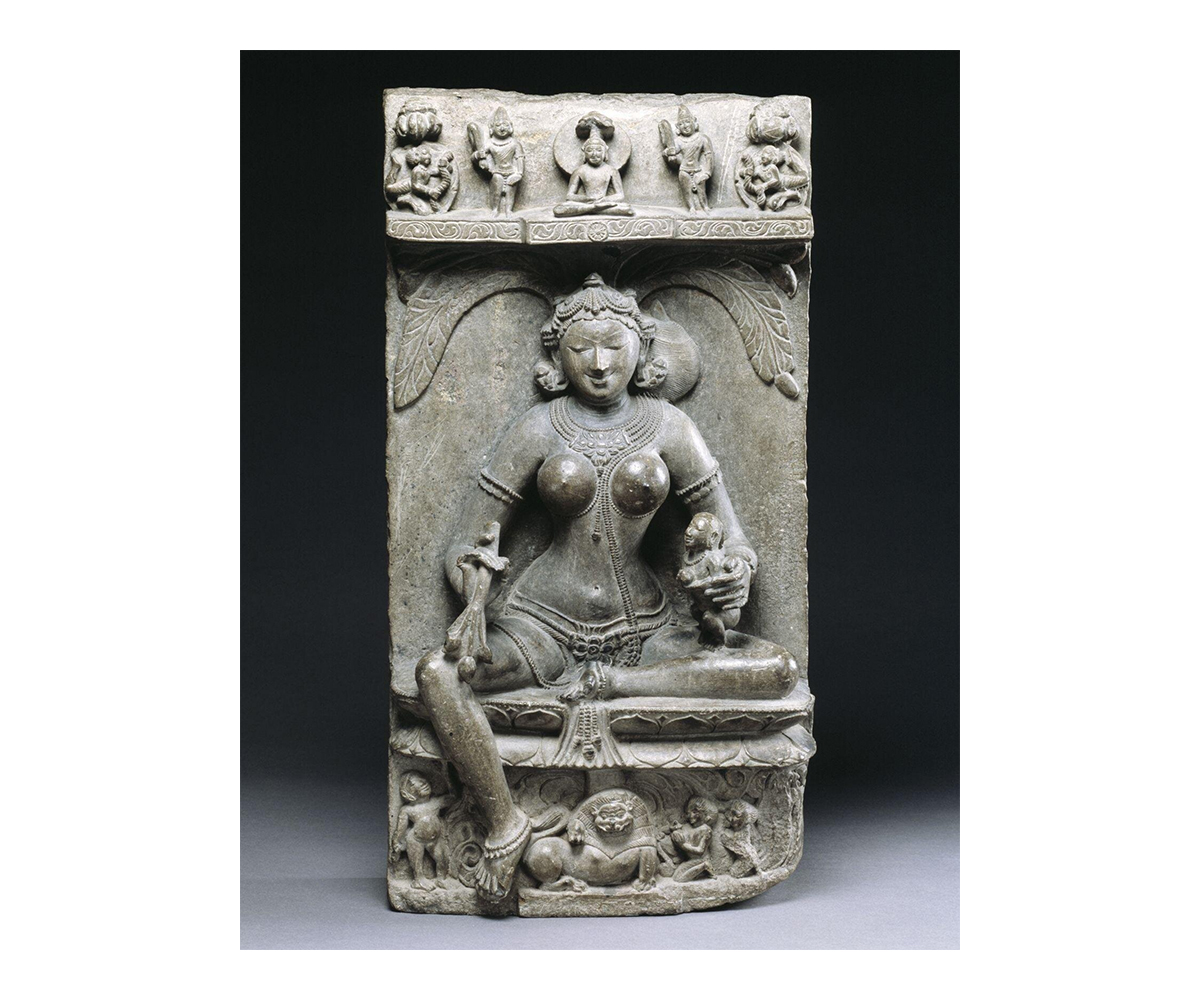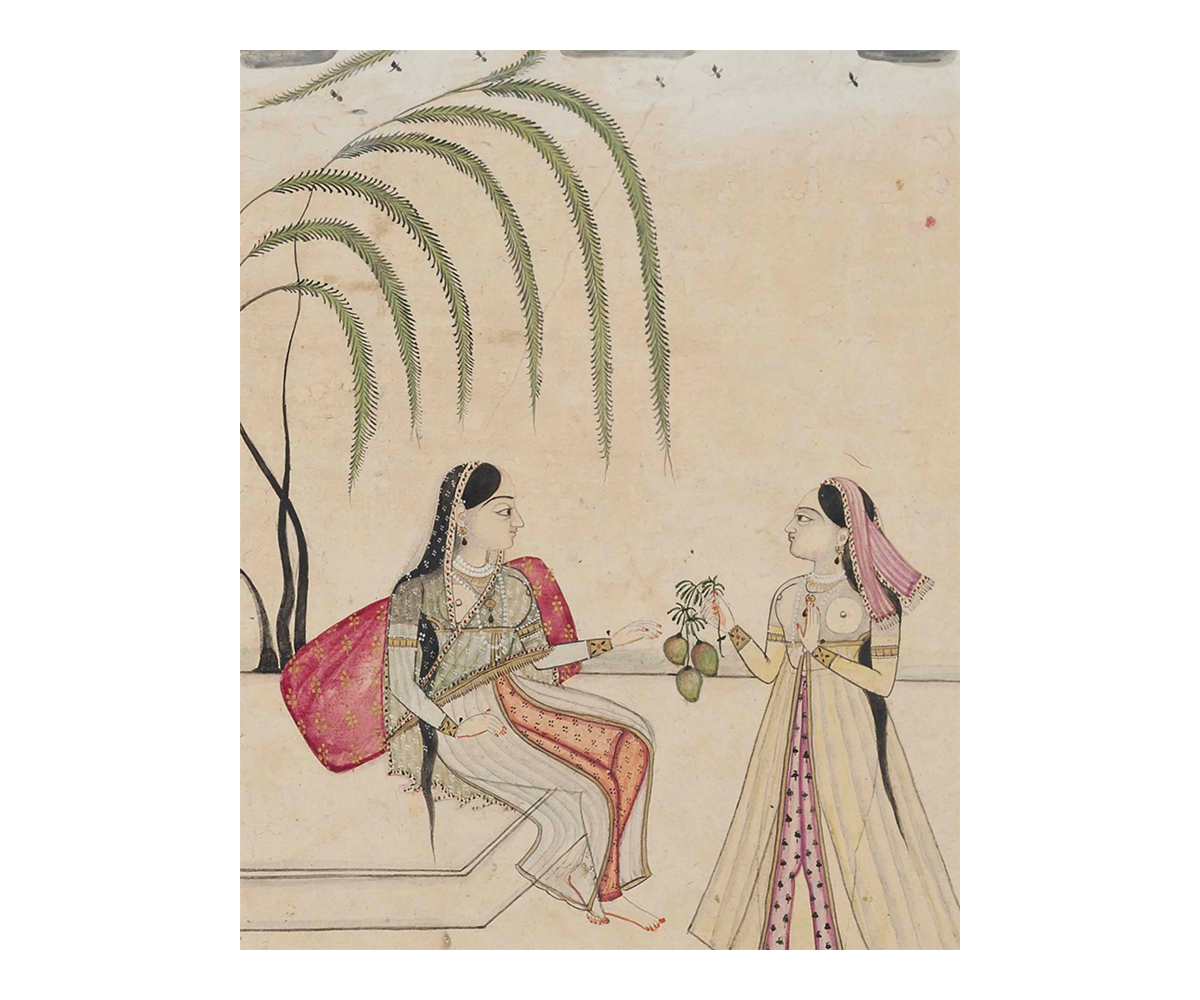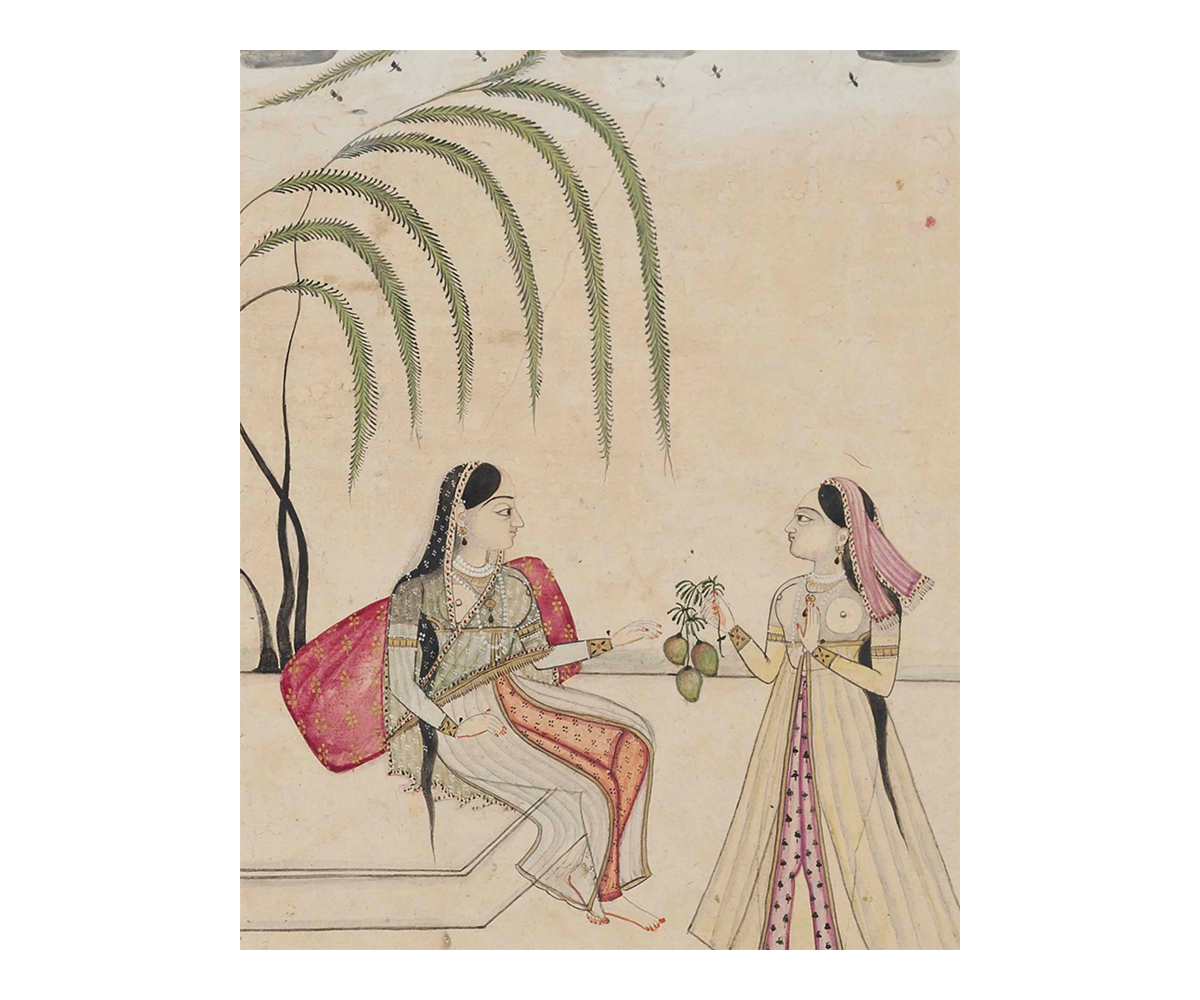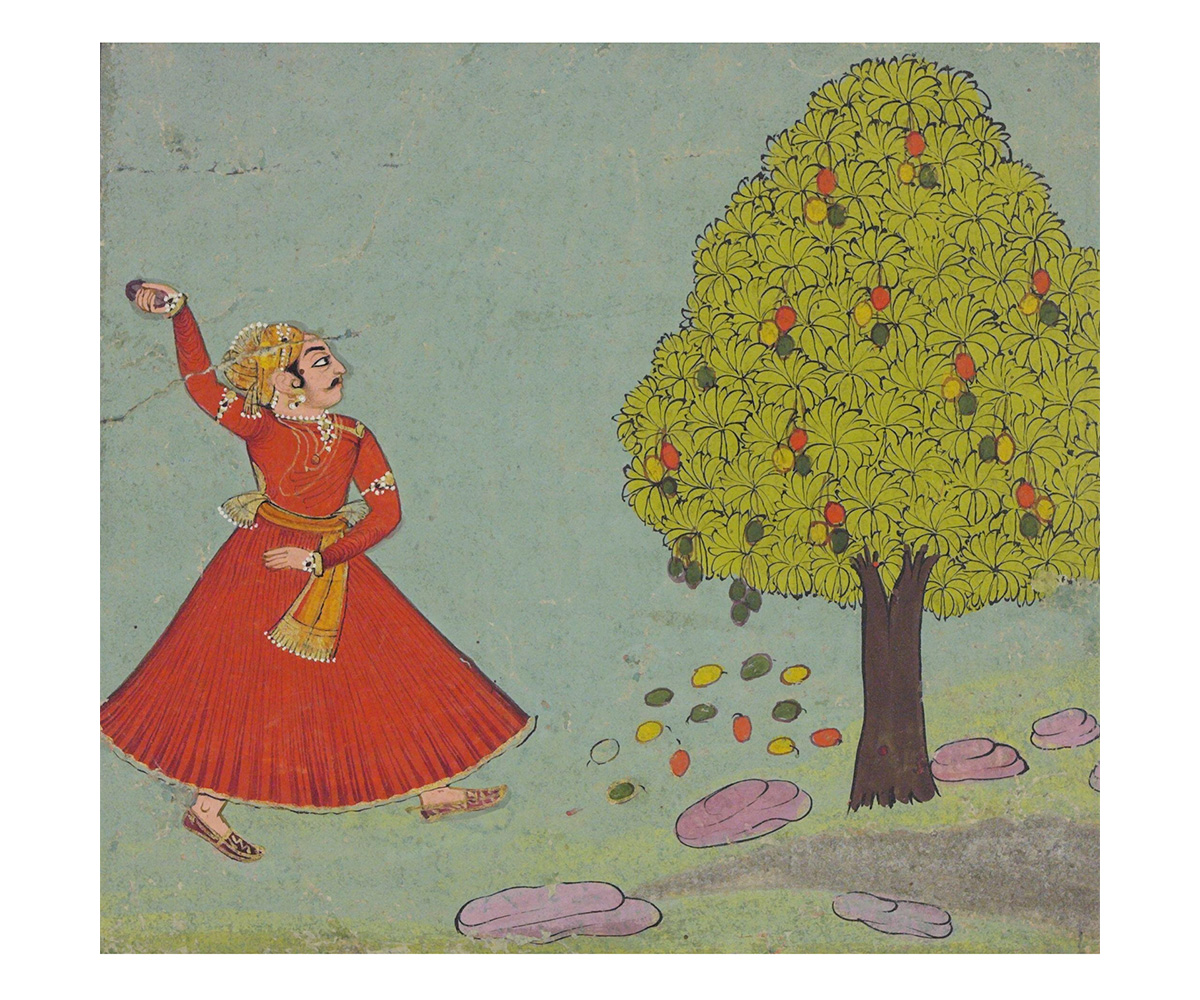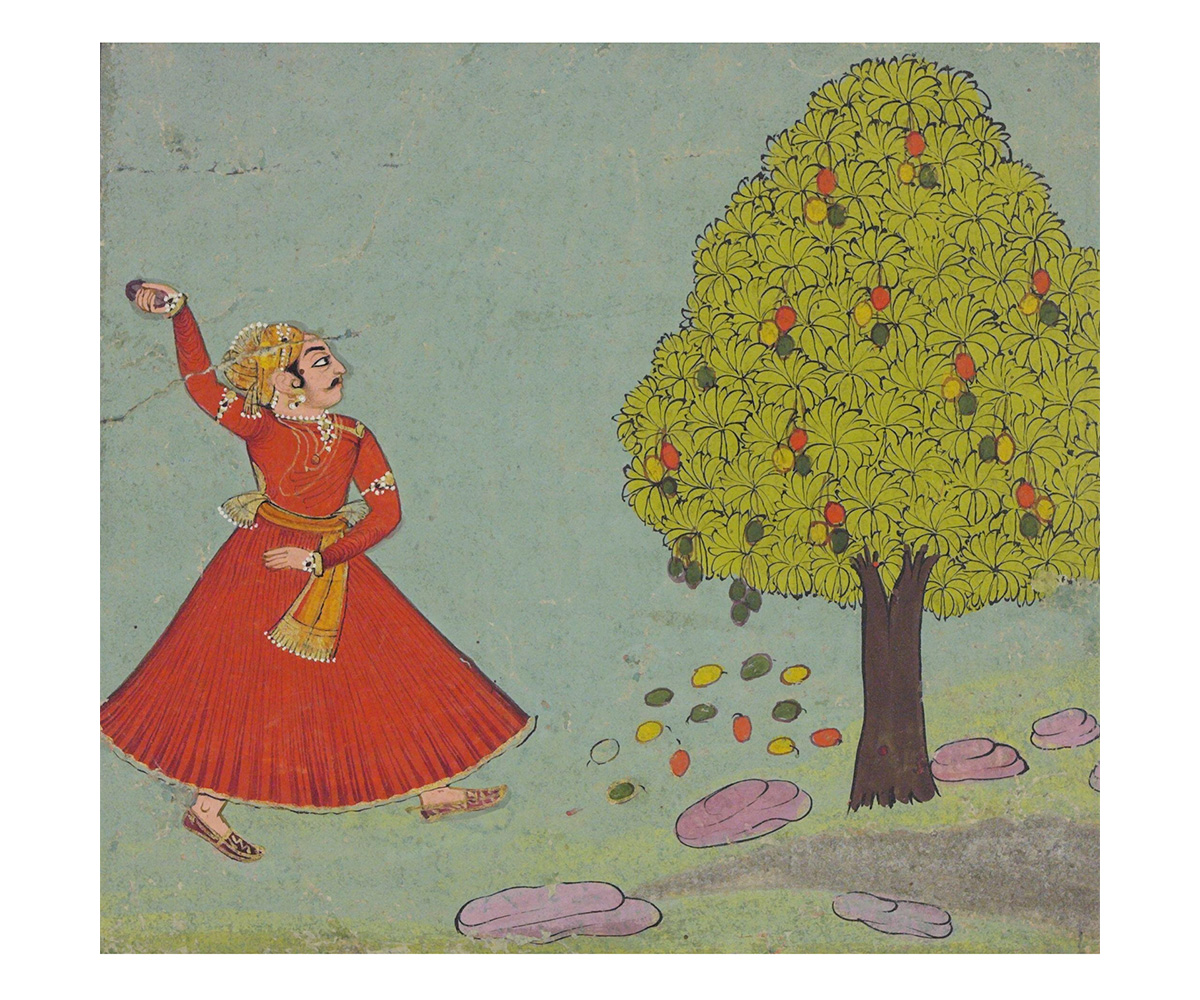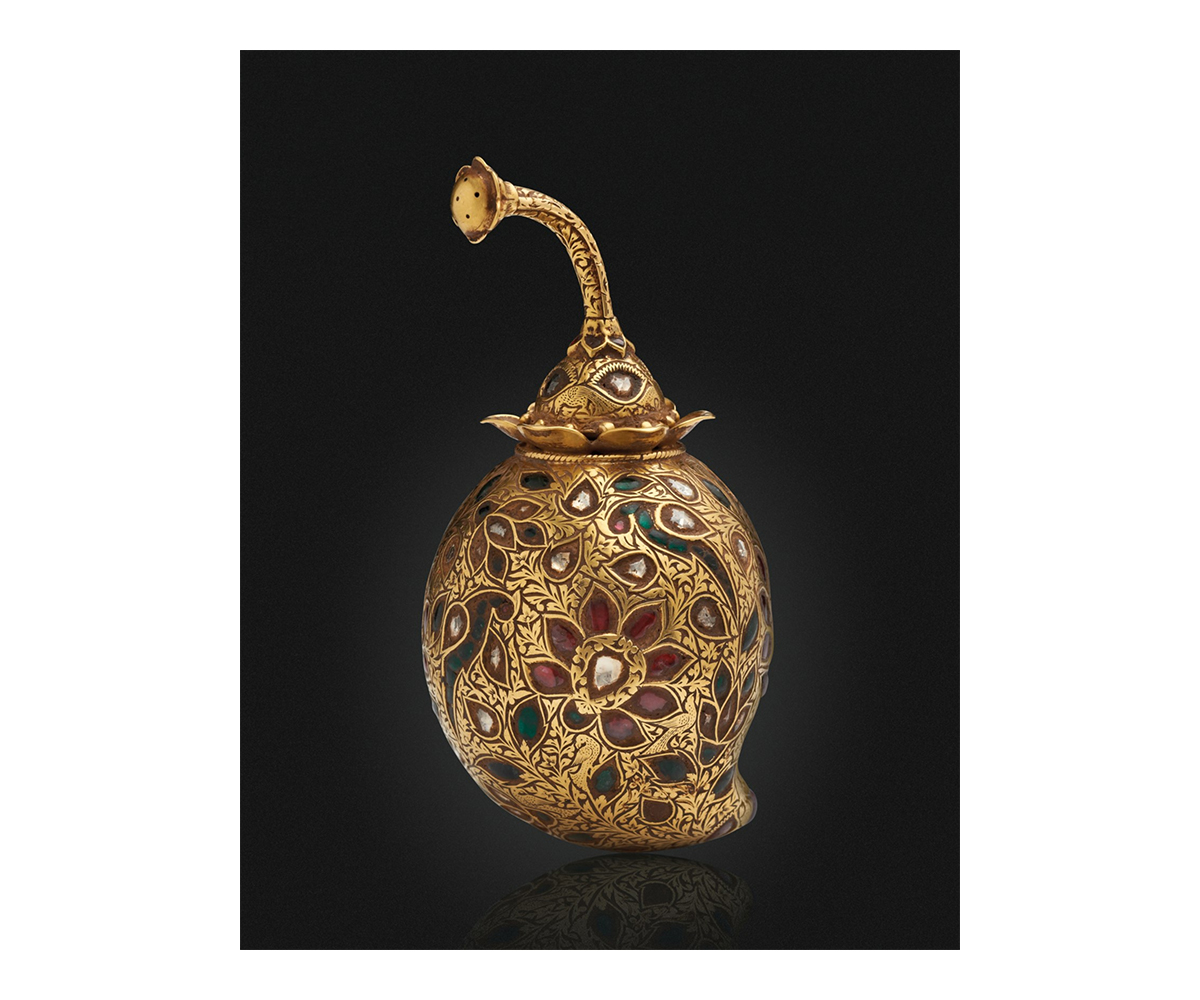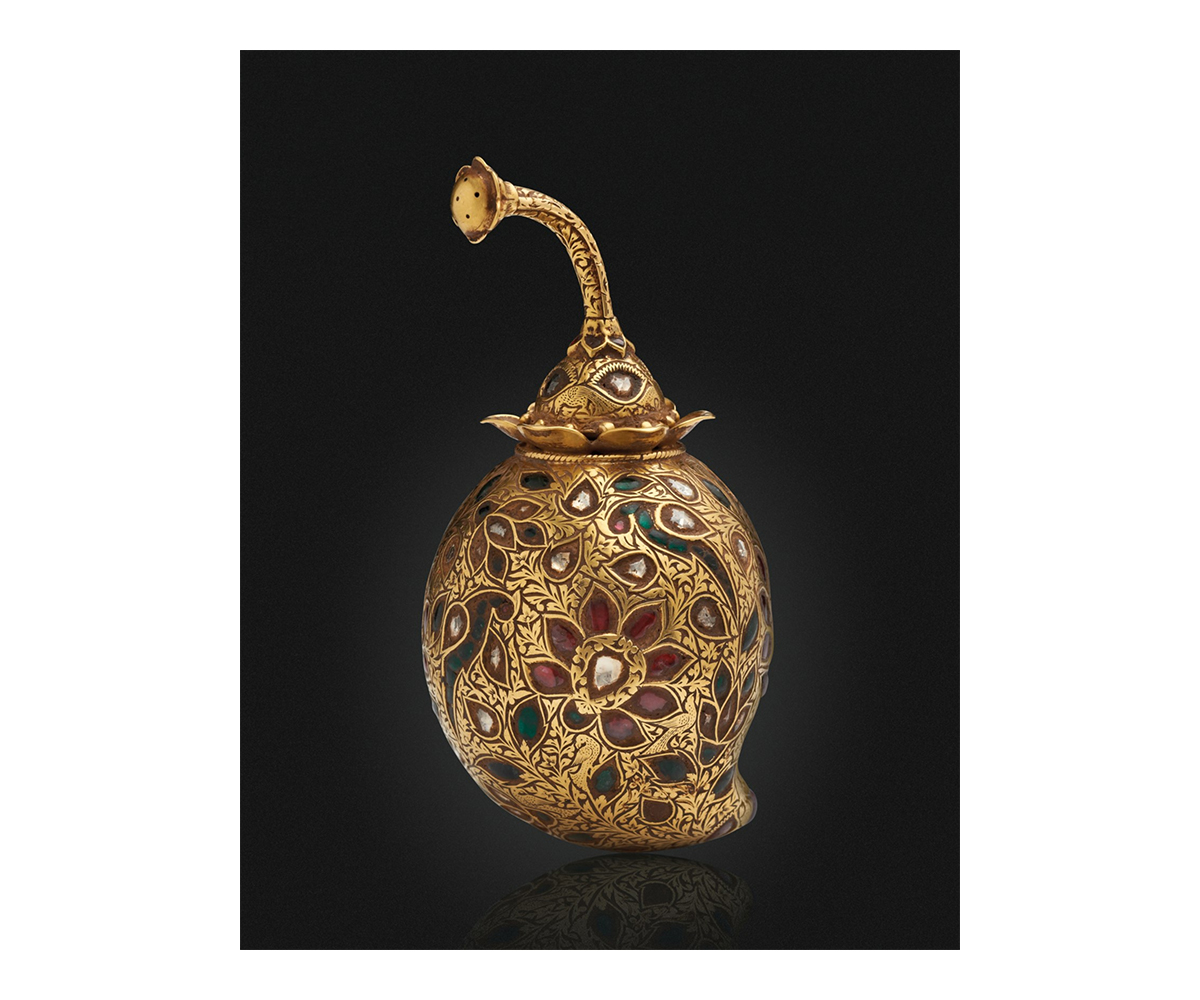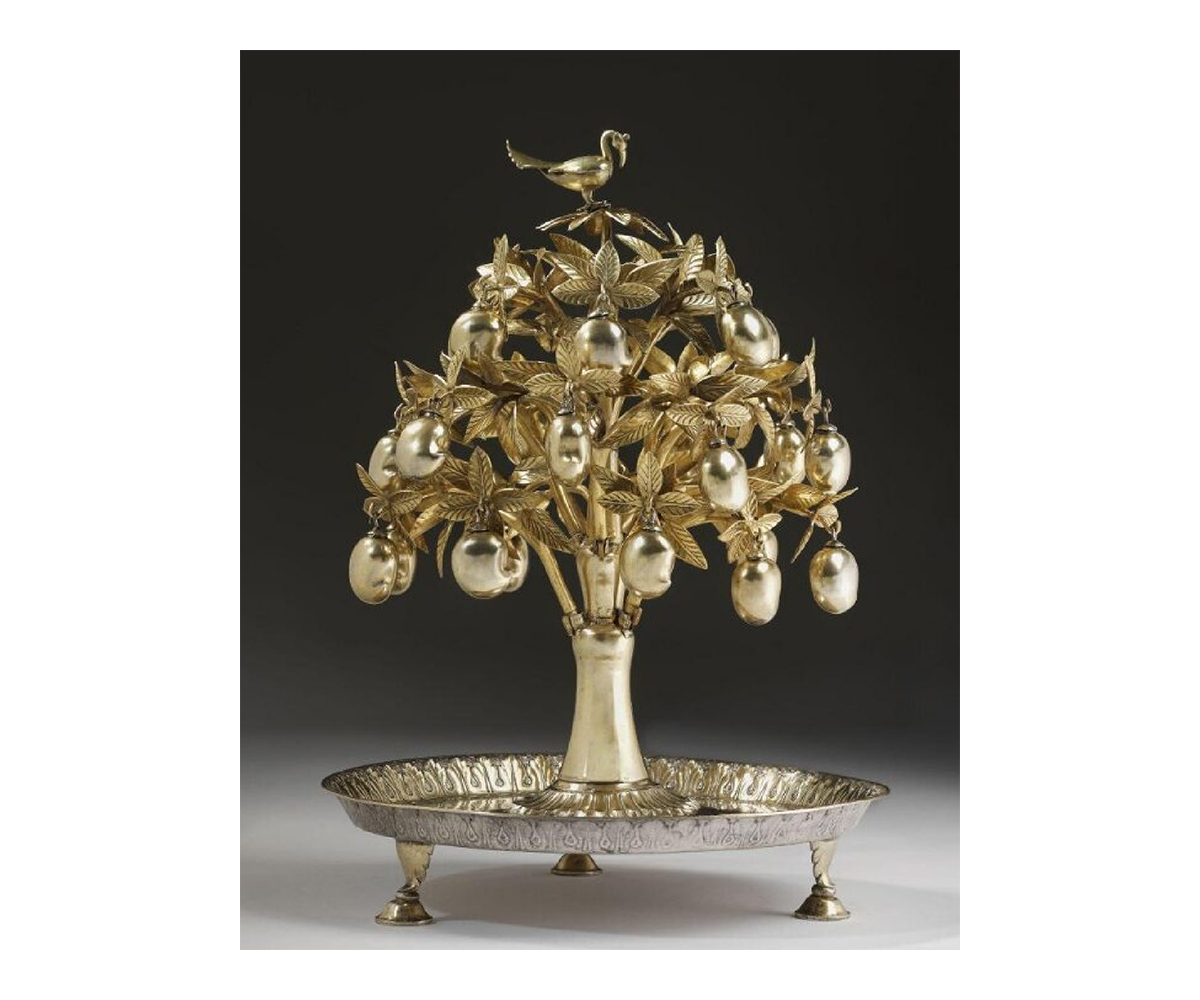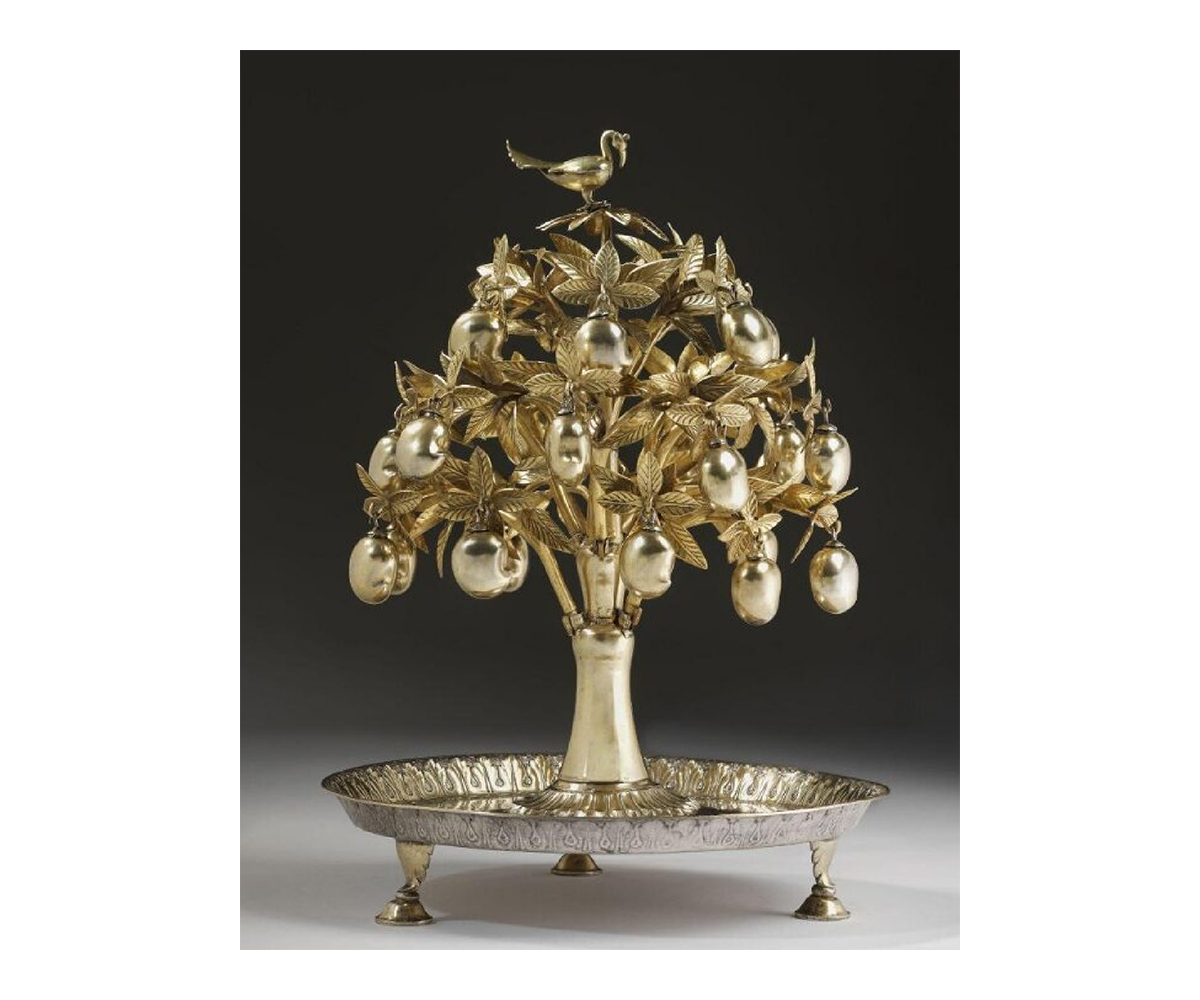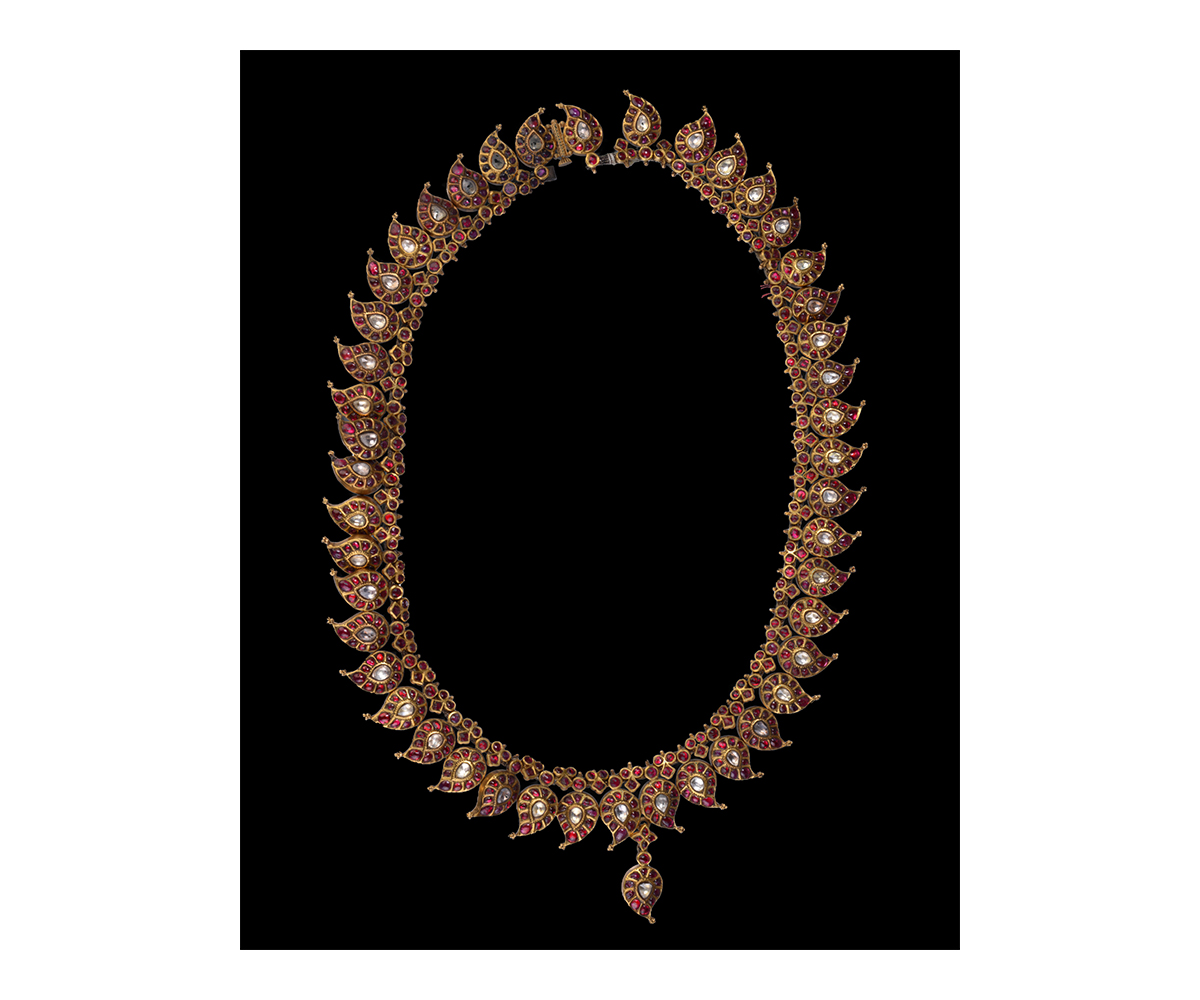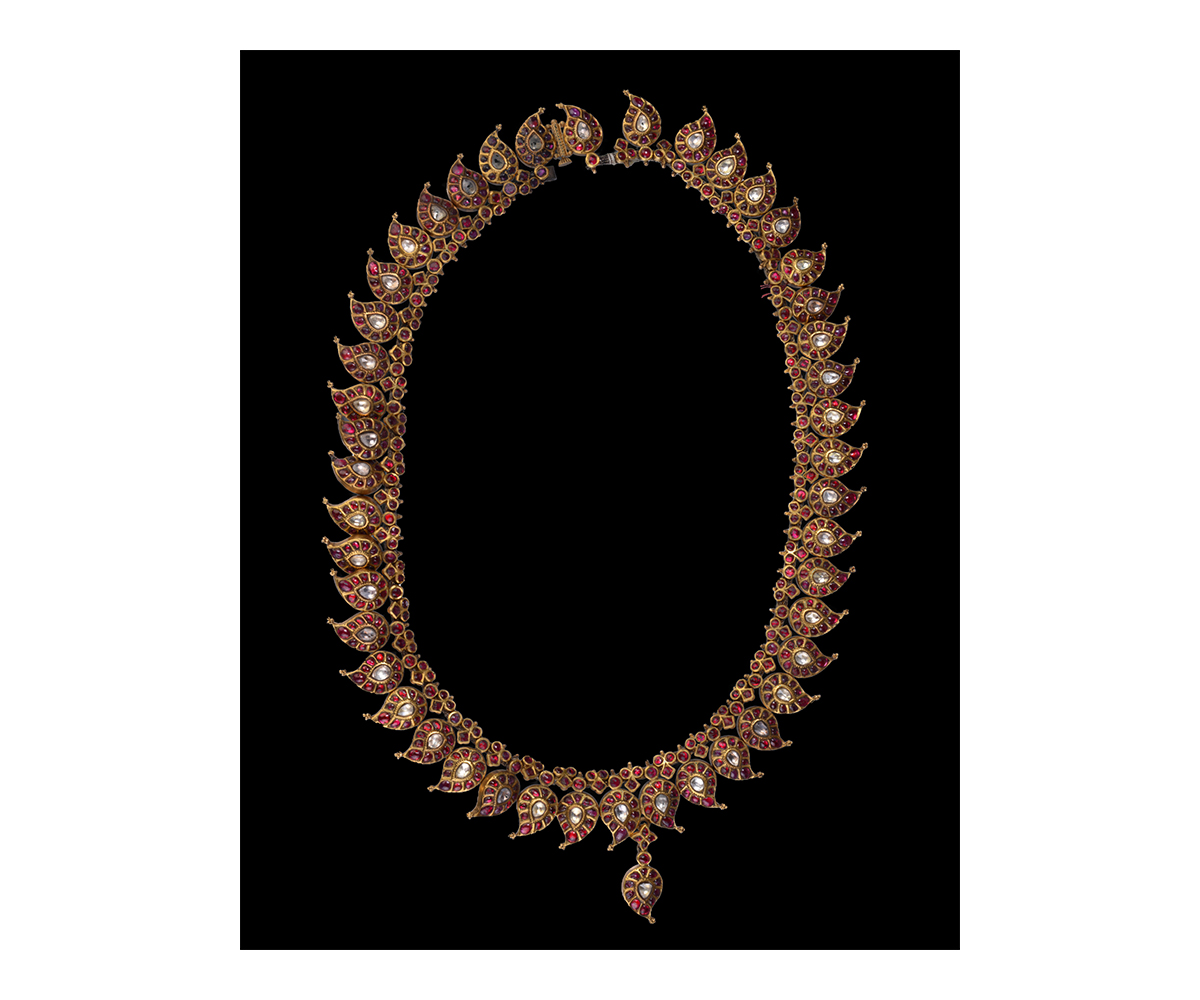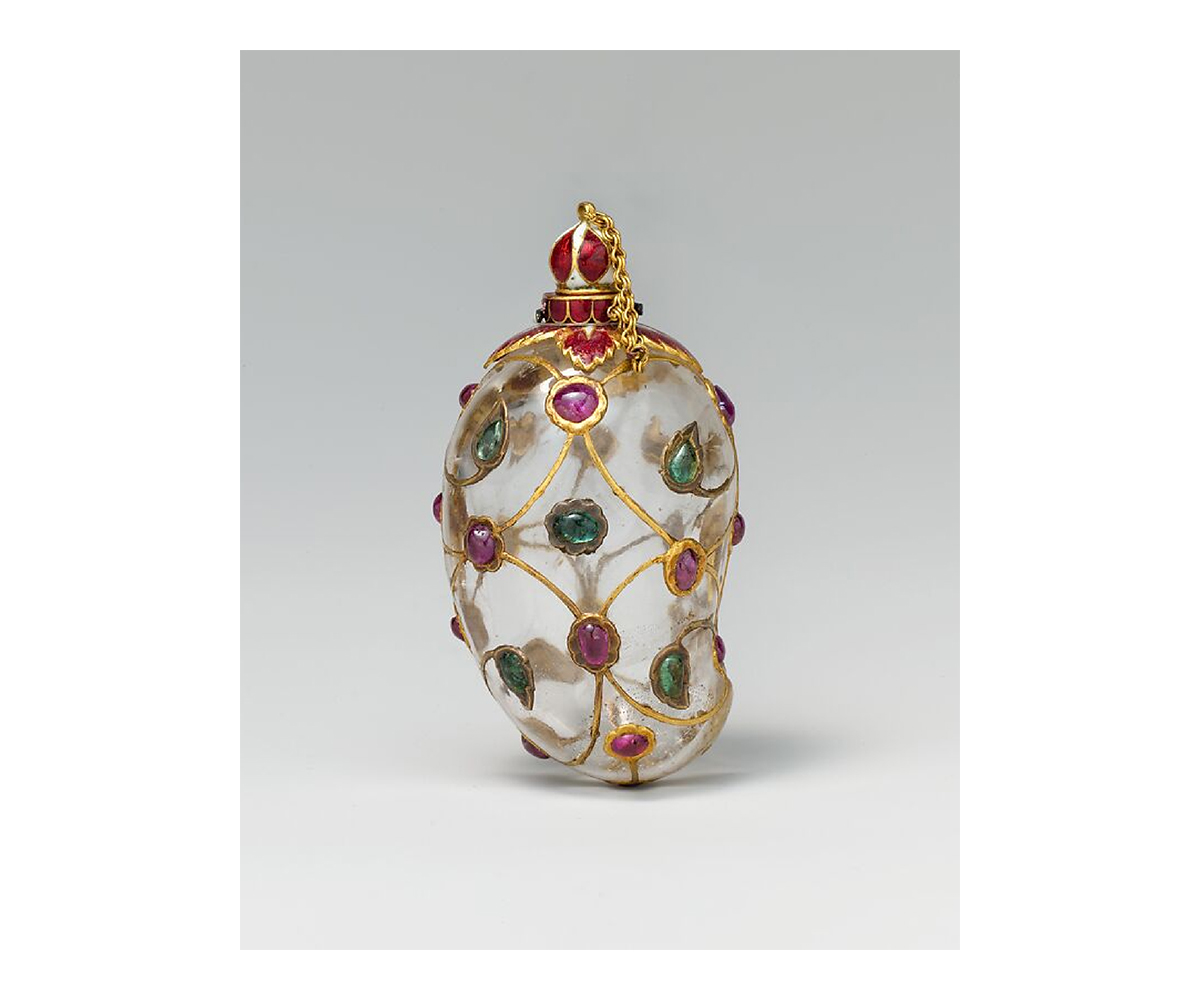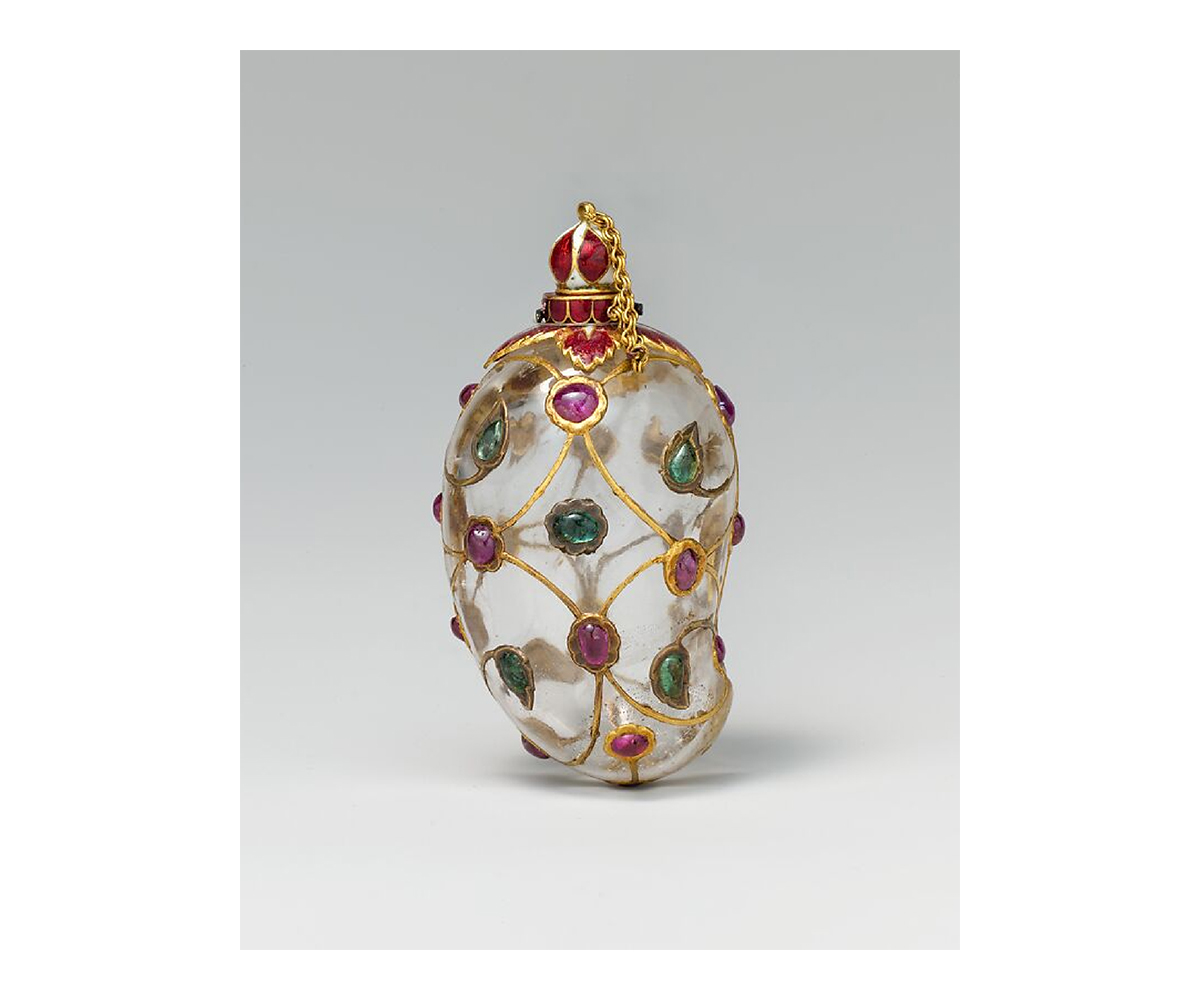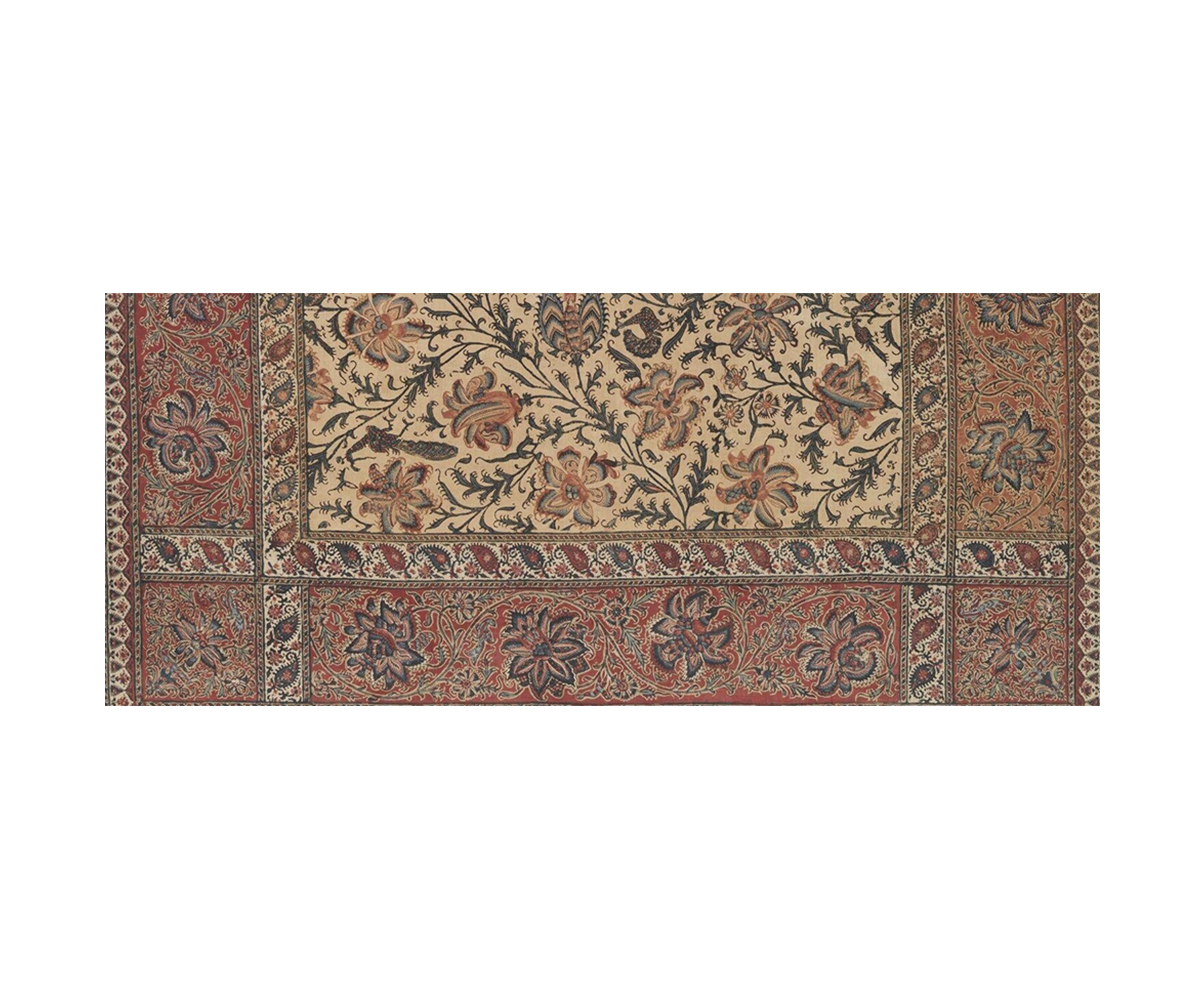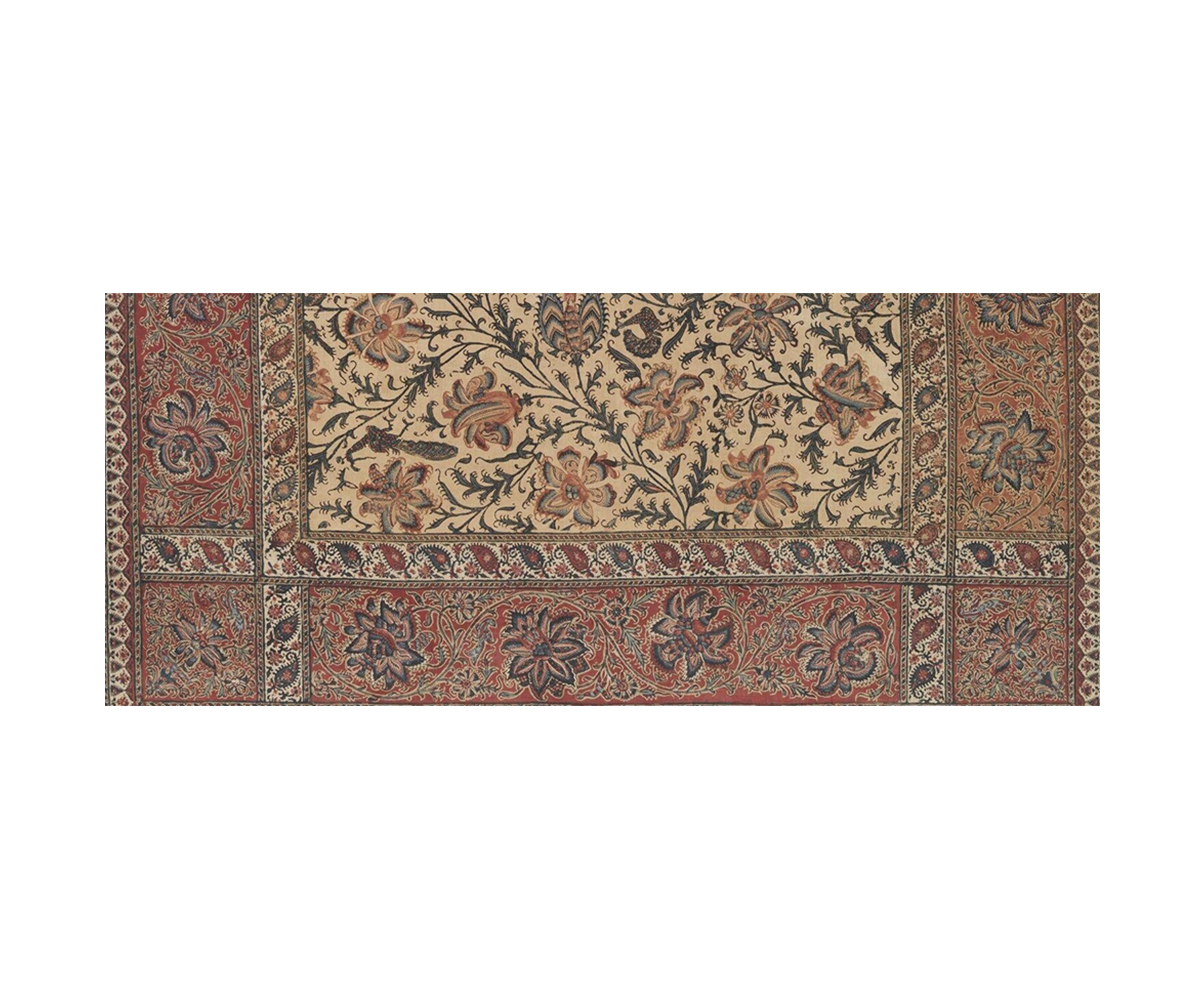 As religious and courtly depictions of the mango grew in South Asia, so did its status as a symbol of wealth and luxury. The exoticization of mangoes continues in South Asia even in modern times and the fruit inspires passionate debates about the best variety, nostalgic reminisces about one's childhood and even whole menus around it — mango preserves, pickles, chutneys, curries, sundals and cocktails. If the exchange of mangoes is symbolic of the diplomatic relations between India and Pakistan today, Indian art is overripe with historical examples of mangoes presented as gifts or commissioned as luxurious artefacts. These include, a seventeenth-century mango-shaped flask studded with gold, rubies, and emeralds; an eighteenth-century Mughal mango-shaped vessel made of silver and fabric; an eighteenth- or nineteenth century mango-shaped kohl container covered in floral patterns; and countless others. The manga malai, a mango-shaped pendant often encrusted with rubies, and the mankolam and kairi, two sari motifs popular among the Kanjivaram weavers in Kanchipuram, Tamil Nadu, and brocade weavers in Varanasi (formerly Benares), are also important metaphors of fertility, wealth and auspiciousness in bridal trousseaus.
The modern paisley pattern too — which different communities believe derives variously from the almond, the cashew, a sprouting date palm and whose comeback coincided with the rise of The Beatles in the 1960s — is supposed to have also been inspired by the mango in India. Interestingly, although paisley shawls became popular during Queen Victoria's reign because of colonial trade, the pattern itself came to be associated with a major centre of production in Scotland — the town of Paisley, which became known as the cultural centre of the pattern by the mid-eighteenth century.
The mango, however, was strictly South Asian still. In the 1990s, as new voices and stories emerged after the advent of globalisation, migration, seasonless eating and borderless trade, the mango became the most accessible and commodified representative of South Asia. Subsequently, the reductive symbols of the Taj Mahal in Agra, henna-painted hands, and ripe mangoes also came to dominate South Asian identity in many creative industries. In the 2000s, book publishing, for one, was replete with examples of mangoes in book titles and on book covers — Mohammed Hanif's novel A Case of Exploding Mangoes (2008); David Davidar's novel The House of Blue Mangoes (2002); Anees Salim's novel The Vicks Mango Tree (2012); Madhur Jaffrey's memoir Climbing the Mango Trees (2005); the South Asian edition of Tahmima Anam's novel The Golden Age (2007); and Amulya Malladi's novel The Mango Season (2003). During this period, mangoes' early representations of fertility, desire and divinity metamorphosed into an exotic and cloyingly rich image of South Asia, ready for consumption by Western audiences. In 2013, while receiving a lifetime achievement award, the writer Salman Rushdie repeated a piece of advice he gives to every new South Asian writer about their book title, "No mangoes, no guavas", and this seemed to work. In 2021, Pakistani singer Meesha Shafi reclaimed the mango for herself with the single, "Hot Mango Chutney Sauce". Today, tropical persimmons outsell mangoes in the United Kingdom — a fruit by any other name is just as sweet for Western audiences.