ARTICLE
Annu Palakunnathu Matthew
A photographer and video artist, Annu Palakunnathu Matthew is known for her works exploring identity and their construction among ethnic and cultural minorities in the West. Her work is characterised by juxtaposition and transformation, of perceived and reimagined identities across ethnicities and generations. It also extends to academia in the capacity of professor of photography in the Department of Art and Art History at the University of Rhode Island, USA.
Born in Stourport, UK, Matthew moved to India with her family at the age of ten. She graduated in Mathematics at the Women's Christian College in Madras (now Chennai) in 1986, where she was also introduced to photography through an elective course. As her interest in the subject grew, she enrolled in an MFA program at the University of Delaware, from which she graduated in 1997. Her own personal history of migration and multiculturality was a crucial influence on her subsequent practice. She has since produced several photographic volumes that have centred around perceptions of racial and ethnic otherness in series such as An Indian from India (2001–03) and To Majority Minority (2014–15). She also explored gender roles and their codification in popular Indian cinema — a result of her own experience of being a woman in India — in her work Bollywood Satirized (1998–2001). In this work, she used old, pre-liberalisation era posters of Bollywood films and altered them digitally with text and graphics to parody the strict gender norms in Indian society.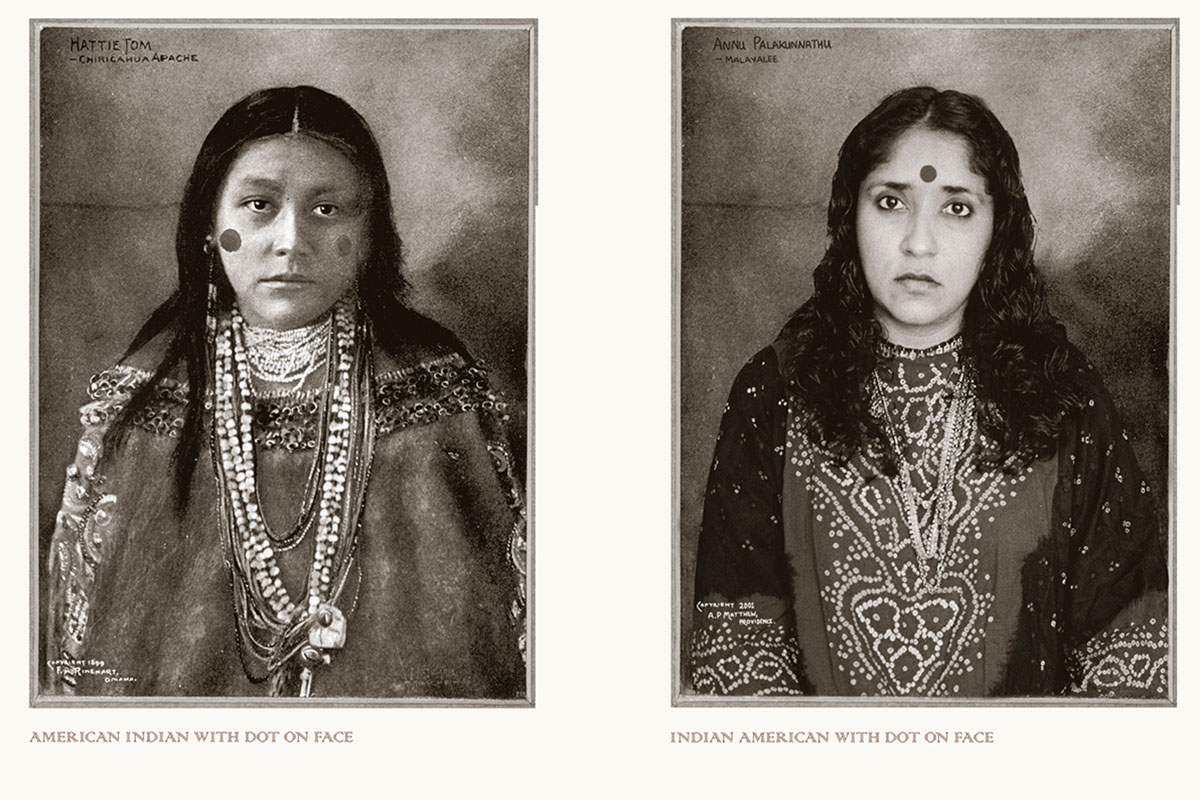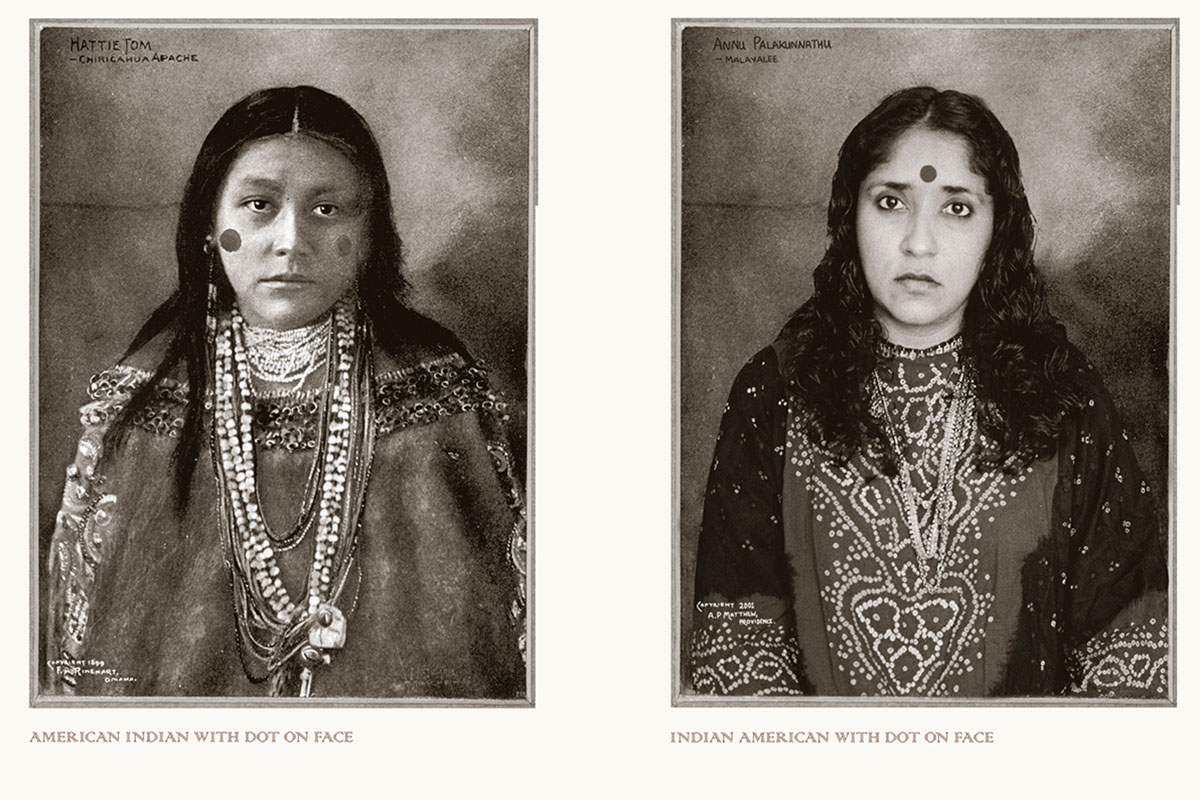 In An Indian from India, she pairs nineteenth-century ethnographic portraits of Native Americans with her own self-portraits, in which she mirrors the pose, setting and image characteristics of the photos, albeit in her distinctively cultural garb. In so doing, she highlights both the vast difference between these two "Indian" communities, as well as the shared history of the colonial gaze through which the historical photographs were taken. Matthew uses the family album of immigrants as the material of her To Majority Minority series. In this, she recreates archival and old photographers in more recent ones, combining the two and digitally inserting second- and third-generation members into the original composition to the accompaniment of narrative text. Through this visual effect, she sought to highlight the long and complex history that many such communities have in the West, and the uneasy statistical projections of a reversal of the demography by 2050.
Among her other notable work is the Virtual Immigrant (2006) video series. It comprises images of Indian call centre workers in their everyday personas and their work personas, superimposed on each other in a shifting frame, accompanied by voiceovers of their stories. This project sought to highlight the cultural transitions in a job where one has to assume the identity of an American native over the phone, while regaining their own in their private lives. In her video series Re-Generation, Matthew combined photographs of women from family albums with staged present-day images to show a gradual, almost imperceptible shift back and forth across generations. Matthew has used this technique of merging images with other series as well, such as Open Wounds, which looks at partition and its many shared and private histories.
Matthew received several grants and fellowships through her career, starting in 2003 with the John Gutmann Photography Fellowship, followed by the MacColl Johnson Fellowship (2007) and the Rhode Island State Council on the Arts fellowship in Photography (2010) and a Fulbright Fellowship (2012) at the National Institute of Design,Ahmedabad. She has also participated in residencies such as the Centre for Photography at Woodstock, Saratoga Springs, New York, in 2001 and at the MacDowell Colony in Peterborough, New Hampshire in 2003. Her major exhibitions include Bollywood Satirized (2001) at the Press Club of India, New Delhi, and Gallery Sumukha, Bengaluru; The Virtual Immigrant (2009) at Tasveer Gallery, Bengaluru; Memories of India (2007) at Chatterjee and Lal, Mumbai; Generations (2015) at the Royal Ontario Museum; and her retrospective Indelible Memories (2016) at sepiaEYE, New York. Her work was also prominently featured in the 2018 Kochi-Muziris Biennale and at the Lokame Tharavadu exhibition organised by the Kochi Biennale Foundation in 2021. Her photography was also published as part of Blink, Phaidon's 2002 compilation of a hundred noteworthy contemporary photographers. Matthew was the Director of the University of Rhode Island Center for the Humanities from 2014–19 and was the Silvia Chandley Professor for Peace Studies and Non-Violence from 2015–17. She is represented by sepiaEYE gallery.
As of writing, Matthew lives and works in Providence, Rhode Island, USA.
Bibliography
Our website is currently undergoing maintenance and re-design, due to which we have had to take down some of our bibliographies. While these will be re-published shortly, you can request references for specific articles by writing to hellomapacademy@map-india.org.