ARTICLE
Carpet and Rug Weaving in India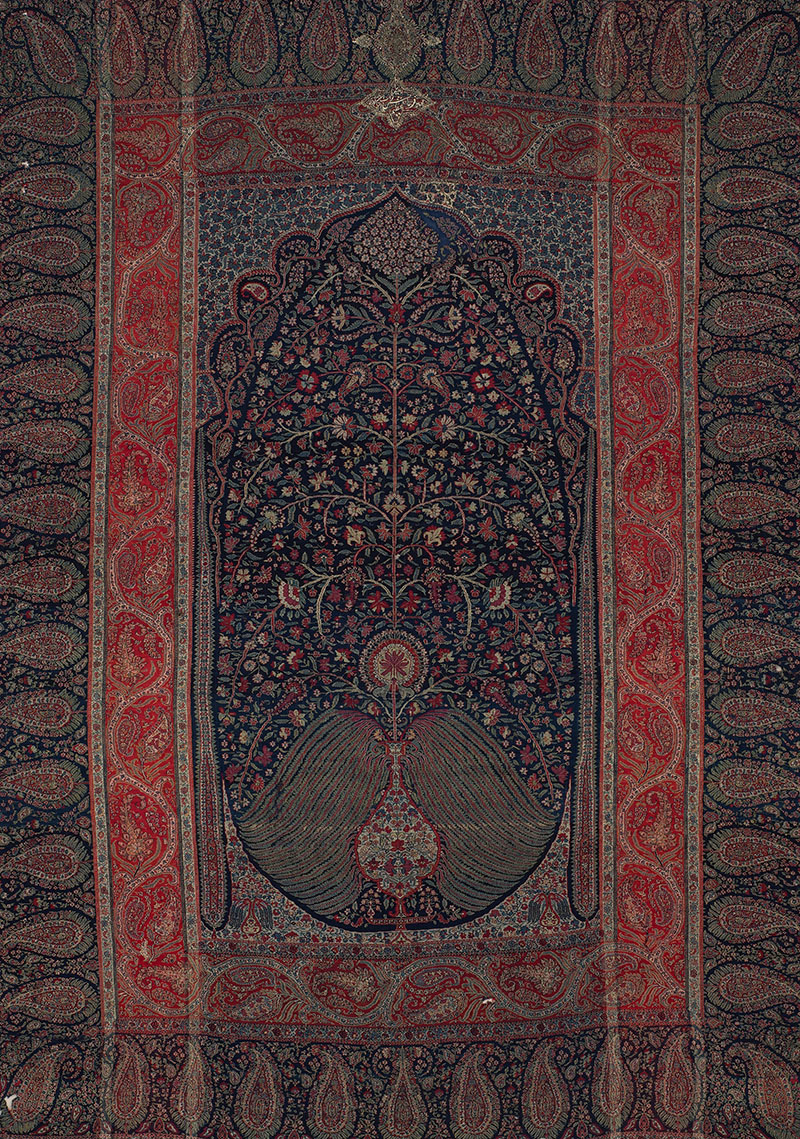 Woven Wall Hanging; Kashmir; c. 1820–30; Wool, metal wrapped thread, double interlocking twill, tapestry weave, embroidered; 182.9 x 131.4 cm; The Metropolitan Museum of Art
Variously known as alcatif, qali, dari and shatranji, hand-knotted carpets and rugs in India date to c. 985 CE, with Mahabalipuram being one of the oldest production centres in the country. While historical records from the fourteenth century mention the regular use of carpets in cities such as Daulatabad, Delhi and Multan, they rose to prominence in the sixteenth century under sustained Mughal patronage, especially during the reign of emperor Akbar, and the establishment of royal workshops known as farrash-khanas.
Carpets are generally made using wool, with the warp and weft consisting of cotton, and rarely, in areas such as Kashmir, silk. Indian carpets are most commonly made using the roller-beam loom, wherein the weaver makes a selvedge to form a coarse cloth onto which the knots at the end of the carpet are secured using the two-knot or double-knot technique. The asymmetrical Persian knot, which uses a strand of yarn tied around two adjacent warp threads, is used exclusively in Indian carpets, where fineness is determined by the kind and number of knots. The carpets are woven by hand and rolled back into the loom while it is knotted. Carpets also feature recurring motifs, including palmettes, geometrical shapes, flowers, the tree of life and occasionally, animals. Some Indian carpets also feature representations of landscapes.
The Mughal emperor Babur is said to have imported carpets from Turkey and Persia for personal use in the mid-fourteenth century, and visual records show decorative carpets being used during Humayun's ascension in 1532. Gujarat was another important centre of carpet production during the fifteenth and sixteenth centuries. Akbar is widely credited with introducing the weaving of hand-knotted carpets to India and giving a fresh impetus to the carpet-weaving industry. He established dedicated carpet farrash-khanas at several places, including Fatehpur, Agra and Lahore. Allahabad, Jaunpur and Narwal also emerged as important centres for carpet production during this time.
Under Akbar's patronage, a variety of carpets such as kilims, jajams, baluchis and shatranjis were manufactured in the farrash-khanas, owing primarily to the influx of skilled carpet makers from Iran and Central Asia, who incorporated new designs and skills in the existing practice. These carpets were inspired by their Persian counterparts and featured floral motifs, intertwining vines and fauna. They were further differentiated from Persian carpets due to their relatively brighter colours, primarily red, with the occasional use of orange, yellow and green dyes, and the fineness of the knotting, which had about 4424 knots per square inch.


Imperial patronage and workshops continued under the reign of Akbar's successor Jehangir, and by the seventeenth century, Agra became a commercial centre of carpets. Under Jehangir's patronage, craftspeople such as Akhund Rahmuna, who briefly served as the governor of Kashmir under Jehangir, travelled to Central Asia, where they learned carpet making at Andijan, Uzbekistan, and disseminated these skills amongst Kashmiri weavers, resulting in Kashmir emerging as a hub of carpet making. The carpets produced during this period also demonstrated Central Asian influences through motifs such as trees, hills, lakes, fish and wild animals.
The demand and popularity as well as royal support during this period transformed the carpet industry from an informal to a small-scale industry, which led to innovations in style and design, such as the inclusion of natural-looking flowering plants depicted in profile or rows against a plain backdrop.
Scant evidence of carpet making from the seventeenth century onwards indicates that royal patronage of weaving centres may have been discontinued owing to socio-political conflicts. A few imperial workshops were still functioning, with Mughal emperor Aurangazeb appointing an official to supervise carpet weaving for the royal household. Bharatpur, Jaunpur and Zafrabad, as well as the Deccan, emerged as leading centres of carpet production during this period, whereas the designs and patterns of the carpets remained largely unchanged.
In the early-seventeenth century, carpets became important trade commodities, with coarse carpets from Jaunpur and silk carpets from Bengal being traded by the Portuguese; as many as forty-six carpets were exported to England in 1619, and by 1625, traders such as the British East India Company were involved in exporting carpets. This led to the establishment of regional carpet-weaving centres in regions in northern India, such as Bhadohi, Mirzapur, Amritsar and Panipat, which were largely managed by private enterprises, in addition to royal workshops at Multan and the Amber Palace under Maharaja Sawai Man Singh I. These carpets produced featured the millefleur design, characterised by clusters of small blossoms spread across the carpet. This period also saw the use of the talim in carpet weaving, especially in Kashmir and Amritsar, to dictate patterns to the weavers — a process adopted from shawl making.
With increasing trade with Europe in the nineteenth century, the demand for Indian carpets also increased. The Great Exhibition of 1851 displayed several Indian carpets, including Kashmiri knotted carpets. Subsequently, several dealers shifted their carpet-making and exporting ventures from Central Asia to India. The period also witnessed the mass emigration of Kashmiri weavers and artisans to other regions such as Amritsar, which developed into lucrative carpet-knotting centres, while places such as Jaunpur and Mirzapur continued manufacturing inexpensive rugs based on designs supplied by European industries. Jail workshops also emerged as centres of carpet production in the mid- to late-nineteenth century, owing to the availability of convict labour, the relative ease of teaching carpet weaving and the inexpensive raw material and technology involved in production. Jail workshops incorporated designs and motifs from older and traditional carpets, contributing significantly to the revival of traditional design in the nineteenth century. By the late-nineteenth century, nineteen jails in the Bombay Presidency were involved in carpet making, and a carpet factory was set up in Ahmedabad that operated around fifteen to twenty looms and produced carpets exclusively for the American market.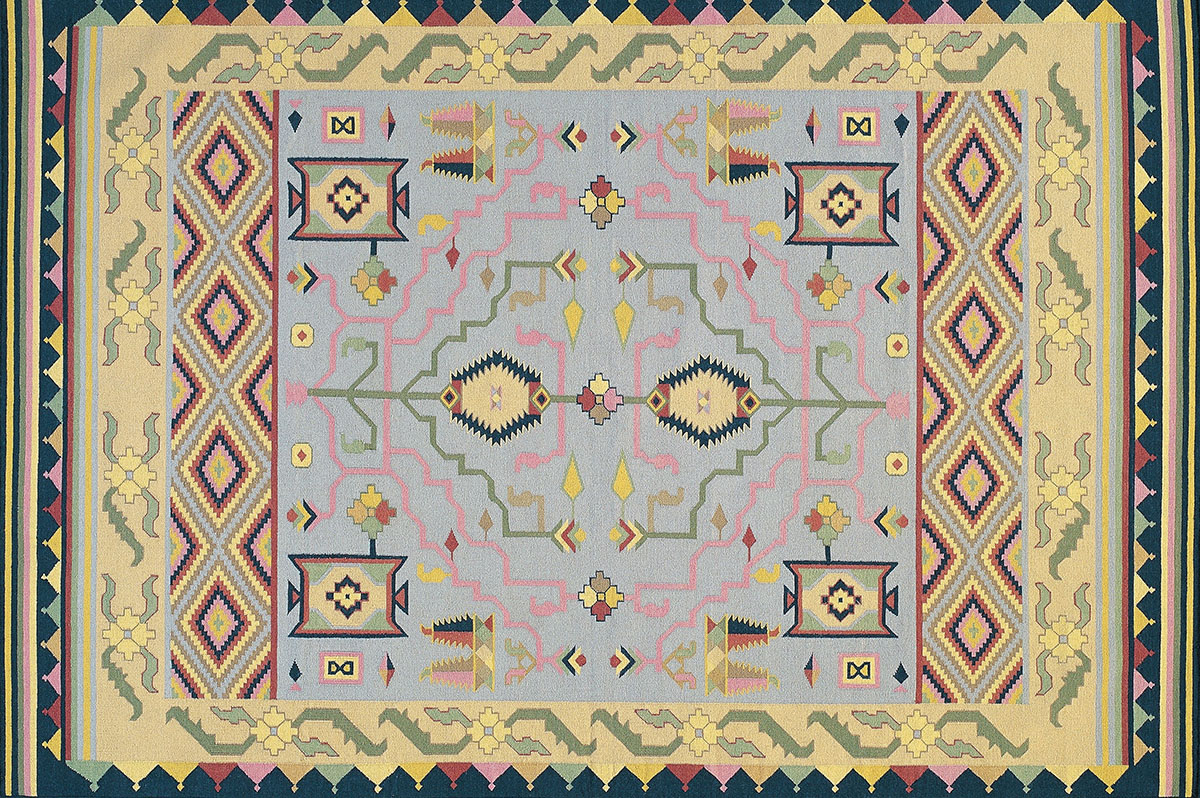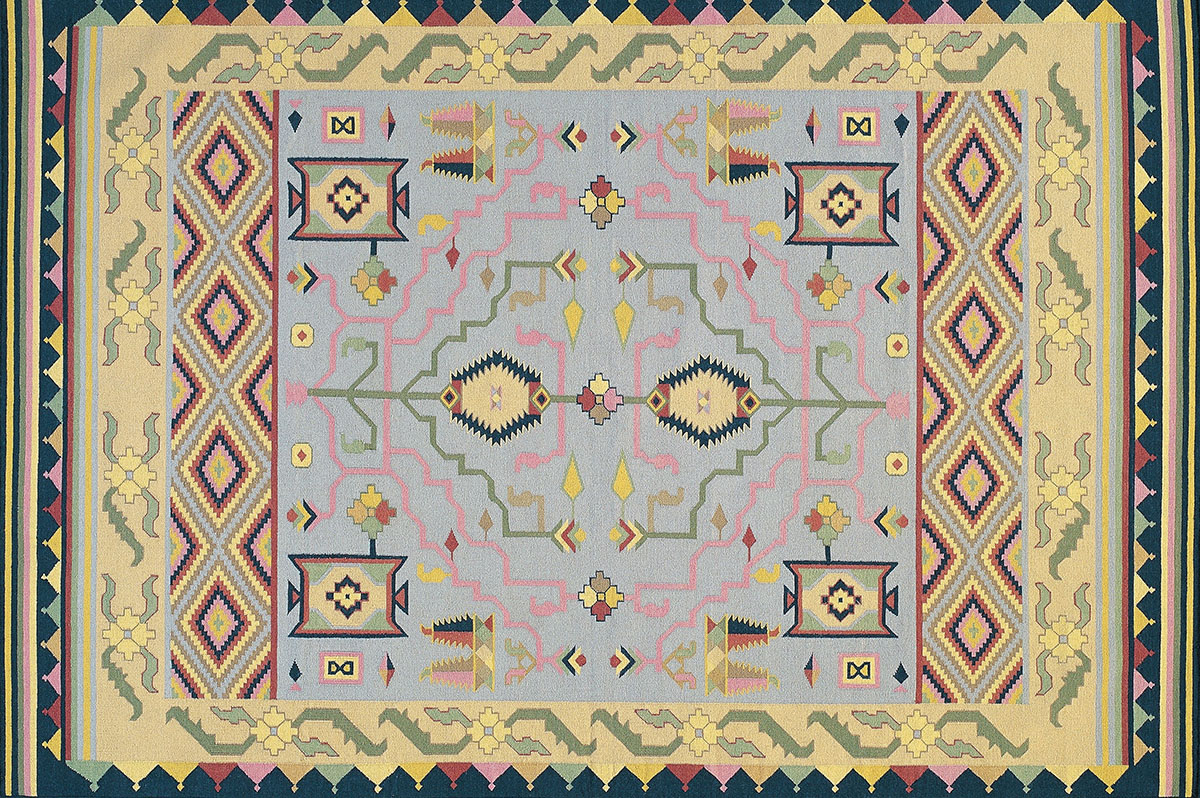 Over the years, carpets have been used in many ways; intricately decorated carpets were used primarily as decorative floor coverings in royal courts and religious buildings such as mosques and temples, as well as seating for guests at public events. They were also often used as royal gifts as well as decorative and floor coverings at royal courts. Relatively lower quality floor coverings, called dhurries, were used by the public at home or in public spaces.
The long legacy of carpet design, development and usage in India has led to the development of a wide variety of carpet designs and techniques across India, including kaleen knotted carpets, gabba, khabdan pile carpets and galeecha knotted carpets, knotted carpets from Agra, Bhadohi, Bomdila, Machilipatnam, Mirzapur, Varanasi and Warangal, and Tibetan carpets from Kullu, Ganjam, Darjeeling and Dehradun. Today, the Indian carpet industry is primarily export-oriented, aimed at markets in the US, UK, UAE, Italy, Australia, Turkey, Japan, Netherlands and Sweden. Notable collections that feature Indian carpets and rugs include the Calico Museum of Textiles, Ahmedabad; Maharaja Sawai Ram Singh II Museum, Jaipur; the Victoria & Albert Museum, London; and the Metropolitan Museum of Art, New York.
Bibliography
Our website is currently undergoing maintenance and re-design, due to which we have had to take down some of our bibliographies. While these will be re-published shortly, you can request references for specific articles by writing to hellomapacademy@map-india.org.