ARTICLE
Daanger Putul Nach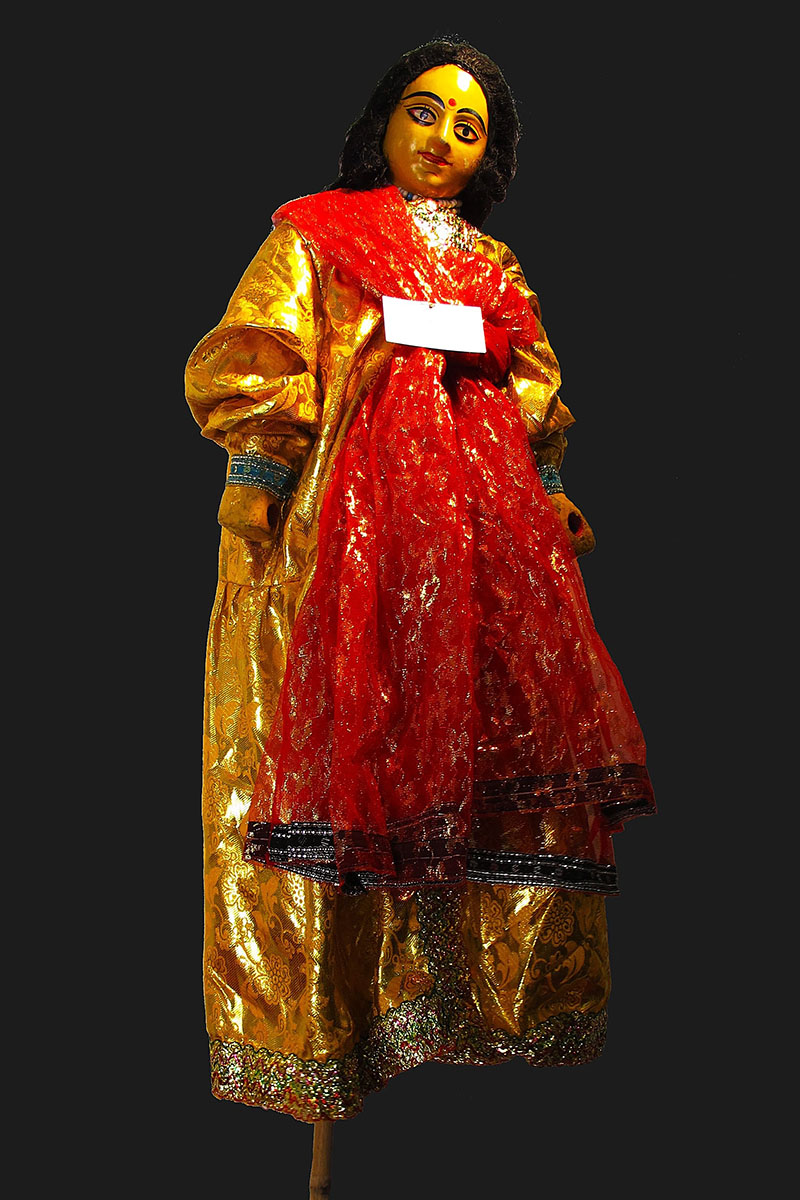 A Traditional Dang Putul; Jadu Nath Haldar Putul Nach Group; c. 2012; Daricha Foundation, Google Arts and Culture
Also known as dang putul and daanger putul, daanger putul nach is a rod puppetry tradition of West Bengal. Literally translating to "rod doll dance," it is deeply influenced by jatra, borrowing heavily from the costume, repertory, music and dialogues of the folk theatre form.
Though its precise origins remain unknown, it is believed that daanger putul nach dates as far back as the fourteenth century CE. Historically, daanger putul nach was an extremely popular form of puppetry across Bengal, attracting wealthy patrons and audiences in the thousands. Today, however, it is mainly practised in the district of South 24 Parganas.
The puppets of daanger putul nach are up to 1.25 metres in height and weigh between 5 and 15 kilograms. Traditionally carved from the wood of the dumur (cluster fig) tree, they are also made of thermocol, plastic and rubber now. The puppets are carved by carpenters and painted by patua artists using primary colours and varnish. Except for the puppet depicting Krishna, which is carved with one leg, the puppets are made without legs or feet. A long wooden rod connects the head and torso. The puppeteer balances this rod in a cup-like mould called kere, which is tied around the waist. A shorter rod is used to manipulate the head, and the arms are manipulated using a string concealed in the torso. The hands of the puppets are carved with a hole to allow for additional props. A single puppet figure may be used to depict multiple characters through changes in costume and ornamentation.
Daanger putul nach is performed on a temporary stage made of bamboo poles, surrounded by cloth on all sides. The performance platform is an opening at a height of five feet from the ground, which allows the puppeteers to remain concealed while they manipulate the puppets from below. The puppets enter from the left side of the stage, while the actors and musicians occupy the right side. Painted scenes are used as backdrops. A performance can be three hours long, although fairs often feature shorter performances. The puppet show begins with a ritual song and a musical overture to attract audiences, after which the main plot begins. The themes range from religious and mythological stories and folklore to stories of Bengali jatra plays and movies, adapted for the puppetry format.
A traditional daanger putul nach troupe comprises fifteen to twenty individuals. There are two types of puppeteers: nariye, who manipulate non-dancing puppets, and nachiye, who manipulate puppets depicting dancers. Nachiye often perform wearing anklets with bells to enhance the effect of the puppet dance. The sur master, who composes the musical score of a play and sings the songs, is accompanied by actors who voice the puppets, as well as singers and musicians who play the traditional instruments of dhol, tabla, kansi (a bell metal plate struck with a stick) and kartal (cymbals). Today, pre-recorded music is also frequently used in performances to cut costs. Most members of a puppet troupe work in the agricultural sector, coming together to perform when summoned by the troupe owner. Troupes travel during the winter season, performing at village fairs and temple festivals. Women, traditionally not a part of troupes, can now be found singing and voicing puppets depicting female characters.
Apart from changes in the materials used to make puppets, there have also been changes in the traditionally religious repertory of daanger putul nach, with social issues emerging as a popular theme. Of the few daanger putul nach groups still active in the South 24 Parganas district, a number are family-owned. The Jadunath Haldar Putul Nach Sanstha, which has performed at national and international festivals, is considered to be the oldest. The Satya Narayan Putul Sanstha, founded by Kangal Chandra Mondal in the 1980s and now managed by his son Nirapada Mondal, is also notable for its efforts to modernise daanger putul nach and introduce themes such as ecology and community health into the repertory. Prafulla Karmakar, a carpenter, is one of the last people still designing and carving daanger putul nach puppets. He was awarded the Sangeet Natak Akademi award in 2013.
Bibliography
Our website is currently undergoing maintenance and re-design, due to which we have had to take down some of our bibliographies. While these will be re-published shortly, you can request references for specific articles by writing to hellomapacademy@map-india.org.