ARTICLE
Mrinalini Mukherjee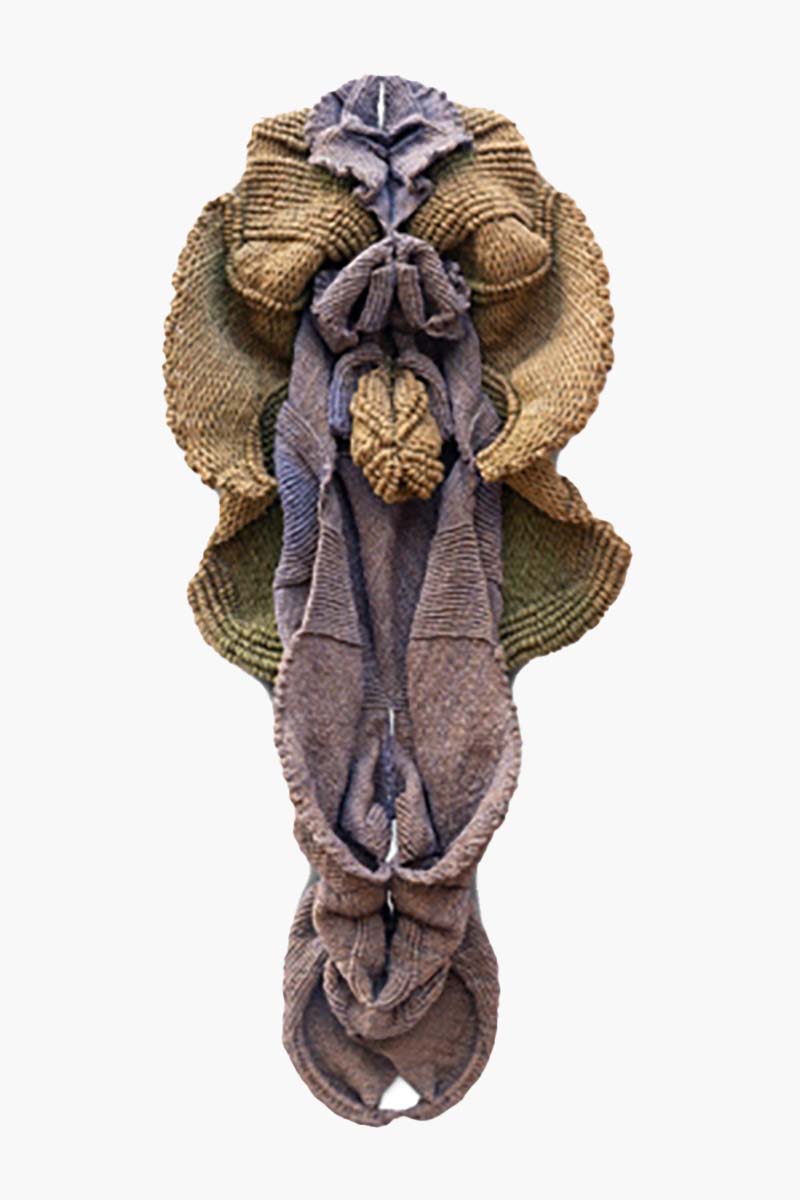 Naag.; Mrinalini Mukherjee; c. 1986; Hemp fiber; 200 x 83 cm ; Museum of Art & Photography (MAP), Bengaluru
A contemporary Indian sculptor who worked primarily in natural fibre and bronze, Mrinalini Mukherjee is known for her large, totemic figures and organic forms that depict naturally occurring processes often considered disturbing or unusual. Inspired by nature and Indian folk traditions, her work prioritises the chaos and unsettling aspects of the natural world while remaining grounded in tenets of classical sculpture such as balance, volume and symmetry. Her work also draws inspiration from temple sculptures and carvings but excludes recognisable religious imagery. 
Mukherjee was born in Bombay (now Mumbai) to artists Benode Behari and Leela Mukherjee, and grew up in Dehradun and Shantiniketan where her father taught at Kala Bhavana. In 1965, at the age of sixteen, she enrolled at the Faculty of Fine Arts, MS University in Baroda (now Vadodara) for a bachelor's degree in painting, followed by a postgraduate diploma in mural design from 1970 to 1972. During this period, she was taught by the Modernist artist and educator KG Subramanyan, who encouraged her to experiment with Indian craft traditions and materials, which she was also exposed to at university-organised craft fairs in Baroda. It was there that she was also introduced to working with natural fibre. 
She then moved to New Delhi and married Ranjit Singh, an architect with whom she would collaborate, particularly in the creation and installation of her large works. In Delhi, she was introduced to the artist and critic Jagdish Swaminathan, whose study of indigenous iconography significantly influenced Mukherjee's work. In 1978 she received a British Council scholarship for sculpture, which enabled her to study at the West Surrey College of Art and Design (now the University for the Creative Arts, Kent and Surrey), UK.
Upon her return to India, she continued making elaborate sculptures made of natural fibres such as jute, hemp and cotton, coloured using deep organic dyes. Mukherjee also abandoned the practice of making preparatory sketches and worked on the final piece directly, which afforded her greater scope for spontaneity. She preferred knotting the fibres by hand and fixing the ropes to an armature rather than using a loom. Over time, her works became denser and more colourful, featuring layers and internal folds. 
Mukherjee's early sculptures, such as Squirrel (1972) and Nag Devta I (1979), were hung against walls. She later suspended her works from the ceiling, and finally, by the late 1980s, began making free-standing sculptures such as Yogini (1986). These pieces, although inspired by temple carvings and named after figures from Hindu mythology, are not depictions of Hindu deities; instead, they are abstract forms with human proportions and lateral symmetry, as well as briefly recognisable features such as large leaves, flesh and robes, limb- or branch-like appendages. With their use of vibrant organic dyes, works such as the free-standing Woman on Peacock (1991) combine symbolism from human and animal worlds and explore sexuality in religious mythology. By the mid-1990s, however, pushed by factors such as the physical demands of working with heavy rope and the limited availability of pure organic cotton, coupled with a ban on dyeing units that Mukherjee relied on, she ceased working with fibres. She soon shifted her focus to ceramics, which led to notable experiments such as Lotus Pond (1995), for which she used an iridescent glaze on a composite terracotta structure with an abstract organic form. However, by the 2000s, her ceramics practice too came to a halt owing to the lack of specific glazes and large kilns in India. 
Mukherjee remained largely committed to one medium at any given time, embarking on a new medium only after exhausting the possibilities of the first. From the early 2000s onwards, she began working with bronze. While works from this period appear very different from her more recognisable fibre figures, they draw from the same observations of nature and fuse characteristics of animal and plant life into amorphous, gravity-defying sculptures, as exemplified in the Palmscape series (2013). Rendered in the lost wax process of bronze casting, these representations of various parts of palm trees suggest organic processes and mythical bodies with wing-like parts, scaly surfaces and vegetal forms.
Mukherjee gained international recognition before becoming an established figure in India, marked by an early solo show in Oxford, UK in 1994, and her participation in several international biennials since 1980. Two retrospectives of her work, titled Transfigurations and Phenomenal Nature have been held at National Gallery of Modern Art (NGMA), New Delhi (2015), and the Metropolitan Museum of Art, New York (2019), respectively. Her work is part of the permanent collections of NGMA; the Museum of Modern Art, Oxford; Tate Modern, London; and the Museum of Modern Art, New York. 
She died in 2015 in New Delhi.
Bibliography
Ananth, Deepak. "Deepak Ananth on Mrinalini Mukherjee (1949–2015)." Artforum, July 29, 2015. https://www.artforum.com/passages/deepak-ananth-on-mrinalini-mukherjee-1949-2015-54075.
Artbook. "Mrinalini Mukherjee." Accessed September 23, 2020. https://www.artbook.com/9788190472098.html. 
Cotter, Holland. "Sculpture, Both Botanical and Bestial, Awe at the Met Breuer." The New York Times, July 11, 2019. https://www.nytimes.com/2019/07/11/arts/design/met-breuer-mrinalini-mukherjee-review.html. 
The Metropolitan Museum of Art. "Phenomenal Nature." Exhibition guide. 2019. https://www.metmuseum.org/-/media/files/exhibitions/2019/mrinalini_mukherjee_label_book.pdf.
Nature Morte. "Mrinalini Mukherjee." Artists. Accessed September 23, 2020. https://naturemorte.com/artists/mrinalinimukherjee/.