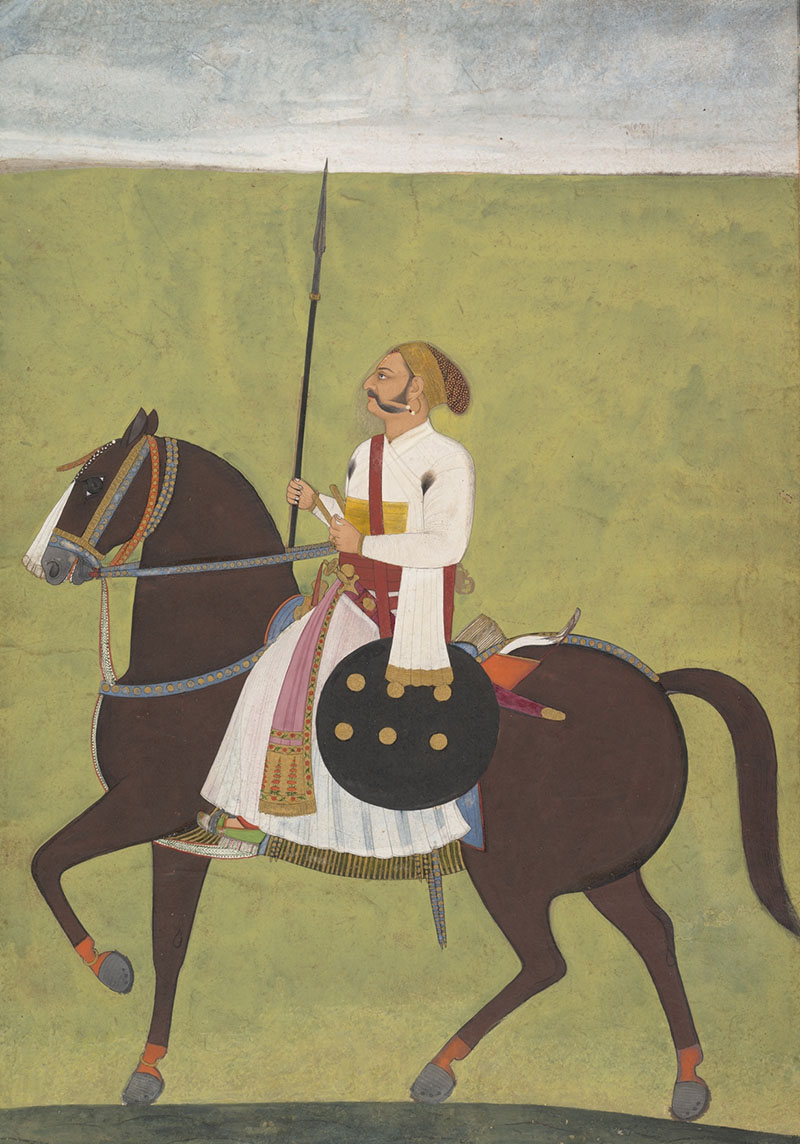 Equestrian Portrait of a Nobleman; Dalchand, Jodhpur, Rajasthan, India; c. 1710–20; Ink, opaque watercolour, and gold on paper; 30.5 x 21.3 cm; The Metropolitan Museum of Art
The son of acclaimed artist Bhavanidas, Dalchand was a painter who worked in the Mughal imperial atelier and later at the Rajput courts of Marwar and Kishangarh. Along with his father, he is considered to be one of the prominent artists of the Kishangarh school of painting.
Scholars believe Dalchand may have trained as an artist in Lahore, before relocating to Delhi in 1707 to work at the Mughal court during the reign of Muhammad Shah (1719–1748 CE). He is likely to have moved to the court of Jodhpur in 1724, and two works from this period attributed to him are portraits of the then ruler of Marwar, Maharaja Abhai Singh. One of these works, titled Maharaja Abhai Singh Watching a Dance Performance (c. 1725), shares similarities in composition with a mid-eighteenth century painting of Muhammad Shah watching a dance performance. Another portrait from the same year – titled Maharaja Abhai Singh on Horseback – depicts the Marwari ruler on a horse, accompanied by members of his retinue.
Inscriptions on two paintings completed during his time in Jodhpur show that Dalchand signed his name as "Dilli ra chitara Dalchand," which translates to "the Delhi artist, Dalchand," further suggesting that he received his training at the Mughal atelier in Delhi. He is believed to have joined his father at the Kishangarh court in 1728.
Bibliography
Our website is currently undergoing maintenance and re-design, due to which we have had to take down some of our bibliographies. While these will be re-published shortly, you can request references for specific articles by writing to hellomapacademy@map-india.org.