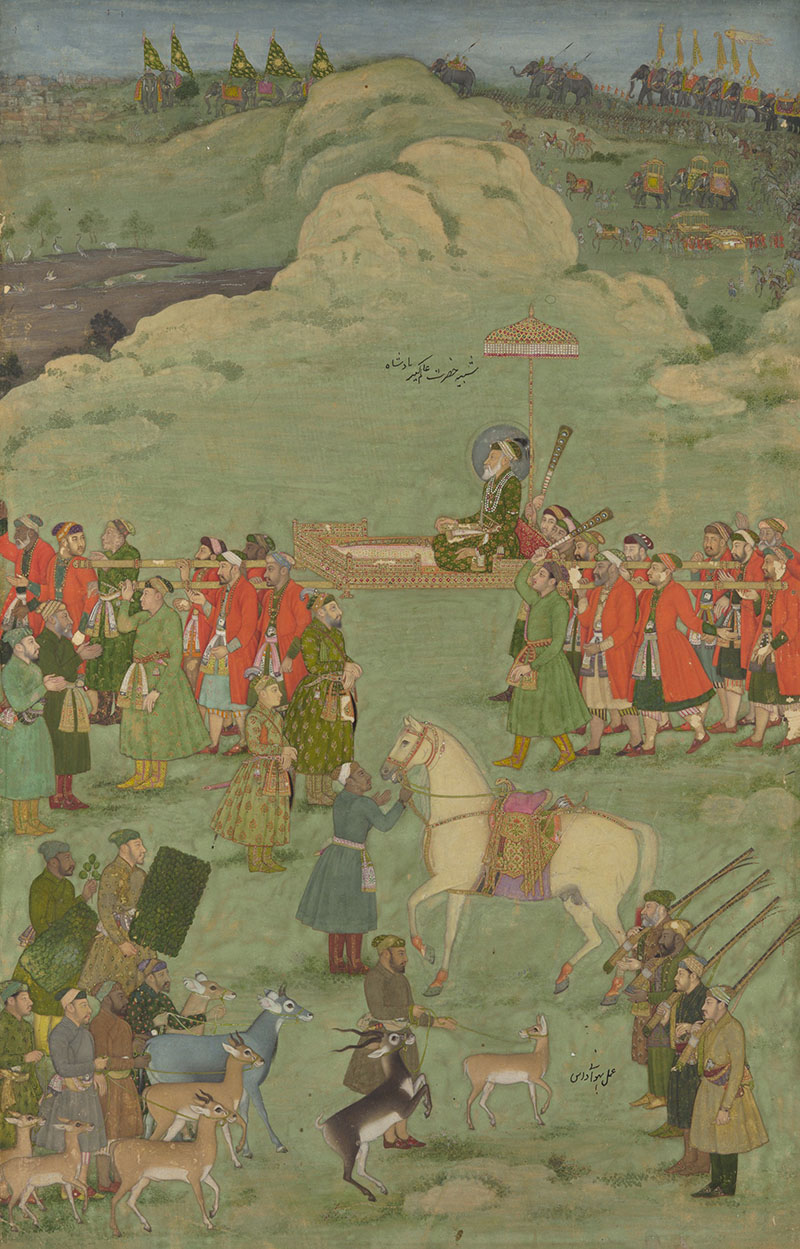 The Emperor Aurangzeb Carried on a Palanquin; Bhavanidas; c. 1705–20; Opaque watercolour and gold on paper; 58.1 x 38.4 cm; The Metropolitan Museum of Art
A noted eighteenth century painter, Bhavanidas was employed by the Mughal court and later by the court of Kishangarh, a Rajput principality. His career – and that of his son, Dalchand – took place in a period when the decline of Mughal patronage forced several artists to re-establish themselves in regional states and principalities, spurring significant evolutions in these schools of painting.
Bhavanidas spent a majority of the first two decades of the eighteenth century at the Mughal imperial workshop. Here, he is known to have painted generational portraits of the Mughal emperors, including a painting of Shah Jahan with his grandsons and one of Timur with his descendants. Another work attributed to Bhavanidas, less formal in its composition, depicts a hunting party led by the then emperor Aurangzeb. However, Aurangzeb's reign was also marked by a decline in the number of workshops and a reduction in the patronage and training of artists.
As a result of this, Bhavanidas arrived in Kishangarh in c. 1719, during the reign of Raja Raj Singh (1706–1748 CE). His appointment at the court was likely an arrangement between members of the Mughal family and the rulers of Kishangarh, and his status at the Rajput court can be gleaned from the fact that he was the highest-paid employee of the state, earning ninety rupees a month. At Kishangarh, Bhavanidas won acclaim for his skills as a draughtsman, experimenting with landscapes in refined court portraits, and for his equine portraits. Another genre of painting associated with Bhavanidas was satirical art, which was also patronised by the Kishangarh rulers.
Bhavanidas remained active in Kishangarh until 1748 and his son Dalchand, as well as his relative Kalyanchand, were also established painters at its court. Scholars speculate that Bhavanidas's refined technique and expressive depictions also served as an important influence on other court artists, including Nihal Chand, who produced several notable paintings of the Kishangarh school between 1735 and 1757.
Bibliography
Our website is currently undergoing maintenance and re-design, due to which we have had to take down some of our bibliographies. While these will be re-published shortly, you can request references for specific articles by writing to hellomapacademy@map-india.org.