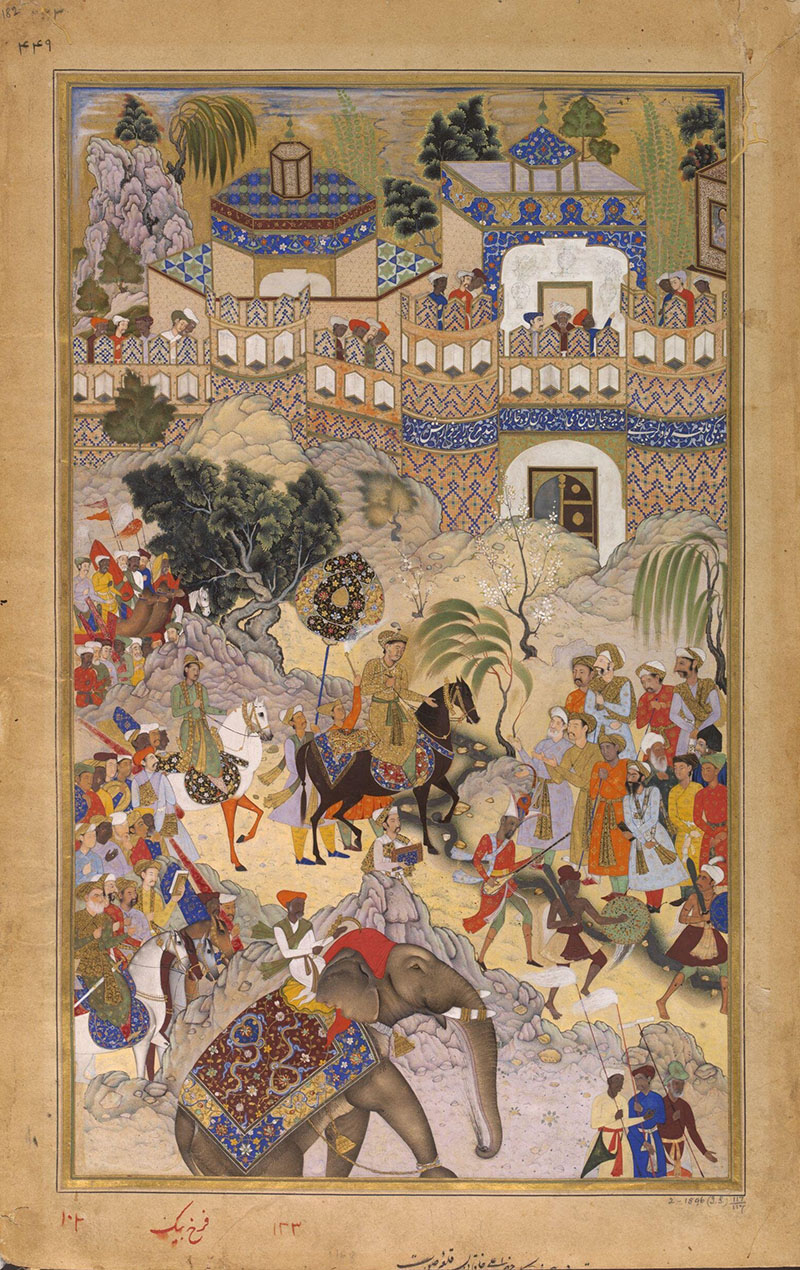 Akbar's Triumphal Entry Into Surat. Akbarnama, Folio from Akbarnama; Farrukh Beg; c. 1590-95; Victoria and Albert Museum, London/ Wikimedia Commons
Born in Iran and trained in Persian manuscript painting, Farrukh Beg, Farrukh Hussayn, or Farrukh Beg "Mussavir", flourished in the sixteenth and early seventeenth centuries as a painter in the courts of Akbar and Jahangir. Given the title of Nadir al-asri (wonder of the age) by Jahangir, Beg entered the services of the Mughal court in 1585. He was well known for his contributions to the Baburnama (Book of Babur) and Akbarnama (Book of Akbar) amongst other works, where his paintings showcased his unique style — an amalgamation of Persian and Mughal styles.
According to scholars, Beg most likely began his training in painting in Khurasan with the production of the poet Jami's Haft Awrang. He transferred to the service of Akbar from the court of Mirza Muhammad Hakim of Kabul, who was Akbar's half brother. Between 1585 and 1590 he contributed immensely to works at Akbar's court including a Khamsa of Nizami, Baburnama, a divan by Hafiz and Timurnama (Book of Timur). Each of these contributions, either as a solo artist or designer, present a distinct Safavid style, characterised by the use of bright pigments and the elegant use of lines.
Beg's absence from Akbar's court after 1590 is debated amongst several scholars, with some believing that he temporarily moved to Bijapur to join the court of Ibrahim Adil Shah II of the Sultanate of Bijapur. If his move to Bijapur is to be believed then he would have produced paintings under the patronage of five rulers in his lifetime: Ibrahim Mirza of Safavid Mashhad, Mirza Muhammad Hakim of Kabul, Akbar and Jahangir in Mughal India and Ibrahim Adil Shah II of the Sultanate of Bijapur. Despite mentions of a Farrukh Beg/Hussayn in documents such as the Sih Nasr (Three Essays) of Zahuri, and attributions to paintings from the Bijapur School, the claims of his transfer to Bijapur still remain contested.
Beg's return to the Mughal court is marked after 1609 when he joined the court of Jahangir, and was awarded two thousand rupees and bestowed the title of az bi badalan-i asr (unrivalled in the age). Painting portraits of young men was a favoured subject of Farrukh Beg and he returned to it during this period. These were both portraits as well as creations of poetic imagination. For an important painting of a melancholy Sufi, he is also known to have used European engravings of dolour (sorrow/melancholia) and Albrecht Dürer's Melencolia I, as starting points for his composition. Around the same time possibly in the year 1615, at the age of seventy, he also painted a self-portrait, which similarly combined his various skills in Mughal, Persian and Bijapuri styles of painting along with his fascination with European compositions.
Bibliography
Our website is currently undergoing maintenance and re-design, due to which we have had to take down some of our bibliographies. While these will be re-published shortly, you can request references for specific articles by writing to hellomapacademy@map-india.org.