A Belgian photographer known for creating colour-focussed compositions, Harry Gruyaert is considered a pioneer in the use of colour in art photography, which was otherwise primarily associated with commercial and advertising photography. His images, of deliberately pedestrian subject matter, emphasise the formal elements of a scene — particularly the colour and effects of light — rather than on narrative or symbolic elements. By doing so, he seeks to provide a fresh perspective to everyday sights, divorced from their habitual associations and meanings. For most of his photographic career, he travelled extensively across North Africa, the Middle-East, India, the United States and parts of Europe. His home during much of his itinerant life was a Volkswagen Kombi minibus.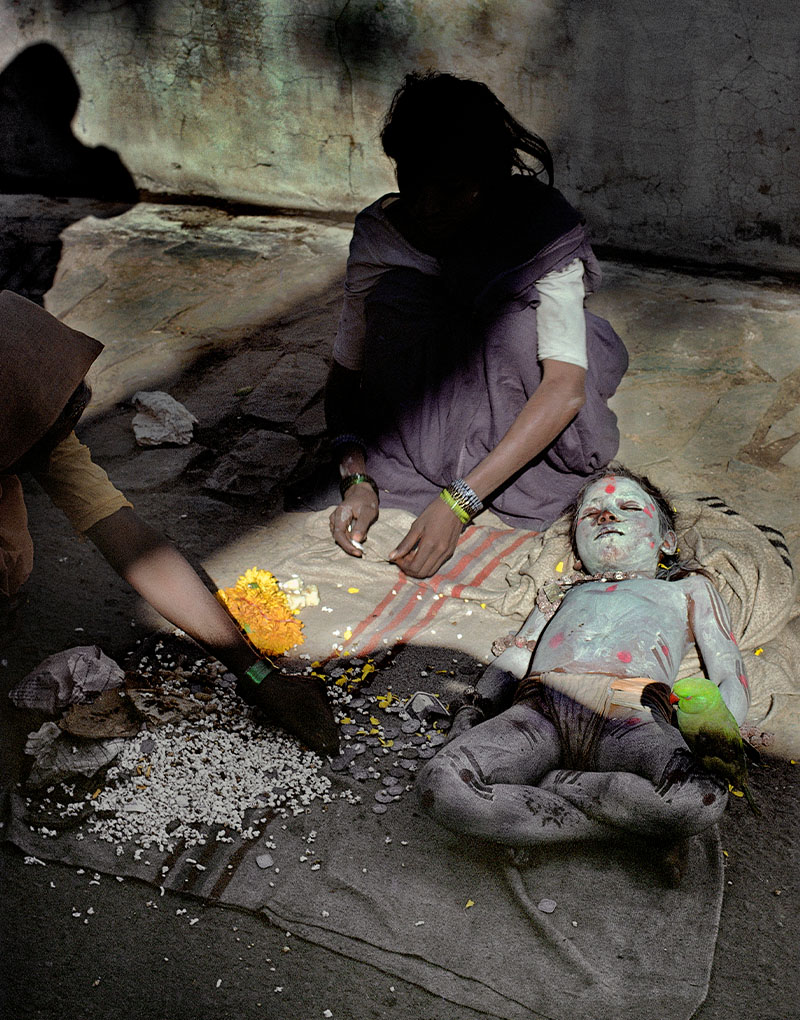 Pushkar.; Harry Gruyaert; c. 1976; Dye transfer print; 67.9 × 45.1 cm; Agentur Focus, Hamburg
Gruyaert was born into an orthodox Catholic family in Antwerp. He developed an interest in the photographic medium at a young age, owing largely to his father's job as a film producer in a local factory. Though forbidden from pursuing photography as a career, he defied his family and went on to study photography and filmmaking at the Institut National de Radioélectricité et Cinématographie, Brussels from 1959–62. Soon after graduating, he moved to Paris to work as an assistant to American-born photographer and filmmaker William Klein, also dabbling briefly in television and fashion photography. He began to develop an interest in colour as a formal element after his 1968 visit to the US and a crucial encounter with Pop Art and its preoccupation with the banal and common. It was his encounter with the landscapes, colours and shifting lights of Morocco in 1969, however, that signalled his decisive shift towards form and effect in his compositions. After his withdrawal from television, he made a series called TV Shots in 1972, inspired by the ubiquity of television in the UK and the US, where it had become an indispensable way of engaging with the world. The series featured distorted images on television screens of shows and world events — such as soap operas and the Munich Olympics — as a parody of TV culture and the passive consumption it bred as well as the rabid press-photography of the era.
Gruyaert's trip to Morocco — the first of many — also encouraged him to travel more and find his niche as an art photographer. He visited India in 1976, travelling across the country extensively and photographing scenes of daily life in cities and villages. Over the next four decades, he undertook over a dozen trips to India, especially to the cities of Calcutta (now Kolkata) and Varanasi and parts of rural Rajasthan and Kerala. He also travelled through Gujarat, Tamil Nadu and New Delhi, photographing marketplaces, thoroughfares and other hubs of activity. He also photographed, in less crowded settings, bright swathes of colour, such as in textiles, against backdrops of dimly lit interiors; the foggy urban landscapes of cities such as Calcutta and Jaipur, and crop fields in Gujarat and Rajasthan.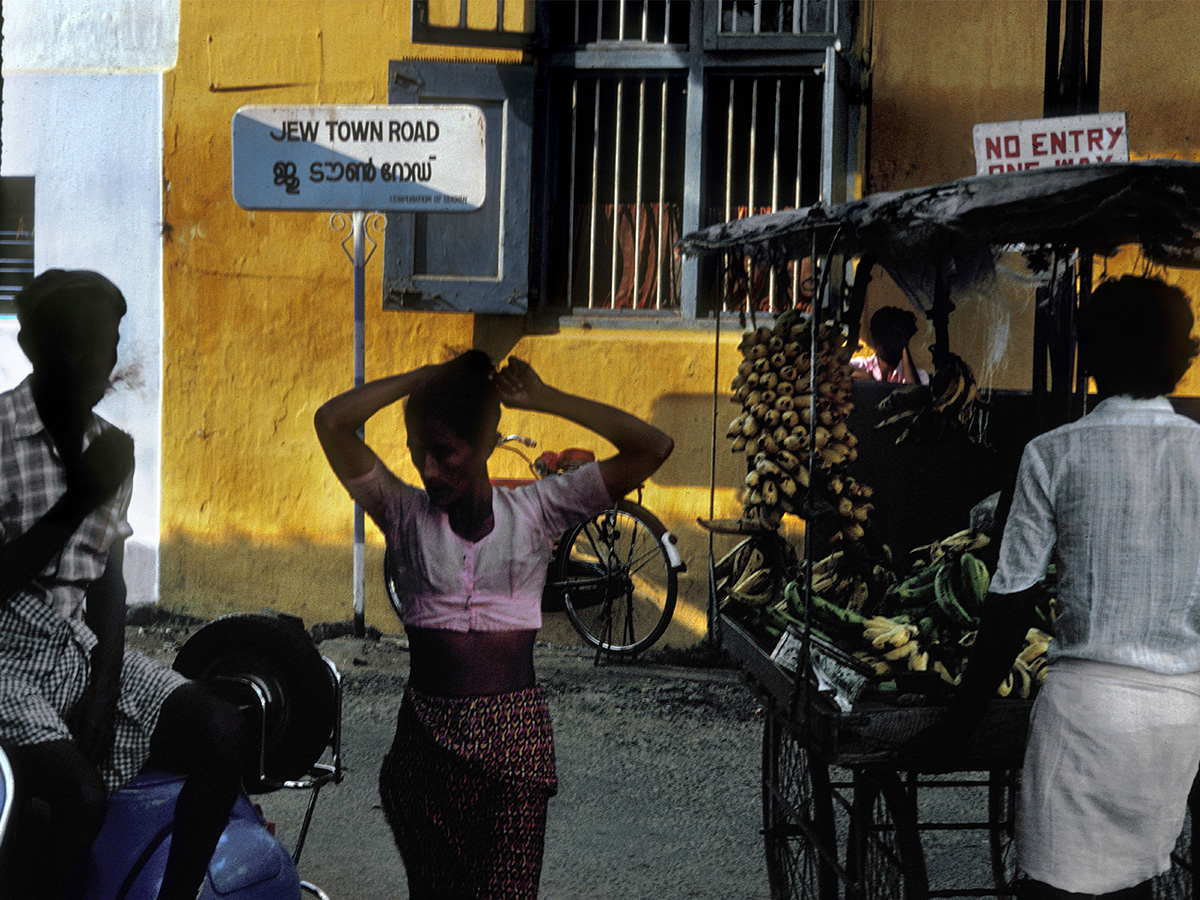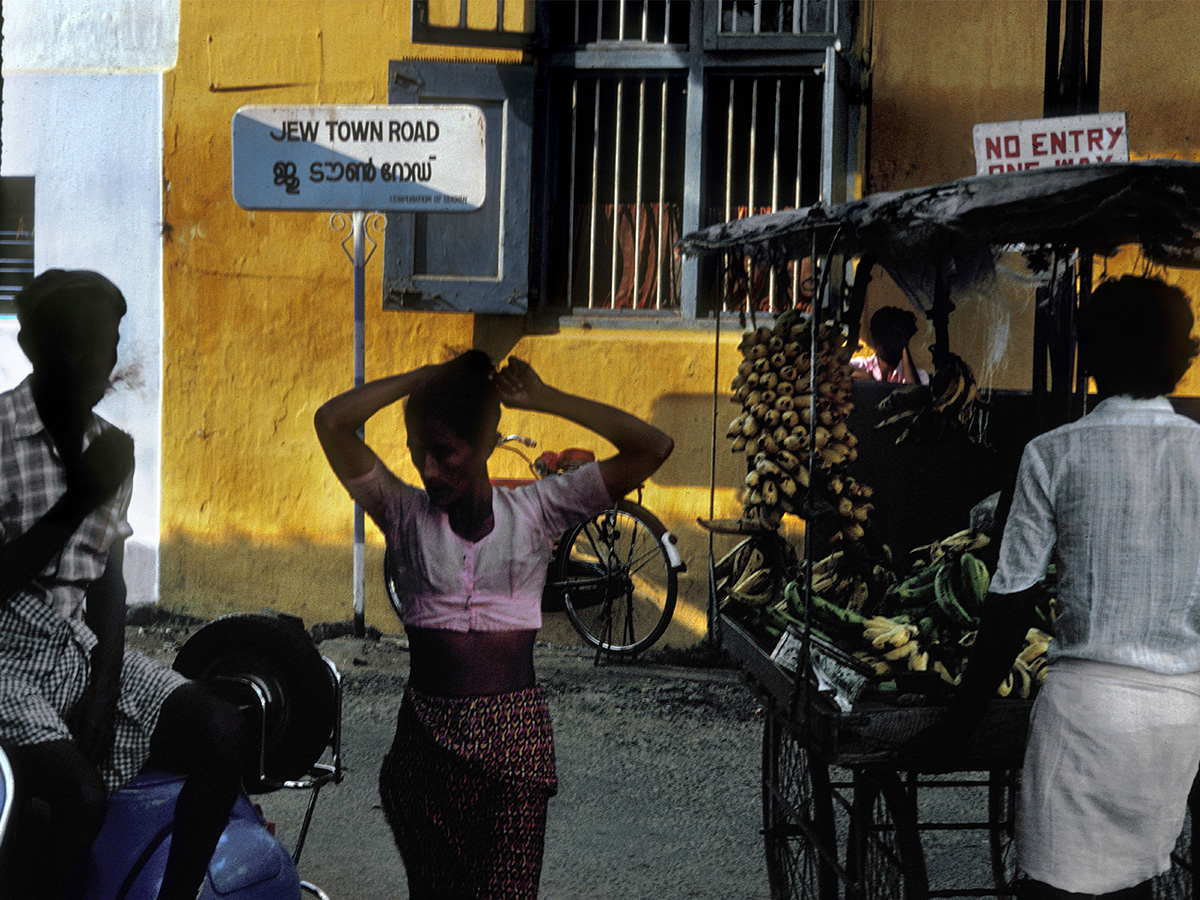 When Gruyaert joined the photography collective Magnum Photos in 1982, Alex Webb and Miguel Rio Branco were the only non-commercial photographers, apart from himself, who worked in colour. That year, on an assignment with Elf Aquitaine oil company, he travelled alongside and photographed cyclists as they competed in the Tour de France. From 1982 through 1983, he drove through Ireland, capturing its sweeping landscapes, popular culture and common recreations. Later that year, he returned to Belgium, using colour this time to photograph the tension between the traditional values and rampant 'Americanisation' it faced. He travelled to other countries in western Europe, such as Spain, and in the 1990s frequently visited Moscow. During the next decade, he switched from film to the digital format as he found, after experimenting with other image-making techniques and formats, that it was best suited to bring out the colour and tonality of his work.
Gruyaert has published several books comprising the photos from his travels. Among these are two eponymous volumes on Morocco in 1990 and 2009; two on Belgium titled Made in Belgium (2000) and Roots (2009); TV Shots (2007), Moscow 1989–2009 (2010); Irish Summers (2020); and Harry Gruyaert: India (2021). Gruyaert also published his later collections of his photographic explorations of transience and change, such as Rivages (2003) and Edges (2009) on seascapes, and Last Call (2019) on airports. His work has been featured in a variety of exhibitions, such TV Shots (1974) at Delpire Gallery, Paris; Moscow 1989-2009 (2012) at the Moscow Biennale; and a retrospective show at the Fotomuseum Antwerp in 2018. He received the Kodak Prize in 1976, for the work produced during his travels in Morocco.
As of writing, Gruyaert lives and works in Paris.
Bibliography
Our website is currently undergoing maintenance and re-design, due to which we have had to take down some of our bibliographies. While these will be re-published shortly, you can request references for specific articles by writing to hellomapacademy@map-india.org.