ARTICLE
Jehangir Sabavala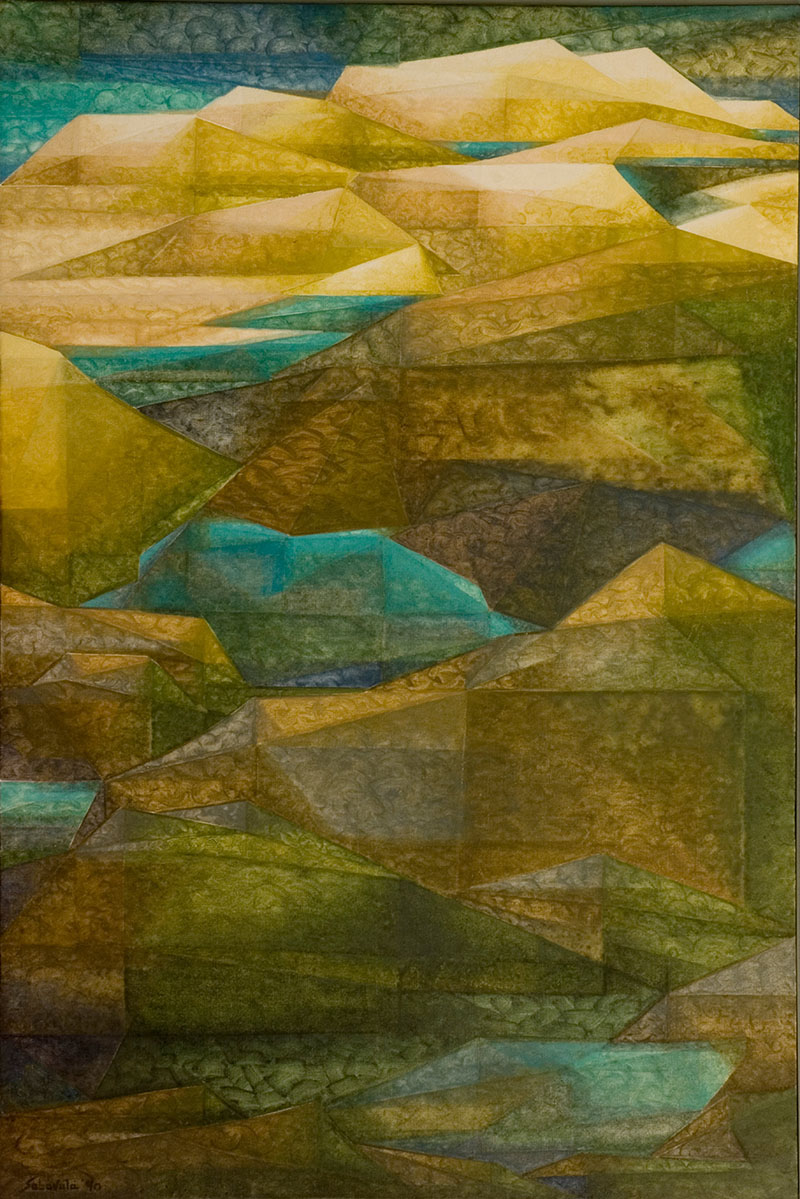 Trapped Lakes; Jehangir Sabavala; c. 1990–1991; Oil on canvas; 1500 x 1000 cm; National Gallery of Modern Art, Google Arts and Culture
A painter known for bringing together modernist techniques such as impressionism and cubism, and for developing a distinctive visual idiom that defied categorisation, Sabavala was born in Mumbai to an affluent Parsi family. He received his education at the Cathedral and John Connon School and Elphinstone College, and later in 1944, a diploma from Sir JJ School of Art. He went on to study at the Heatherley School of Fine Art, London from 1945 to 1947, at the Academie Andre Lhote, Paris from 1948 to 1951, the Académie Julian from 1953 to 1954 and at the Académie de la Grande Chaumière in 1957.
Sabavala worked with oils and painted landscapes and seascapes. Later, his practice drifted away from pure colours and depicted lighter tones. Luminescence, a remarkable feature of his work, is accentuated by his insertion of geometric wedges which create receding planes that give depth to the paintings. His work was infused by his deft control and manipulation of light, colour and texture. Upon his return to India, his work was additionally influenced by his travels through the country. Sabavala's paintings broke off from the impasto gestures that aligned with cubism, such as knife-edge lines, broad strokes and bold colours. Instead, his canvas was soft and muted. The human figure, sparsely present in his work, is a diminutive presence; removed from the viewer, these figures embody solitude. Over the years, he populated his paintings with eclectic characters such as the shepherd, the farmer and the monk, all of whom remain enigmatic due to the absence of emotion and their melancholic disposition and distance.
Painting and exhibiting parallel to the popularity of the Bombay Progressive Artists' Group, Sabavala remained unaligned to any group. His first solo exhibition was hosted in 1951 at the Taj Art Gallery, Mumbai, following which he had a career spanning sixty years, with over 30 solo exhibitions and 150 group exhibitions all over the world. His work has been exhibited at institutions such as Chemould Prescott Road (Mumbai, India), Jehangir Art Gallery (Mumbai, India), National Gallery of Modern Art (Mumbai and New Delhi, India), Commonwealth Institute Art Gallery (London and Edinburgh, UK), Aicon Gallery (New York, USA), Fukuoka Art Museum (Tokyo, Japan), Smithsonian Institution (Washington DC, USA), among several others. His work forms part of significant private and public collections such as Birla Academy of Fine Arts (Calcutta), Parliament House (New Delhi), the Punjab Government Museum (Chandigarh), Tata Institute of Fundamental Research (Mumbai) and the National Gallery of South Australia (Adelaide). His life and work have been the subject of two films, Colours of Absence by Arun Khopkar and The Inheritance of Light: Jehangir Sabavala by Sam Kerawalla.
In 1977, the Government of India felicitated him with the Padma Shri. He has also been the recipient of awards such as the Kala Ratan from the All India Fine Arts and Crafts Society, Delhi in 2001, the Dadabhai Naoroji Millenium Award in 2002 and the Lalit Kala Ratan Award in 2004, among others.
Sabavala passed away in Mumbai, at the age of 89, due to complications caused by lung cancer.
Bibliography
Our website is currently undergoing maintenance and re-design, due to which we have had to take down some of our bibliographies. While these will be re-published shortly, you can request references for specific articles by writing to hellomapacademy@map-india.org.