ARTICLE
Johnston & Hoffmann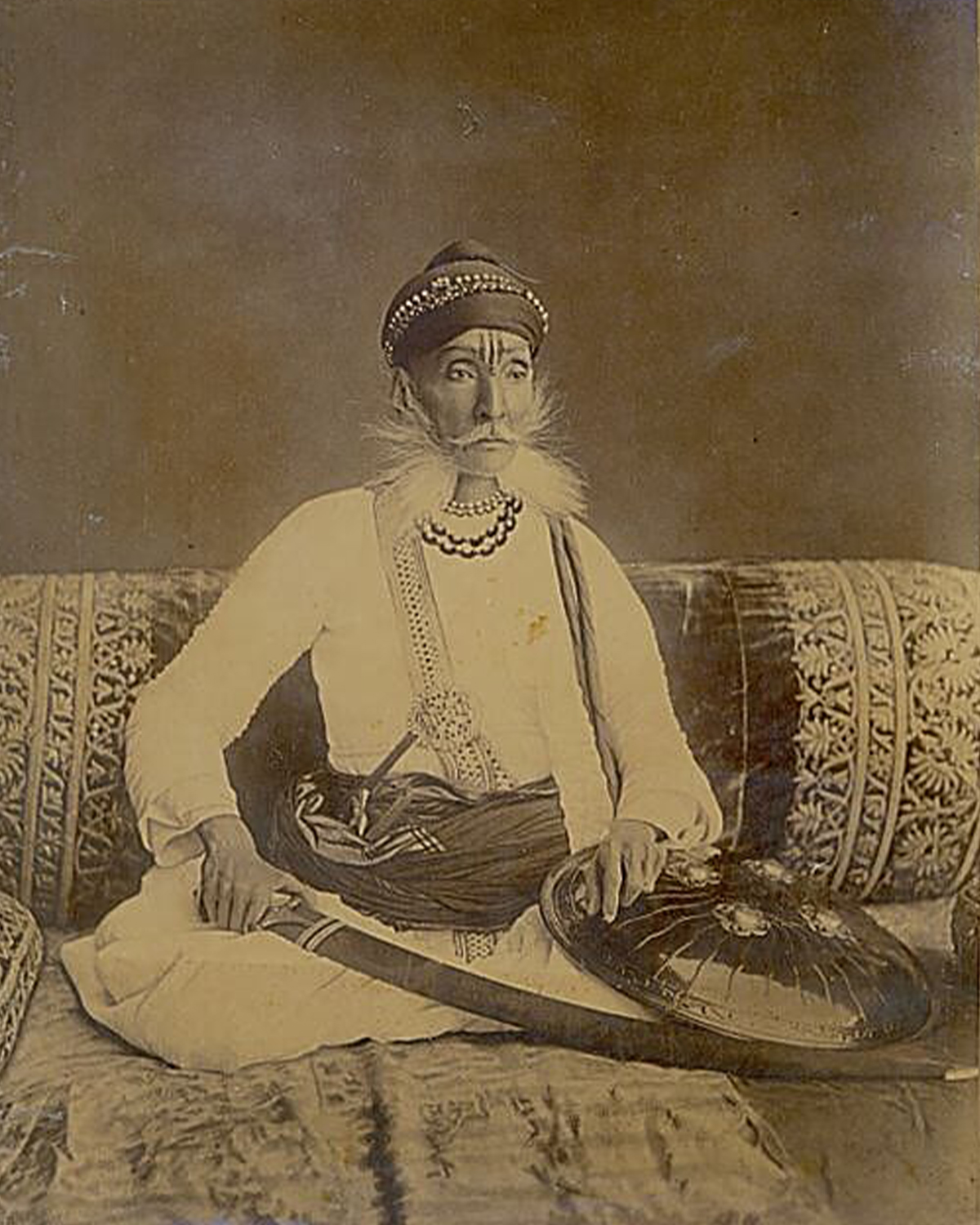 Maharao Raja Sir Ramsinghji Bahadur of Bundi.; Johnston & Hoffmann; c. 1887; Albumen print; 23.3 x 18.9 cm; Museum of Art & Photography (MAP), Bengaluru
Founded in 1882 by PA Johnston and Theodore Julius Hoffmann, Johnston & Hoffmann was the first and largest studio based in Calcutta (now Kolkata), with later branches being opened in Darjeeling, Shimla and Rangoon, Burma (now Yangon, Myanmar). The firm, probably the second-largest in India at the time after Bourne & Shepherd, produced portraits of British officers, wealthy Indian families and royalty. They were also commissioned with long term projects that involved travel, typically for ethnographic portraiture. The Calcutta studio was established in 1882 at 22 Chowringhee Road and continued to be the centre of operations throughout the firm's lifetime. The next branch, in Rangoon, opened in 1889 but closed within a year. In 1890, Johnston & Hoffmann opened another branch in Darjeeling, and then later one in Shimla in the mid-1890s, a conjecture based on a surviving advertisement poster. After Johnston died in 1891, Hoffmann retained the firm's name and continued to run the studio with the help of assistants. One of these, hired in 1905, was AD Long, who went on to take over the studio in 1928, after Hoffman's death in 1921.
The firm's main source of income was the studio portraits of British officials, dignitaries and Indian elites belonging to royal families, including cabinet cards and cartes de visite. Notably, these include a portrait of a young Rabindranath and Mrinalini Tagore, a group photograph of Maharana Fateh Singh of Mewar with various British officers on the occasion of Queen Victoria's Golden Jubilee in 1887 and a portrait of Maharaja Sir Bhagwati Prasad Singh of Balrampur, dated 1900, that was likely hand-coloured by an independent artist. At times, the firm also made photographic postcards featuring celebrity sitters, such as the actress Maie Ash, for whom they travelled to Southampton, England in 1906.
Apart from studio portraits, Johnston & Hoffmann also accompanied European travellers and scholars on ethnographic surveys in the eastern Himalayan region and surrounding areas. In the 1880s, the firm was commissioned by LA Waddell to shoot and develop portraits of local people in Nepal, Sikkim and Tibet to highlight their cultural and ethnic identities. These were subsequently published in Waddell's 1889 book, Among the Himalayas. Scholars have pointed out that with these images, as with many such ethnographic projects at the time, the presumed objective truth of a photograph masked certain deceptions and obscured the cultural fluidity of the region, such as the fact that many of the sitters were made to wear clothes that appeared sufficiently exotic to the European eye, or that some of the sitters were not from the areas that the book claimed to cover but instead from surrounding regions that had a shared population, mode of dress and customs with some variation. In July 1891, Hoffmann travelled with John Claude White, the Political Officer in Sikkim, to Kanchenjunga. The photographs from this trip were later published in White's album Sikhim & Bhutan: Twenty-one Years on the North East Frontier 1887–1908 (1909), which was also printed by Johnston & Hoffmann.
The franchise closed down sometime in the 1950s due to reasons presently unknown.
Bibliography
Bautze, Joachim K. "The Origins of Photography in South Asia. Selected Themes." On the Paths of Enlightenment. The Myth of India in Western Culture 1808–2017. Museo d'Arte Della Svizzera Italiana (MASI). Lugano, September 24, 2017–January 21, 2018. Edited by Elio Schenini. Genève: Édition d'Art Albert Skira, 2017.
Bekkering, Henco, Adèle Esposito, and Charles Goldblum. Ideas of the City in Asian Settings. Amsterdam: Amsterdam University Press, 2019.
Bonhams. "BHUTAN AND SIKKIM WHITE (JOHN CLAUDE)". Accessed, 22 April, 2021. https://www.bonhams.com/auctions/23649/lot/72/.
Gaskell, Nathaniel, and Diva Gujral. Photography in India: A Visual History from the 1850s to the Present. Munich: Prestel, 2018
Luminous Lint. "Johnston & Hoffmann". Accessed, 22 April, 2021. http://www.luminous-lint.com/app/photographer/1_Johnston_Hoffmann/A/
Pinney, Christopher. Camera Indica: The Social Life of Indian Photographs. London: Reaktion Books, 1997.
Pinney, Christopher. The Coming of Photography in India. London: The British Library, 2008.
"Maie Ash : Two Real Photo Portrait Postcards Of English Stage Beauty (1905 & 1906)." The Cabinet Card Gallery. November 02, 2019. https://cabinetcardgallery.com/2019/11/03/maie-ash-english-stage-beauty-starring-in-musical-comedies-1905/.
"Thibetan [Tibetan] Woman, Darjeeling." Paper Jewels. Accessed, 22 April, 2021. https://www.paperjewels.org/postcard/thibetan-tibetan-woman-darjeeling.
Thomas, G. "The First Four Decades of Photography in India." History of Photography 3, no. 3 (1979): 215–26.