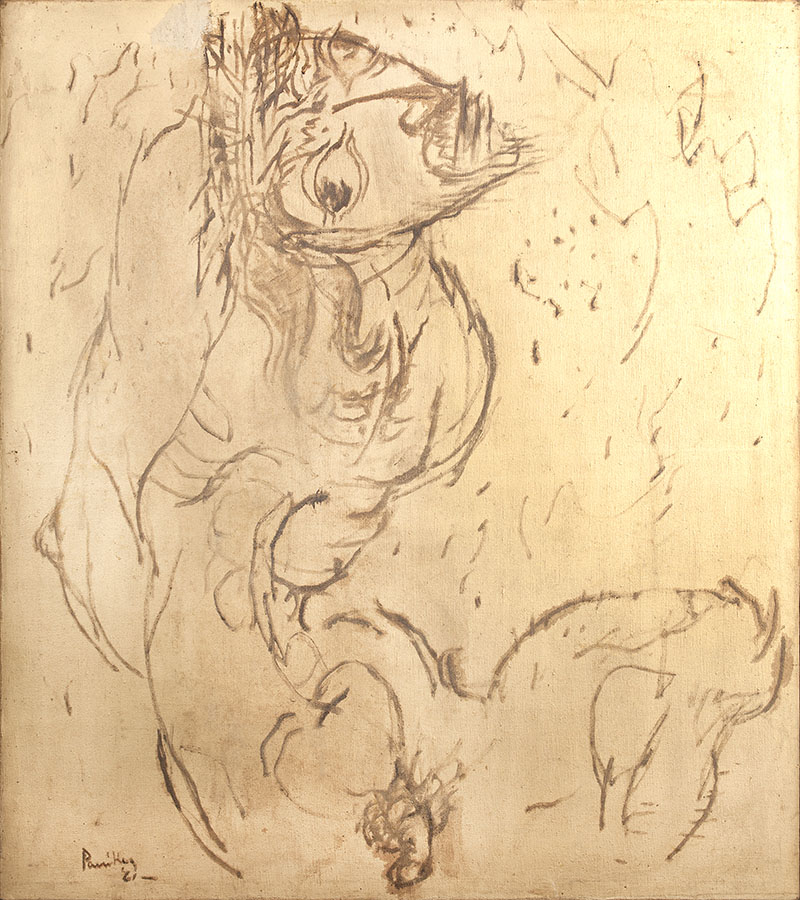 Untitled; K. C. S. Panicker; c. 1961; Oil on canvas; 84 x 75 cm; Museum of Art & Photography (MAP), Bengaluru
Born in Coimbatore, India, Kovalezhi Cheerampathoor Sankara Paniker was a widely influential painter and teacher known for pioneering the Madras Art Movement. While his earlier paintings consisted almost entirely of watercolour landscapes and figural drawings, Paniker is best known for his metaphysical and abstract paintings that engage with a regional aesthetic and pictorial traditions rather than the prevailing Western modes to inscribe an ethnically and culturally rooted Modernism within the larger postcolonial Modernist programme.
Paniker had a talent for the visual arts and began painting at the age of twelve. By seventeen, his work was being featured at the annual exhibitions of the Madras Fine Arts Society. Following the death of his father in 1928, Paniker discontinued his college education to work at the Indian Telegraph Department. During this time, Paniker met DP Roy Choudhury, who had been serving as the principal of the Madras School of Arts and Crafts (now the Government College of Fine Arts, Chennai). Consequently, in 1936, at the age of twenty-five, he enrolled in the Government School of Arts and Crafts, Calcutta, where he honed his skills as a professional painter. Not long after, he began holding independent shows in Chennai (formerly Madras) and New Delhi. In 1944, he led the formation of the Progressive Painters' Association, which facilitated the promotion of artists in the national and international arena through the exhibition and sale of their works. A defining moment in his career was his nomination to the executive board of the newly formed Lalit Kala Akademi, on the heels of which came his appointment as principal at the Madras School in 1957. This marked the beginning of an artistic and ideological trajectory that spanned over a decade (roughly coinciding with his principalship) and that inscribed not only his personal artistic journey but also the development of modern art in South India. His passage as an artist and pedagogue can be best understood as a series of experimental phases that informed his creative approach as well as his outlook.
Paniker's early work is characterised by his use of watercolours to depict the landscapes of the Malabar coast, where he spent much of his childhood. The landscapes — coconut groves, lakes and canals, boat jetties, and markets — were visual evocations of images of his youth, affected by the emphatic use of colour and the devices of patterning and shading. In works such as Conolly Canal (1943), Boat Jetty (1943) and The Grove (1943), he sought to capture the elemental aspects of nature that he perceived rather than recreate its objective reality on canvas. By the late 1940s, Paniker developed figurative compositions that explored the human form using monochromatic and restricted colour palettes such as Nude (1949), Sleep (1949) and Sleeping Nude (1952). His exploration of the pictorial dimensions of figure and form led him to study ancient Indian mural traditions, especially those at the Ajanta caves, resulting in a visual style that combined Illusionistic Western modes with the two-dimensional aesthetic of the Indian pictorial tradition. He began to work with figure groups in the works such as Genesis (1949), Peter's Denial (1949) and The Harlot (1950), which portrayed Biblical scenes — so chosen for their visual and personal familiarity in his immediate cultural milieu. The later, larger figural works, such as Blessed are the Peacemakers (1957), Life of Buddha (1956) and Humanity, featuring religious and spiritual icons, served as metaphors for the growing intolerance, narrowness and violence that stained the newly formed nation.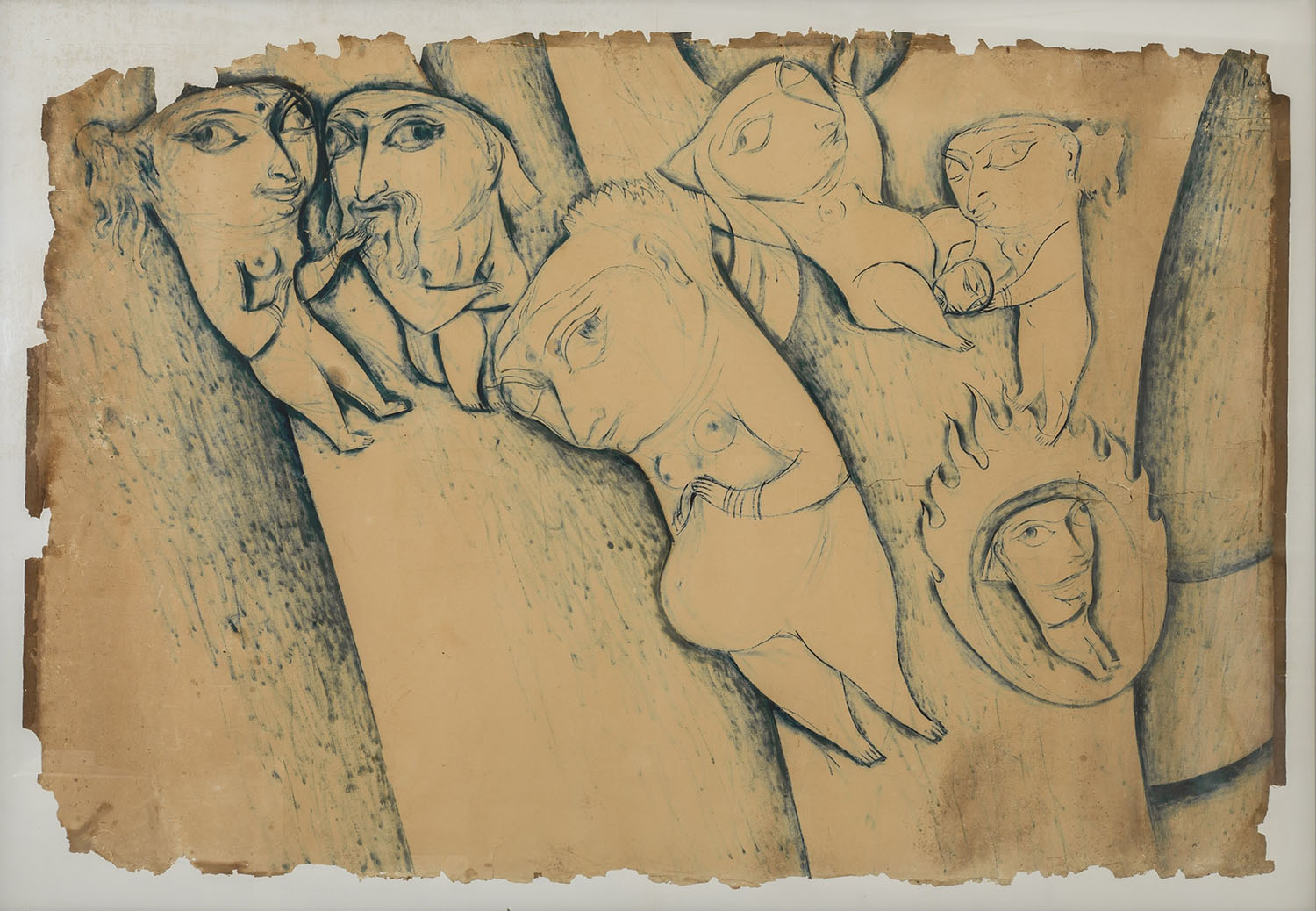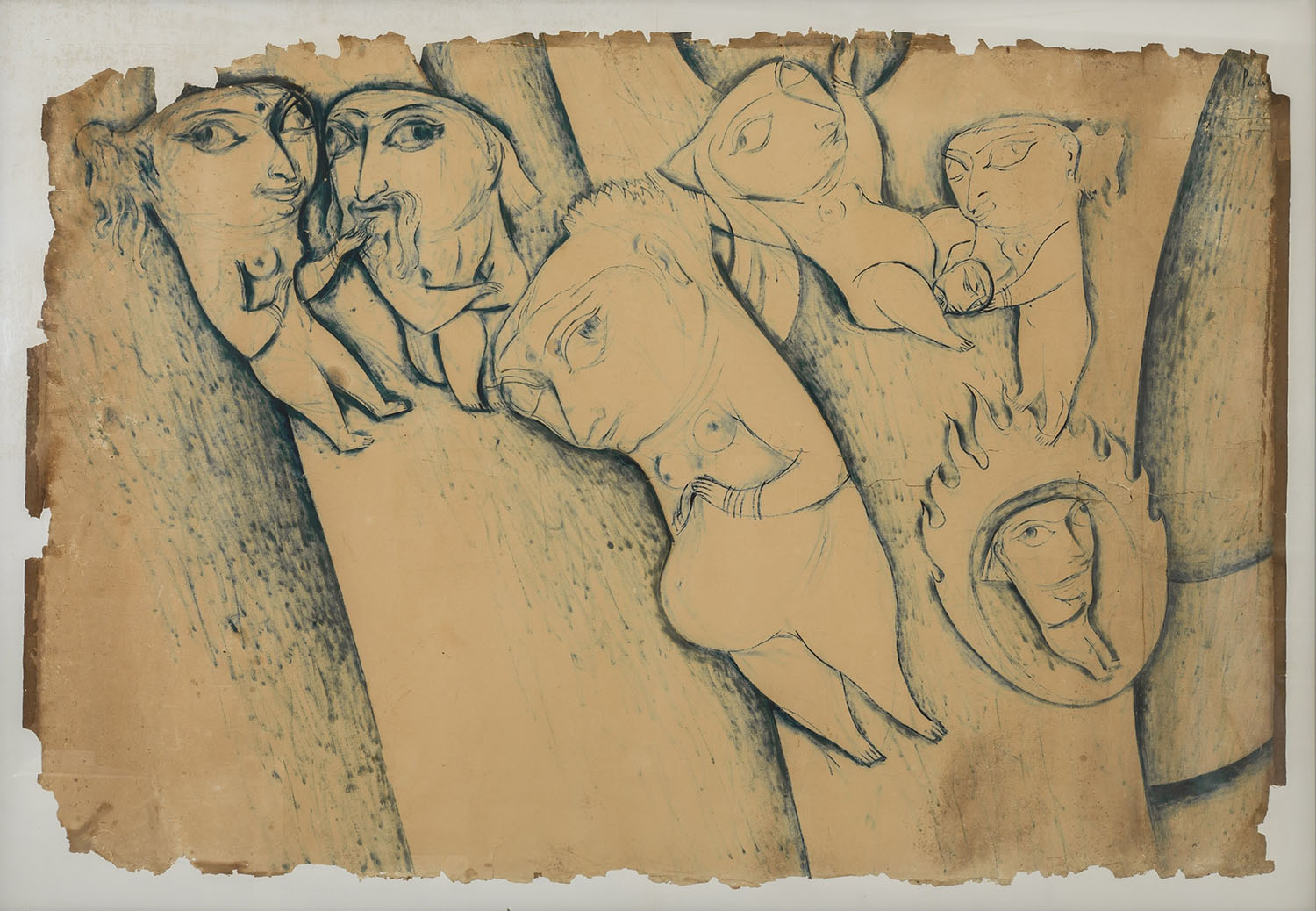 The mid-1950s marked a significant shift in Paniker's artistic practice. Sponsored by the Ministry of Culture, Paniker travelled to Europe, where he held exhibitions in Paris and London, while also meeting artists such as Henry Moore and Pablo Picasso, through which he gained exposure to and insights into international Modernism. Although deeply inspired by the artists and the art that he encountered, he returned dismayed and dubious of the authenticity of his art after a critic observed that it lacked a distinctly Indian identity. Paniker returned home with a desire to explore indigenous Indian traditions and ideological positions within the context of the contemporary art world.
Upon his return, he embarked on a reassessment of his position as an Indian artist, turning to the works of Jamini Roy, who had managed to achieve a direct engagement with indigenous pictorial traditions by freeing his work from the pressure of a representative reality. From this, Paniker derived a new expressionistic mode in which he created anthropomorphic figurations. He drew on the absurdity of Surrealist imagery and the exaggerated mannerisms of ancient Indian art to create evocative and restless images. His exemplary works from this period — such as Mother and Child (1955), Cow and Calf (1956) and the Garden Series (1957– 62) — demonstrate a simplified form, a distortion of proportion, a linear emphasis and an enlargement and stylisation of certain features such as the head and eyes.
On being appointed the principal of the Madras School in 1957, Paniker worked to reduce European influence on art education and lead an inquiry into the technical and aesthetic aspects that constituted authenticity, identity and an emergent Indian Modernism. He initiated a dialogue on nativism, which grew into an ideology that privileged and foregrounded local cultures. Under this ideological mandate, which grounded their artistic practice on the visual idiom and representational modes of folk and vernacular art, Paniker's students began to explore forms expression that emphasised the qualities of the medium — flatness, scale, colour and line — to arrive at an immediately relevant model of Modernist art that did not draw on the West for its articulation. In a clear and deliberate move to reject the internationalism of similar modern movements and groups, Paniker, with the intellectual and artistic support of the Madras School, delineated a distinct artistic agenda in the Madras Art Movement by asserting its regional autonomy and emphasising its existence on the margins of mainstream nationalist discourse.
During the late 1950s and early '60s, Paniker began to withdraw increasingly from visual modes based on representation and started to plumb the symbolic, iconographic, logographic and schematic wealth of the regional native art, reimagining them through his modern sensibilities. Between 1963 and 1975, he produced his most well-known series of paintings, titled Words and Symbols, in which he deployed local, tribal and indigenous motifs and mathematical symbols, along with geometric lines. His use of astrological elements, calligraphic forms and tantric diagrams provided a conceptual framework within abstract art that was later grouped under the Neo-Tantric tradition. During this time, Paniker also produced paintings such as Ancestral Assertions (1965), Geometrical Order (1971) and Mathematical Order in Astrology (1971), which were similarly characterised by the use of visual material from the Malayalam script to form illegible text, symbols and diagrams.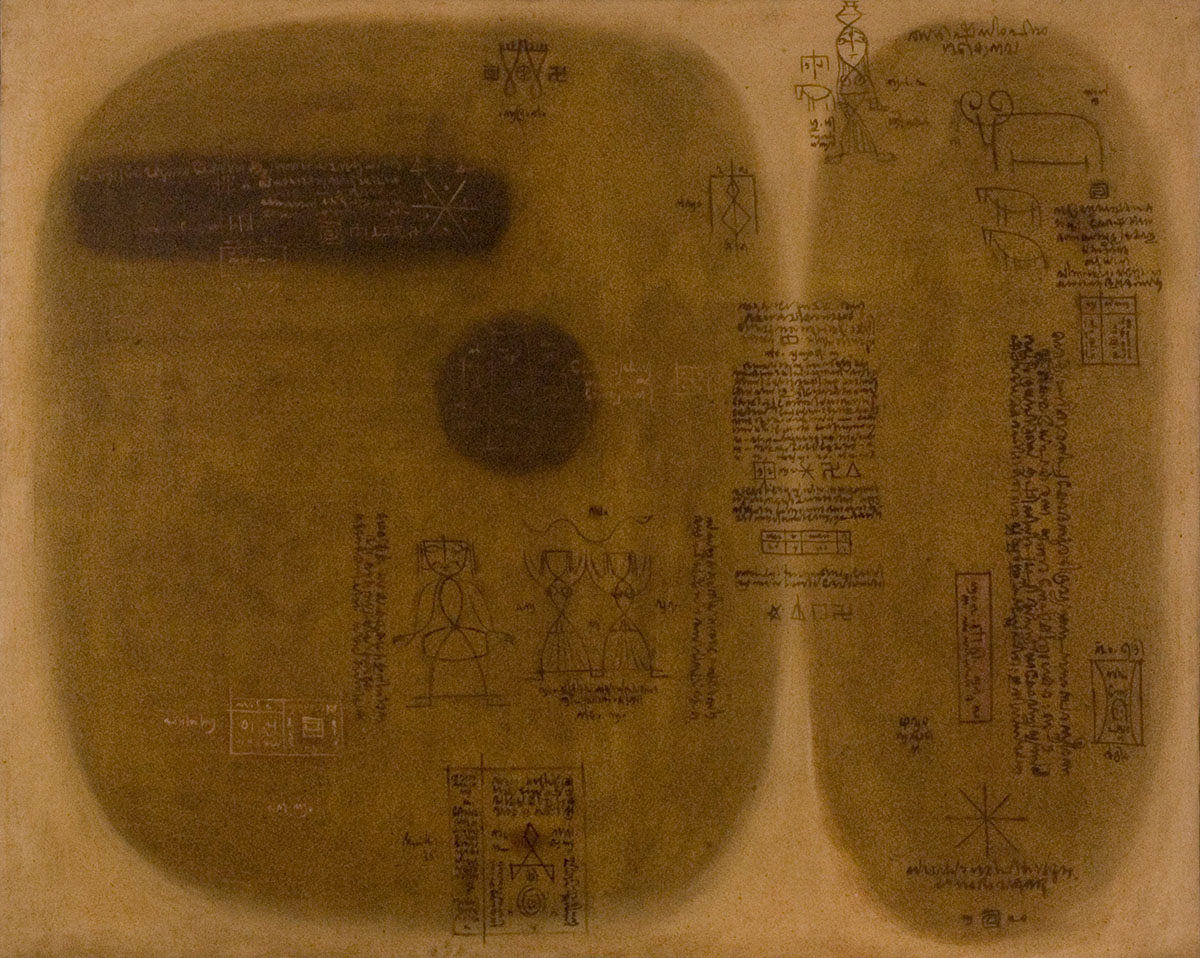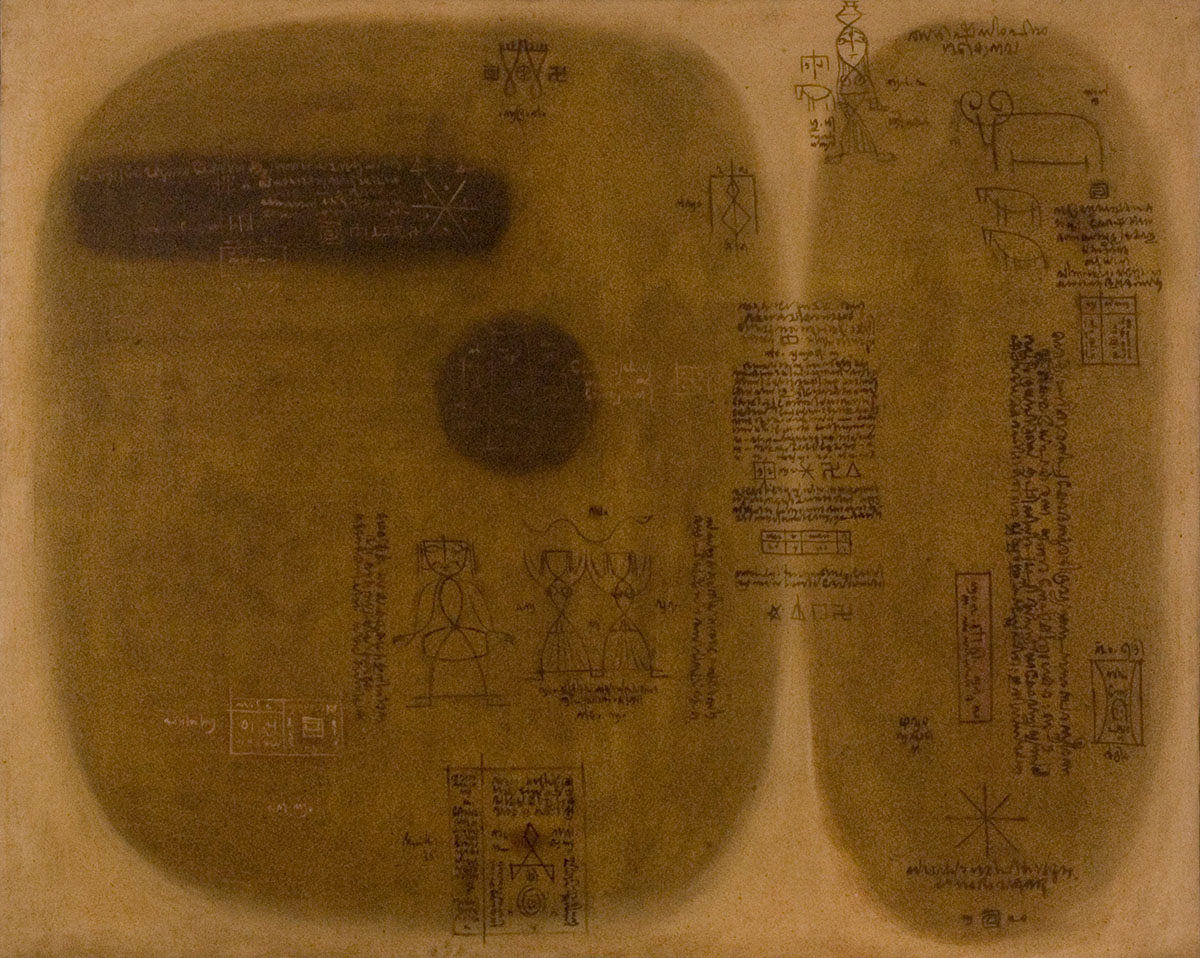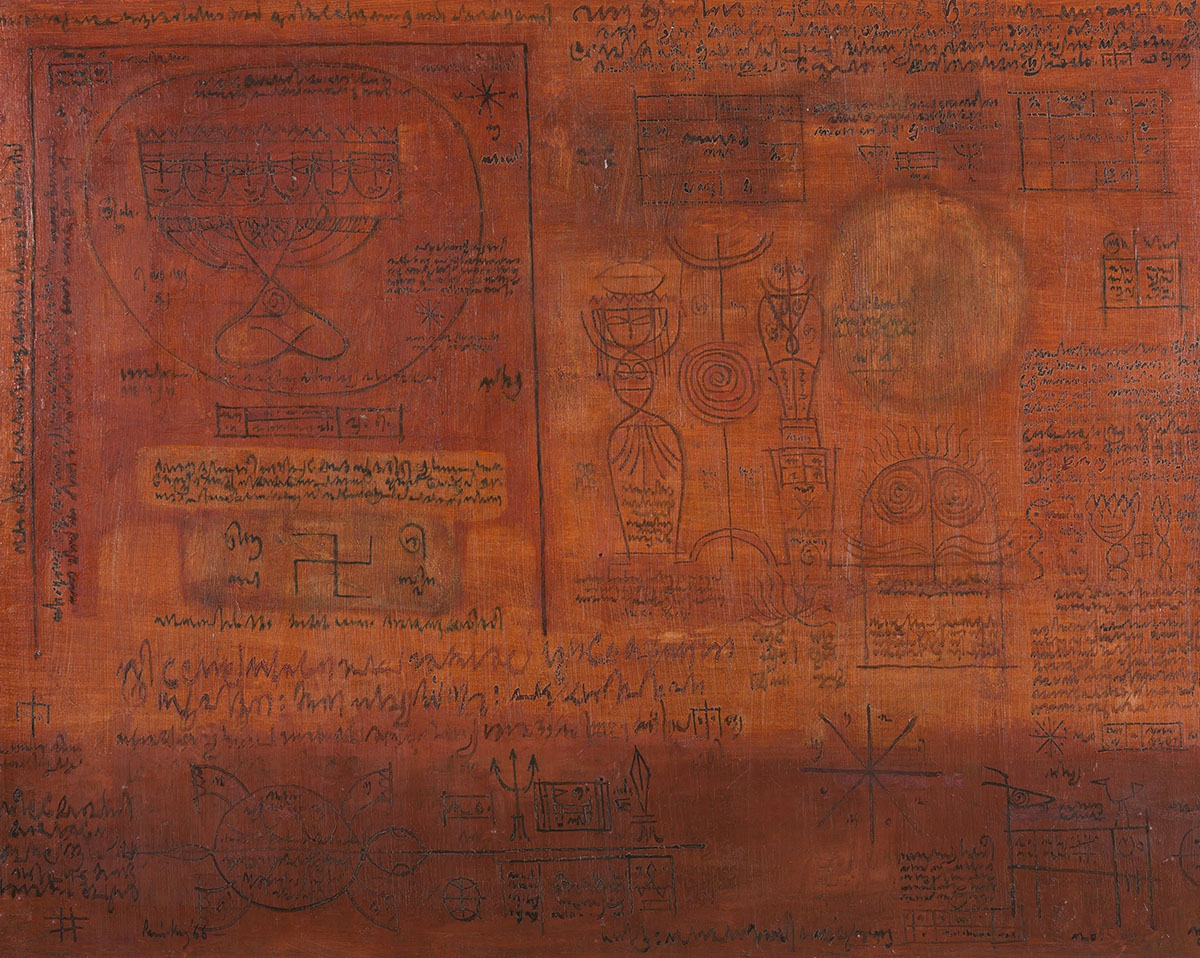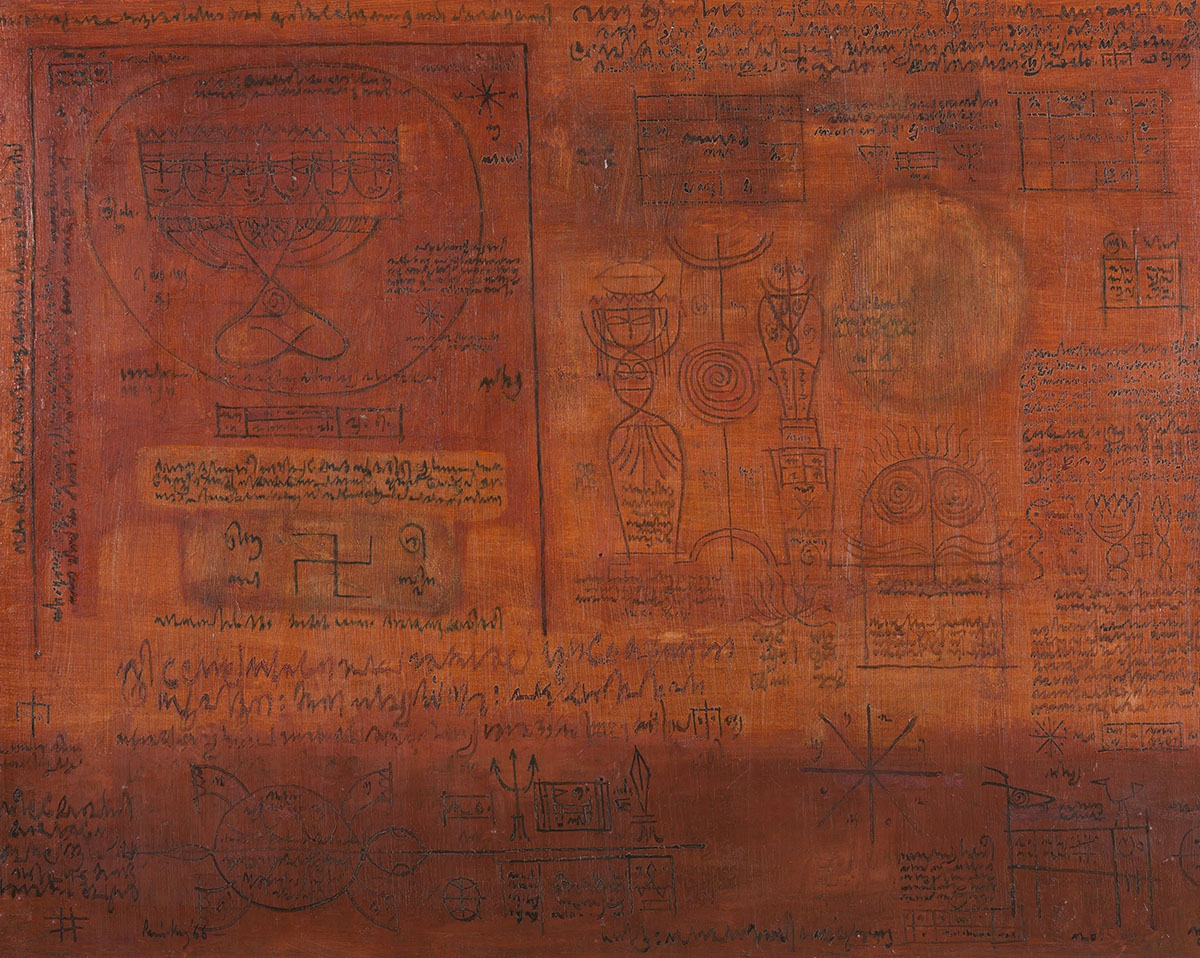 Following his decade-long tenure as the principal of the Madras School, Paniker established the Cholamandal Artists' Village in 1966, through which he pursued his goals and built a cooperative model for the creation, dissemination and enrichment of art. Located on the outskirts of Chennai, the Village remains one the largest artist communes in India and is also credited with its significant contributions to the Madras Art Movement.
Between 1964 and 1967, Paniker also toured the international circuit extensively, participating in the Tokyo Biennale; the Festival Hall Exhibition, London; and the Venice Biennale, where he won the National Award for Painting. In 1976, Paniker was made a Fellow of the Lalit Kala Akademi for his contribution to art and art education. In the same year, he donated all his extant works to the state of Kerala, where an art gallery was set up in his name beside the Napier Museum, Thiruvananthapuram. Paniker's work has been featured in a number of institutions, including the Delhi Art Gallery, the Instiut Valencià d'Art Modern and Casa Asia, in collaboration with the Ministry of Culture at Valencia, Spain.
He died in 1977 in Chennai.
Bibliography
Our website is currently undergoing maintenance and re-design, due to which we have had to take down some of our bibliographies. While these will be re-published shortly, you can request references for specific articles by writing to hellomapacademy@map-india.org.