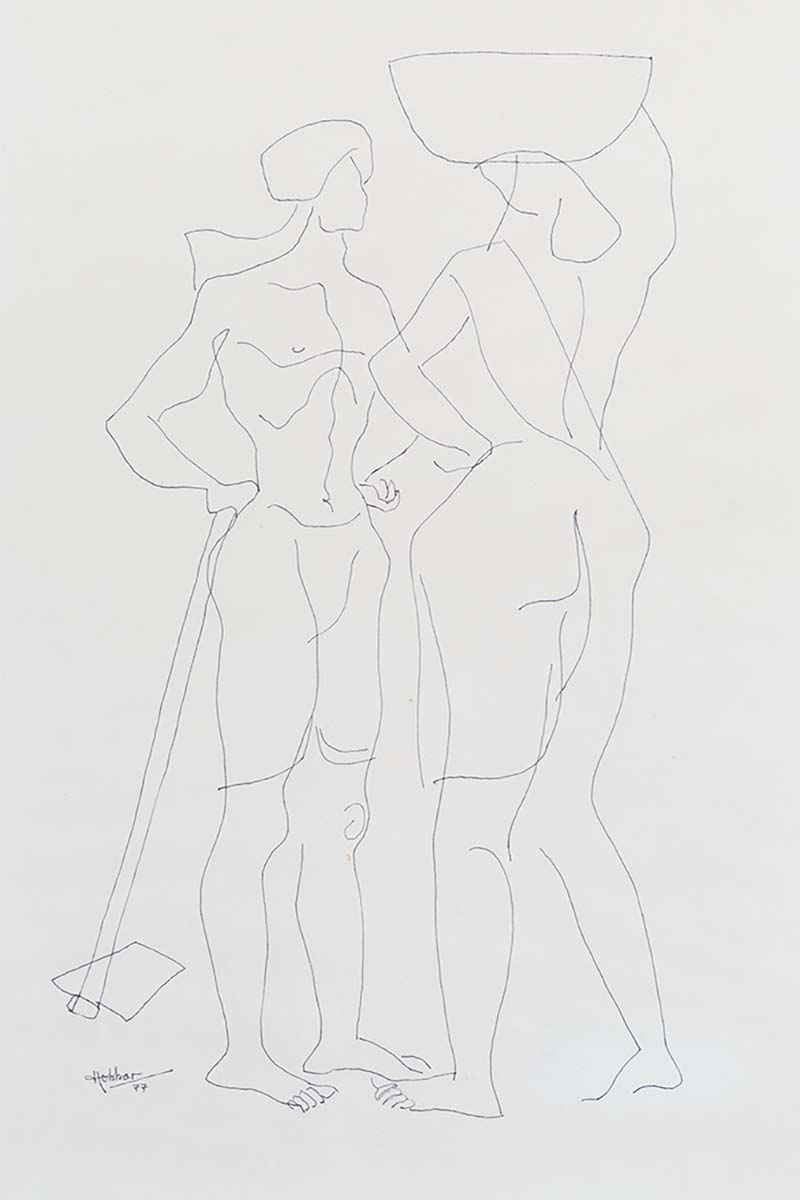 Farmers.; KK Hebbar; c. 1977; Pen and Ink on Paper ; 55 x 36 cm; Museum of Art & Photography (MAP), Bengaluru
Born in Kattingeri, near Udupi, Karnataka, Kattingeri Krishna Hebbar was an artist, dancer and sculptor known for his portraits, landscapes and line drawings made using oil paints, poster colours and pen and ink on canvas and paper. His work reflects the influence of Impressionism and Expressionism as well as the Neoimpressionist technique of Pointillism, of which he is the first known practitioner in India. He was also a key member of the Bombay Progressive Artists' Group (PAG).
Hebbar received a diploma from the Sir JJ School of Art, Bombay (now Mumbai), in 1938 and took up a teaching position at the institution in 1940. Although trained in Western Academic modes, Hebbar's exposure to the works of Modernists such as Amrita Sher-Gil during his studies was instrumental in shaping his creative vocabulary, which was informed by memory and imagination. He initially experimented with the mediums and pictorial styles of traditional Indian painting, such as the frescoes at the Ajanta Caves and Mughal, Jain and Rajasthani miniatures. However, dissatisfied with the themes and formulaic nature of these traditional styles, he sought a visual language rooted in the vernacular artistic and cultural traditions, particularly the performing arts, of Karnataka, as well as Western influences he acquired from his studies abroad at the Academie Julian and Ecole Estienne, Paris (1949–50).
In his early work, Hebbar drew heavily on the themes of rural life and performing traditions, depicting market scenes, agricultural activities, community gatherings and folk music and theatre performances. Inspired by Paul Gauguin's Primitivist art, Hebbar's work during this period featured several dark-skinned figures, such as in Lady from Kerala (1954). He subsequently incorporated social and political subject matter as well as themes of scientific progress and technological advancement to balance his preoccupations with mythology, temple sculptures and the performing arts, while also transitioning to a more abstract style, catalysed by his travels to China and Indonesia. However, his works continued featuring sinuous lines, exemplified in his series of pen-and-ink paintings of dancers and musicians that were published by writer Mulk Raj Anand in the book The Singing Line (1964). They are further demonstrated in his sketches of dance and theatre forms such as Kathak and Yakshagana. Hebbar was also interested in classical literature; his Silappadikaram series (1964), which was featured in The Illustrated Weekly of India, bore motifs from the eponymous Tamil literary classic.
Apart from figurative works, Hebbar also made several portraits; he was commissioned to make portraits of Jawaharlal Nehru and Indira Gandhi, especially during the rise of Nehruvian politics. He did not, however, limit himself to commissioned portraiture, also making portraits of his family, friends, contemporaries and himself. While his official portraits were more academic in style, he brought a greater degree of abstraction and expressiveness into his personal portraits.
He participated in numerous international and national exhibitions, such as at the Venice Biennale (1955); the Sao Paulo Biennale (1959); Vadehra Art Gallery, New Delhi (1993); Jehangir Art Gallery (1980, 1987, 1997); and Galerie Mirchandani + Steinruecke, Mumbai (2009). He received the Padma Shri in 1961 and the Padma Bhushan in 1989.
Hebbar died in 1996 in Mumbai.
Bibliography
Our website is currently undergoing maintenance and re-design, due to which we have had to take down some of our bibliographies. While these will be re-published shortly, you can request references for specific articles by writing to hellomapacademy@map-india.org.