A cotton and silk sari developed in Maheshwar, Madhya Pradesh, Maheshwari saris are known for their intricate designs, bright colours and reversible pallu designs on both ends.
The Maheshwari sari is believed to have been conceived and designed by Maharani Ahilyabai Holkar of Indore in the eighteenth century, after she shifted her capital to Maheshwar and sought to establish a weaving centre to boost the economy. In 1760, she invited weavers from Surat and Mandu in Gujarat to prepare turban fabric and nine-yard saris that could serve as royal gifts and be worn by the ladies of the Malwa court. Consequently, the weavers developed the Maheshwari sari, which was made using pure silk or pure fine cotton yarn and was nine yards (8.22 metres) long, with a pallu on both ends. Contemporary Maheshwari saris feature a ground made using a blend of cotton from Coimbatore and silk from Bengaluru.
Both pit looms and frame looms are used to weave the saris, with the latter being the preferred mechanism today. The warp yarn, which arrives at weaving centres in dyed bundles from across the country, is stretched and untangled before being rolled onto smaller spindles and bobbins using the charkha or spinning wheel. The warp threads are rolled using a larger motorised wheel, whereas the weft threads are prepared using a smaller, hand-driven spinning wheel. The silk threads are warped using an octagonal cylindrical frame with hooks. The yarn thread is then untangled and reeled onto rods using a charkha. The design of the sari pallu is set up by the weavers on a dobby machine placed on the top of the loom. Maheshwari fabric is usually deep brown, golden yellow, angoori (grape) green, peacock blue and aal (red brick).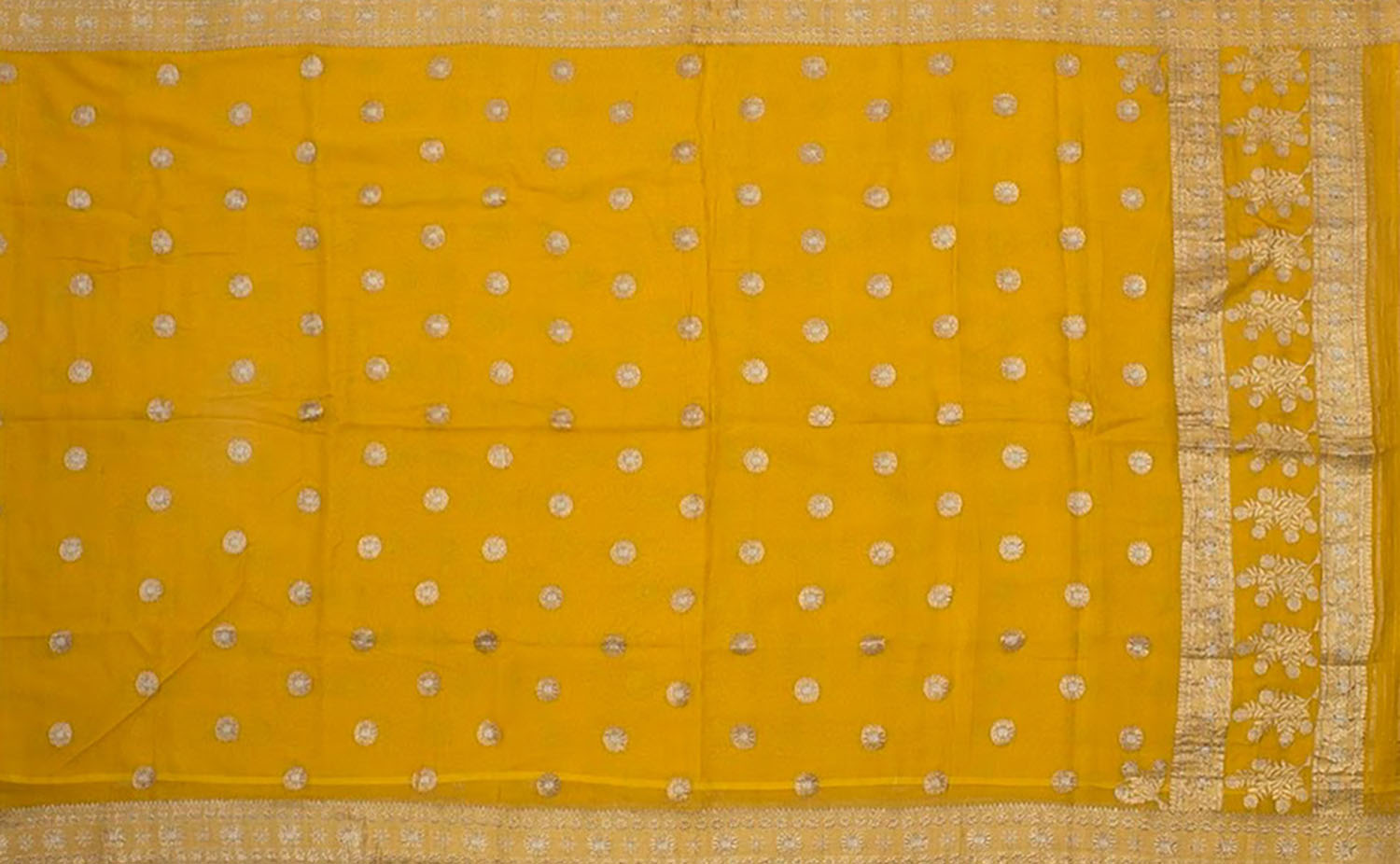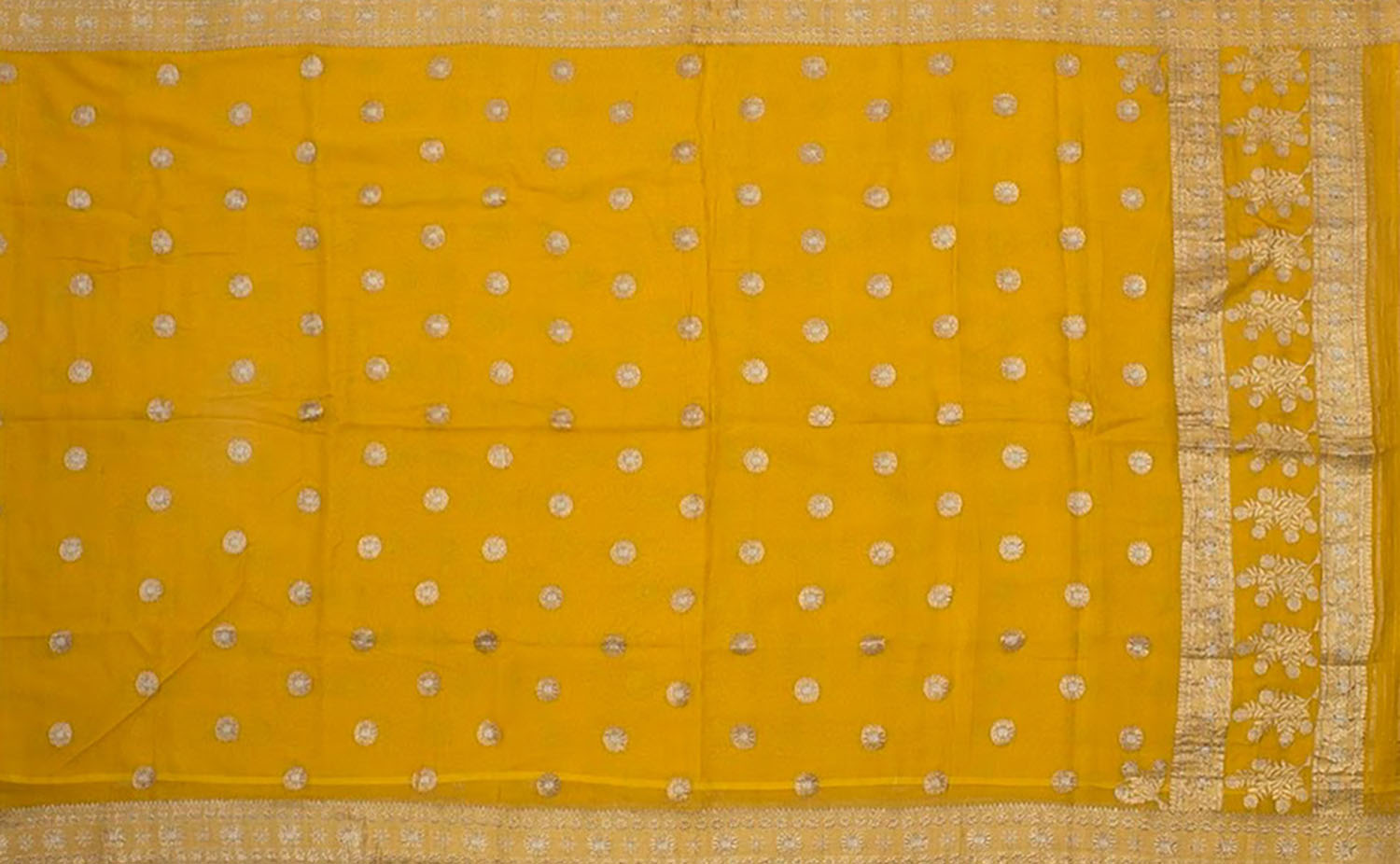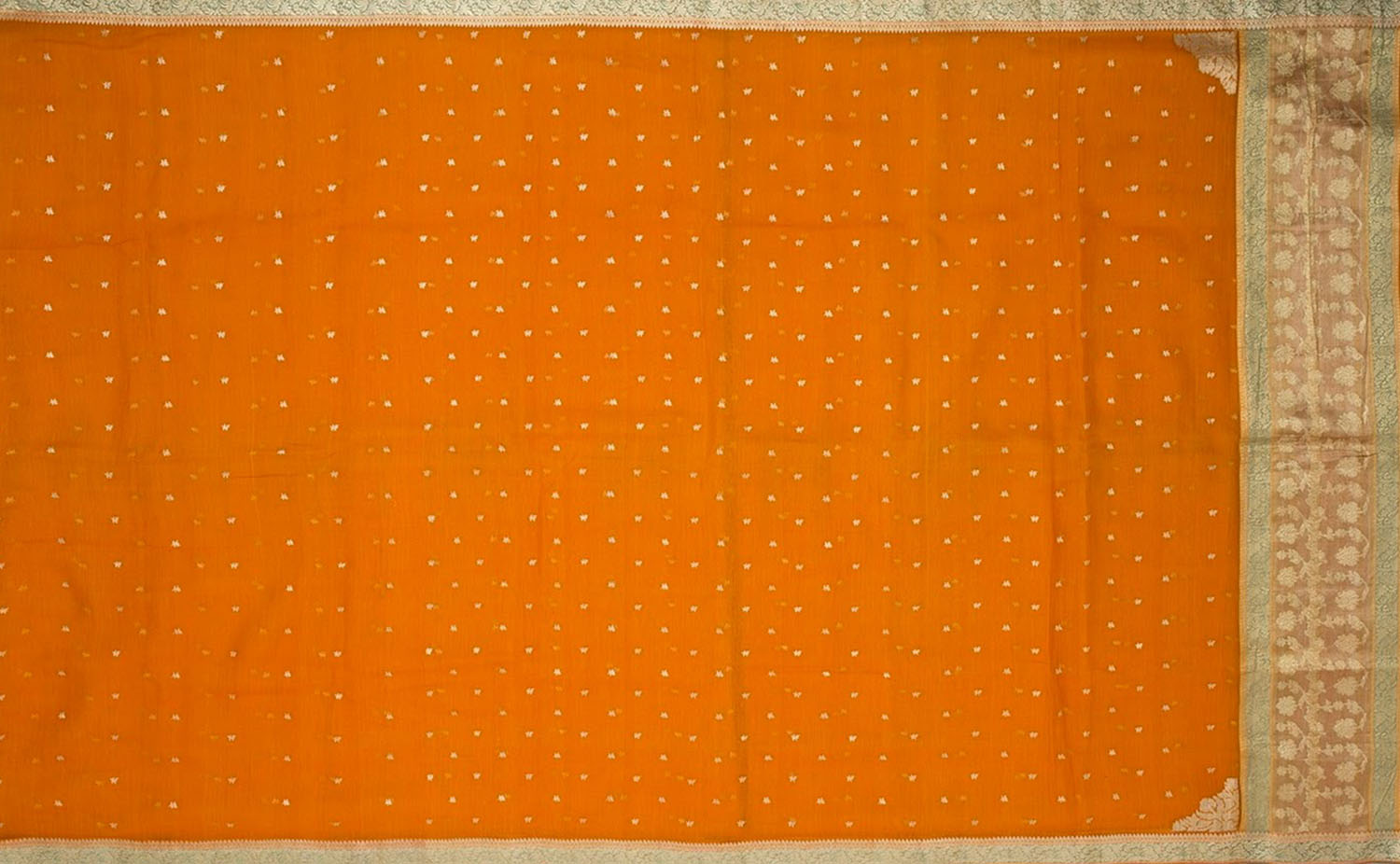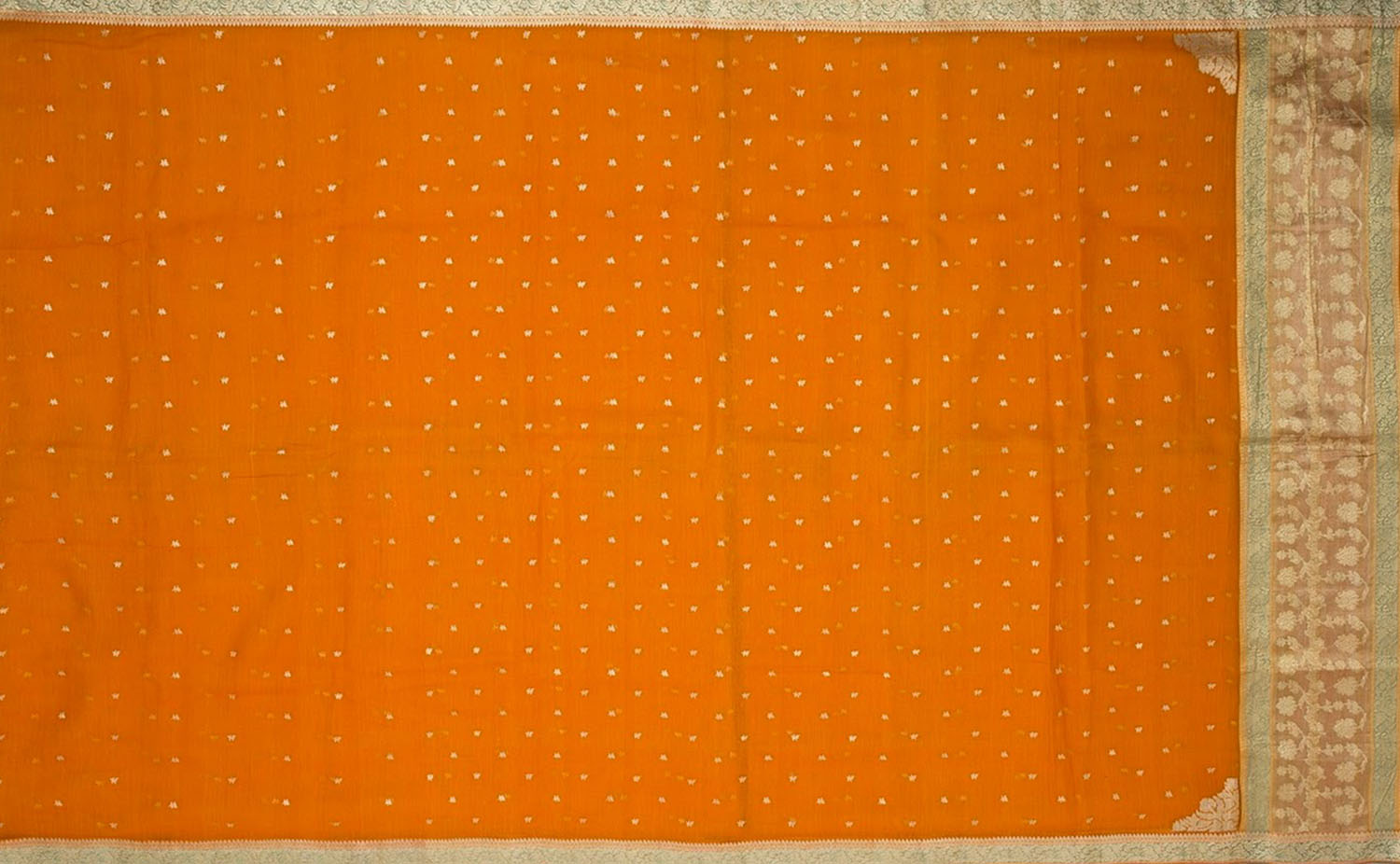 Maheshwari saris are woven in five forms: Chandrakala and Baingani Chandrakala, which are plain weaves; and Chandtara, Beli and Parbi, which incorporate striped and checkered patterns in the weave. The pallu of the sari has a reversible border made using gold and silver zari thread sourced from Surat. The saris are also embellished with gemstones to add shine and glimmer to the patterns and feature motifs woven in gold, silver or coloured copper zari threads which are rendered on the fabric using the extra-weft technique. Common motifs include designs inspired by temple architecture and detailing from the Maheshwar Fort, such as chatai (mat), chameli (jasmine), rui phool (cotton flower), hans (swan), heera (diamond), leheriya (wave) and Narmada (river).
The production of Maheshwari saris slowed after the Second World War and the consequent impact on the trade of Chinese and German yarn dye supplies. Additionally, following the independence of India in 1947, royal patronage and tariff protection for Maheswari saris ceased, which resulted in the practice coming to a near-standstill, with weavers being paid low prices for their work. The industry was revived through the efforts of Sally Holkar and the Rehwa Society in the 1960s, which trained artisans to weave high quality saris with designs adapted from traditional Maheshwari saris. The master weaver Ganesh R Bichawe also worked with Sally Holkar to design and revitalise saris for a wider and contemporary market. Other organisations and cooperatives, such as WomenWeave and The Handloom School in Maheshwar, also taught the weavers skills such as design and technology to enable sustainable business models and generate steady incomes for the families in the region.
The Maheshwari sari received a Geographical Indication tag in 2010. Apart from saris, the fabric is used to make kurtas and dupattas. Today, there are over 3120 looms in Maheshwar, with over nine thousand weavers engaged in the weaving processes, producing over three lakh metres of the fabric each month.
Bibliography
Our website is currently undergoing maintenance and re-design, due to which we have had to take down some of our bibliographies. While these will be re-published shortly, you can request references for specific articles by writing to hellomapacademy@map-india.org.