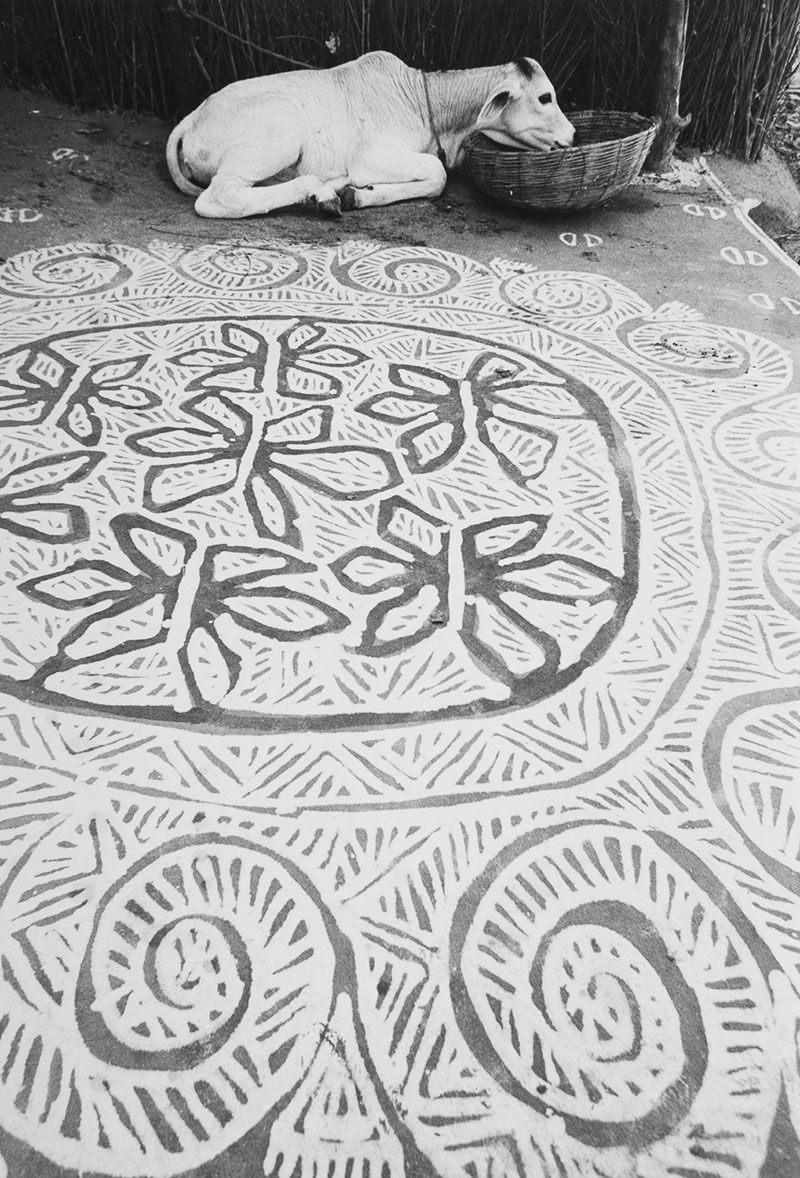 Mandana Drawn by a Mina Woman; Jyoti Bhatt; Late 20th century; Silver gelatin print; 28.6 x 19.4 cm; Museum of Art & Photography (MAP), Bengaluru
A practice of mural art, mandana comprises floor and wall paintings, as well as painted relief art, on the exterior and interior surfaces of homes. Mandana as floor paintings is practised by various communities in Rajasthan, but the tradition of mural painting and clay relief art is primarily associated with the Meena community, who reside in Rajasthan, Gujarat and Madhya Pradesh. Within Rajasthan, the eastern districts of Sawai Madhopur, Tonk, Karoli and Dausa are considered to be the centres of the art form. The term, mandana, applies both to the technique and the completed piece itself. Traditionally made of red clay and chalk, mandana works are predominantly painted by women.
As floor paintings, mandana are part of a diverse and long-established tradition of threshold decoration in India. In Rajasthan, floor mandana feature symbolic diagrams, wherein specific designs are created for specific occasions, from festivals such as Diwali, Gangaur and Makar Sankranti to ceremonies associated with childbirth, marriage and puberty. These designs are painted on the threshold of the house as well as in the prayer room, kitchen or inner courtyard. The knowledge of these designs and the technique of making them is passed down generationally from mother to daughter. In a traditional mandana, each section of the design links to a central area in the shape of a circle or a polygon and is bordered by a series of overlapping bands that lend the visual effect of a Moebius strip. The completed mandana is often surrounded by smaller motifs such as paglya, which symbolise footprints.
Before mandana are drawn on the floor, the surface is prepared with wet cow dung and red clay or rati. The pigment is a solution of chalk, locally known as khari or kharia. While brushes may be used, the most common practice is to dip a cloth and squeeze it, letting the paint run down the fingers and onto the surface. A typical feature of floor and wall mandana is the intricate cross-hatching of varying thickness and style that fills the spaces between the outlines.
In the case of wall mandana, the process begins after the monsoon, when mud houses are typically repaired and re-plastered. Following these repairs, a layer of cow dung and red clay is applied to the wall – a process locally known as lipai – providing a deep red base for the painting. Once the surface has been smoothened, the chalk solution is used to paint the surface. In Sawai Madhopur, wall mandana are made using two pigments: white from the chalk solution and red from the local red clay (geru) or haematite (hirmich). Brushes to paint wall mandana are made from date-palm or bamboo twigs, with one end of the twig crushed in a manner that forms bristles. Cotton swabs and reed grass are also used to apply the pigments. These wall paintings are usually done in the weeks leading up to Diwali, with women taking time out from their daily chores to paint.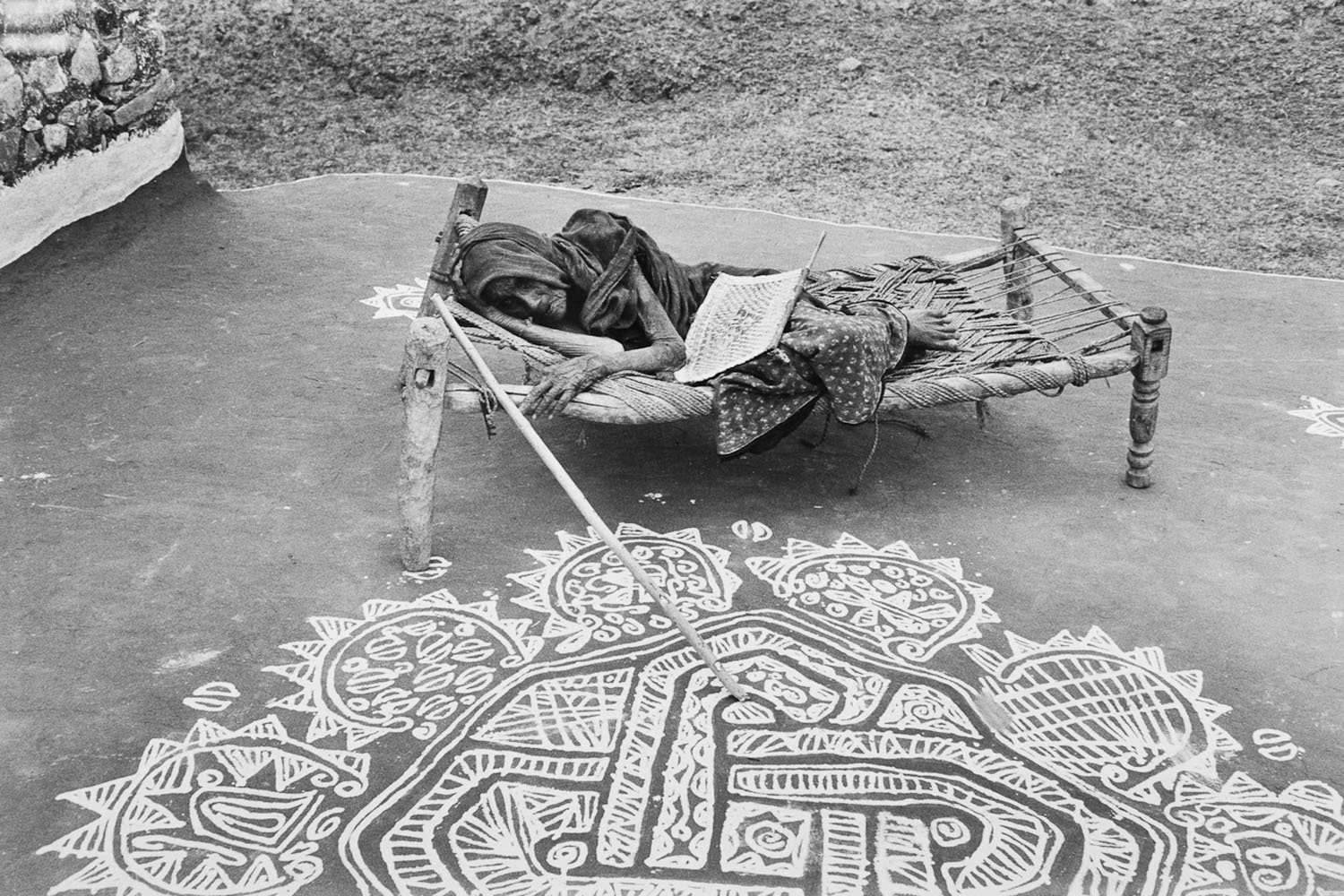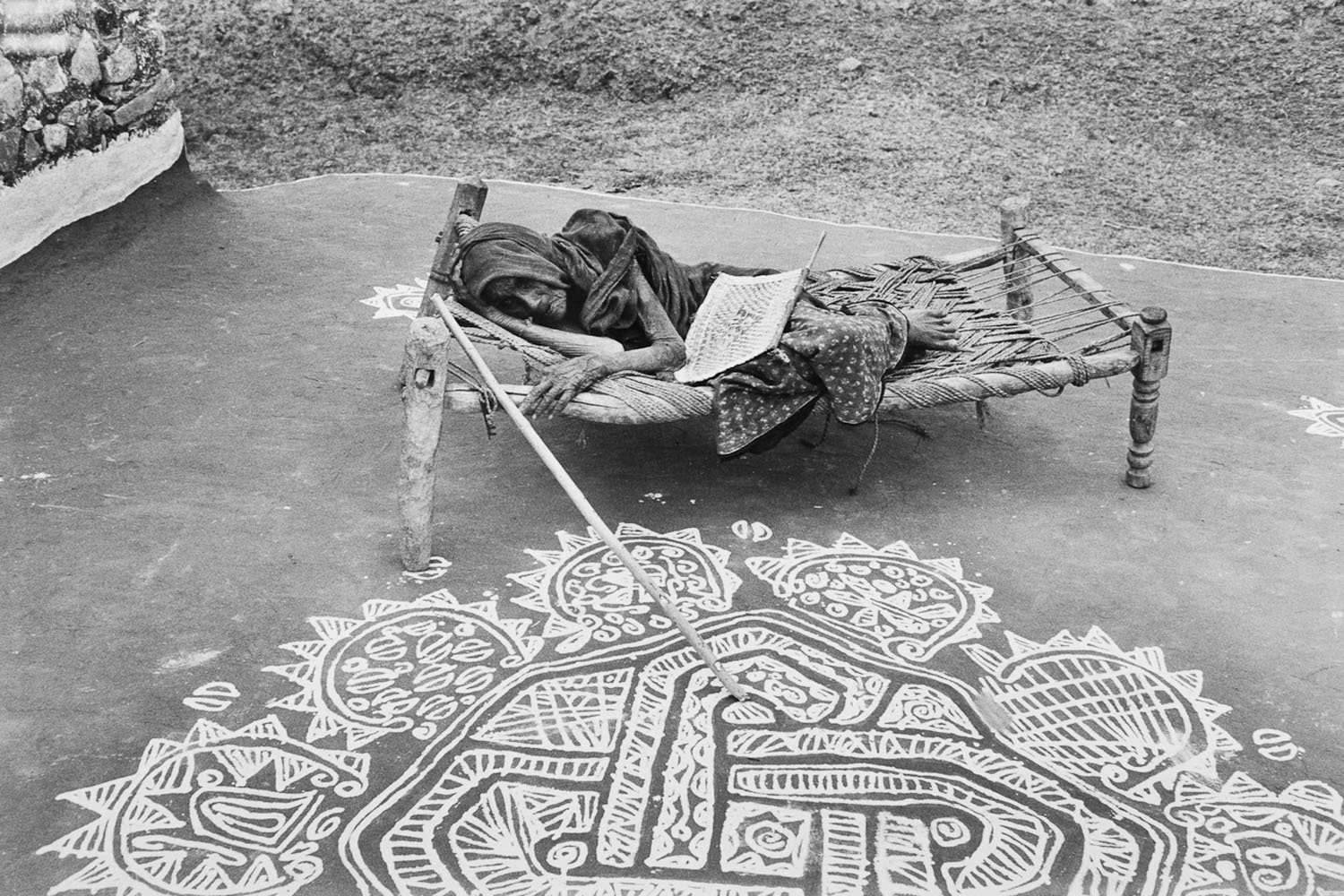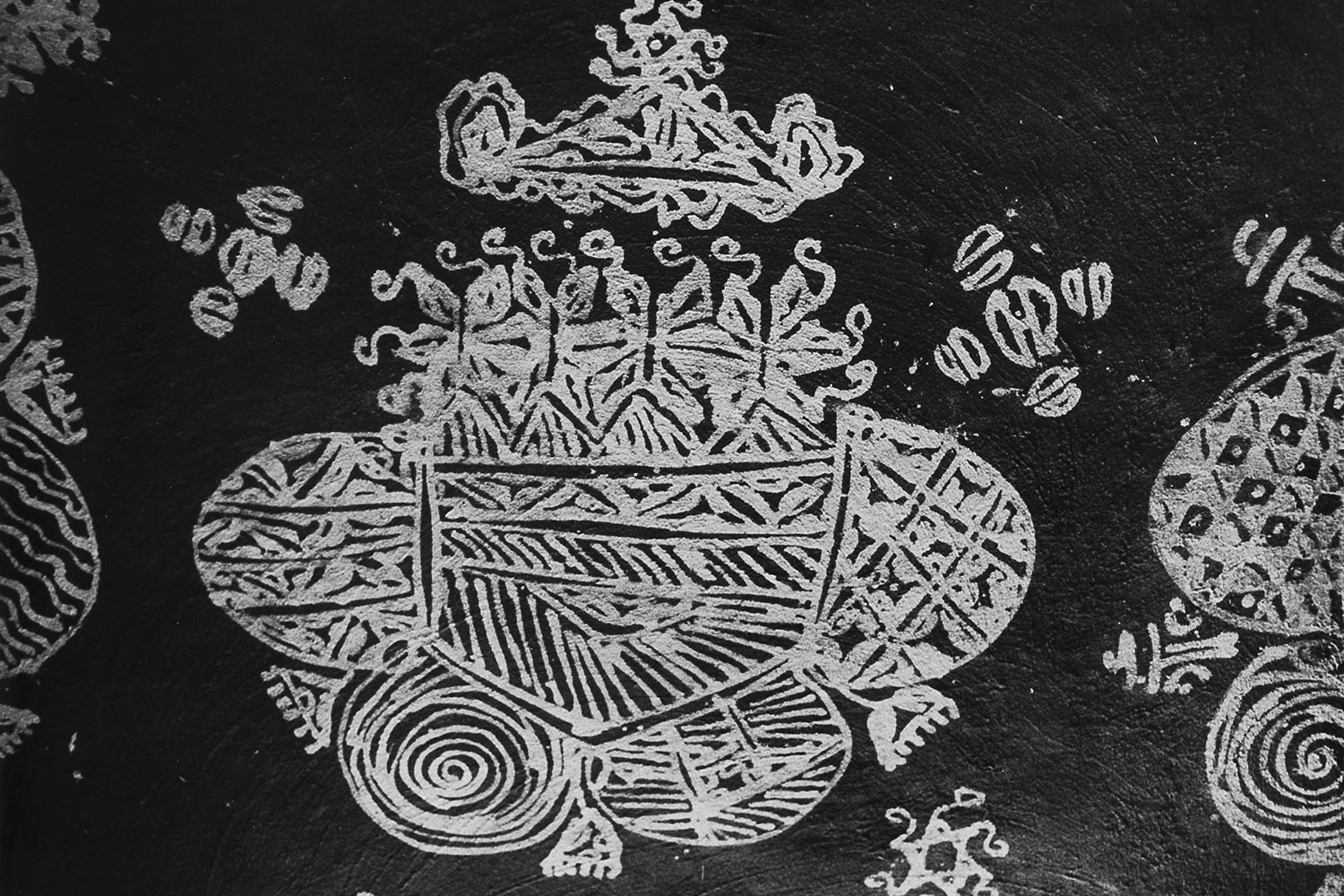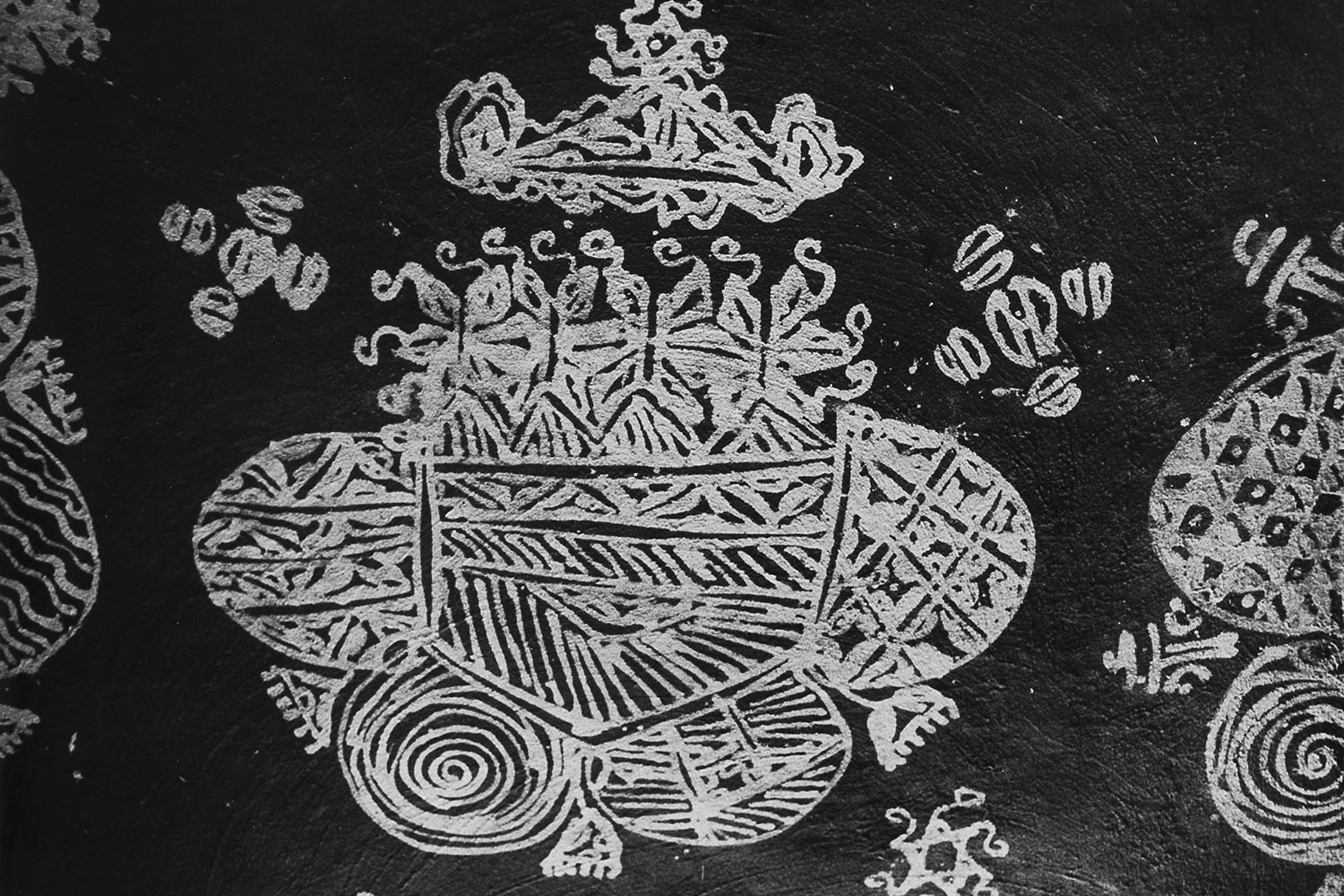 Within the Meena community, mandana are also used to adorn important spaces or add a decorative flourish in the interiors of homes. The granary — locally known as the kotha or kothi — is an important space in a Meena home and is decorated with geometric and floral mandana patterns. The hearth – also known as the chulha – is another space that is often decorated with mandana. A mandana made in relief and carved into the clay surface may further be embellished with mirrors, beads and coloured glass.
While floor mandana have designs specific to an occasion, wall mandana use a wider array of motifs, inspired by wildlife or the social life of the community, as seen in motifs such as gujar-gujari (man and woman), bullock and camel carts. Unlike the mandana in Rajasthan, which is primarily made in white and red, more colours have been introduced in the designs made in Madhya Pradesh.
Like other mural painting traditions that originated on mud surfaces, the mandana technique also faces a challenge with a decline in the number of mud houses. Local artists, however, have adapted their designs and motifs to paper and, in some cases, have also experimented with depicting modern themes using traditional techniques.
Bibliography
Our website is currently undergoing maintenance and re-design, due to which we have had to take down some of our bibliographies. While these will be re-published shortly, you can request references for specific articles by writing to hellomapacademy@map-india.org.