Born in Dhuri, Punjab, Manjit Bawa was a modern Indian artist who specialised in figurative painting. His preferred medium was oil on canvas, but he also made several miniature paintings. The dominant themes of his work were Hindu, Sikh and Sufi mythology, hunting scenes, and paintings of flora and fauna. Bawa chose to paint in colours such as pink, red and violet, as opposed to the ochres, greys and browns characteristic to the Academic styles of India's colonial past, from which he sought to break away.
Bawa studied fine arts at the College of Art, Delhi, from 1958–63 under modern artists such as Abani Sen, Somnath Hore, Rakesh Mehra, BC Sanyal and Dhanaraj Bhagat. He was closely mentored by Sen, who encouraged Bawa to pursue figurative depictions over abstract ones. Jagdish Mehra and prominent painter and curator J Swaminathan were other major influences in Bawa's life. Soon after completing his studies in Delhi, Bawa moved to England as a student at the London College of Communication (then known as the London School of Printing), where he studied painting and silkscreen printing from 1964–71. In 1970, he travelled to San Sebastian, Spain, to participate in his first solo and international exhibition. It is during this period that he began to experiment with depictions of the interaction of humans and animals, which would go on to become a recurring theme in his work.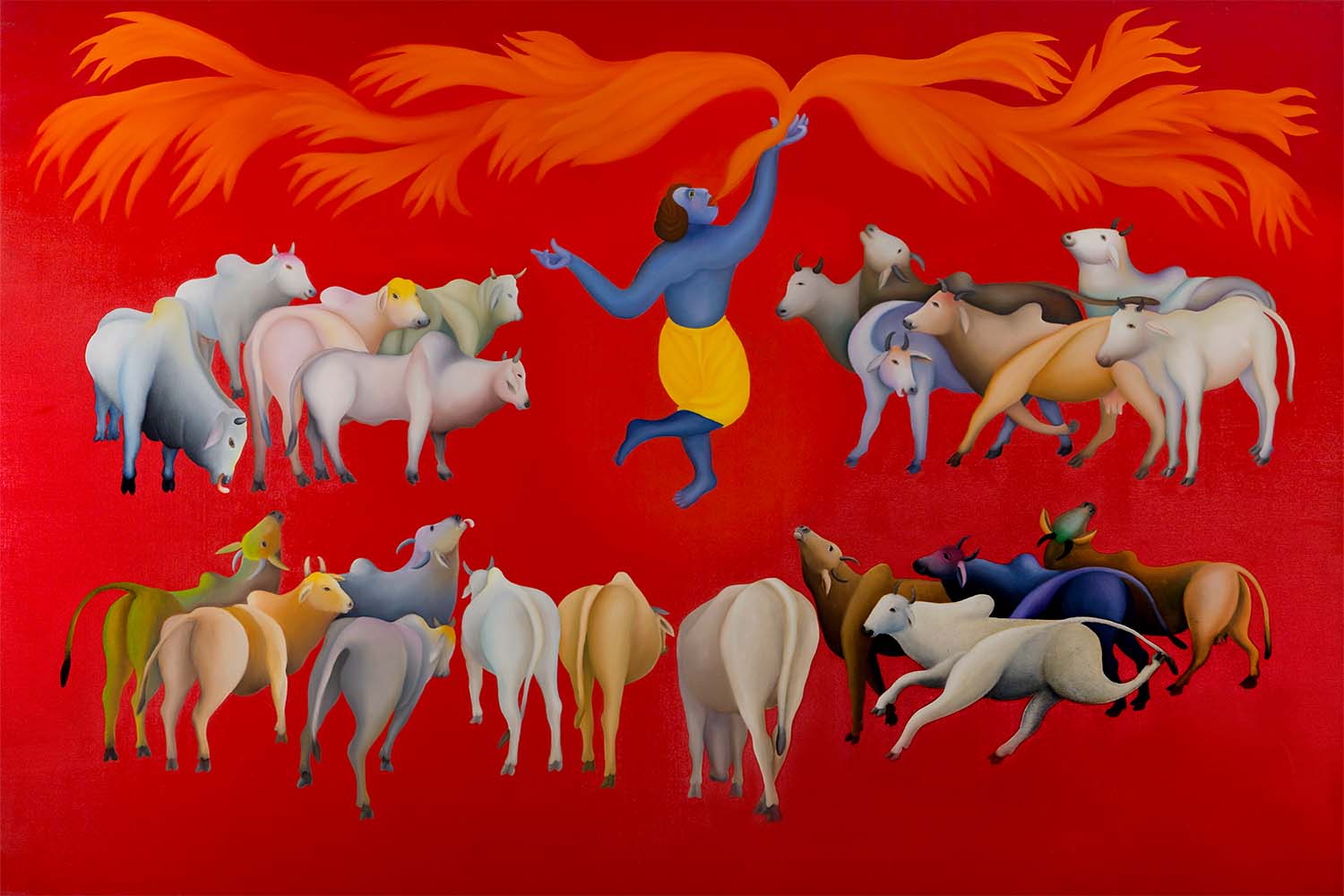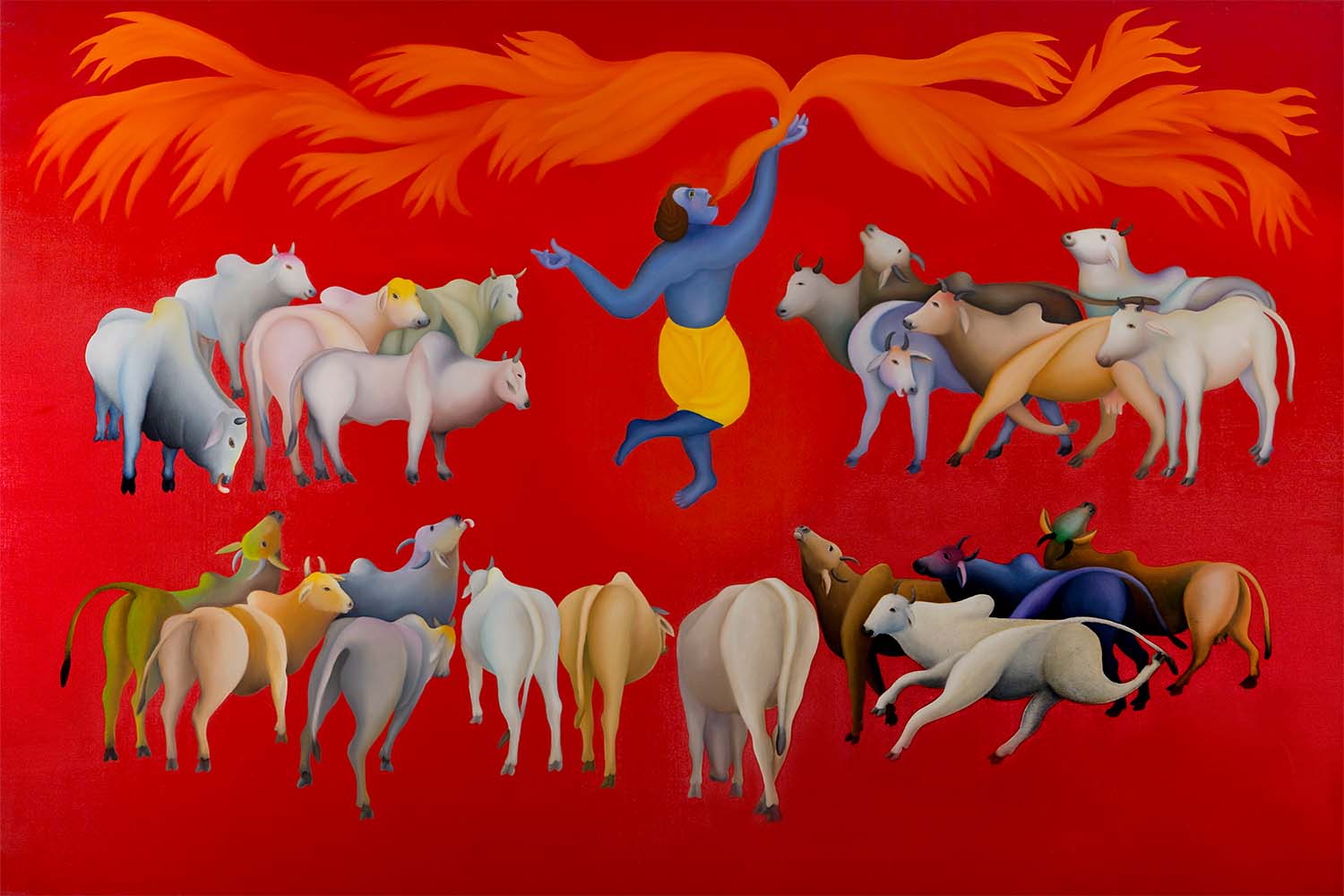 Through the 70s, Bawa's work often represented humans' disregard for nature through hunting scenes, though he later moved to depicting more harmonious interactions between people and the natural world. Many of his paintings incorporated elements of Indian mythology and Sufi poetry. He was a classical flautist, having trained under the maestro Pannalal Ghosh. As such, the flute was a recurring motif in his work, having associations with the Hindu deity Krishna, who is also a central figure in many of Bawa's works. This can be seen in The Purple Piper (1978). Bawa depicted the god being followed by dogs — rather than the cows seen in traditional iconography — in Krishna the Cowherd (1992). Other recurring motifs in his work include depictions of the deities Kali and Shiva, as well as birds and animals. His style shows influences of Pahari and Rajput miniatures in the forms of his figures and the starkness of their flat backgrounds.
Bawa has held solo shows, such as Miniature Paintings, Silver Boxes and Jewellery (1994) at Gallery Espace, New Delhi ; The Exhibition of Miniatures (2000), London; and several others across venues such as Birla Academy, Kolkata (1994); Gallery Maya, London; and the Nehru Centre, London (2005). He also participated in numerous group exhibitions, including the Festival of India (1985) at The Grey Art Gallery, New York; Roopankar (1985) at the Bharat Bhavan, Bhopal; Hundred Years of Indian Art (1995) at the National Gallery of Modern Art (NGMA), New Delhi; and the Golden Jubilee Exhibition of Lalit Kala Akademi, New Delhi (2005). His works have also been honoured posthumously in several exhibitions including Tracing Time (2009) at the Bodhi Art Gallery, Mumbai; Time Unfolded (2011), the Kiran Nadar Museum of Art, New Delhi; and The Sahmat Collective: Art and Activism in India since 1989 (2013) at the Smart Museum of Art, Chicago .
Bawa was active in the art scene outside of his own practice. He set up a silkscreen workshop at Garhi Studios, New Delhi, served as the commissioner of the Bharat Bhavan, Bhopal, and was part of the jury for the Sanskriti Awards and the Kalidas Samman. Bawa was also an activist and public intellectual who helped found the Committee for Communal Harmony in New Delhi. Over the course of his career, he received several awards for his work, including the Sailoz Mukherjee Prize in 1963 and Lalit Kala Akademi's National Award in 1980. A National Award-winning documentary on his life was directed by filmmaker Buddhadeb Dasgupta, called Meeting Manjit (2002).
Bawa, who lived and worked in Dalhousie, Himachal Pradesh, passed away in New Delhi in 2008 after suffering a debilitating stroke in 2005.
Bibliography
Our website is currently undergoing maintenance and re-design, due to which we have had to take down some of our bibliographies. While these will be re-published shortly, you can request references for specific articles by writing to hellomapacademy@map-india.org.