A painter, sculptor and educator credited with introducing Modernism to India, Bhabesh Chandra Sanyal contributed to the development of several institutions within the country, including the Lalit Kala Akademi, New Delhi, and the Delhi Silpi Chakra.
Born in Dibrugarh, Assam, Sanyal joined Serampore College, Calcutta (now Kolkata), in 1920, where he learned painting and sculpture. While there, he witnessed the Congress Sessions and the Nationalist movement, which shaped his personal ideologies, and consequently, his work. From 1923–29, Sanyal studied painting at the Government College of Art and Craft, Kolkata, where he also explored clay modelling. He also briefly attended the Sir JJ School of Art, Mumbai, in 1940 to learn stone carving from Master Khimji, a traditional craftsman from Kathiawar.
In 1929, he was commissioned by Krishna Plaster Works to create a bust of Lala Lajpat Rai for the Lahore session of the Indian National Congress. The same year, he created a bust of Lionel Heath, then-Principal of the Mayo School of Art, who asked Sanyal to join the School as Head of the Department of painting and sculpture. Sanyal eventually became vice-principal of the institution, but was forced to resign in 1936. The following year, he set up the Lahore School of Fine Arts. Sanyal migrated to Delhi in 1947, after the Partition, and became part of several artist circles. Along with Kanwal Krishna, Dhanraj Bhagat, PN Mago and KS Kulkarni, he was one of the founding members of the Delhi Silpi Chakra in 1949. From 1953–60, he served as the Head of the Art Department at Delhi Polytechnic.
Sanyal worked across a variety of mediums, including oil and watercolour paintings, as well as bronze, terracotta, wood, cement and plaster sculptures. Rendered in bright colours, his paintings reflect the influence of Post-Impressionism and the Bengal School. He frequently depicted the rural landscape and the lives and experiences of economically disadvantaged groups in the country. The experiences of displaced communities post-Partition had a significant impact on him, and led him to create paintings that reflected a significant shift from his earlier bright palette to the use of more blues and browns.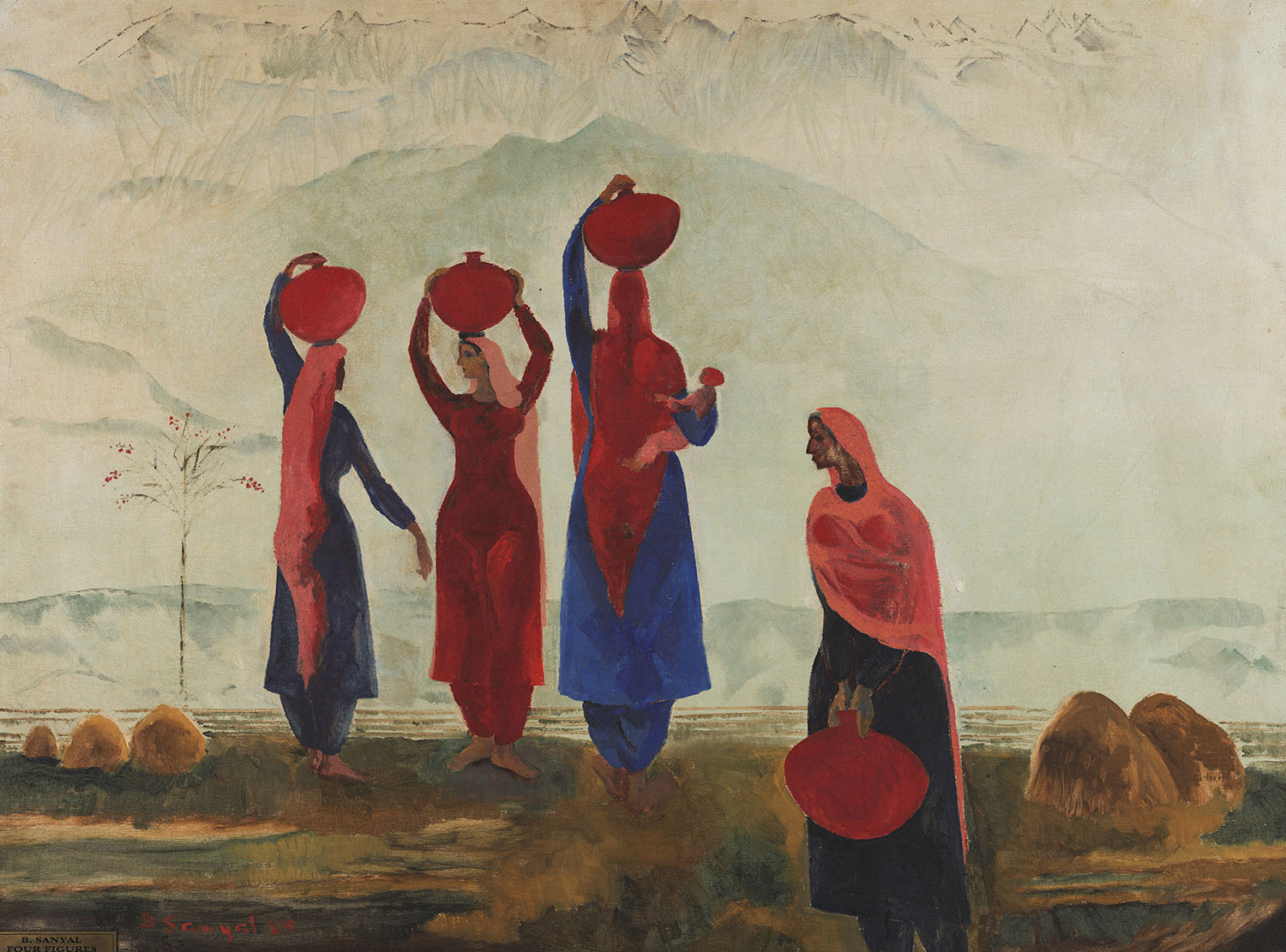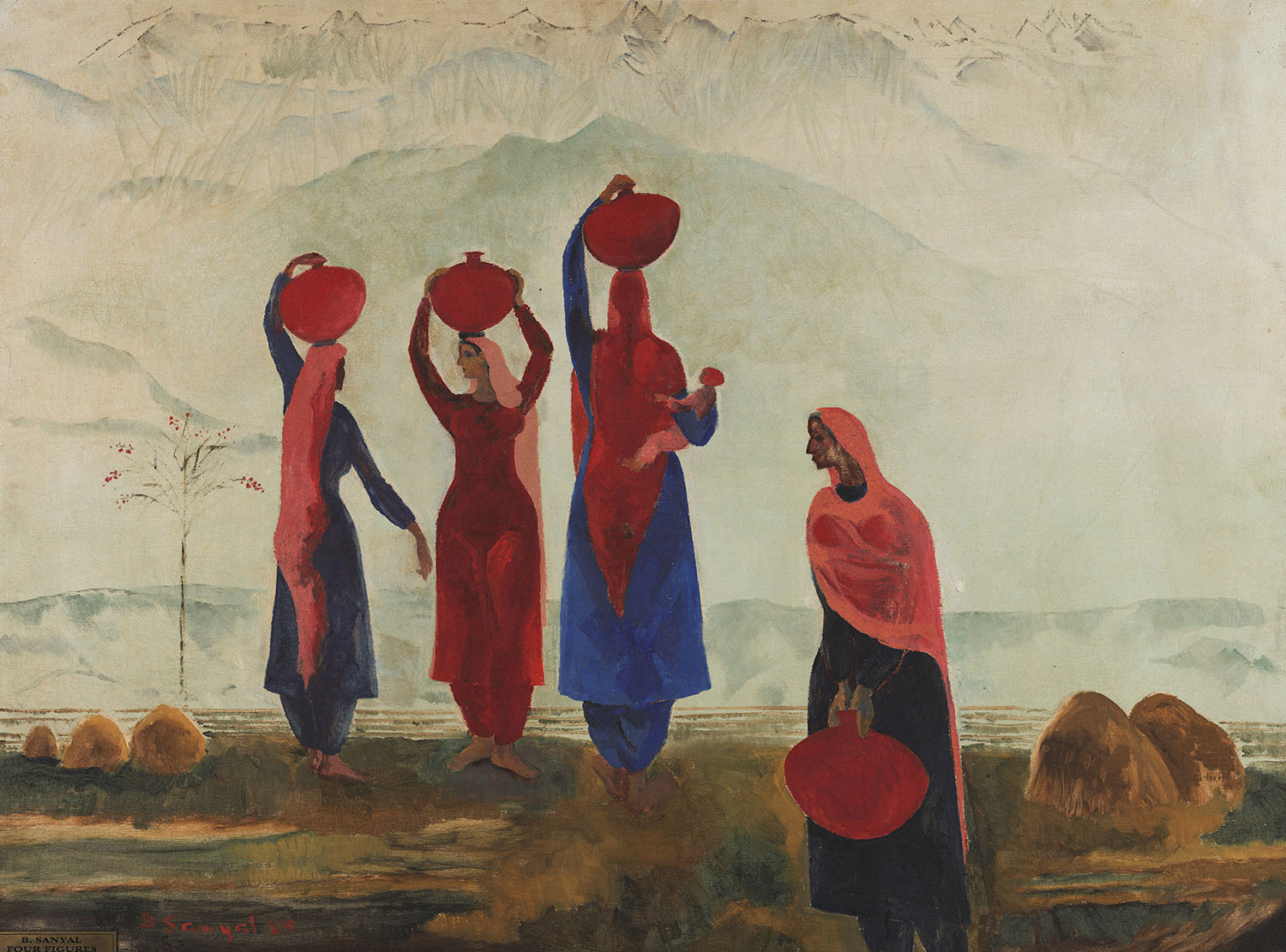 Sanyal played a central role in setting up institutions like the Lalit Kala Akademi and the All India Institute of Fine Arts and Crafts. He also instituted a Refugee Studio in Gole Market, New Delhi, which served as an active hub for artists and students. Further, he served as the Secretary of the Lalit Kala Akademi from 1960–69 and supervised the first India Triennale in 1968, in addition to hosting shows by artists such as Paritosh Sen, Kanwal Krishna, Sudhir Khastagir and Amrita Sher-Gil.
He was awarded the Padma Bhushan in 1984 for his contributions to art. His works have been shown at numerous exhibitions, including at the Dhoomimal Gallery, New Delhi (1949); the Salon de Mai, Paris (1949); the Venice Biennale (1953); the Tokyo International Art Exhibition (1961); and the National Gallery of Modern Art, New Delhi (1993). They are held in the collections of the Government Museum and Art Gallery, Chandigarh and the National Gallery of Modern Art, New Delhi, among others.
Sanyal died in 2003 in New Delhi.
Bibliography
Our website is currently undergoing maintenance and re-design, due to which we have had to take down some of our bibliographies. While these will be re-published shortly, you can request references for specific articles by writing to hellomapacademy@map-india.org.