Mysuru-based artist NS Harsha is known for his paintings on canvas and built surfaces as well as for his site-specific installations, community-based art and sculptural work. He draws on a range of idioms — from traditional miniatures, folk and popular art, textbook illustrations and classical Western painting — to produce witty, satirical and absurdist visual narratives. He completed a BFA in painting at the Chamarajendra Academy of Visual Arts (CAVA) in Mysuru in 1992, followed by an MFA from MS University, Baroda, in 1995, where he was mentored by Nilima Sheikh.
Harsha is best known for his paintings characterised by delicate and detailed figures rendered with fine brushwork in flat colours and singular pictorial planes. His works are philosophical and political reflections on the impact of globalisation, current affairs and geopolitical forces in local and vernacular contexts. Harsha also explores the tensions between the individual and the collective, especially in his monumental narrative-figural paintings that consist of vast areas of flat space populated by a multitude of highly individualised, colourful figures.
In his early works, such as the triptych We Come, We Eat and We Sleep (1991–2001), he observes the individual within contemporary Indian society, who has a shared experience in performing everyday, essential human activities in combinations that are as numerous as there are individuals. Harsha's preoccupation with the individual manifests in several of his subsequent works, where individual identities, however distinct, morph into typologies such as the child, the sleeping figure, the suited businessman, the rural farmer and the wise or foolish clown, forming a repertoire of characters that emerge and transform through many subsequent works. Since the 2000s, Harsha's works have borne the hallmark of repeated human figures, each depicted as a different individual — a possible reference to the schema of Indian sculptural traditions. This trait features prominently in works like Mass Marriage (2003), in which hundreds of couples appear to exchange vows as if on a conveyor belt. The painting was inspired by an advertisement in a local newspaper that promised an affordable, value-for-money ritual. Absurdity ensues, as a groom in drunken stupor, a bride married to a dog, garlanded photographs and even two donkeys marry alongside more conventional couples, against fake scenic backdrops of the various "Wonders of the World". He parodies the 'Indian wedding' that commodifies tradition while also depicting the aspirations of the middle-class, their conventions and superstitions.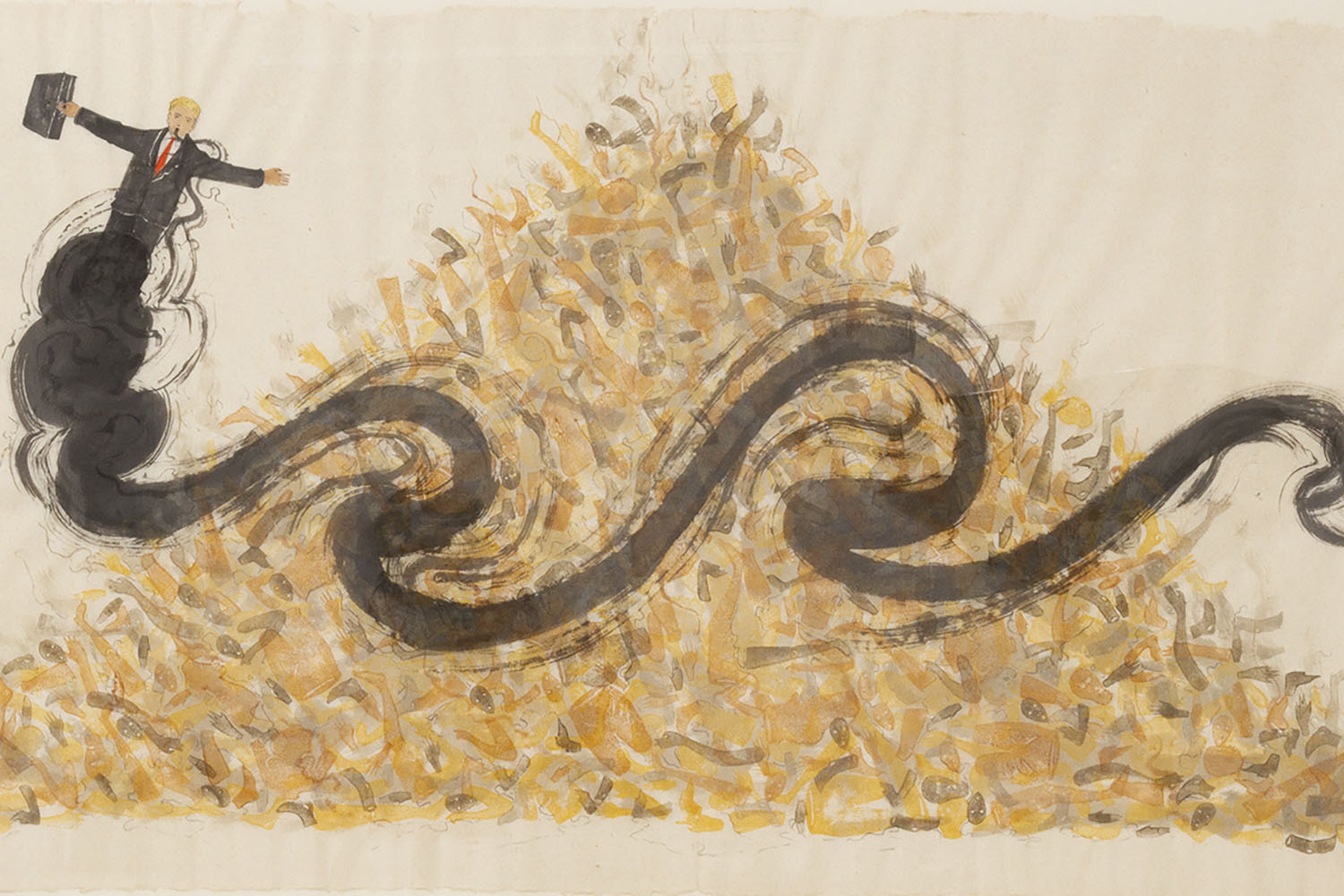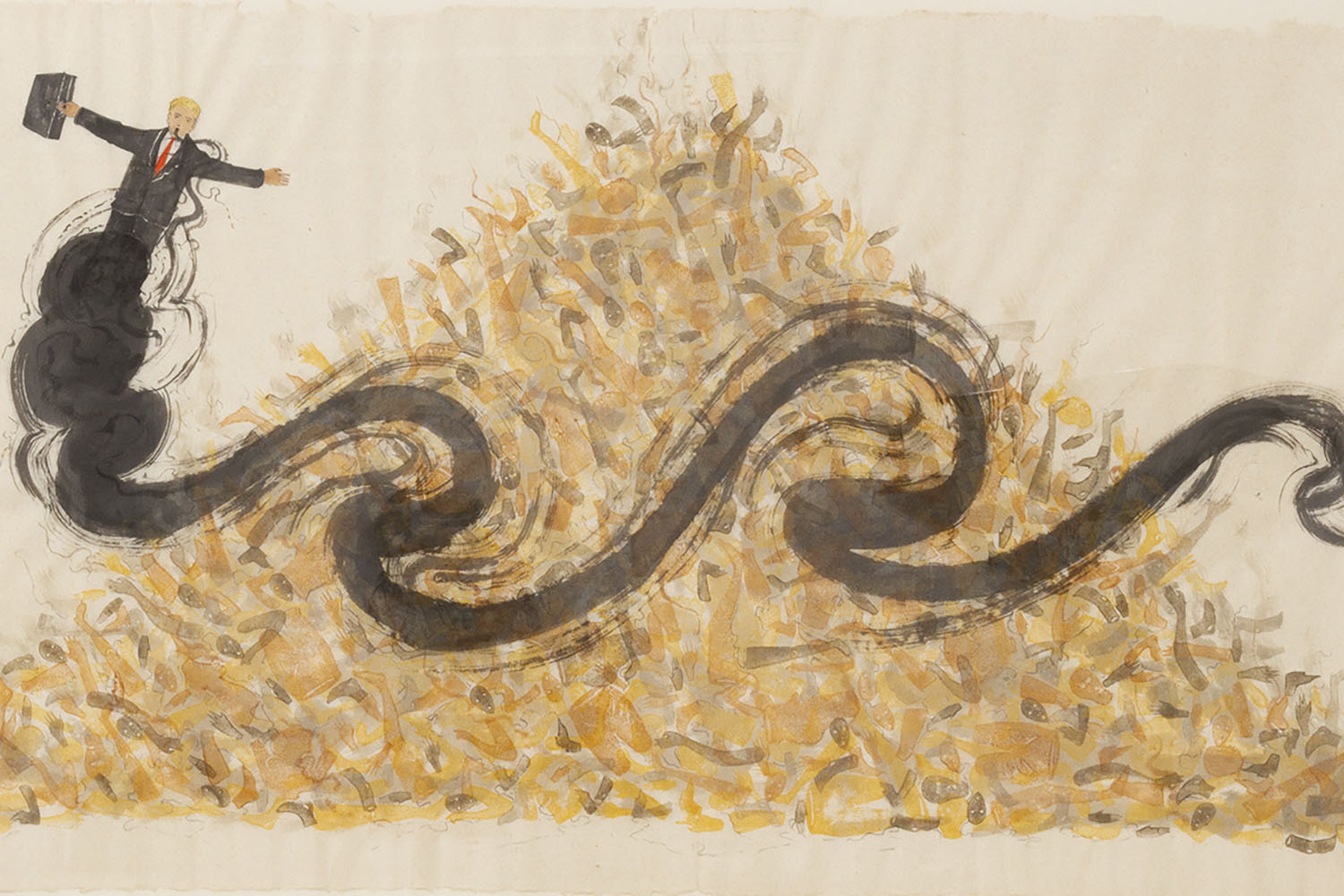 Addressing technological trends and rampant mechanisation, as well as local news, are the similarly rich paintings, Mooing Here and Now (2014), the Only Way is Through Milking Way (2014) and Showstoppers at Cosmic Data Processing Centre (2015). He has also produced significant large scale works such as Mirage (2006) at the Kala Ghoda Arts Festival and Cosmic Orphans (2006) in Singapore; the latter is a public-art work consisting of sleeping figures painted on the roof of a Hindu temple. The sleeping and sprawled figures seen here and in some of his earlier works, are iterated in various forms and configurations in other site-specific works and installations.
Harsha's work has been exhibited in solo-shows at The Victoria Miro Gallery and the Institute of International Visual Arts in London, as well as at Maison Hermés in Tokyo and Osaka. His mid-career retrospective was held in 2017 at the Mori Art Museum in Tokyo, Japan. Harsha has also participated in several important group exhibitions including the Biennale of Sydney, the Moscow Biennale of Contemporary Art, the Yokohama Triennale, the Bienal de São Paulo, the Singapore Biennale, and the Asia Pacific Triennial of Contemporary Art. In 2008, he won the Artes Mundi Prize, and in 2012 he was the recipient of the DAAD residency award.
Bibliography
Our website is currently undergoing maintenance and re-design, due to which we have had to take down some of our bibliographies. While these will be re-published shortly, you can request references for specific articles by writing to hellomapacademy@map-india.org.