ARTICLE
Raqs Media Collective
Founded in 1992 by Jeebesh Bagchi, Monica Narula and Shuddhabrata Sengupta, Raqs Media Collective is a contemporary multimedia art practice based in Delhi. It explores themes of identity, location, power and history through a multidisciplinary practice that includes documentary filmmaking, new media installations, performance art, research, critical writing and curation. Formed a year after the trio graduated from the AJK Mass Communication Research Centre at Jamia Millia Islamia University, New Delhi, Raqs crystallised around the shared leftist tendencies and common critical concerns of its three members. Named for the Persian, Urdu and Arabic word used to denote the state of heightened consciousness achieved by whirling dervishes, Raqs is also an acronym for Rarely Asked Questions, a theme that is central to the Collective's work.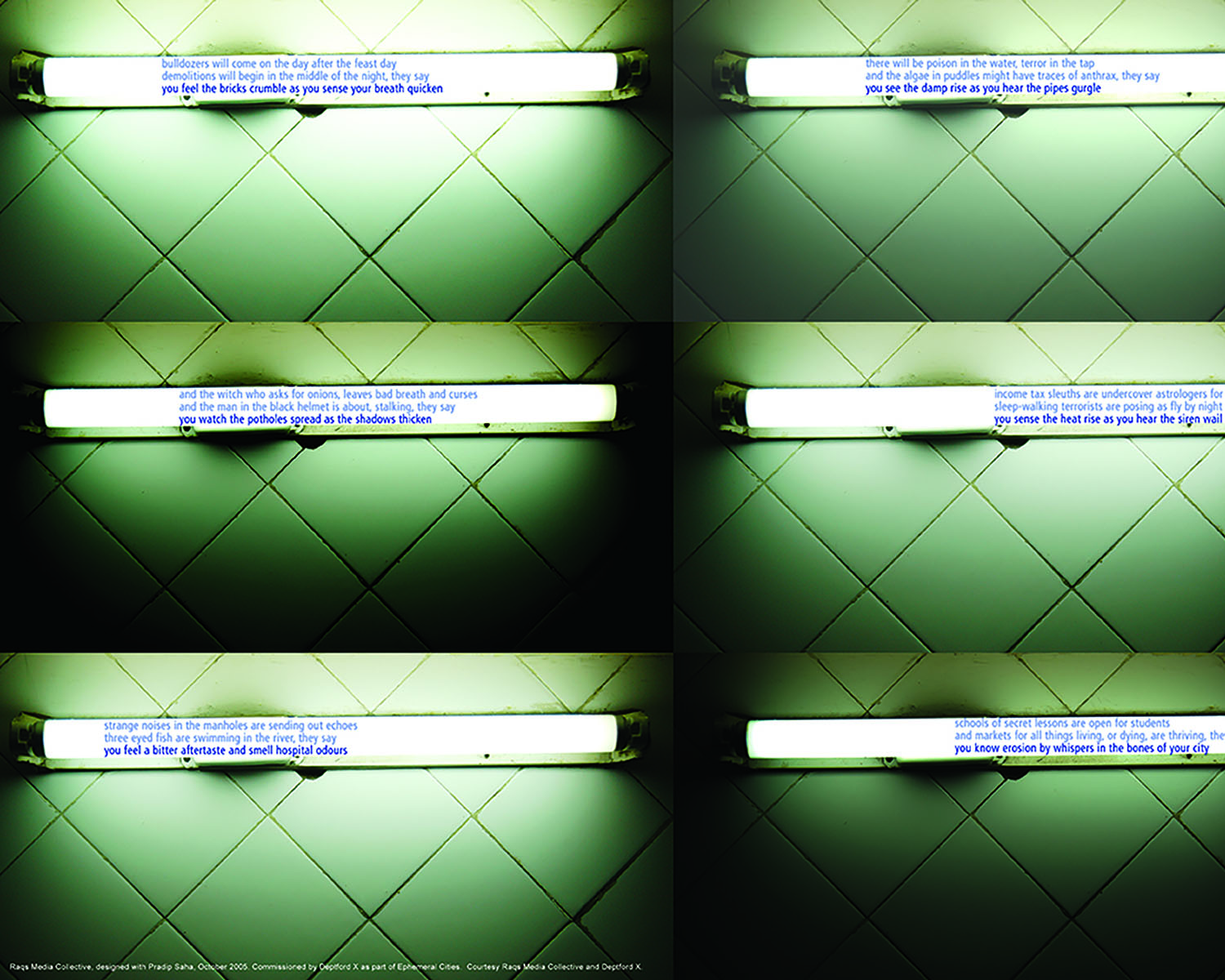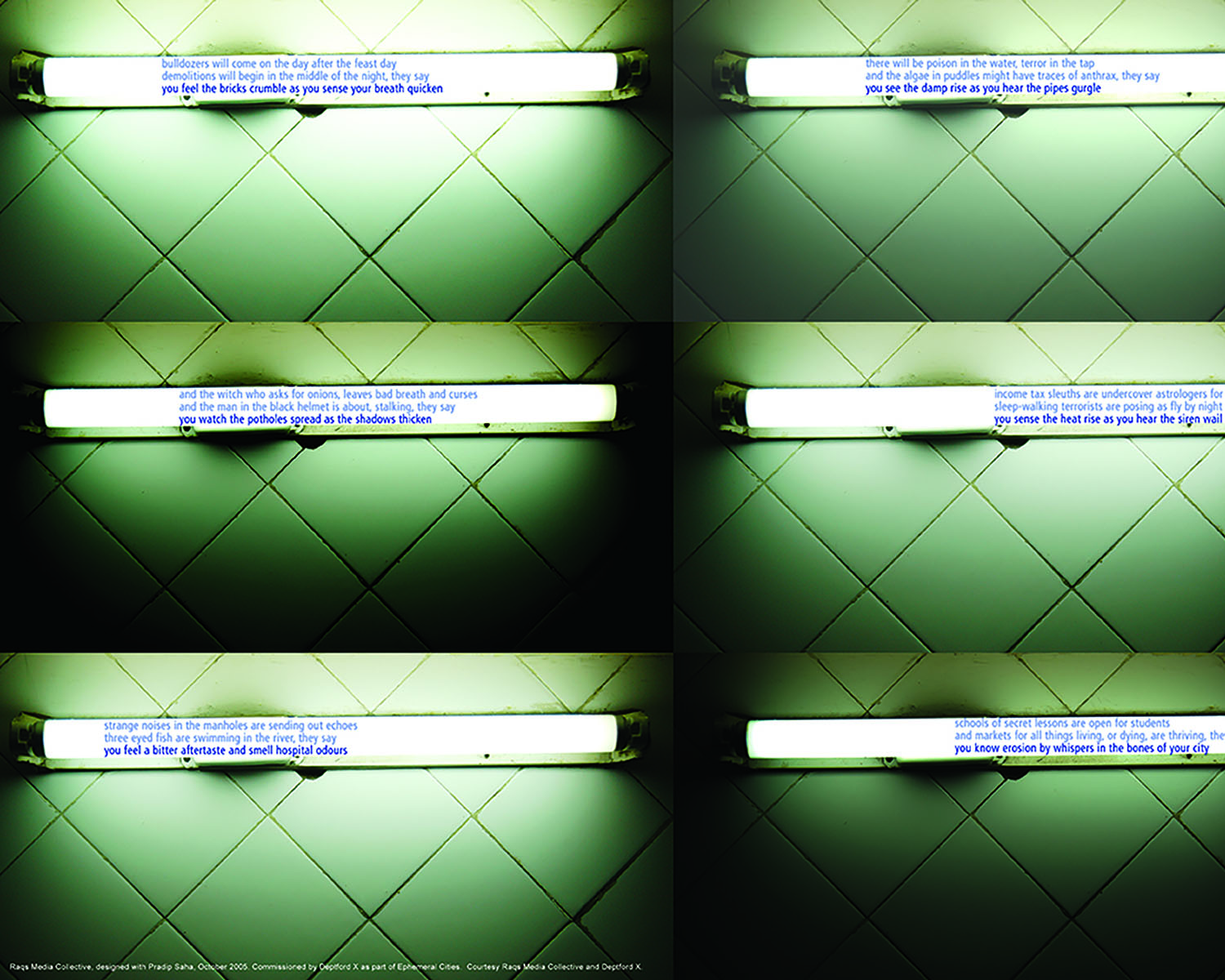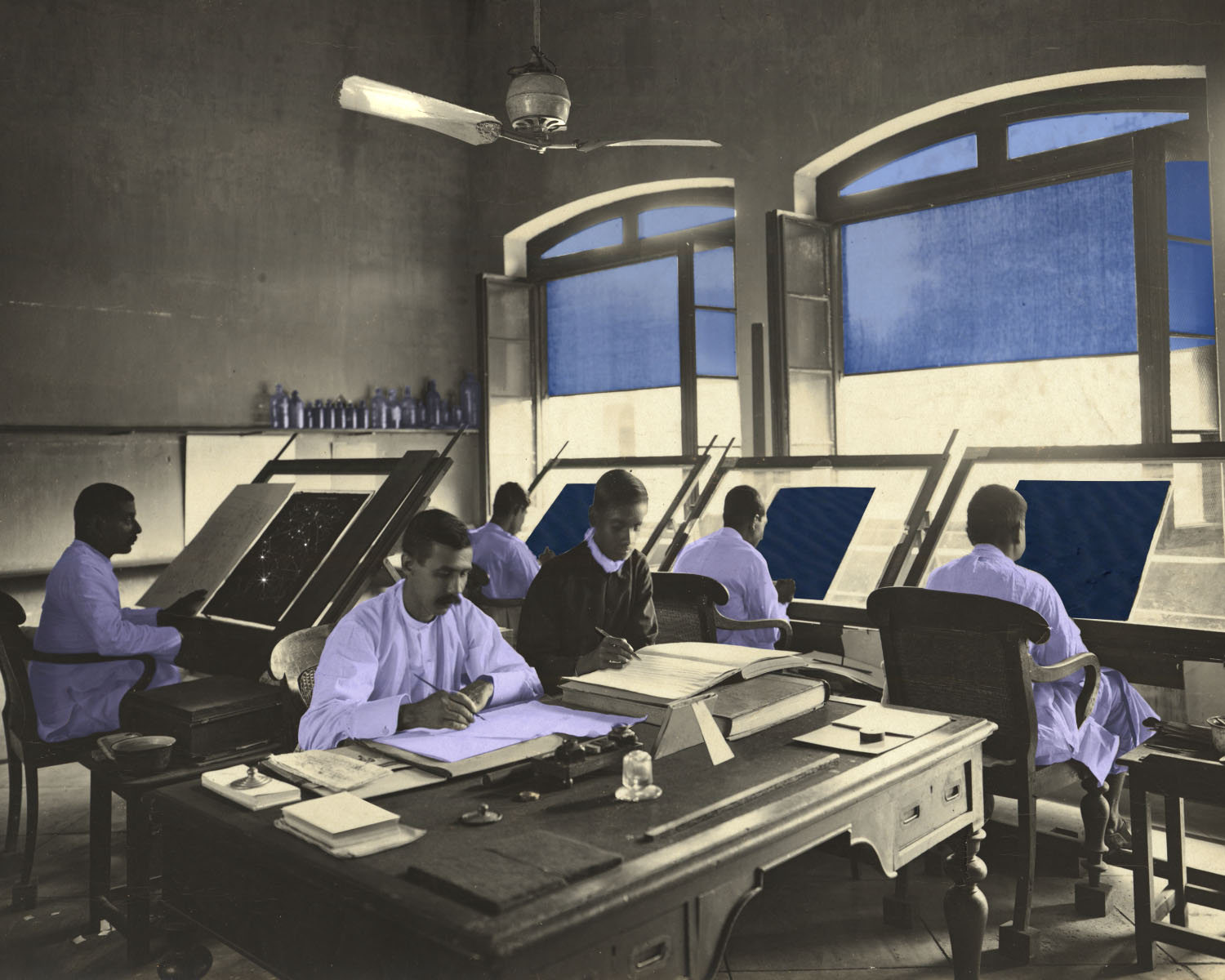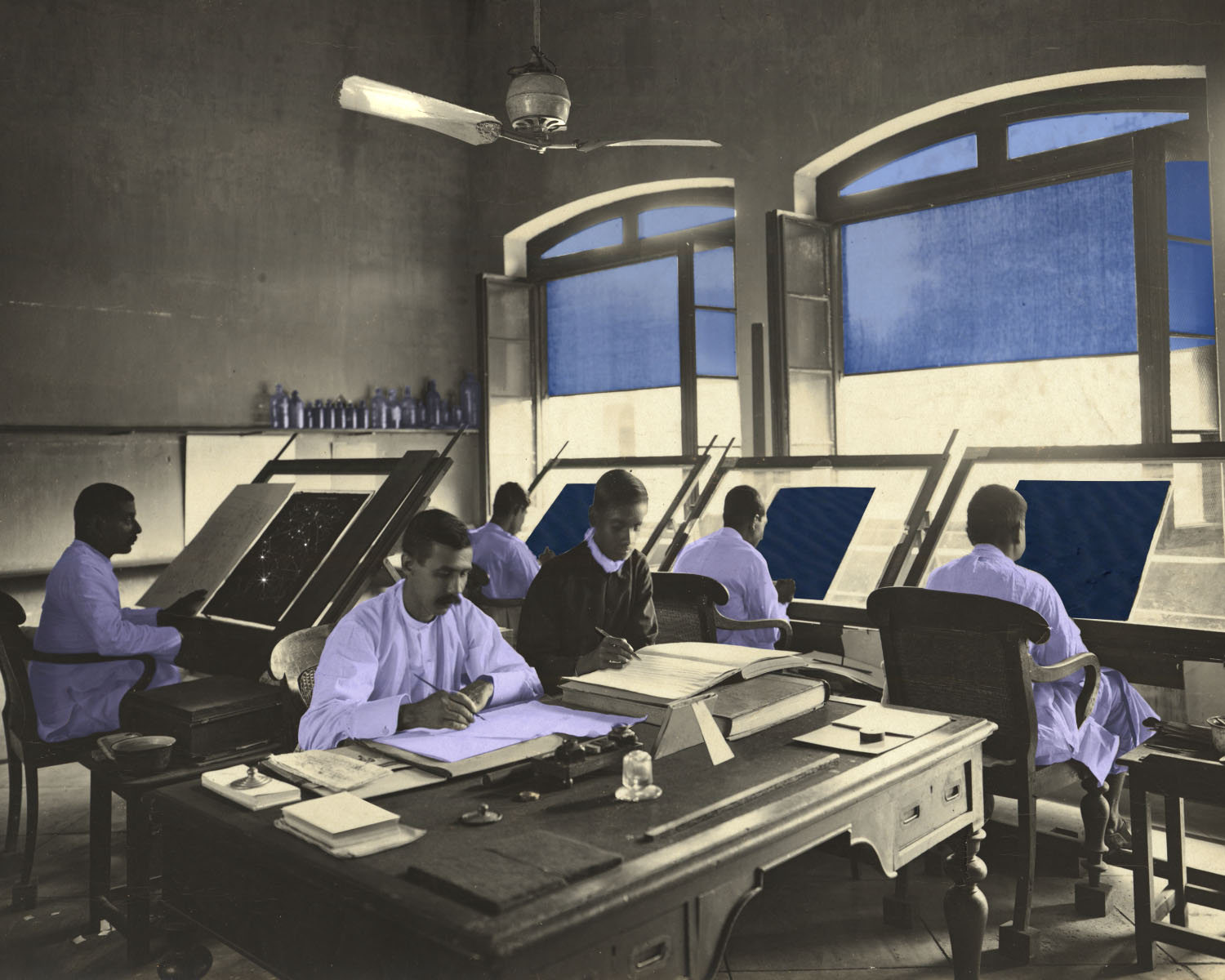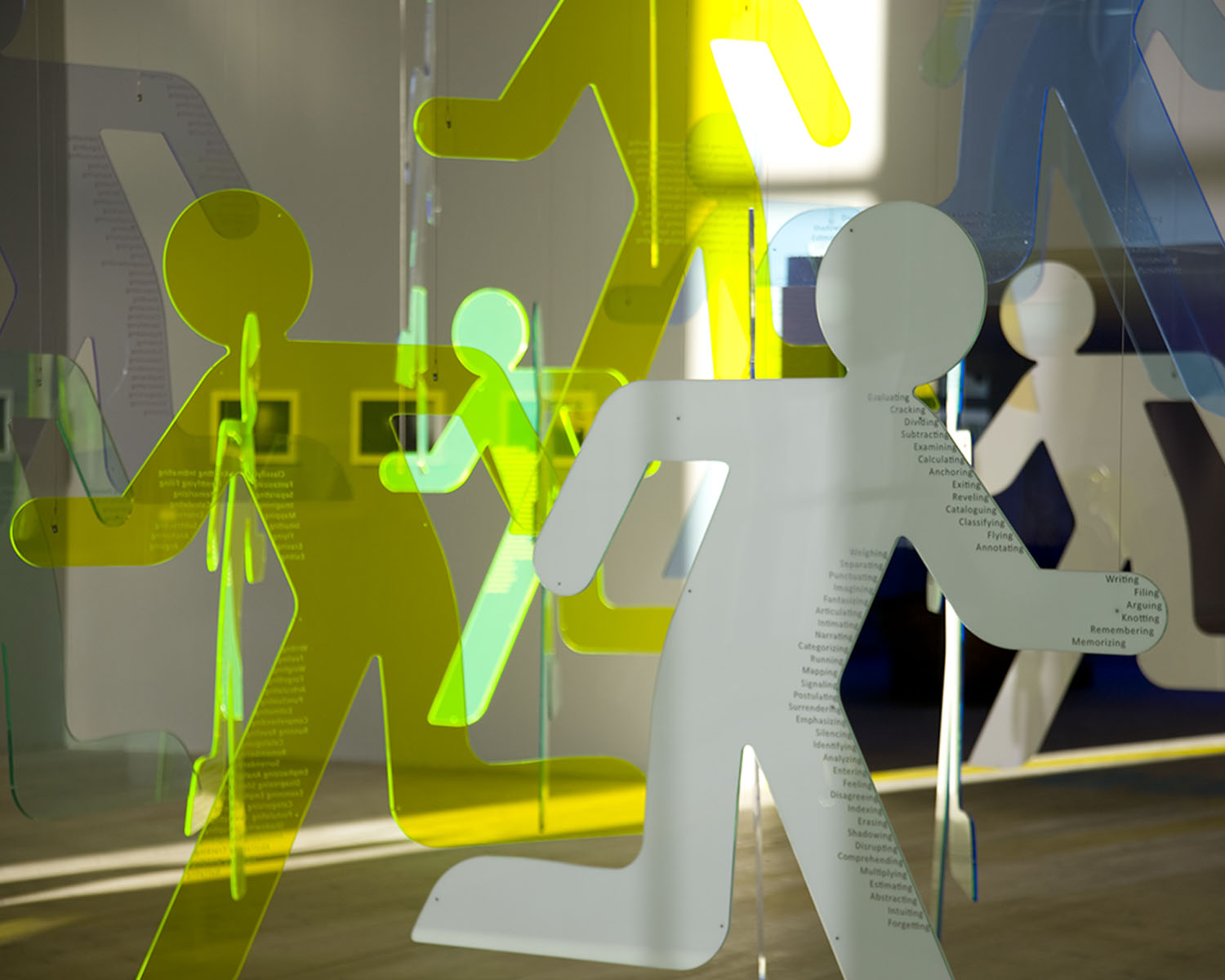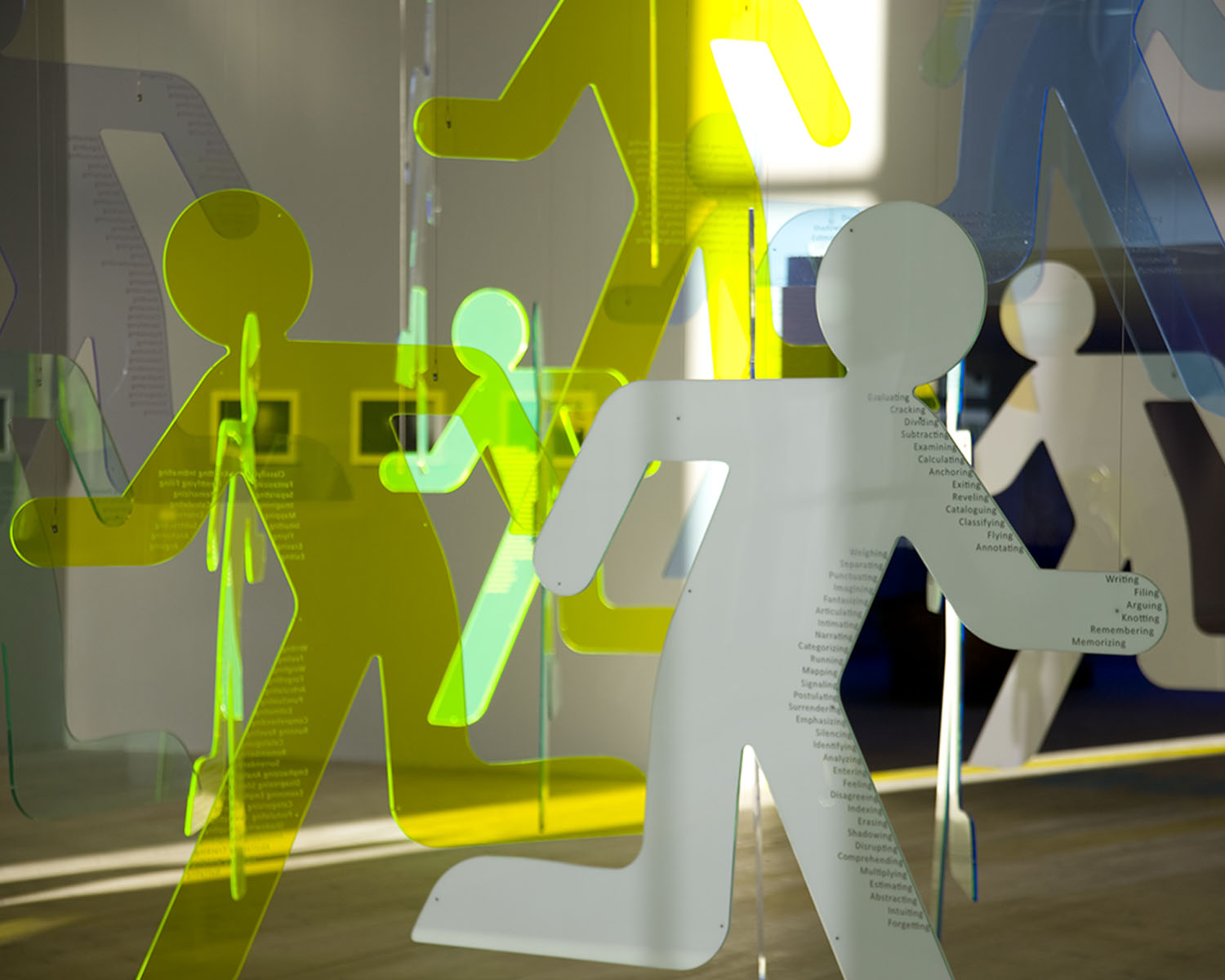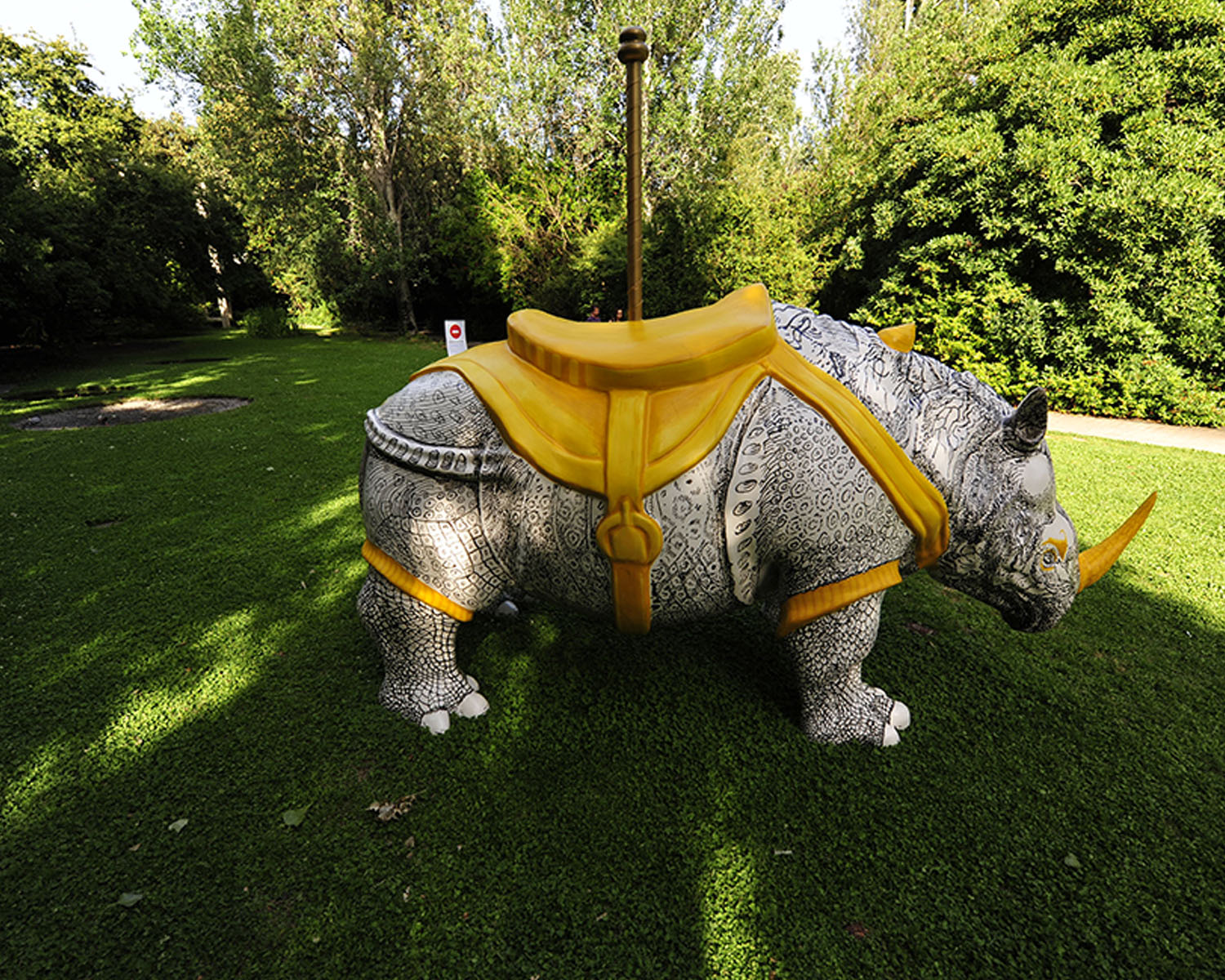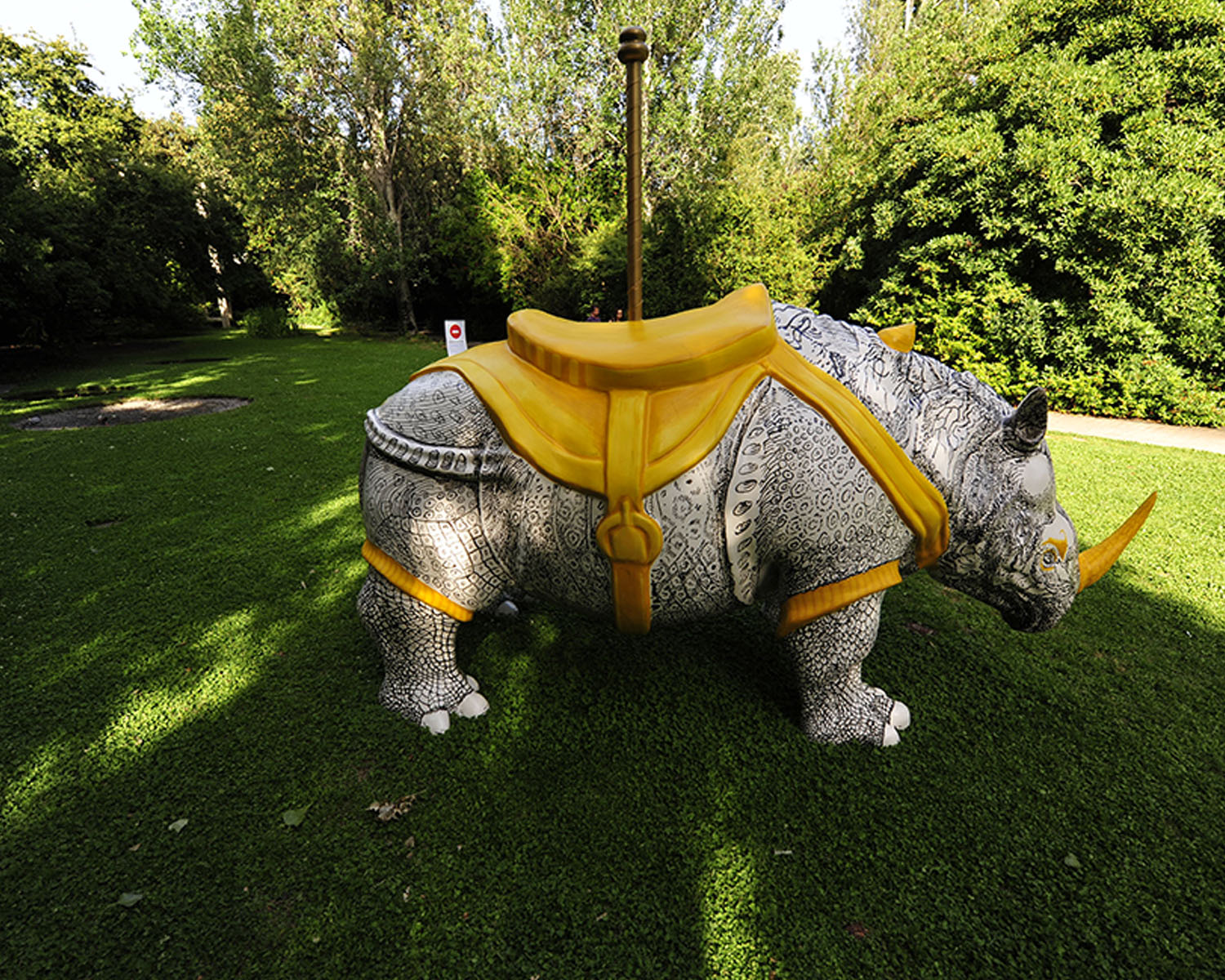 The artists collaborated on various freelance writing projects and productions through the early 1990s — such as director Pankaj Butalia's documentary on the widows of Vrindavan — before formally coming together as the Collective. Inspired by the state of "kinetic contemplation" attained by whirling dervishes, their work centres around the relationship between space and time and identity and culture. Critical of the prevailing discourses of nationalism and multiculturalism, they look to other kinds of narratives to explain social and personal histories. Their practice defies the spatial and typological conventions of art through a combination of visual, academic and theoretical disciplines — ranging from filmmaking and political philosophy to criminology and the biological sciences.
Between 2000 and 2013, the Collective grew more active in their roles as researchers, writers and intellectual provocateurs. They co-founded the Sarai Programme at the Centre for the Study of Developing Societies (CSDS) in Delhi, also serving on the editorial board of its publication, the Sarai Reader series. During this period, Raqs collaborated with researchers at the programme to produce work in a variety of forms that included film, photography, publications (online and print), installations, archival projects, public interventions, lecture-demonstrations and pedagogical experiments — establishing their multidisciplinary approach as a hallmark of their practice.
Despite the fluid nature of their work and philosophical interests, the Collective often uses Delhi as the focal point of the dynamics they seek to examine, especially in their explorations of sites and locations. In 2002, they showed their work 28°28′ N / 77°15′ E:: 2001-2002 An Installation on the Coordinates of Everyday Life in Delhi at Documenta 11. The work consisted of printed stickers and signboards in Hindi, English, Turkish and German, alongside text, video and sound recordings – together forming a commentary on urban dispossession and the relationship between signages and legal prohibitions and the depletion of the commons.
Raqs has shown at the Kochi-Muziris Biennale and other biennales in cities such as Venice, Liverpool, Istanbul and Taipei, as well as at institutions such as the Tate Britain, London; Centre Pompidou, Paris; Mori Museum, Tokyo; Art Unlimited, Basel; and the Hayward and Serpentine galleries, London.
Some of their notable international curatorial projects include the exhibition The Rest of Now, for the 7th edition of Manifesta (2008), Bolzano, Italy, and an exhibition on contemporary Indian art titled Indian Highway at the Serpentine Gallery, London in 2008. In 2013, they presented a nine-month long exhibition, The Sarai Reader 09: The Exhibition, at the Devi Art Foundation, Delhi. Significant for its unique format as a dynamically unfolding exhibition, it gathered the works of practitioners across disciplines — including filmmakers, writers, performers, dancers, musicians and magicians — over the nine-month duration. In 2015, they presented the largest and most wide-ranging survey of their practice, spanning the previous decade, titled Untimely Calendar (Asamayavali), at the Jaipur House in the National Gallery of Modern Art, Delhi. The following year, they were nominated chief curators of the 11th edition of the Shanghai Biennale. They curated Five-Million Incidents in collaboration with the Goethe-Institut, Delhi and Kolkata from 2019–2021 and were appointed the artistic director of the 2020 Yokohama Triennale titled Afterglow.
The Raqs Media Collective continues to practice out of Delhi.
Bibliography
Artsy. "Raqs Media Collective." Accessed October 26, 2020. https://www.artsy.net/artist/raqs-media-collective.
e-flux. "Sarai Reader 09: The Exhibition," August 15, 2012. https://www.e-flux.com/announcements/33853/sarai-reader-09-the-exhibition/.
Google Arts & Culture. "Coronation Park – RAQS MEDIA COLLECTIVE (Monica Narula, Jeebesh Bagchi & Shuddhabrata Sengupta)," October 26, 2020. https://artsandculture.google.com/asset/coronation-park-raqs-media-collective-monica-narula-jeebesh-bagchi-shuddhabrata-sengupta/tAG739vrEP7oDw?hl=en.
Kumar, Rahul. "Raqs Media Collective Offers a Unique Vision as the Curator of Yokohama Triennale 2020." STIRworld, June 17, 2020. https://www.stirworld.com/inspire-people-raqs-media-collective-offers-a-unique-vision-as-the-curator-of-yokohama-triennale-2020.
Masters, H. G. "Talking Cure." ArtAsiaPacific, Jul/Aug 2009. http://artasiapacific.com/Magazine/64/TalkingCureRaqsMediaCollective.
Nature Morte. "Raqs Media Collective." Accessed October 26, 2020. https://naturemorte.com/artists/raqsmediacollective/.
Ocula. "Raqs Media Collective," August 07, 2020. https://ocula.com/magazine/conversations/raqs-media-collective/.
Sarai. "The Sarai Programme, CSDS." Accessed October 26, 2020.
https://sarai.net/about/.
Universes in Universe. "Raqs Media Collective. documenta 11." Accessed October 25, 2020. https://universes.art/en/documenta/2002/documenta-halle/raqs-media-collective.