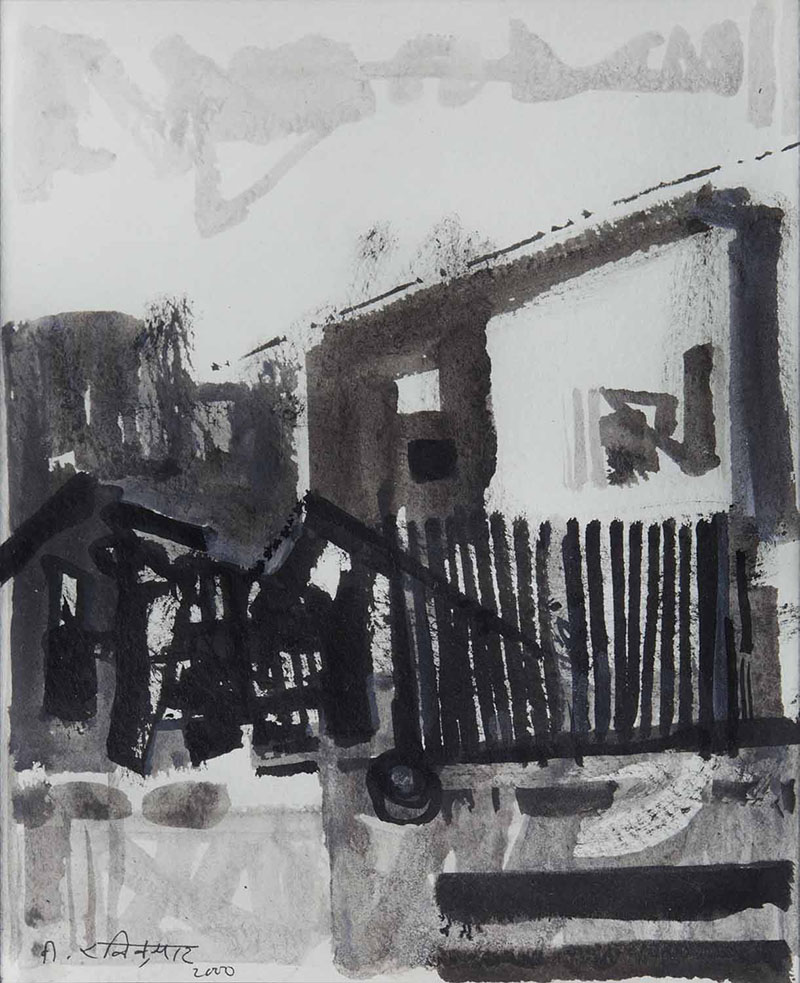 Untitled; Ravikumar Kashi; c. 2000; Watercolour on paper; 18 x 14 cm; Museum of Art & Photography (MAP), Bengaluru
An artist, writer and educator, Ravikumar Kashi explores themes of decay, transformation and desire through his paintings, sculptures, photographs and installations.
Kashi was born in Bangalore (now Bengaluru), Karnataka, and obtained a BFA in Painting from the College of Fine Arts, Bengaluru, in 1988, followed by an MFA in printmaking from the Faculty of Fine Arts, MS University, Baroda (now Vadodara), in 1990, and a Master's in English literature from Mysore University in 1995. In 2001, he received a Charles Wallace India Trust grant, which allowed him to learn handmade papermaking from artist and printmaker J Parry at the Glasgow School of Art. In 2009, with funding from the InKo Centre, Chennai, he participated in a two-week Hanji papermaking residency at Seoul.
Paper soon became the primary material in Kashi's works; he uses various kinds of handmade paper, from local khadi paper to Hanji and Washi. He also frequently adopts pastiche in his work. In 2004, Kashi began incorporating photography in his work, and consequently, the interconnectedness of visual languages, photography as well as forms of popular visual culture, such as advertisements and billboards, became central themes in his work. His series Gandhi I Found (2010) centres on a clay statue of MK Gandhi from a flea market placed in different visual landscapes along with nondescript objects such as alarm clocks, toys and mirrors, in various states of preservation. He also uses handmade paper to explore the history of the production and use of paper and books in works such as artist's books, as in Banana and the sword (2012) and This is the way the world ends.
Kashi also began exploring the theme of aggression as an acceptable mode of visual and public interaction, inspired by popular flex posters, especially those featuring local political or communal groups and factions in and around Bengaluru, as seen in the works Silent Echo (2016) and Figure of Speech (2017). The theme of popular violence was also central to his other work Ghar Me Ghuske Maarenge ("We Will Enter Your Home and Thrash You") (2019) and his book Flexing Muscles (2019), which features an essay in Kannada and English along with photographs of political flex posters.
Kashi received the 1987–88 Annual Exhibition Award from the College of Fine Arts, Bengaluru; the 1990 and 1999 Karnataka Lalit Kala Academy Annual Exhibition Award; and the Kejriwal Young Artist Award in 2000 from the Karnataka Chitrakala Parishath. He has exhibited at the Karnataka Lalit Kala Akademi; the Karnataka Chitrakala Parishath; Gallery Sumukha, Bengaluru; Lalit Kala Akademi, New Delhi; Vadehra Art Gallery, New Delhi; Gallery Threshold, New Delhi; Pundole Art Gallery, Mumbai; Jehangir Art Gallery, Mumbai; Cymroza Art Gallery, Mumbai; Aicon Gallery, Palo Alto; and Glasgow School of Art. He has written two books on art in Kannada – Anukta and Kannele – for which he received the Karnataka Sahitya Akademi prize in 2015.
As of writing, Kashi lives in Bengaluru, where works as a visiting faculty member at the RV College of Architecture.
Bibliography
Our website is currently undergoing maintenance and re-design, due to which we have had to take down some of our bibliographies. While these will be re-published shortly, you can request references for specific articles by writing to hellomapacademy@map-india.org.