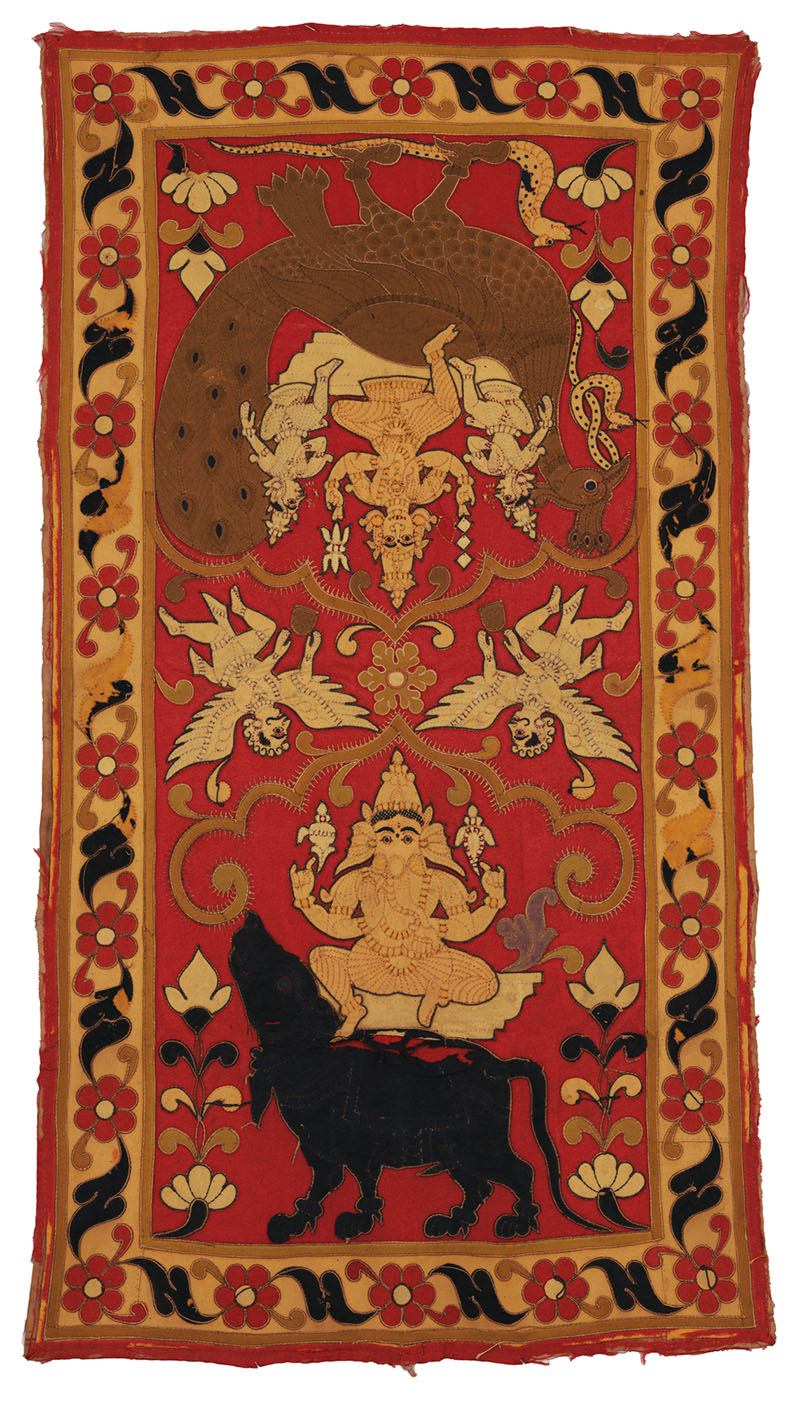 Saddle Cloth; Tamil Nadu, India; c. 20th century; Cotton, wool; 102 x 56 cm; Museum of Art & Photography (MAP), Bangalore
An ornamental technique of sewing in which patterns and motifs are created by stitching layers of carefully cut cloth onto a base fabric. Its name is derived from the French verb appliquer, meaning "to put on." Appliqué styles originated independently in many parts of the world, often alongside similar practices such as patchwork and quilting, most likely following the practice of covering tears by stitching small pieces of cloth over them. Several analogues of the technique exist around the world, varying greatly on both the intended use of the finished product as well as the cultural and regionally-specific motifs that appear on them. Forms of appliqué are particularly prevalent in the sartorial and textile traditions of South and Central America, some examples of which are mola reverse appliqué, practised by the Guna (formerly Kuna) people from Panama and Colombia; Chilean arpilleras, or patchwork pictures sewn on burlap cloth; and quilts appliquéd with chintz in eighteenth-century North America.
There are several applique traditions in India, most traditionally used as a means to recycle leftover fabric. The oldest extant craft dates back to the twelfth century in Pipili, Odisha, where it is called Pipili chandua. The names of appliqué traditions in India, like the craft itself, differ between the many communities and regions in which they are practised. While several of them remain confined to their respective communities, some have come to be better known for their style and uses. In Pipili and Madurai (Tamil Nadu), appliqué has historically been used to decorate temple chariots and chattris; in Gujarat and Rajasthan, where it is known as katab, the tradition has flourished among the nomadic and pastoralist communities where it has been used to make camel and cattle covers, dowry and household items; in Himachal Pradesh and also to a greater extent in Tibet, intricate applique is used to create thangkas, or tapestries showing Buddhist religious narratives; in Bihar, khatwa appliqués have been used on shamianas, torans and for smaller items such as children's caps and pillow covers; and in Maharashtra, the Banjara of Khandesh have generally used the technique to produce home furnishings and garments.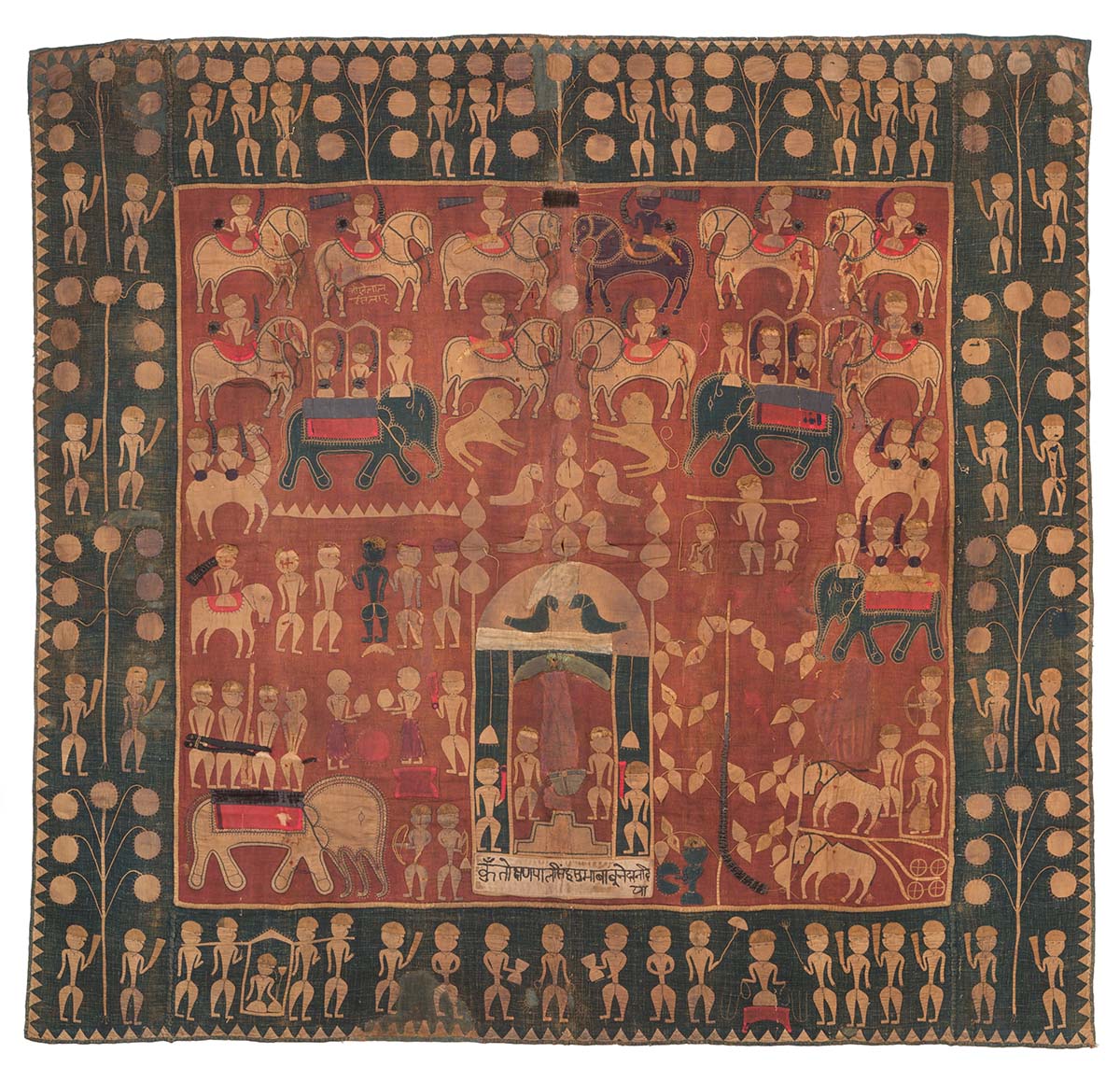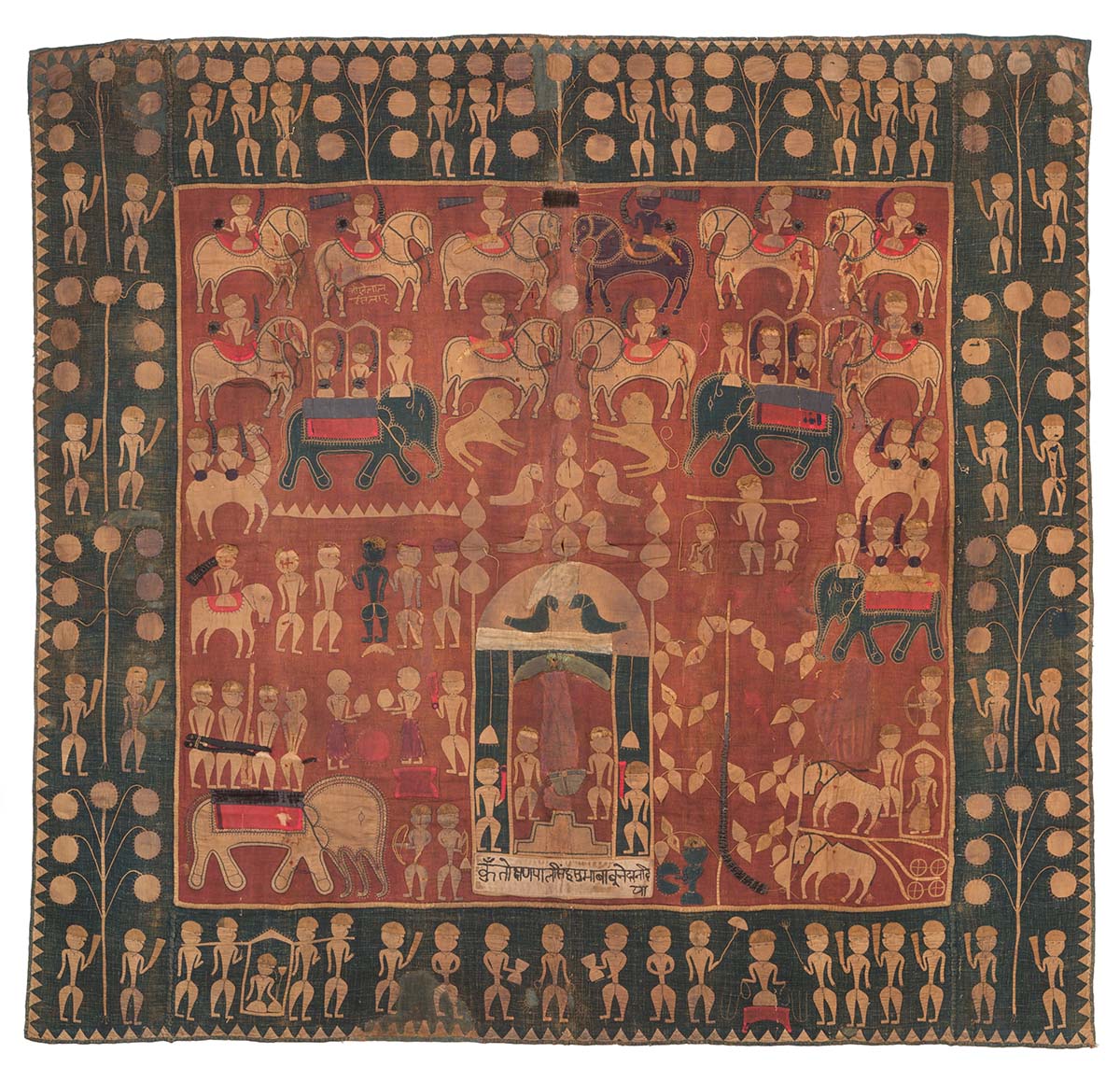 There are two variations of the applique technique. In one, the overlying cloth may be cut into the desired shape and then stitched onto the base fabric to create patterns; while in the other, sometimes known as reverse appliqué, incisions are made in the layer of overlying fabric, revealing the base fabric to make patterns. Piping and embroidery may also be employed to lend detail or create outlines.
The functions of appliqué textiles have evolved over time, often due to shifts in patronage. Most varieties do not attract specialised demand from outside their local economy and are often marketed nationally and internationally as generic "appliqué" products, rather than as regionally-specific products. Furthermore, these handmade goods are typically expensive because of the elaborate nature of the craft, and therefore face strong competition from cheaper, mass-produced textiles. Although artisans still receive commissions for traditional appliqué work today, the technique is now largely used for adorning clothing and household textiles such as curtains, cushion covers and tablecloths.
Bibliography
Our website is currently undergoing maintenance and re-design, due to which we have had to take down some of our bibliographies. While these will be re-published shortly, you can request references for specific articles by writing to hellomapacademy@map-india.org.