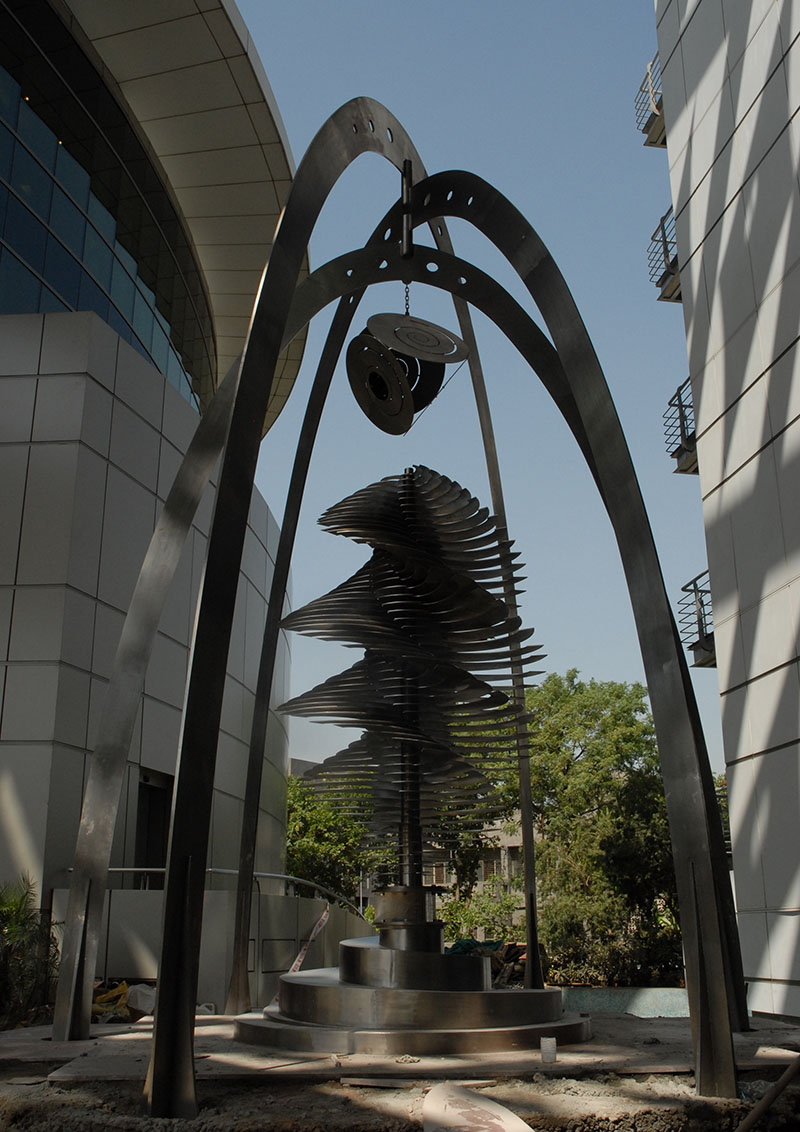 The Sky is the Limit at Indian Oil Corporation Limited Corporate Office of New Delhi, India; Balan Nambiar; c. 2010; 6.3 m; Wikimedia Commons
A Modernist artist and scholar, Balan Nambiar works with a wide range of materials across media such as painting, enamelling and sculpture. He is known for his monumental sculptures, made predominantly with materials such as bronze, stainless steel, mild steel, fibre-reinforced-concrete and his use of machine technology and industrial processes such as laser cutting, water-jet cutting and TIG-welding. His art is non-figurative and is characterised by reduction, simplification and geometric abstraction, while his Modernism is a combination of a Futurist vocabulary and indigenous visual inspiration. The ritual and folk living traditions and arts, primarily of northern Kerala and the district of Tulu Nadu in Karnataka, which informed his art also formed the focus of his scholarship.
Nambiar was born in Kannapuram, Kerala, and made his first large artwork, a five-foot clay sculpture, while still in school. After completing school, he taught art in a high-school in Palakkad, Kerala, for a short while before joining the Southern Railway in Madras as a draughtsman. In 1971, Nambiar obtained a diploma in Fine Arts, from the Government College of Arts and Crafts, Madras (now College of Fine Arts, Chennai), with a specialisation in sculpture. He began his career with painting in watercolours and oil, but soon switched to sculpture, initially in bronze and concrete using casting techniques. His later steel works are a product of his experiments at the metallurgy department of the Indian Institute of Technology Madras.
Nambiar's art draws particularly on symbolism and visual motifs, such as Bhuta masks, the Nagamandala or Paambinkalam floor decoration motifs, associated with the performative enactments of Teyyam and the ritual folk dances of Padayani and Titambu, among others. His later works also featured abstractions and formal reinterpretations of the ritual motifs of the Valampiri Shankha (the clockwise-whorled sacred conch), the Kannati Bimba (bronze mirror idols), the Sri Chakra (a sacred geometric diagram) and Sapta Matrika (seven mother goddesses). His practice and visual vocabulary was supported by his research, which involved extensive photographic documentation. He has also published widely in academic journals as well as periodicals such as the Kannada weekly Sudha, Marg, Geo, Namaskar and Deccan Herald.
Some of his earliest works, such as his oil and acrylic paintings Trimurthy 1 and 2 (1974), Teyyam (1972) featured abstractions of ritual motifs in a range of colours. The 1980s marked his transition to sculpture, particularly to casting, which he had experimented with earlier in college. During this period, he produced several free-standing bronzes based on techniques used in the traditional casting of Swamimalai, Tamilnadu and in Italian foundries such as Founderia Bonvicini, Verona. where he carried out much of his work. He created several untitled sculptures and a few that identified the motifs and themes in his work, such as Bhagavati (1968) and Altar with lingam (1981). From the 1980's, he began creating steel sculptures, making over a hundred of them throughout his career. He initially started out making sculptures using mild steel, such as Bird in flight (1975, 1981), Solar spectrum (1975–80), and Symbol of growth (1975–80), which were inspired by nature. In the 2000s, he switched to the more durable stainless steel, which was better suited for outdoor sculptures in which he resumed his formal explorations of ritual motifs. Some of his works from this period are Shakti (2004), Altar (2010), Architectonic form (2016) and 3D Spiral (2016). Nambiar began enamel painting in the 1980s under the mentorship of his father-in-law Paolo di Poli, who was an Italian enameller. He is considered a pioneer of enamelling in India for the changes he brought to the traditional technique, including a four-hundred-shade palette and the use of silver and copper as base materials. His innovations resulted in colourful and nature-inspired works such as Eclipse (1992), Sunset (1992) and Composition (1997).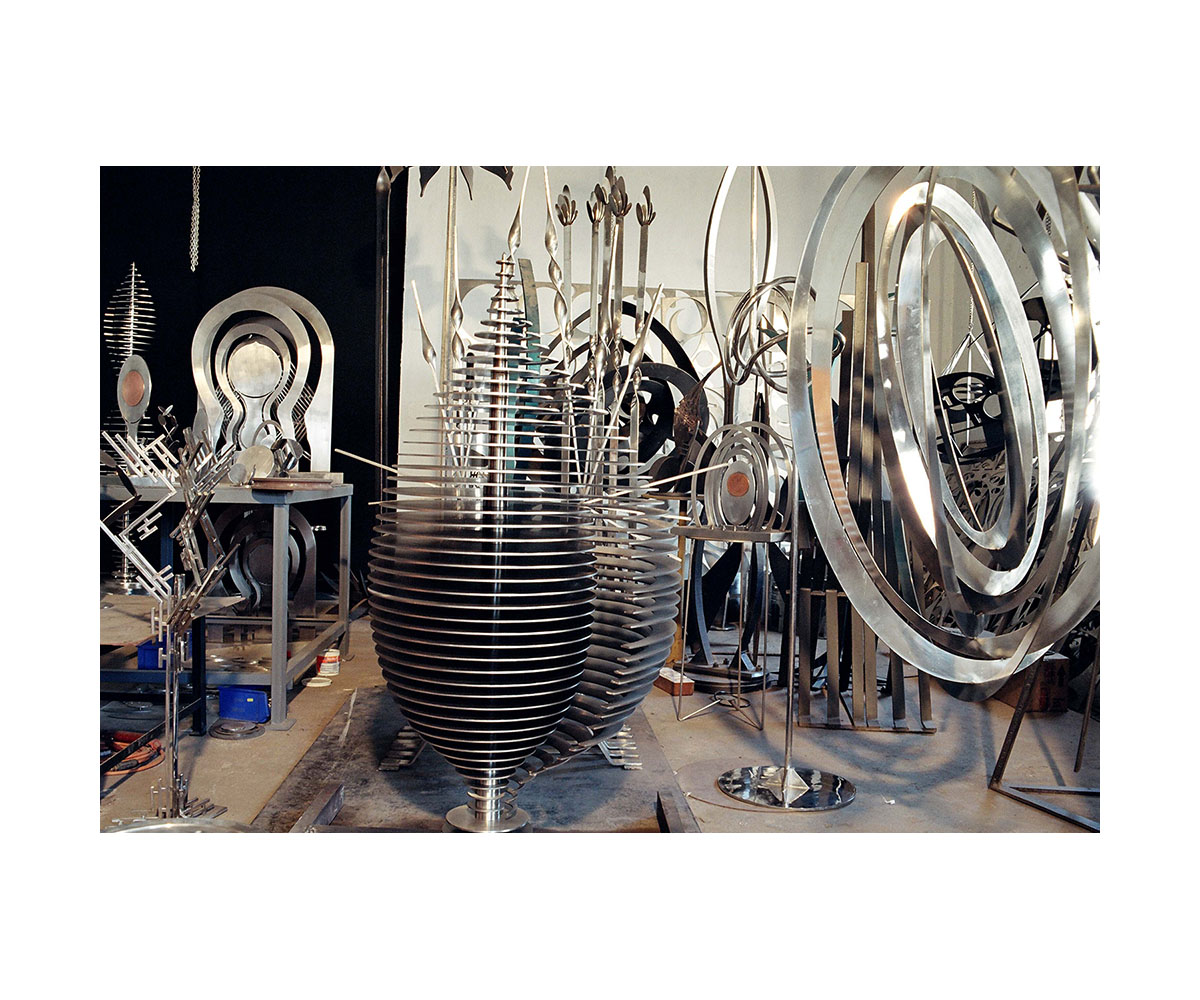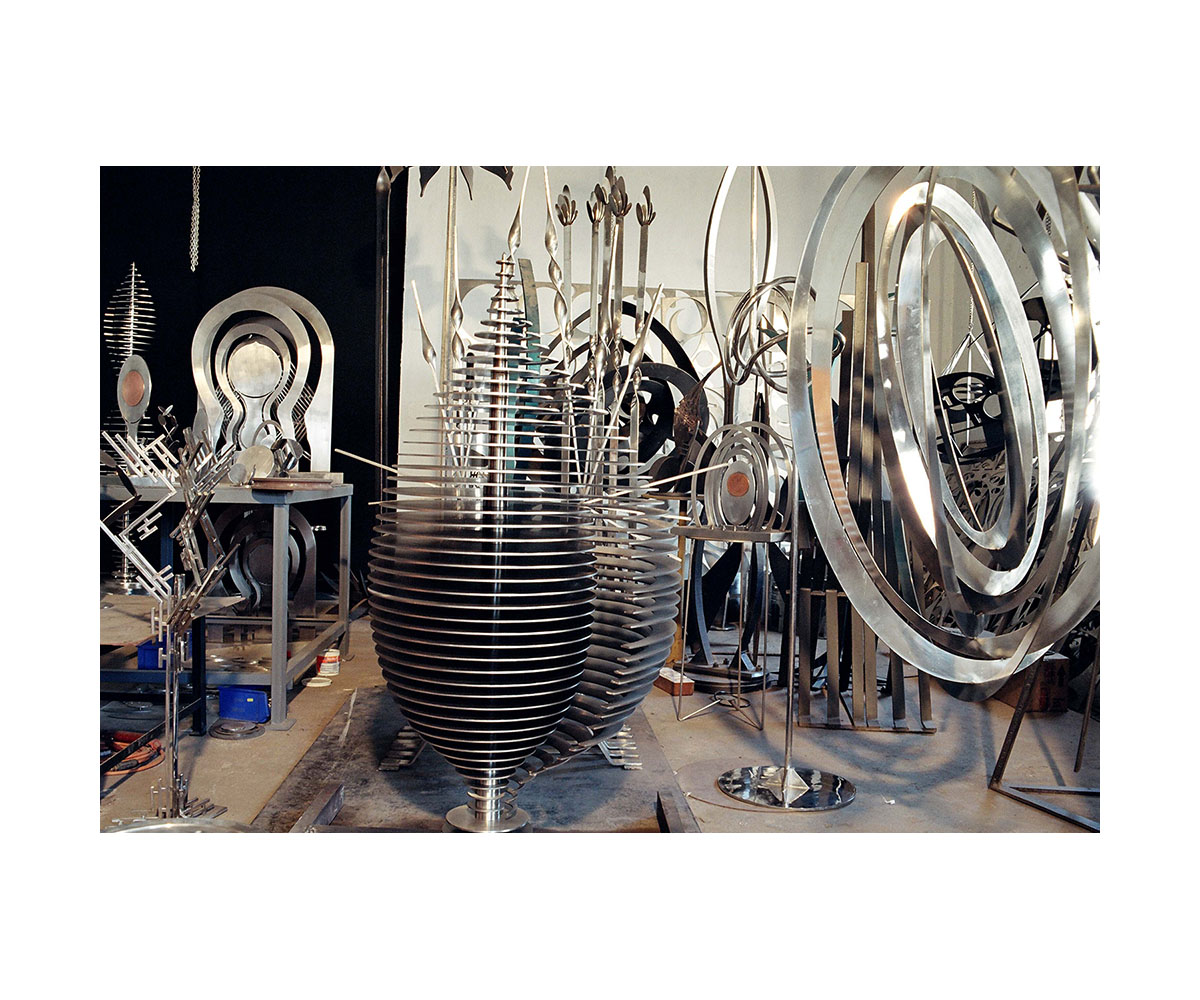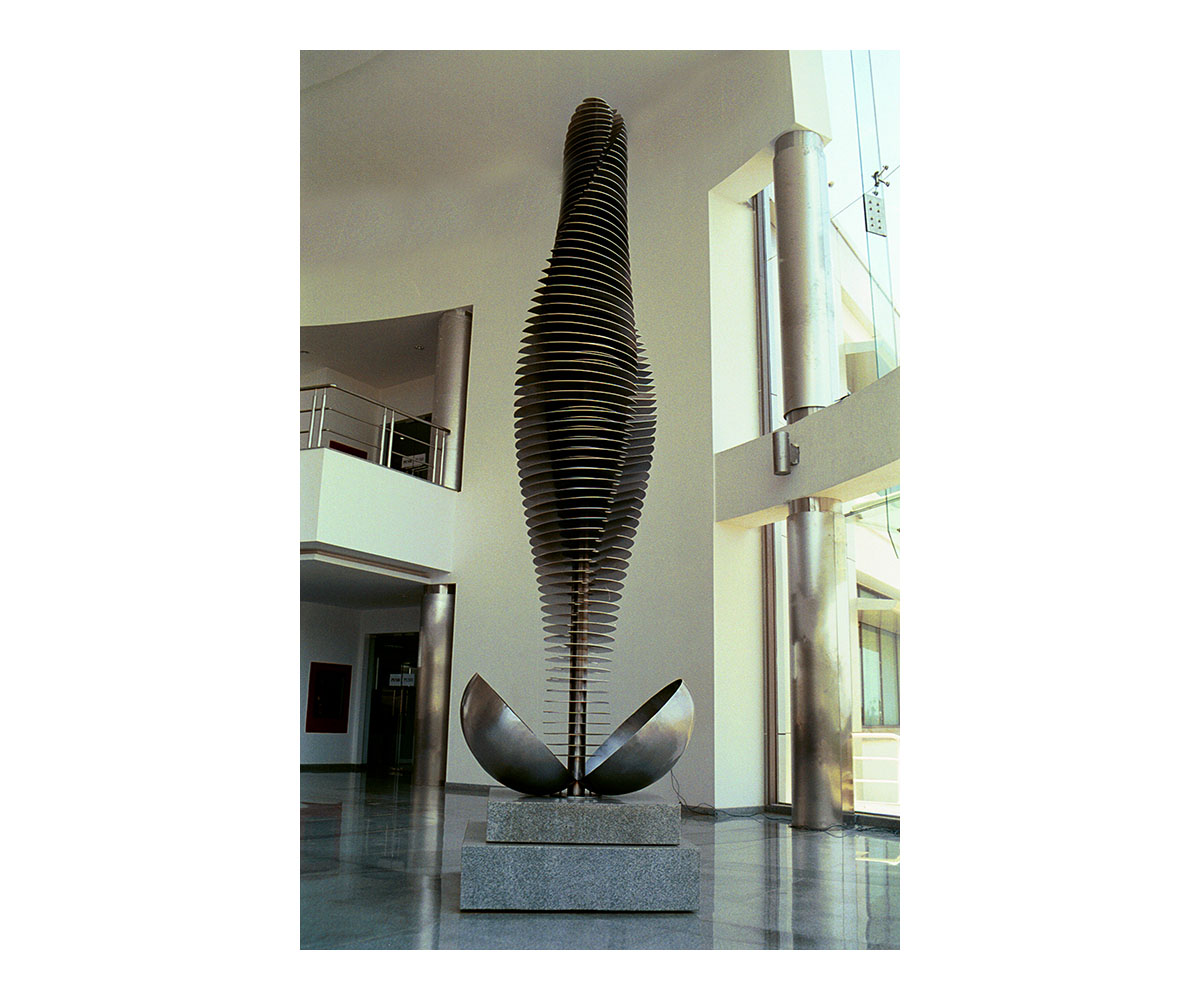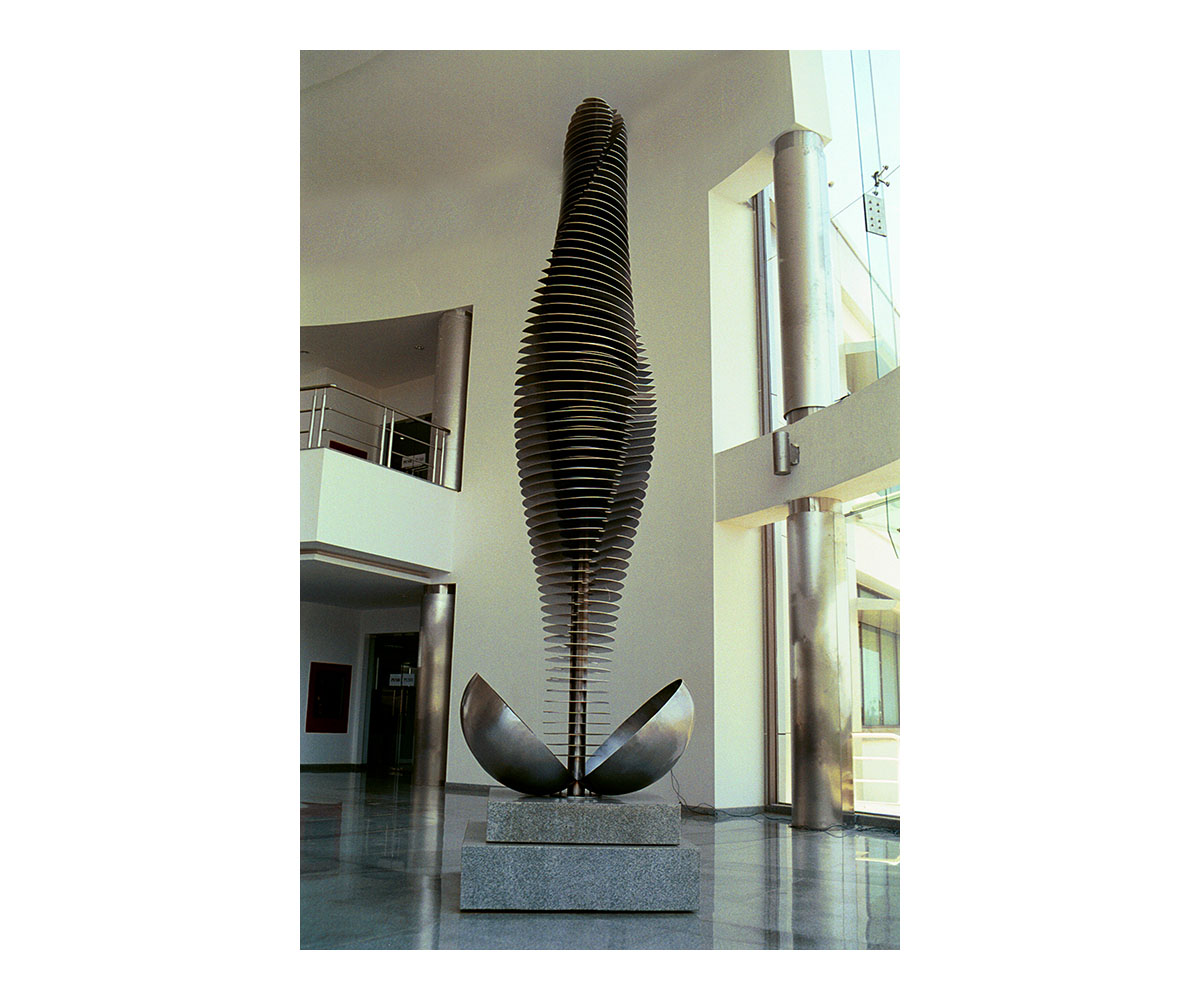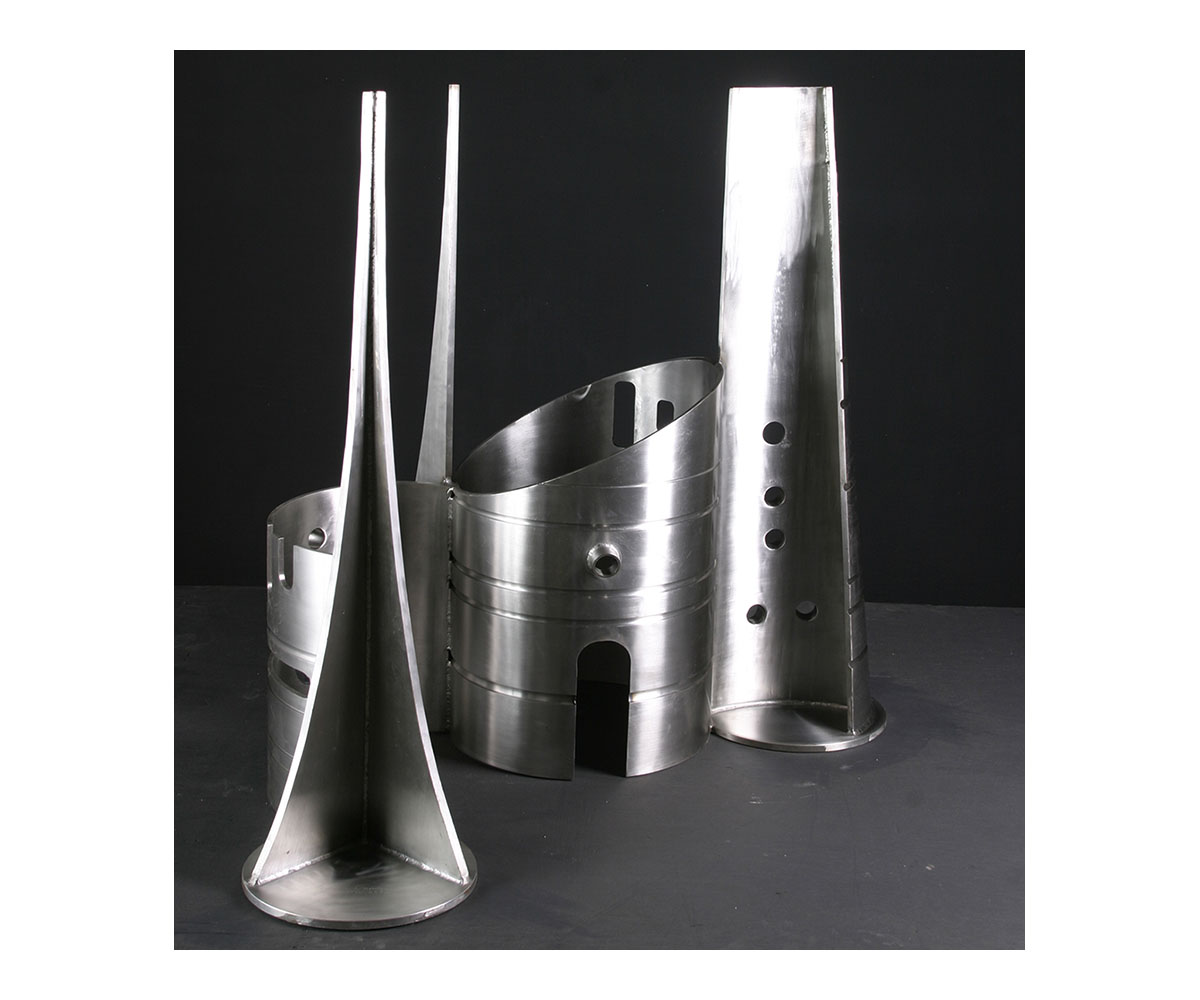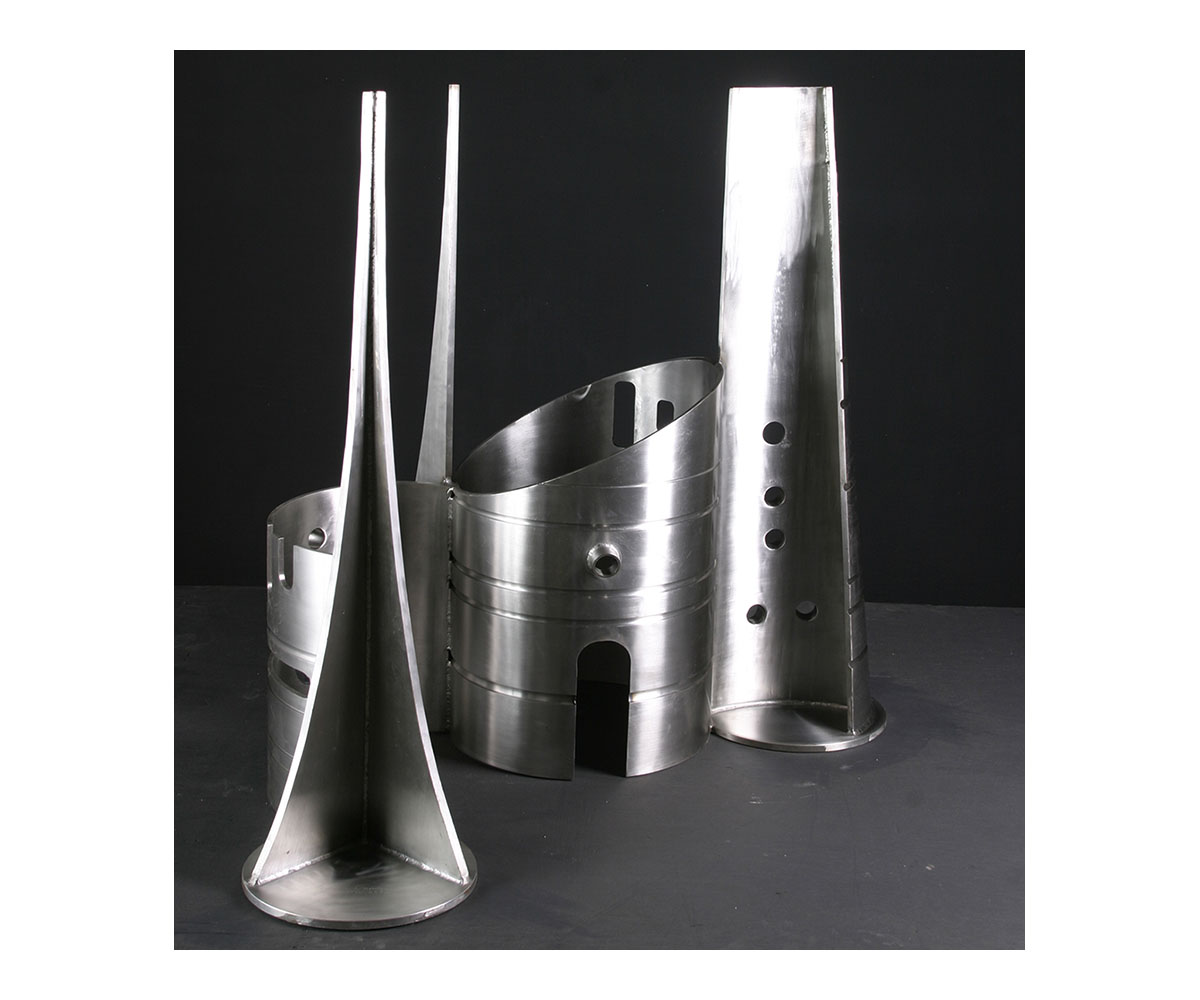 Nambiar has also created several commissioned works for institutions and corporations. These include Symbol for time (1974) in mild steel for Hegde and Golay, Bengaluru; Mother Goddess (1978) in glassfibre-reinforced concrete for Portland Cement Factory, Germany; Valampiri Shankha (2000) in stainless steel for the Indian Institute of Science, Bengaluru; and Reach for the sky (2016) in stainless steel for Bank Note Paper Mill India, Mysore.
Nambiar has had thirty-five solo exhibitions in his long career, which began in 1974 with the landmark show of sculptures at Hotel Ashoka, Bangalore (now Bengaluru) in 1974 and gained critical recognition in 2018 with the retrospective Sculpting in Time at the National Gallery of Modern Art (NGMA), Bengaluru. He has represented India at the 1985 Venice Biennale, and participated in the Triennale–India, New Delhi as well as "Constructa-78," Hanover Industrial Fair, Germany in 1978. He has also contributed to the permanent collections of national institutions such as NGMA, New Delhi and Bengaluru; the National Centre for Performing Arts (NCPA), Mumbai; Jawaharlal Nehru Centre for Advanced Scientific Research, Bengaluru; Ministry of Defence, New Delhi and the Salem Stainless Steel Factory. He is the recipient of several awards, among which are the National Award for sculpture from Lalit Kala Akademi, New Delhi in 1982 and the Raja Ravi Varma Puraskaram in 2015. He was a Senior Fellow, Ministry of Culture from 1982–83; a Nehru Fellow, Jawaharlal Nehru Memorial Fund from 1983–85; an Academy Fellow, Karnataka State Lalit Kala Akademi in 2005; and a Kalaratna Fellow, Kerala Sangeetha Nataka Akademi in 2013.
Nambiar served on the Central Advisory Board on Culture, Ministry of Culture, from 2008–11 and was the acting chairman of the Lalit Kala Akademi, New Delhi, in 2012. Since 1971, he has also been conducting art classes for children, several among whom have gone on to study art with some, such as Pushpamala M, who have achieved eminence in their field.
As of writing, the artist lives and works in Bengaluru.
Bibliography
Our website is currently undergoing maintenance and re-design, due to which we have had to take down some of our bibliographies. While these will be re-published shortly, you can request references for specific articles by writing to hellomapacademy@map-india.org.