ARTICLE
Raja Ravi Varma
(b. 1848; d. 1906)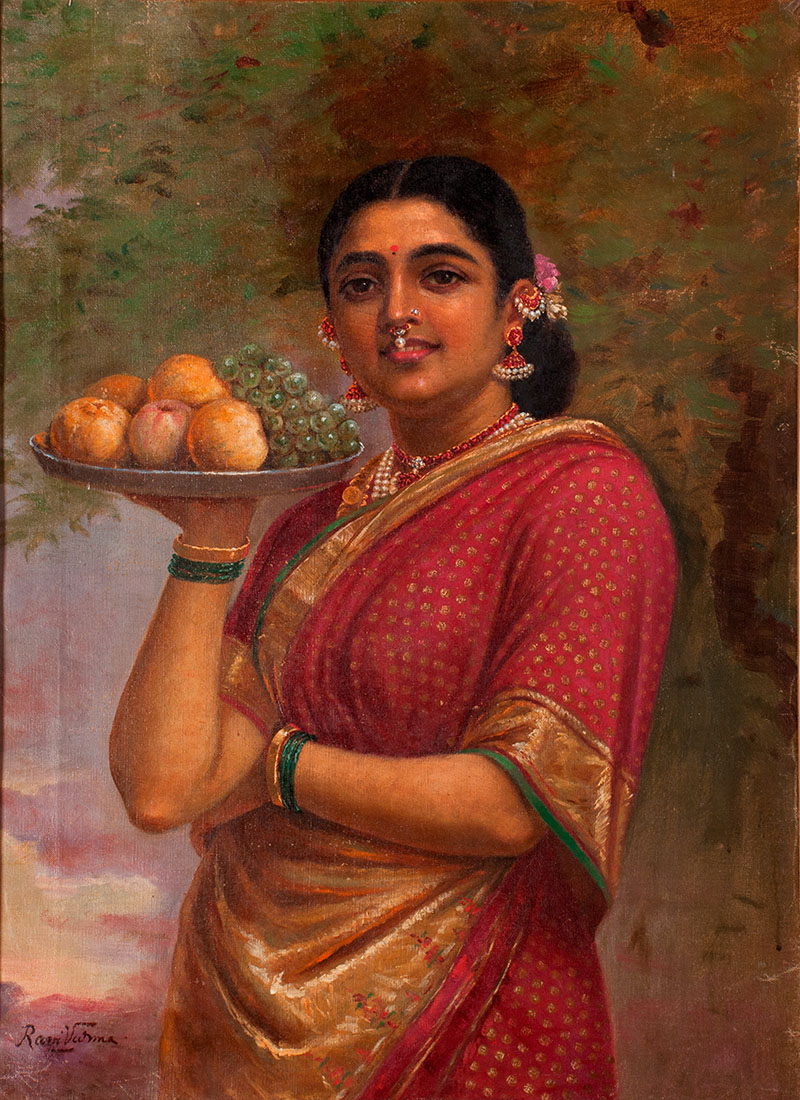 The Maharashtrian Lady.; Raja Ravi Varma; Oil on canvas; 71 x 50 cm ; Wikimedia Commons
Widely considered one of the most influential artists of modern India, Raja Ravi Varma is known for his pioneering use of oil paint and for adopting the tradition of European Illusionism to render photorealistic depictions of Indian mythological and historical figures. His work lies at the intersection of colonial culture, Tanjore painting, Company School and Victorian salon painting and draws from Kathakali and Neoclassical poetry, particularly Literalism. He is also known for making oleographic reproductions of his work, which was instrumental in enhancing his reach and influence as a painter as well as in replacing European copies in middle-class homes with inexpensive prints of his religious and mythological paintings.
Ravi Varma was born on 29 April 1848 in Kilimanoor, in the former princely state of Travancore in present-day Kerala, to an aristocratic family allied by marriage to the rulers of the state. Despite being known for applying the Western Academic style of oil painting to Indian contexts, he received little by way of regular or formal training in this style or medium. Varma's first drawing lessons were at the palace, where he was taught by his uncle Raja Raja Varma. At thirteen, he went to the Travancore royal court, where the ruler Ayilyam Thirunal asked him to stay on and observe the painters in the royal courts. It was here that he first saw the works of European painters such as Theodore Jensen, whose style he was keen to learn. After being refused the tutelage of master painter Ramaswamy Naidoo, Varma was initiated into oil painting by his assistant Arumugham Pillai. Much of the skill and style he acquired until nearly the age of nineteen was therefore mostly self-acquired.
His earliest commission, a portrait titled The Khizhakkepat Palat Krishna Menon Family (1870), was marked by a relatively flat overall quality, characteristic of earlier watercolour paintings, combined with the depth and dimension allowed by the use of oil. In 1873, Ravi Varma's paintings were entered into the Madras Fine Arts Exhibition, where he was awarded the Governor's Gold Medal for his work Nair Lady at Toilet (1873). This was followed by several art exhibitions and prizes across the country, resulting in his rise to fame as a successful society portraitist.
Within a few years, he transitioned into a strict Naturalism marked by the technical virtuosity he gained by studying printed reproductions of European art and following a representational method of working. This transition is evident in two of his paintings made a few years apart: The Portrait of Princess Tharabai (n.d.) shows a flat manner, use of thin paint and the liberal use of gold and dull tones. In comparison, the Portrait of Maharani Chimna Bai II (1889) displays an opaque Western rendering, a rich colour palette and skillful handling of ornamentation such as pearl necklaces, drapery and marble pillars. The later Baroda portraits, such as the accession portrait of Sayaji Rao III (1881) and Portrait of a Lady (1893), display greater technical mastery of perspective and chiaroscuro while successfully evoking solemn grandeur in the sitters' poses.
Ravi Varma started working with his younger brother C Raja Raja Varma in 1880, when portrait commissions led to commercial expansion of his painting enterprise. While Ravi Varma painted the complex figure compositions, Raja Varma excelled at backgrounds and landscapes. However, the extent to which Raja Varma contributed to the final output of the body of works attributed to Ravi Varma is unclear. Their sister, Mangalabai Thampuratty, was also informally trained as an oil painter and is known to have advised Ravi Varma on his paintings.
While touring the country to seek patronage, Ravi and Raja Varma received a commission from the Gaekwad of Baroda in 1888 to create fourteen paintings for the Durbar Hall of the new Lakshmi Vilas Palace. The Puranic subject of the paintings resulted in the Illusionistic mythological paintings of Krishna from the Bhagavad Purana and events from the Mahabharata and Ramayana. The visual iconography demanded a universal or pan-Indian costume, culminating in Ravi Varma's iconic use of the saree. Another important formal innovation with the mythological works was the development of narrative figuration, with an emphasis on the climactic moments of epics and myths as single friezes in paintings such as Shantanu and Matsyagandha (1890) and potent visualisations of the legends in works such as Harishchandra and Taramati (1888) and Vishwamitra and Menaka (1888).
Ravi Varma's works led to these myths and figures breaking away from classical textual representations in favour of a more theatrical and recognisable Realism. The form of the portrait, particularly as depictions of the Indian woman, gradually evolved into a trope that went from secular to mythological or allegorical representation. The face became more idealised and less concerned with individualism, marking a departure from its European counterparts to become more consonant with Indian aesthetics and literary ideas, such as those presented in the Vishnudharmottara. Despite this, and because his representations were limited to light-skinned, upper-class and mostly Hindu women, his portraiture suppressed the ethnic diversity of India.
Varma's mythological works received further impetus when T Madhava Rao, the Diwan of Baroda, encouraged him to make oleographs of his works. In 1894, the Varma brothers set up the Ravi Varma Fine Art Lithographic Press to make chromolithographic reproductions of their paintings of Hindu deities such Lakshmi and Saraswati. The growing demand for their framed prints were instrumental in almost entirely replacing European reproductions in streets and homes and democratising access to the works, which continue to be used in advertising, religious ceremonies and cinema. It even inspired a new cinematic era ushered in by producer and director Dadasaheb Phalke.
Ravi Varma's work is often noted for the subversive potential of its suggestive sexuality in the taboo-ridden colonial India of the nineteenth century as well as for its aspirational appeal — conveyed through decadent costume, jewellery and props — in a climate of economic strife. Despite the overwhelming popularity of his paintings, his work garnered hostile scrutiny against the backdrop of the nationalist aesthetics of the Bengal School, which saw his work as antithetical to 'pure' Indianness in spirit and form and as lacking in poetic imagination. While some critics maintain that Ravi Varma's paintings were imitative of European art, his patrons held Ravi Varma in high regard for successfully wielding the weapon of Realism against the European canon.
Bibliography
Agarwal, Simran. "A Family Affair: Few Know about the Artistic Prowess of Raja Ravi Varma's Siblings." Scroll, 2020. https://scroll.in/article/969025/a-family-affair-few-know-about-the-artistic-prowess-of-raja-ravi-varmas-siblings.
Arunima, G. "Face Value: Ravi Varma's Portraiture and the Project of Colonial Modernity." The Indian Economic & Social History Review 40, no. 1 (2003): 57–79. https://doi.org/10.1177/001946460304000103.
Clark, John. "Ravi Varma (1848-1906): Notes." In Modern Asia. Honolulu: University of Hawai'i Press, 1998. https://cdn.aaa.org.hk/_source/digital_collection/fedora_extracted/45817.pdf.
Google Arts & Culture. "The Influence of the Ravi Varma Press – The Ganesh Shivaswamy Foundation," n.d. https://artsandculture.google.com/exhibit/the-influence-of-the-ravi-varma-press/BwKib6TmLZfoIw?hl=en.
Guha-Thakurta, Tapati. "Westernisation and Tradition in South Indian Painting in the Nineteenth Century: The Case of Raja Ravi Varma (1848-1906)." Studies in History 2, no. 2 (1986): 165–95. doi:10.1177/025764308600200203.
Mitter, Partha. Art and Nationalism in Colonial India 1850-1922: Occidental Orientations. Cambridge University Press, 1997.
Sheikh, Gulammohammed. "Ravi Varma in Baroda," n.d. Critical Collective. https://cdn.aaa.org.hk/_source/gms-ms-ravivarma.pdf.