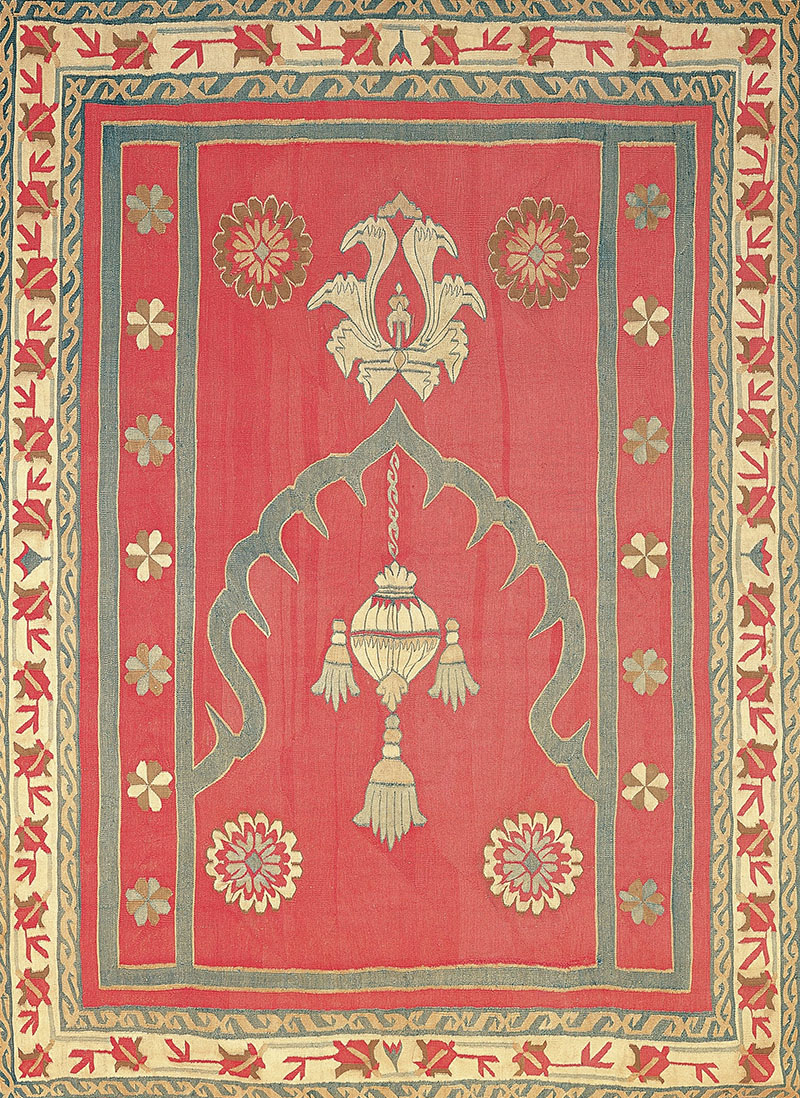 Contemporary Panja Dhurrie; Shyam Ahuja; c. 20th century; Woven wool; Google Arts and Culture/Jaipur Virasat Foundation
Thick, flat woven rugs or carpets, dhurries in India are primarily used as floor coverings. They are characterised by weft-facing weaves in plain, striped, extra-weft (peddle) or tapestry (cut-shuttle) designs. The decorative woven patterns of a dhurrie are based originally on the vernacular tradition of temporary or painted floor decorations such as rangoli and kolam. The word dhurrie has multiple etymologies in different Indic languages: the Sanskrit dara refers to a mat of split cane; dari in Sindhi and Punjabi means "a piece of matting," while the same in Bengali, Oriya, Hindi and Nepali denotes "carpet." Dhurrie weaving is also linked to the ancient tradition of grass mat weaving, which continued to develop independently. Dhurries are distinguished from carpets by their flat weave, their relative lightness and their often-reversible designs. The craft practice has a long heritage in several states in India, such as Arunachal Pradesh, Assam, Delhi, Karnataka, Madhya Pradesh, Maharashtra, Manipur, Odisha, Puducherry, Punjab, Rajasthan, Sikkim, Telangana (formerly part of Andhra Pradesh), Uttar Pradesh and West Bengal.
The earliest evidence of rug-like floor-coverings is from a 200–400 BCE fragment of woollen carpet with a tapestry base weave excavated from the Krorainic region of Western China. The material evidence is corroborated by documents in Kharosthi that refer separately to 'rugs' and 'carpets' from the region. The 200-300 CE treatise of the Arthashastra refers to different kinds of floor coverings, including the rug or pravaraka, that are made from the hair of animals. A tenth-century travelogue by Arab geographer al-Maqdisi makes a more definitive reference to rugs (called busut), specifically from the Sindh region of British India (now of Pakistan). Pictorial references to rugs are seen in sixth-century Ajanta murals; Sultanate period manuscript paintings — such as the Bustan of Sa'di (c. 1500); the sixteenth-century Padshahnama; and sixteenth-to-eighteenth-century Mughal and Deccan miniatures from the St. Petersburg Muraqqa. Later material evidence of a flat-weave Indian rug is provided by a seventeenth-century fragment from the Amber Palace in Rajasthan housed in the Calico Museum; a prayer rug dated to 1686 and from the Jama Masjid of Bijapur; and a dhurrie sample from the karkhana (workshop) of the Nizam of Hyderabad, attributed to 1700. These remains along with manuscripts from the period attest to the use of rugs for secular and religious purposes and to the existence of storehouses or farrashkhanas for palace dhurries in the various princely states.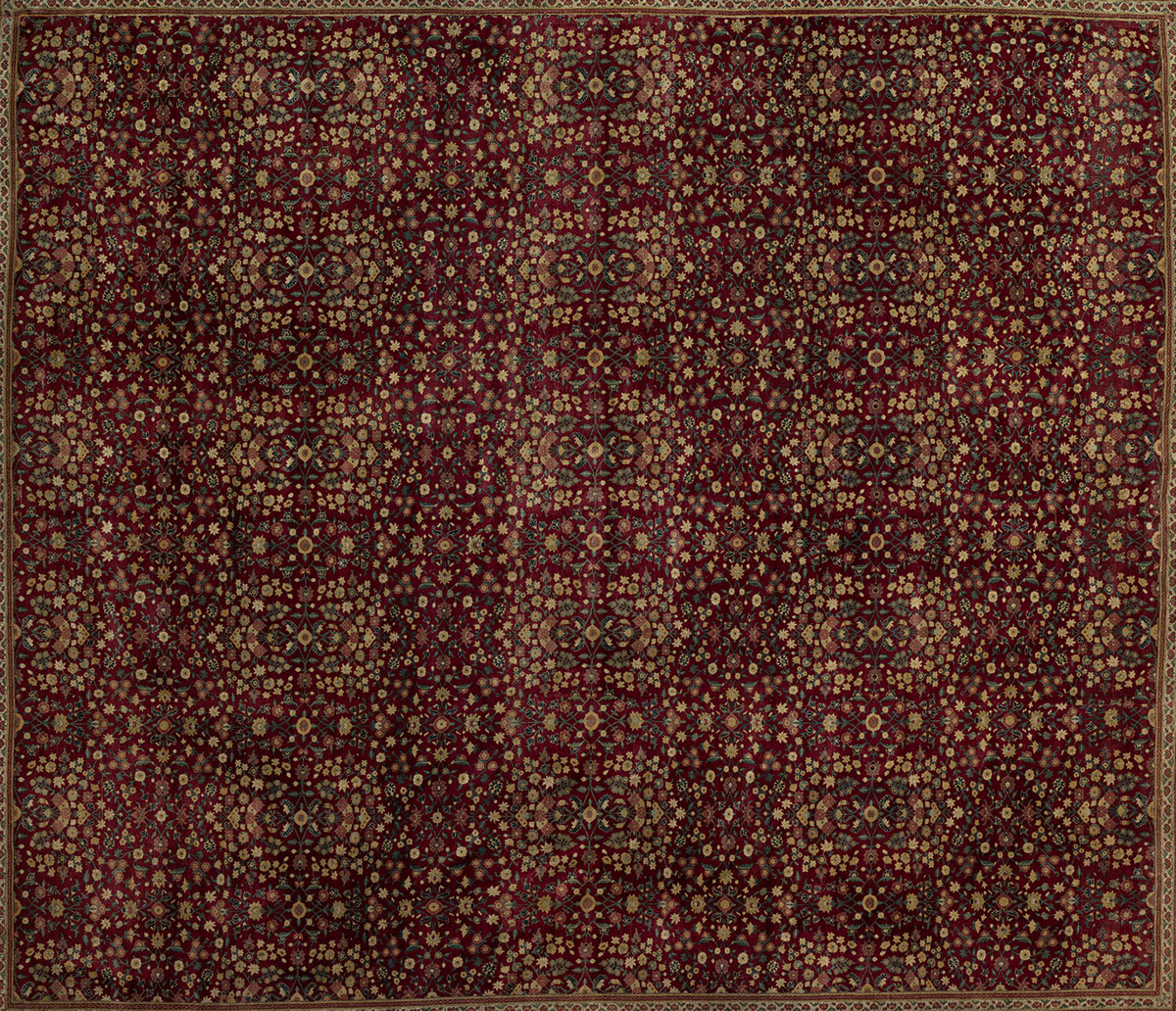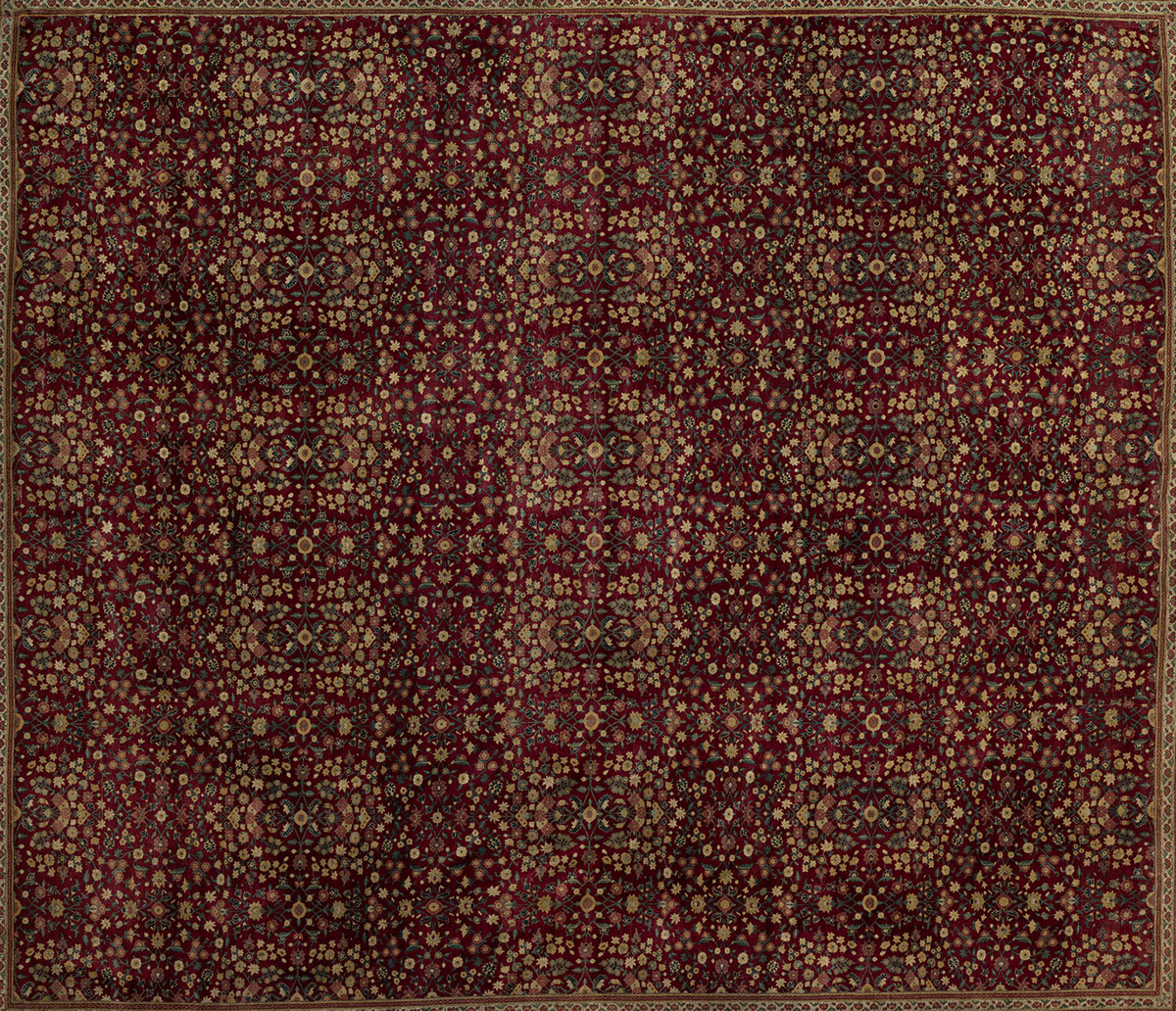 Dhurries are typically woven by hand, using horizontal pit looms, with some rare exceptions such as the Belgaum dhurries of Karnataka. The various types of dhurries, while sharing the overall process, differ in the materials used, their design vocabulary and some aspects of production. Commonly made with cotton, fleece, jute, wool and silk yarns in various combinations, the weaves are typically made in the weft interlocked or interlocking tapestry technique. First, a design is prepared and traced onto a graph paper along with the colour specifications. The loom is then prepared, first by winding the yarns, then passing them through a reed and finally by tying them to a warp beam. The warp yarns, usually made of undyed cotton or wool, form the backbone of the weft-facing dhurrie weave. The coloured weft threads are wrapped with a pirn rod to be transferred to a weft shuttle. The weaving process involves throwing the alternate weft thread across the stretched warp. After each line of the weft design is completed, it is beaten down with a metal comb or panja to tighten the weft-thread line. After the design is woven, the extra threads are trimmed and cut, while the fringe formed by the cut and lost threads of the weft are hard knotted to prevent the weave from unravelling.
The design vocabulary for dhurries typically consists of stripes, geometric designs that are either abstract or inspired by architectural forms, or naturalistic motifs inspired by flora and fauna. Striped dhurries are amongst the most common, used in mosques, as tent rugs, festival and ceremonial floor coverings and as decorative and functional household items. Among the striped dhurries are the multicoloured ones, such as the jamkalams woven in Bhavani, Tamil Nadu; the blue-and-white striped varieties of Uttar Pradesh, such as the nili chitti and gilasdar patti; the shatranji and chindi or rag dhurries of Maharashtra. Prayer rugs or jainamaz dhurries contain intricate patterns prominently featuring a single mihrab (arched niche) motif and saf (multiple arch) motifs. The panja dhurrie integrates the motifs and designs of phulkari and bagh embroidery designs, used to symbolise birth, marriage and death. Colourful Warangal dhurries, produced in Andhra, are characterised by repeating geometric motifs and zigzagging lines, and more recently kalamkari and ikat patterns. The Navalgund jamkhans of Karnataka are woven with motifs of peacocks (mor) and choukas (dice game board), the latter of which also feature in the shahnashin of Punjab. Pictorial dhurries, popularised by the Mughals, are woven in the regions of Uttar Pradesh and Uttarakhand, with stylised motifs of trees, flowers (phuldar), birds, fish (machlidar) and reptiles around a central medallion. A popular pictorial theme that emerged in the nineteenth and twentieth centuries was Noah's Ark.
The showcase of dhurries at the Great Exhibition in 1851, led to a surge in demand for floor coverings manufactured in India. Dhurrie manufacturing at the time was divided into private sectors, village production, and the prison industry. Private dhurrie enterprises, monopolised by British-owned cotton mills, propagated the striped dhurrie design in India. Introduced first by the Mughals and revived by Maharaja Sawai Ram Singh II in 1856, prison dhurrie workshops became major production centres, several of them being subsequently established in Agra, Bikaner, Baroda, Hyderabad, Jodhpur, Lucknow, Sabarmati, Udaipur and Warangal in India and Bahawalpur, Multan, Lahore and Hyderabad in modern-day Pakistan. Production at jail workshops decreased by the mid twentieth century and dhurrie production primarily became a cottage industry. In the early twentieth century, the setting up of cotton mills in Kanpur, Uttar Pradesh and the resultant migration of weavers to the city, resulted in a revitalisation of the dhurrie industry and the production of a new kind of unpatterned rugs known as Kanpur dhurries. This and the expansion of rail networks across India revitalised the dhurrie industry, which had suffered a blow from famine of 1876 and the bubonic plague of1897, and encouraged export centres such as Moradabad, Bareilly, Agra and Aligarh, also in Uttar Pradesh.


Because of their versatility and portability, dhurries came to replace carpets as floor coverings especially in warmer regions or during warmer months. They were also used as mattress covers, cradle or crib liners and even as wraps in the cooler months. Dhurries were also placed underneath double-pile carpets to preserve them and protect against damp. Today, dhurries are widely sought-after craft objects and are produced chiefly in the centres of Hoshiarpur in Punjab, Jodhpur in Rajasthan, Varanasi in Uttar Pradesh, Warangal in Andhra Pradesh, Salem in Tamil Nadu, Panipat in Haryana, Belgaum in Karnataka, and Pune in Maharashtra.
Several regional varieties of dhurries, such as the Warangal Dhurrie, Navalgund Dhurrie and Agra dhurrie, among others, have been recognised and protected under the Geographical Indications of Goods(Registration & Protection) Act, 1999.
Bibliography
Our website is currently undergoing maintenance and re-design, due to which we have had to take down some of our bibliographies. While these will be re-published shortly, you can request references for specific articles by writing to hellomapacademy@map-india.org.