A textile tradition practised in the Punjab region of India and Pakistan as well as in Haryana, bagh embroidery is ritually important and used to decorate textiles such as chaddars and odhnis, which are also referred to as baghs. The term derives from the Hindi bagh, meaning "garden," owing to the thick layer of embroidery and the representation of monumental gardens on some baghs.
Baghs are similar to phulkaris — both textiles use silk embroidery thread, the darning stitch, a similar colour palette and have the same historic centres of production. Like phulkaris, baghs are generally made to celebrate occasions such as births and weddings. However, bagh embroidery almost completely covers the base cloth, which is visible only as thin lines in the design. The base cloth is often chaunsa khaddar, a finer version of the red cotton base fabric used in phulkaris.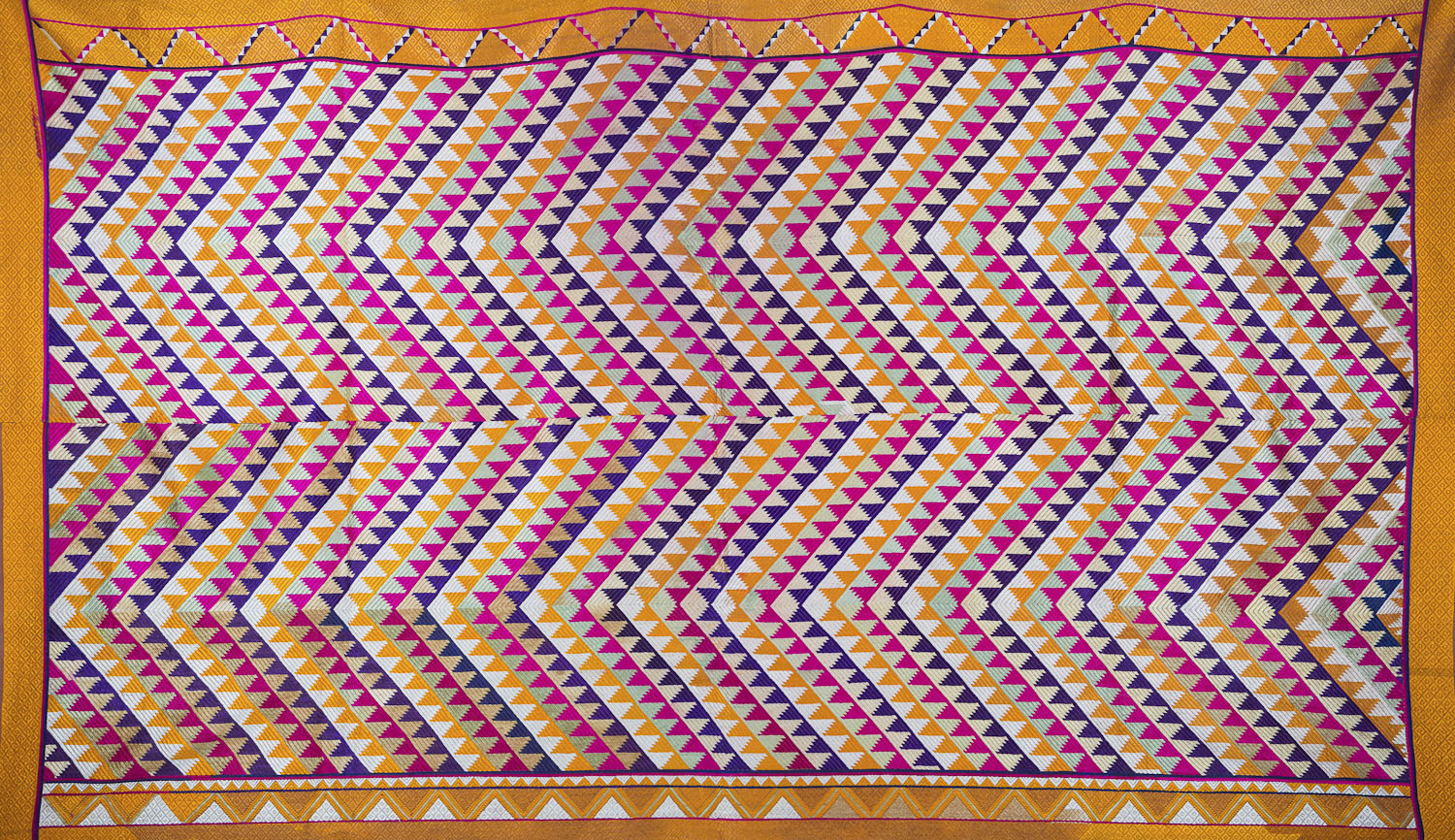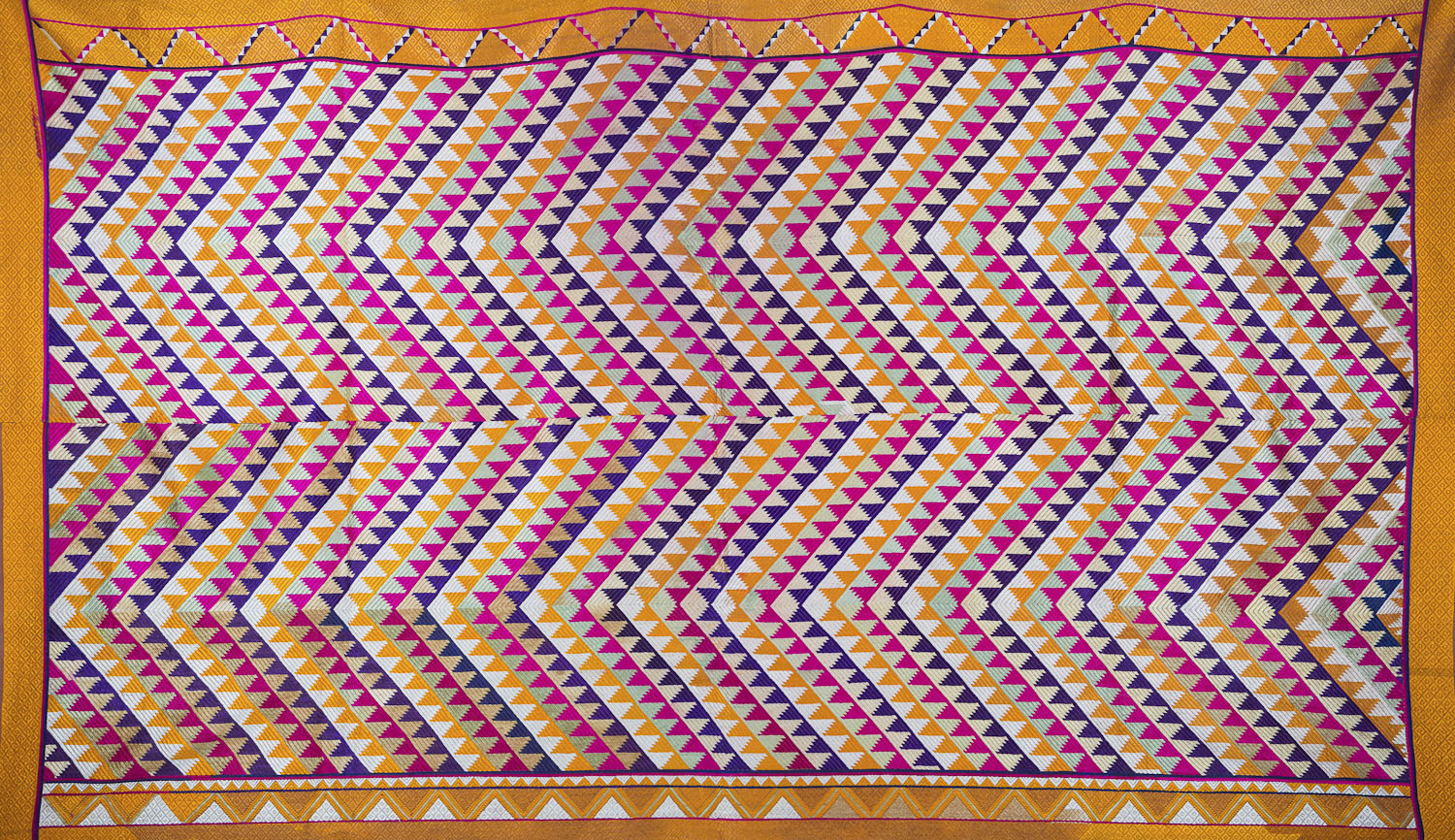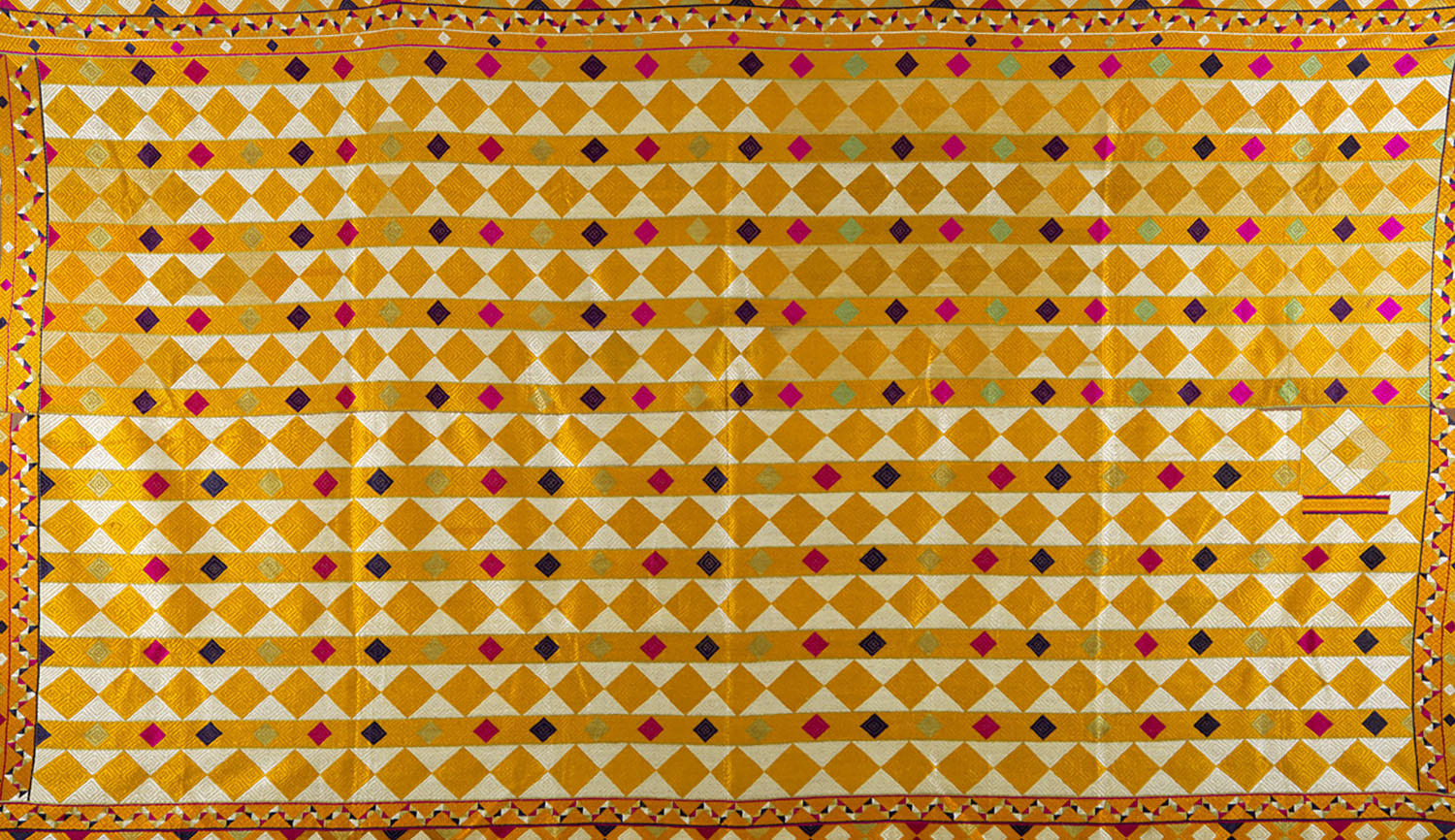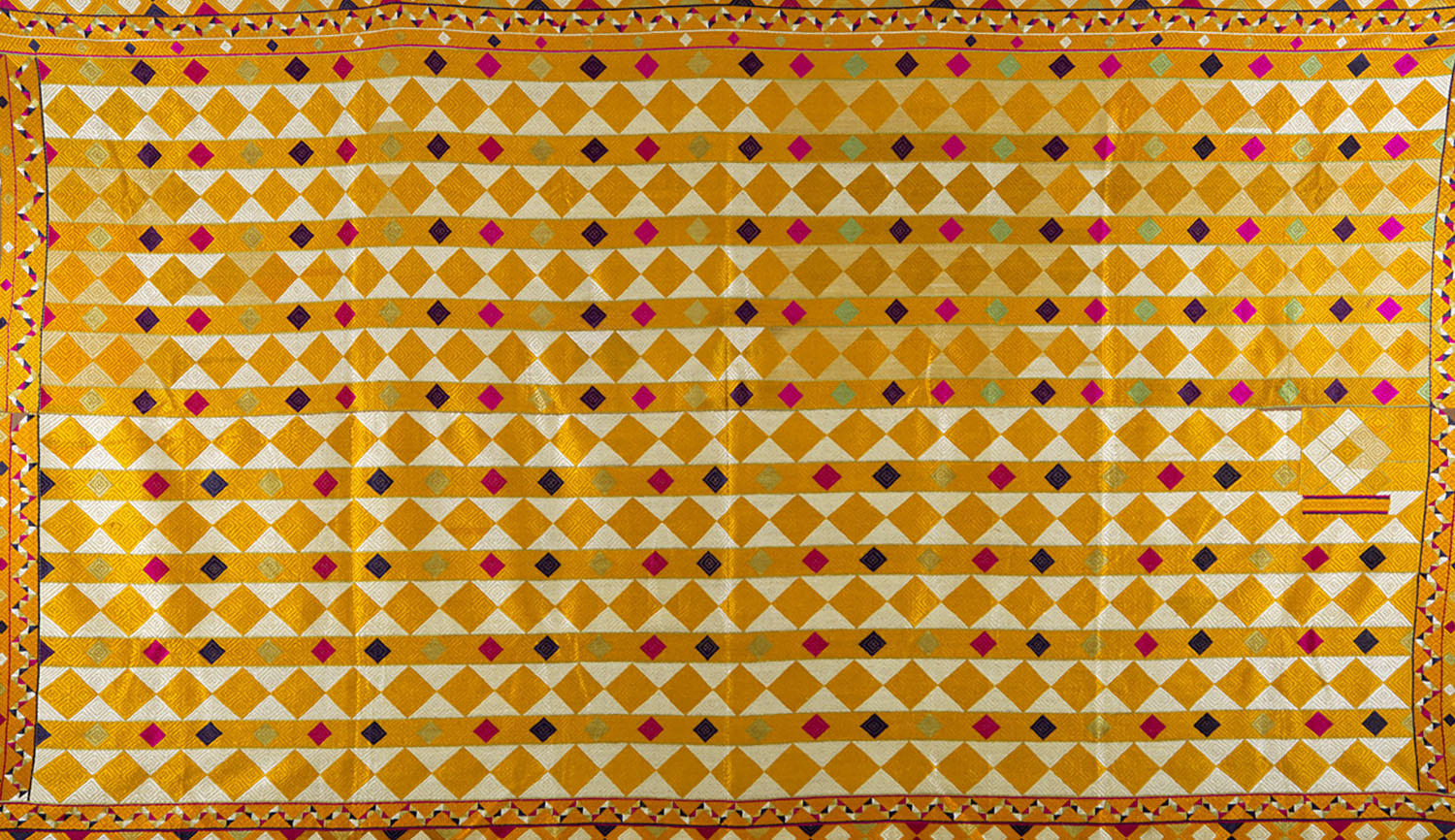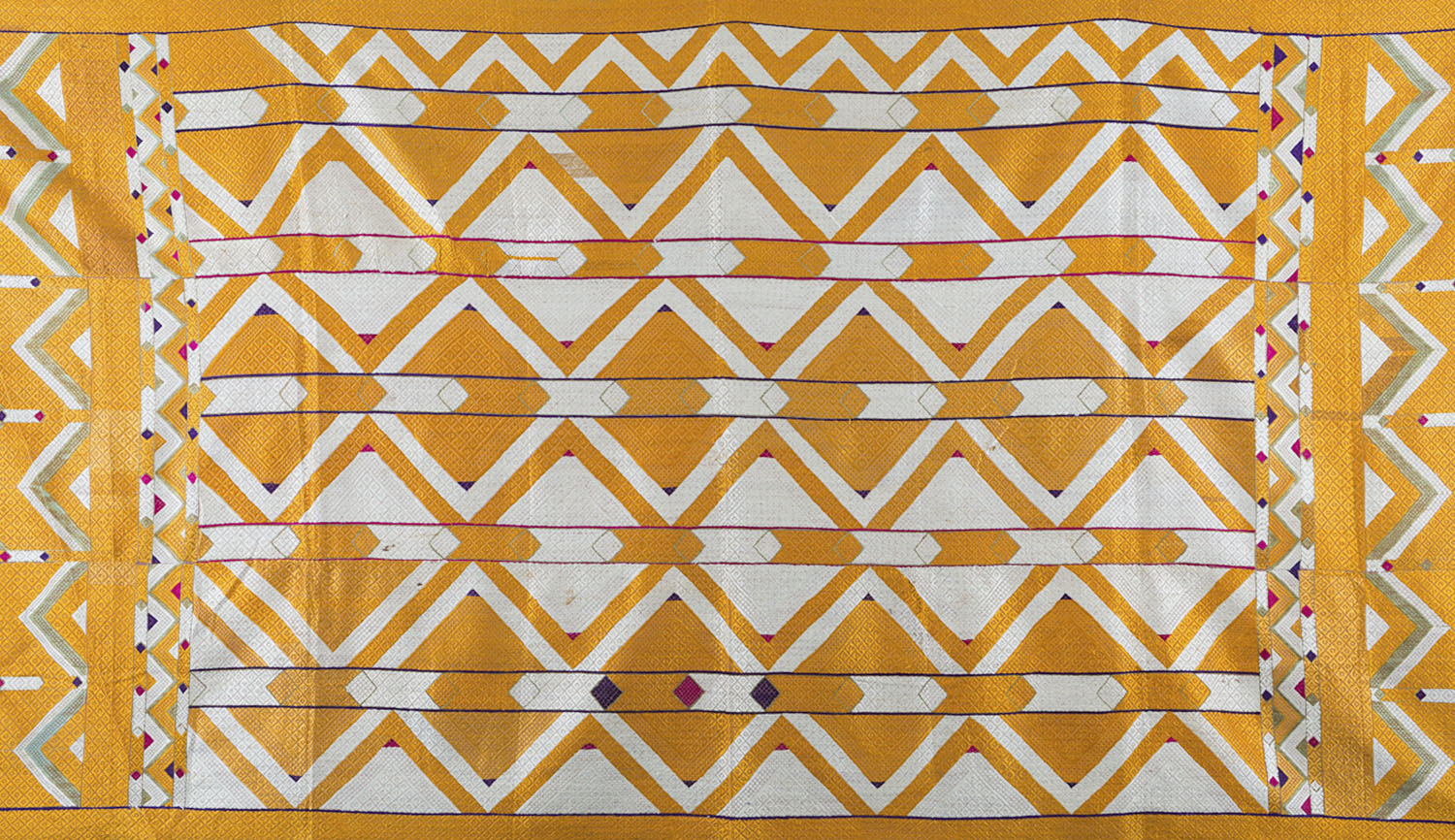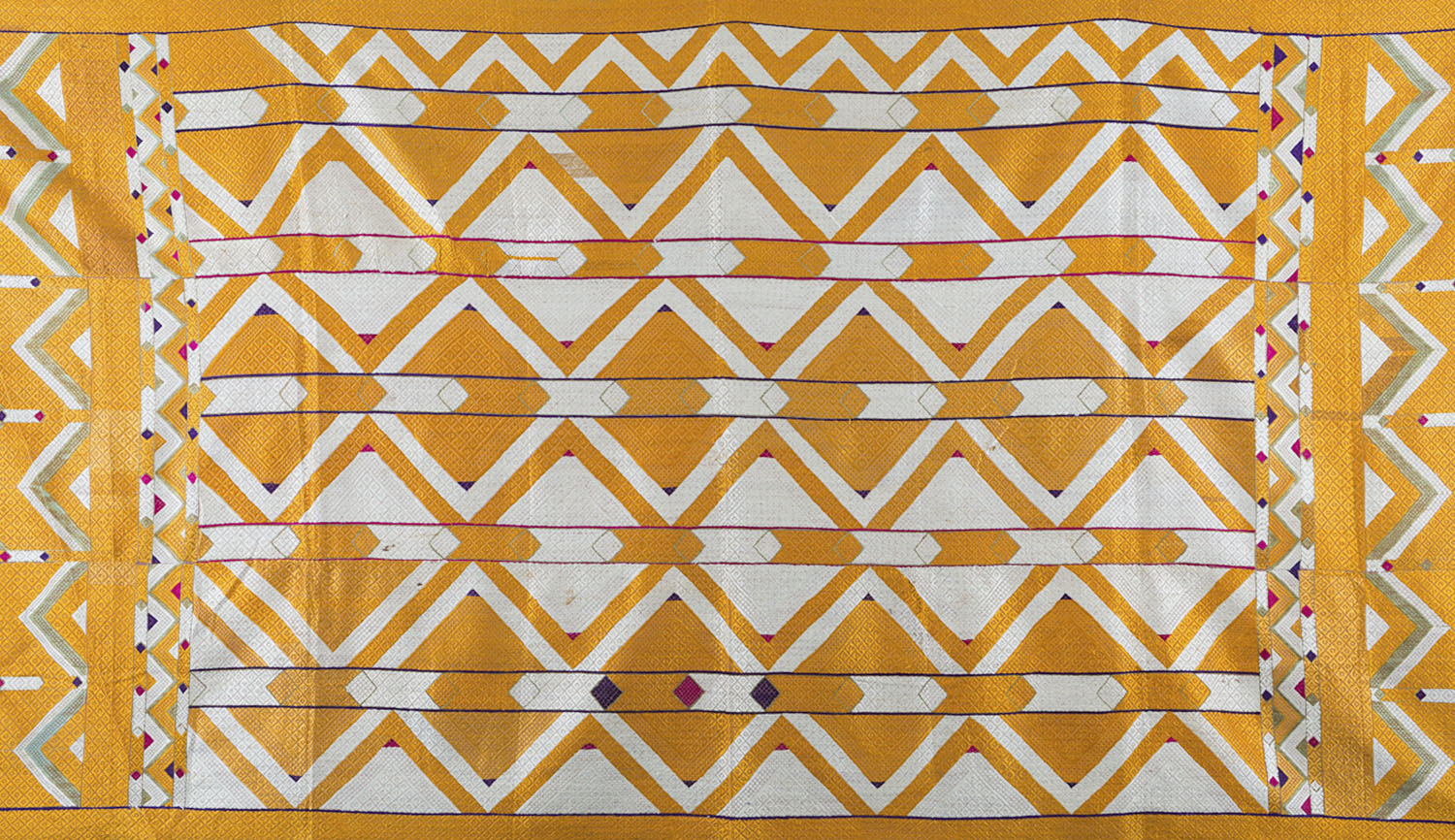 There are several types of baghs, which are often named after key aspects of everyday life and culture in Punjab. Those used in wedding rituals include vari da bagh, gunghat bagh and sar pallu. Baghs are frequently named after their motifs: leheriya and darya baghs feature water motifs; the chandrama bagh, which uses moon motifs, is worn during Karva Chauth rituals; the tota bagh features parrot motifs; and the belan bagh depicts rolling pins — a key instrument of domestic life in north India. Since Punjab has historically been an agrarian region, some baghs use motifs of important vegetable crops, such as the karela (bitter gourd) , mirchi (chilli), gobi (cauliflower), dhaniya (coriander) and kakri (cucumber) baghs. The genda, chameli and surajmukhi baghs are named for the flowers that are used as motifs. Certain baghs, such as the Shalimar and Chamasia baghs, are named after the historic gardens they depict or the general composition of a Mughal garden, such as the char bagh. Possibly the most elaborate type is the bawan bagh, which features between forty-two and fifty-two rectangular cells decorated with geometric motifs. Pachranga and satranga baghs are named on the basis of the number of colours in the design.
Bagh embroidery is time-consuming, taking several months to a year to complete. Today, they are not typically made by families, which was traditionally the mode of production; instead, they are procured from retail outlets or have been replaced by heirloom baghs for ceremonial use. Examples of historic baghs are held in the collections of the Philadelphia Museum of Art.
Bibliography
Our website is currently undergoing maintenance and re-design, due to which we have had to take down some of our bibliographies. While these will be re-published shortly, you can request references for specific articles by writing to hellomapacademy@map-india.org.