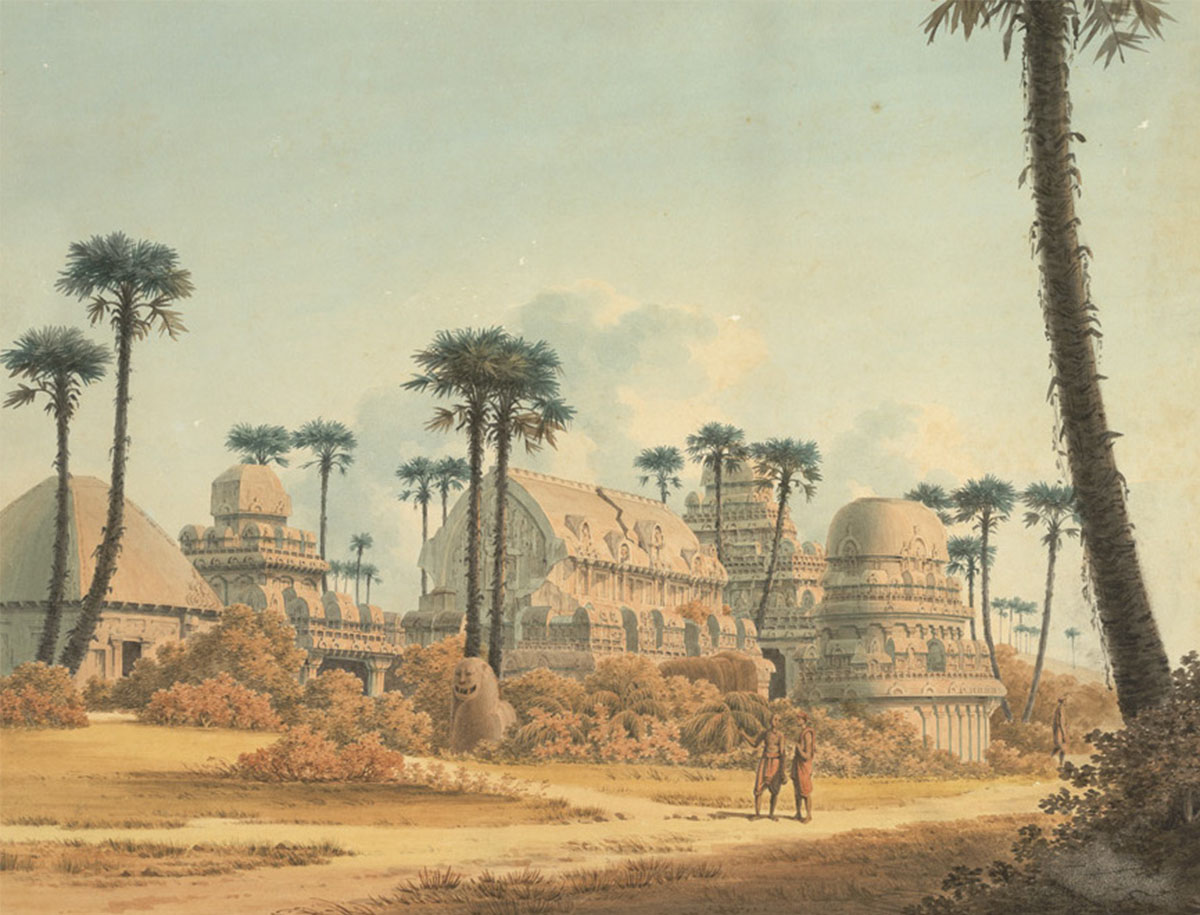 General View of the Five Rathas, Mahabalipuram.; John Gantz; c. 1825; Watercolour; 33.7 x 44; British Library
The smallest of the cluster of Pancha Rathas at Mamallapuram, the Draupadi Ratha is located at the northernmost end of the cluster. It is a square one-storey shrine 3.3 metres long on each side and 5.4 metres tall, with a single cell and a curved roof with decorative motifs on its corners. The structure shares a low plinth or upapitha with the Arjuna Ratha; on one corner of the plinth is a small bell-shaped sculpture. Some scholars believe that there may have been an additional stone structure on top of the curved roof, which possibly fell off or was removed by later rulers.
The entrance to the cell has two niches featuring carved figures of life-size dvarapalakas. The cell itself contains a carved beam on the doorway resembling the woodwork architecture of the Pallava period, as well as a carved four-armed female deity standing on a lotus and surrounded by worshippers. While earlier scholarship identified this deity as Lakshmi, more recent literature argues that it is Durga. This claim is supported by the presence of a sculpture of a lion (Durga's vahana) outside the shrine, and a worshipper on the panel performing self-immolation. The sculptural programme of this shrine is differentiated from others in the complex due to the recurring presence of female figures in niches.
Though the structure is today named after the Pandavas' wife Draupadi from the Mahabharata epic, there is no evidence from its original construction attesting to this.
Bibliography
Our website is currently undergoing maintenance and re-design, due to which we have had to take down some of our bibliographies. While these will be re-published shortly, you can request references for specific articles by writing to hellomapacademy@map-india.org.