ARTICLE
Gomateshvara Statue, Shravanabelagola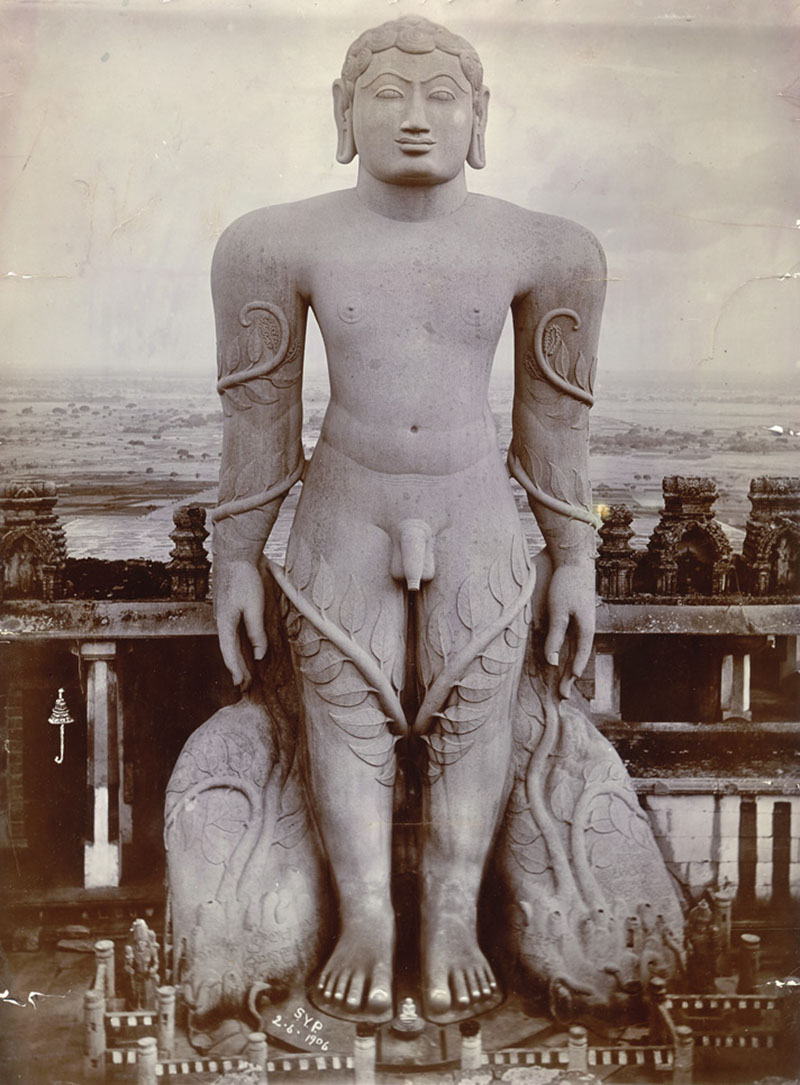 Colossal Jain Statue at Sravana Belgola; S.Y Padmarajiah ; c. 1906; Photographic print; British Library
Completed around the year 983 CE, the Gomateshvara Statue at Shravanabelagola, Karnataka is the tallest free-standing monolithic sculpture in the world. Measuring 17.4 metres in height, it stands atop of a large granite hill, known as Vindhyagiri. The statue was constructed by carving a large granite boulder. The sculpture depicts Gomateshvara Bahubali, a popular figure in Digambara Jainism, standing nude in the kayotsarga position — a meditative posture in which a person stands straight on the ground. It was commissioned by Chamundaraya, a minister and general in the court of Rachamalla IV of the Western Ganga Dynasty.
The colossal statue is depicted with vines growing from the ground entwined along the legs and arms, Gomateshvara's rigorous asceticism. The face is round, with curly hair and sharply enunciated facial features; the eyebrows are arched and the eyes half closed. The shoulders are broad, measuring around 8 metres across. There are folds on the front of the neck; the joints of the elbow, wrist, knee and ankle are rounded, suggesting a fleshy body. The wide chest tapers to a narrow hip, with legs spaced slightly apart and feet firmly planted on the ground.
Jainism was a major religion in the early mediaeval Deccan, with many dynasties including the Gangas patronising temples and monasteries. Jain religious practice in this period also included ritual ablutions: a bronze statue of Bahubali dated to 961–974 CE has been discovered at the Vindhyagiri hill, and was possibly intended for such a purpose. The colossal statue at Vindhyagiri undergoes a mahamastakabhisheka (head anointing) every 12 years, a tradition supposedly begun by Chamundaraya himself. Given the scale of the statue and the public rituals associated with its worship, its construction may have been intended as a declaration of Chamundaraya's power within the Ganga kingdom, which was in decline by the late-tenth century CE.
The Gomateshvara statue at Shravanabelagola continues to be a major site of pilgrimage and tourism as of writing.
Bibliography
Our website is currently undergoing maintenance and re-design, due to which we have had to take down some of our bibliographies. While these will be re-published shortly, you can request references for specific articles by writing to hellomapacademy@map-india.org.