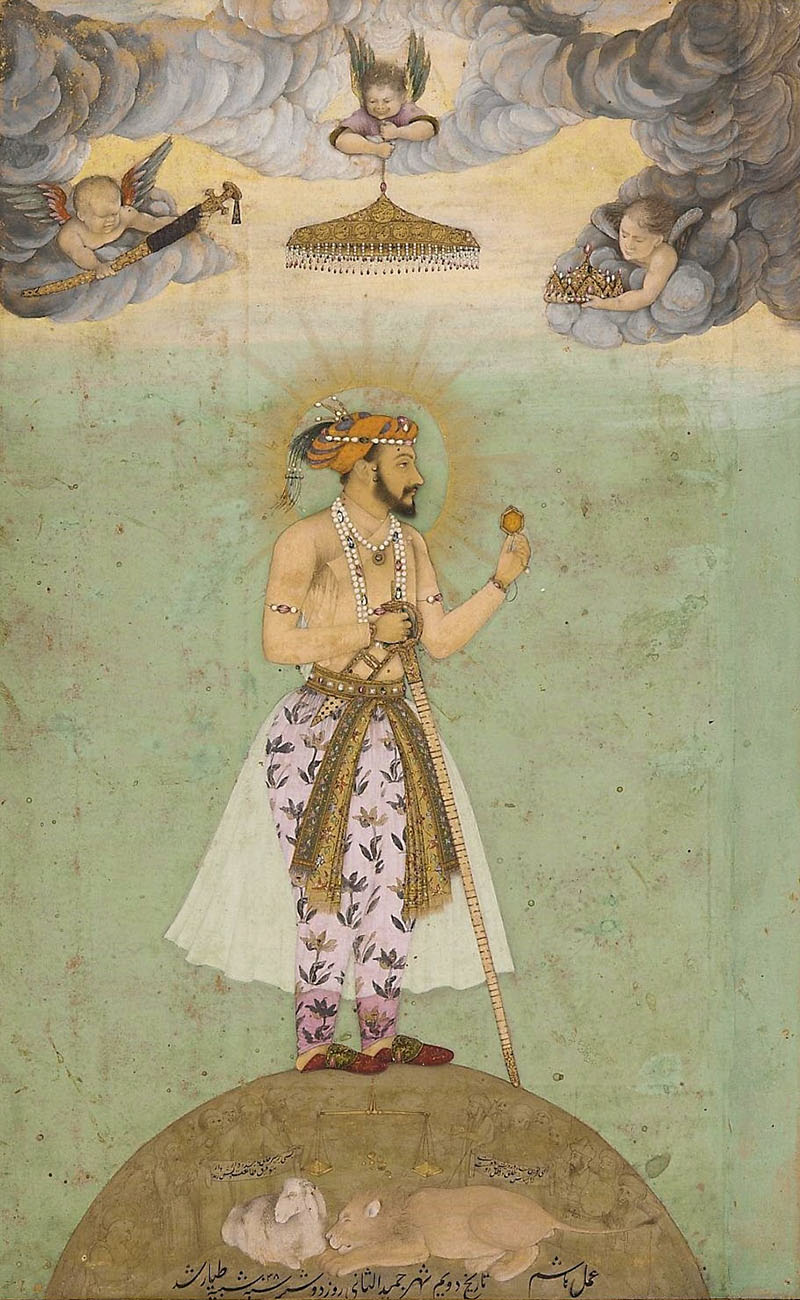 The Emperor Shah Jahan Standing Upon a Globe.; Hashim; c. 1629; Wikimedia Commons
A painter of illustrated manuscripts, Hashim was employed by the Mughal court in the early seventeenth century, between approximately 1598 and 1660. He is noteworthy for his portraits of prominent political figures, including Malik Ambar of Ahmednagar, Ibrahim Adil Shah II of Bijapur and the Mughal emperor Shah Jahan, whom he painted standing on a globe in 1629. He also painted two elaborate portraits of Aurangzeb: the first – which was previously attributed to Bichitr – is from 1659 and shows the newly crowned emperor receiving his sons at his darbar or court; the second, a hunting scene from 1660, shows Aurangzeb shooting a nilgai against a background comprising forests, elephants and a distant town, all rendered in multiple-point perspective.
Hashim's career trajectory is a matter of debate among scholars. Some believe that he was employed at the Deccan sultanate courts (namely Ahmadnagar and Bijapur) until 1620, after which he was hired by the Mughal court under Jahangir and later Shah Jahan. This view is based on his early portraits of high-ranking Deccani subjects, such as those of Malik Ambar and Ibrahim Adil Shah II, which these scholars claim show markedly detailed knowledge of the style and attire of their courts. However, other scholars have stated that, when compared with his later portraits of nobles and members of the Mughal royal family, the paintings of Deccani figures seem only to be early examples of Hashim's exacting attention to his subjects' clothing over their facial features. It is further argued that he likely had access to detailed descriptions and visual references necessary for him to make these portraits, rather than first hand knowledge of the Deccan courts.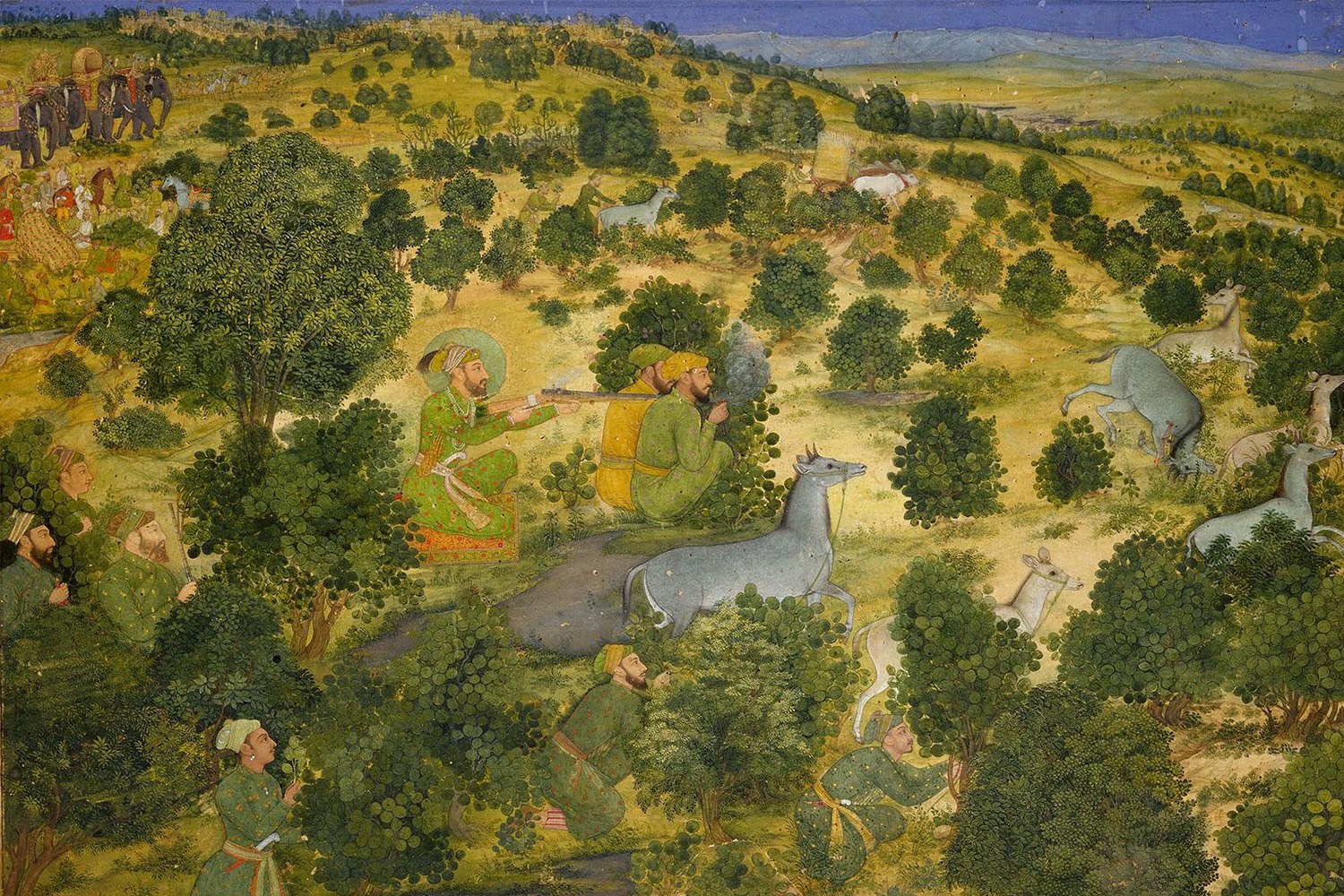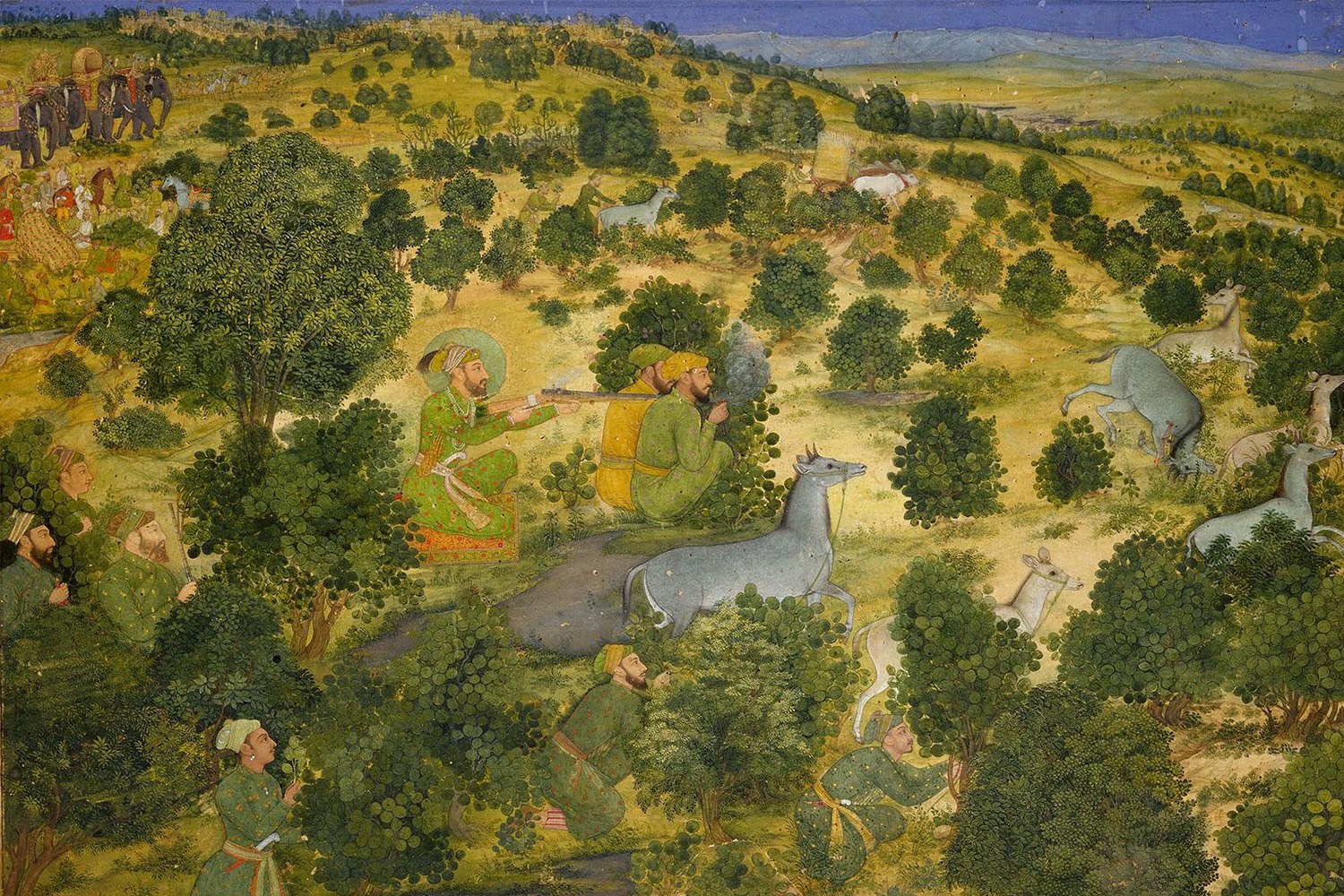 Except for the later scenes of Aurangzeb, the subjects of Hashim's political portraits are usually depicted standing alone, with their faces shown in profile. However, portraits of ordinary or anonymous people, such as a drawing of two musicians made around 1630, are exceptions, showing the faces at natural angles and the figures in varied poses. Known for painting the costumes and accessories of his subjects with great precision and authenticity, Hashim often gave the figures themselves a somewhat stiff appearance. These stylistic traits were preferred for political portraits, both for manuscripts and muraqqa. On the other hand, his preliminary sketches and drawings are more dynamically composed and feature heavy shading, which gives the drawings an intensity that is absent in his finished paintings.
Hashim's portraits have been part of several murraqas, including the Minto Album. The individual paintings are now housed in museum collections around the world, including at the Victoria and Albert Museum, London, UK; the Chester Beatty Library, Dublin, Ireland; and the Metropolitan Museum of Art, New York, USA.
Bibliography
Our website is currently undergoing maintenance and re-design, due to which we have had to take down some of our bibliographies. While these will be re-published shortly, you can request references for specific articles by writing to hellomapacademy@map-india.org.