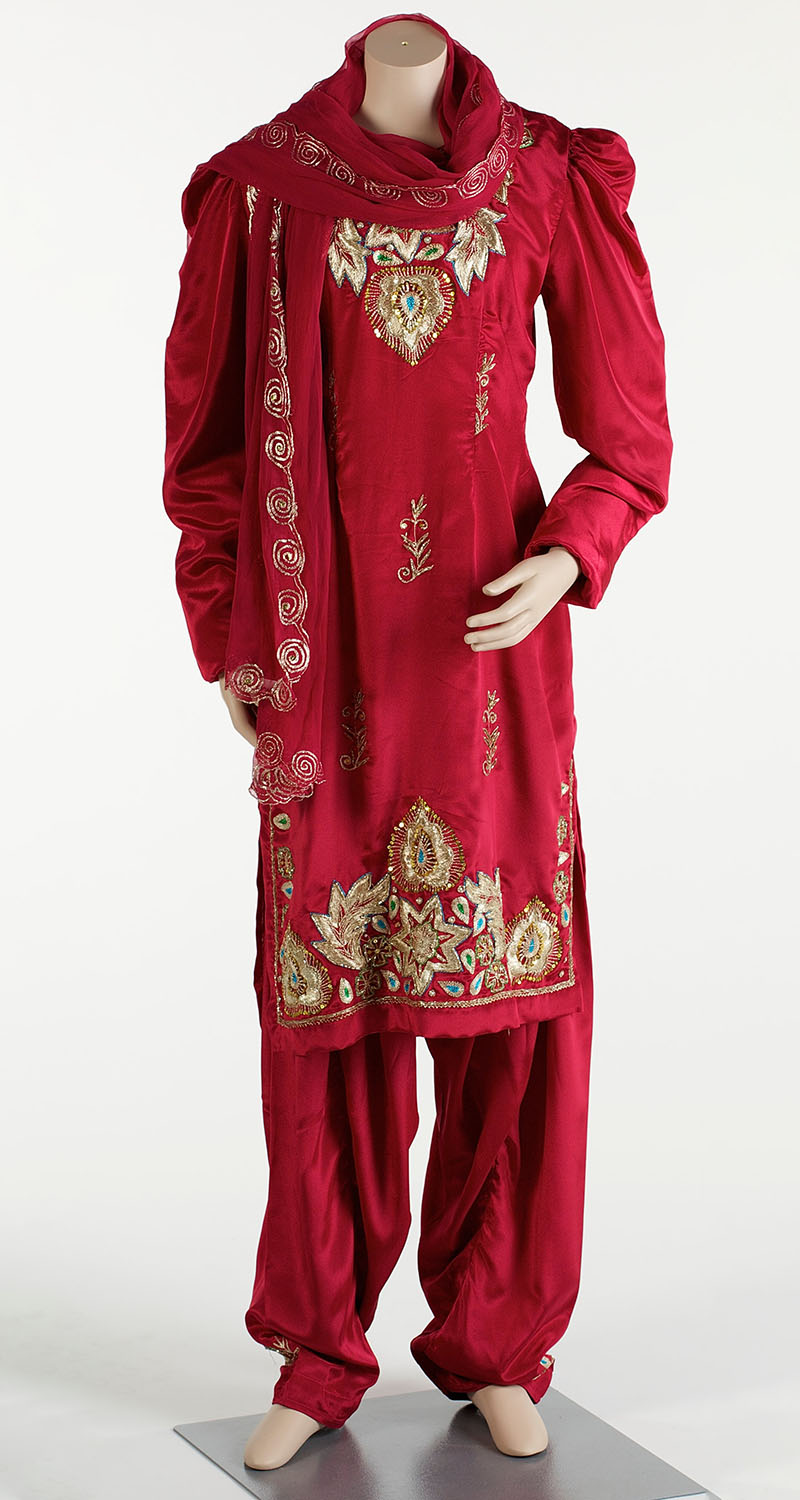 Bright Pink Salwar Kameez and Dupatta; Pakistan; c. 1990–1994; Harris Museum Art Gallery and Library, Google Arts and Culture
One half of the popular pan-Indian attire known as the salwar-kameez, the kameez is a stitched, tunic-like upper garment worn by women and, less prevalently, men. When worn by women, it is often paired with a dupatta. The name kameez derives from the Arabic word qamis (also spelled qameez), meaning "wrap" or "cover." The garment is characterised by its side-slits, also known as the chaak, which extend from the middle of the waist to the bottom hem, offering increased flexibility of movement.
The precursor to the kameez may have been the varbana, a knee-length, stitched upper garment worn in ancient India, which also included side slits and half or full-length sleeves. Other scholars believe the modern day salwar-kameez evolved from the costumes of the Mughal period (1500–1700 CE). A garment closely resembling the kameez was popular during the time, though it did not include the side slits of the modern-day version.
Traditionally, the kameez was a knee-length garment with full length sleeves. Contemporary versions, however, tend to vary in their length and sleeve-length. Other upper garments that closely resemble the kameez and can be worn with a salwar include the kurta and the pheran.
Bibliography
BSS Fabrics. "Origin and History of Shalwar Kameez." Accessed 10 September, 2021. https://bssfabrics.com/origin-and-history-of-shalwar-kameez/
My India My Glory. "Historical Analysis of Indian Salwar Kurta." Accessed 10 September, 2021. https://www.myindiamyglory.com/2020/04/02/historical-analysis-of-traditional-indian-salwar-kurta-ancient-to-present/
Kumar, Monisha and Amita Walia. "ELUCIDATION OF THE INDIAN SALWAR KAMEEZ." International E-Journal of Advances in Social Sciences 2, no. 6 (December 2016): 753–61. http://ijasos.ocerintjournals.org/en/download/article-file/268503.