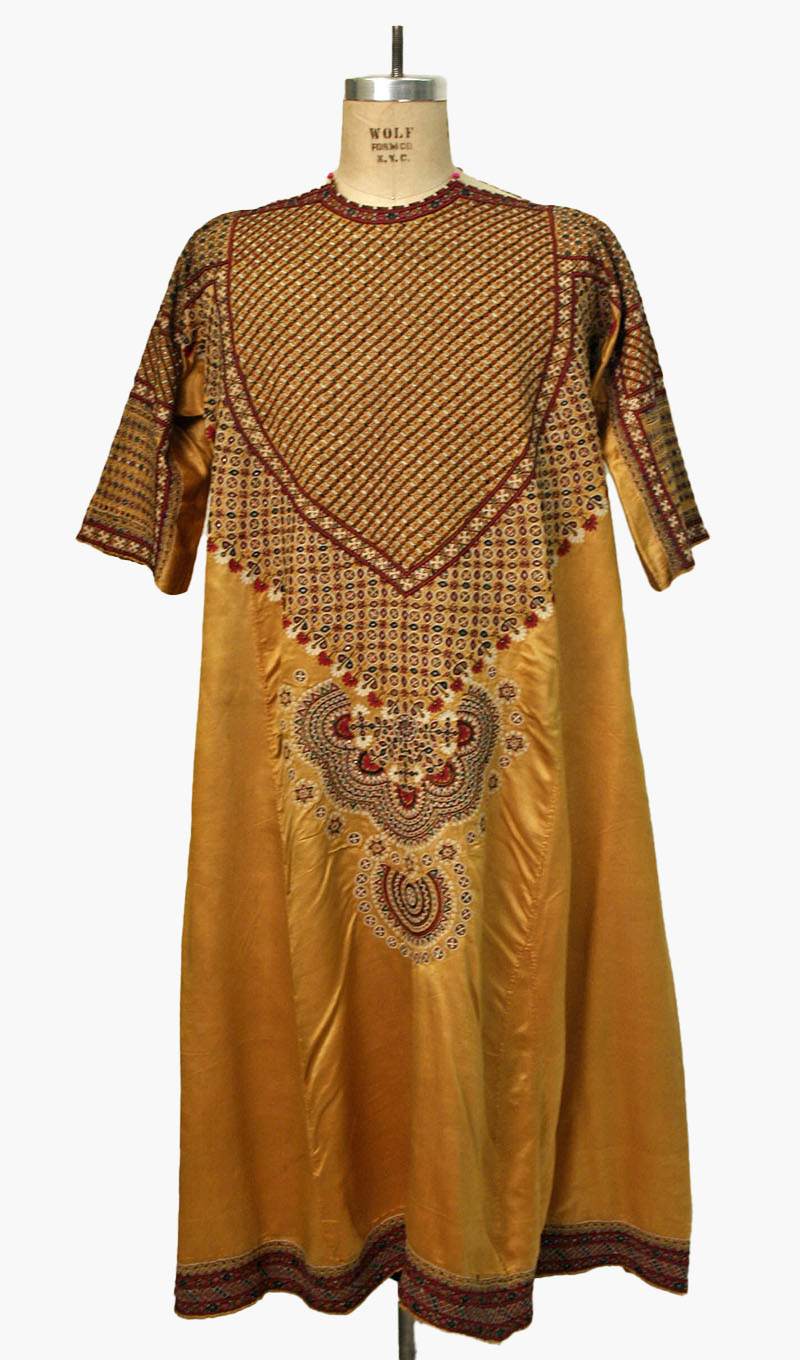 Kurta; India; c. 19th century; Embroidered silk; The Metropolitan Museum of Art
Worn by both men and women, the kurta was initially a collarless, fitted shirt or tunic of varying lengths that was worn below other upper garments.
By the eighteenth century, it evolved into a garment to be worn on its own, featuring a slit at the middle or the sides of the neckline, which was fastened with the use of buttons or strings. This iteration was tighter on the upper half of the body and flared as it fell below the waist, ending slightly above the knees of the wearer. The flared effect was achieved through the insertion of gored pieces, as well as by having six to twelve side-slits at the hem, which also granted ease of movement. The kurta was usually made of cotton or silk, except in the court of Oudh, where it was made from finer fabrics and embellished with intricate embroidery such as chikan.
Scholars believe the kurta is likely to have been inspired by the kurtak or kurtaka, a type of tunic traditionally worn in Central Asia that may have made its way to India through the Mughals. Another possible precursor of the kurta is the nima, nimcha or nimtanah, a shorter tunic made of fine material, which is also believed to have been a type of undershirt.
Variations of the kurta include the kurti, which is significantly shorter in length than the kurta, often ending right below the waist, and has shorter side-slits. The kurti is mostly worn by women and is usually paired with a paijama or suthan. There are also several regional variants of the kurta, including the Kashmiri phiran, the kalidar kurta and the abho – a long loose paneled tunic worn by women of the Memon Jat community in parts of Gujarat and Rajasthan.
Today, the kurta is popular among men and women, and is typically paired with a paijama, a chudidaar, a suthan or even jeans. It is available in a variety of fabrics and lengths, with different kinds of necklines and sleeve-lengths.
Bibliography
Our website is currently undergoing maintenance and re-design, due to which we have had to take down some of our bibliographies. While these will be re-published shortly, you can request references for specific articles by writing to hellomapacademy@map-india.org.