Woven in Kerman, Southeast Persia (now Iran), Kerman carpets were introduced to India through trade routes with Iran and were widely used during the Mughal era. The most popular varieties of the carpets include those woven by the Afshar community settled in Sirjand, Shahr Babak and Rafsanjan, as well as the Laver-Kerman carpets from Ravar.
Kerman carpets are divided into three categories based on their density — 70/35, 80/40 and 100/50 — where the first number refers to the number of warp strings across the width of the fabric and the second number indicates the number of weft sets in the length, measured per gireh (1 gireh = 7 cm or 24 inches). The rugs are knotted and made of sheep wool, with the occasional use of cotton and animal fibre. The weft is closely woven to the warp using several loops of wool to create a piled rug. Generally, the piles are woollen, with a cotton base, and handspun wool is preferred to obtain the desired texture. The patterns are symmetrical with a double weft, though some may have a single weft and a knot. Traditionally, natural dyes were used to create colour patterns, with light pastel tones for the base colour and cochineal-based, plum red for the designs.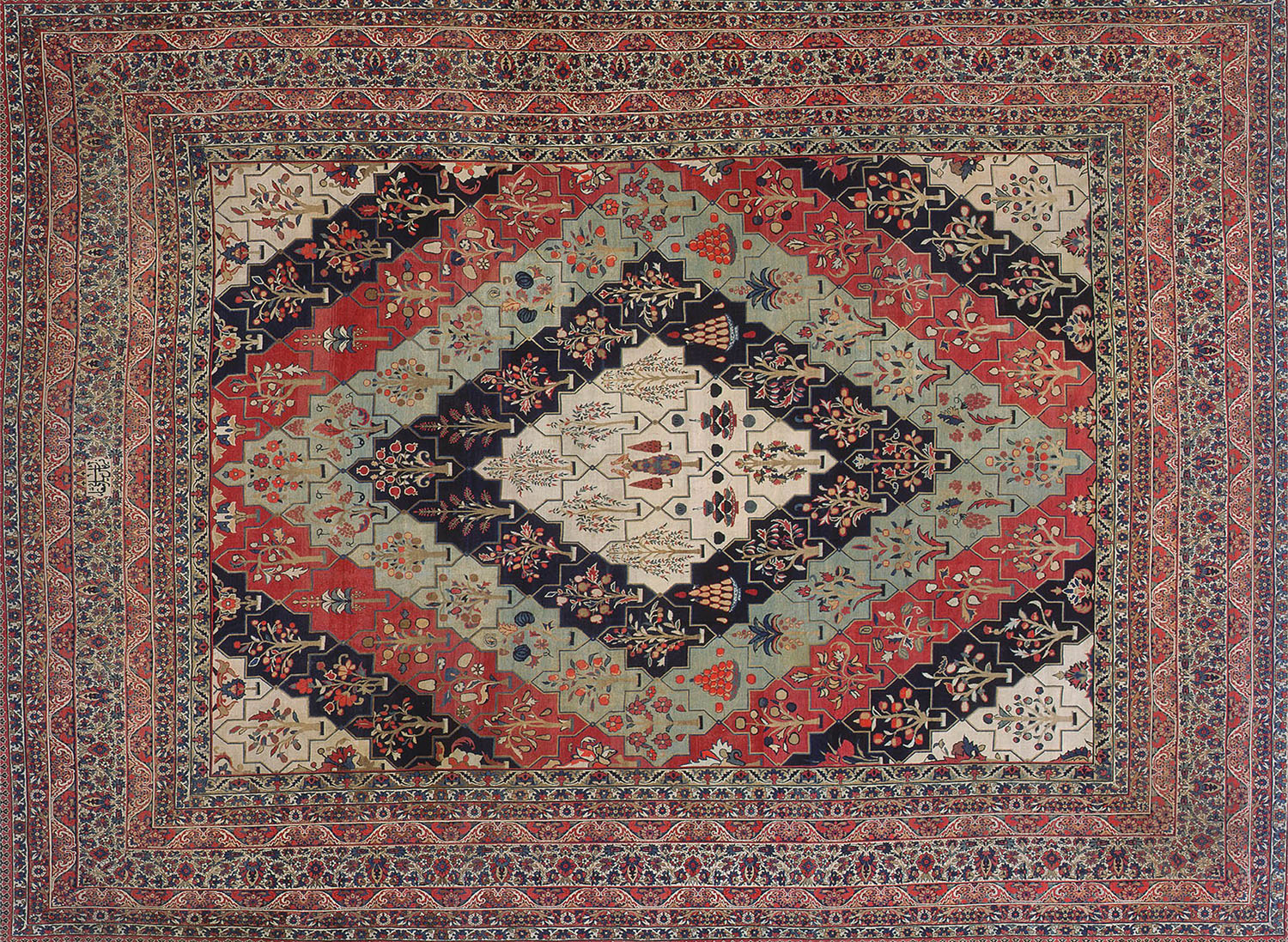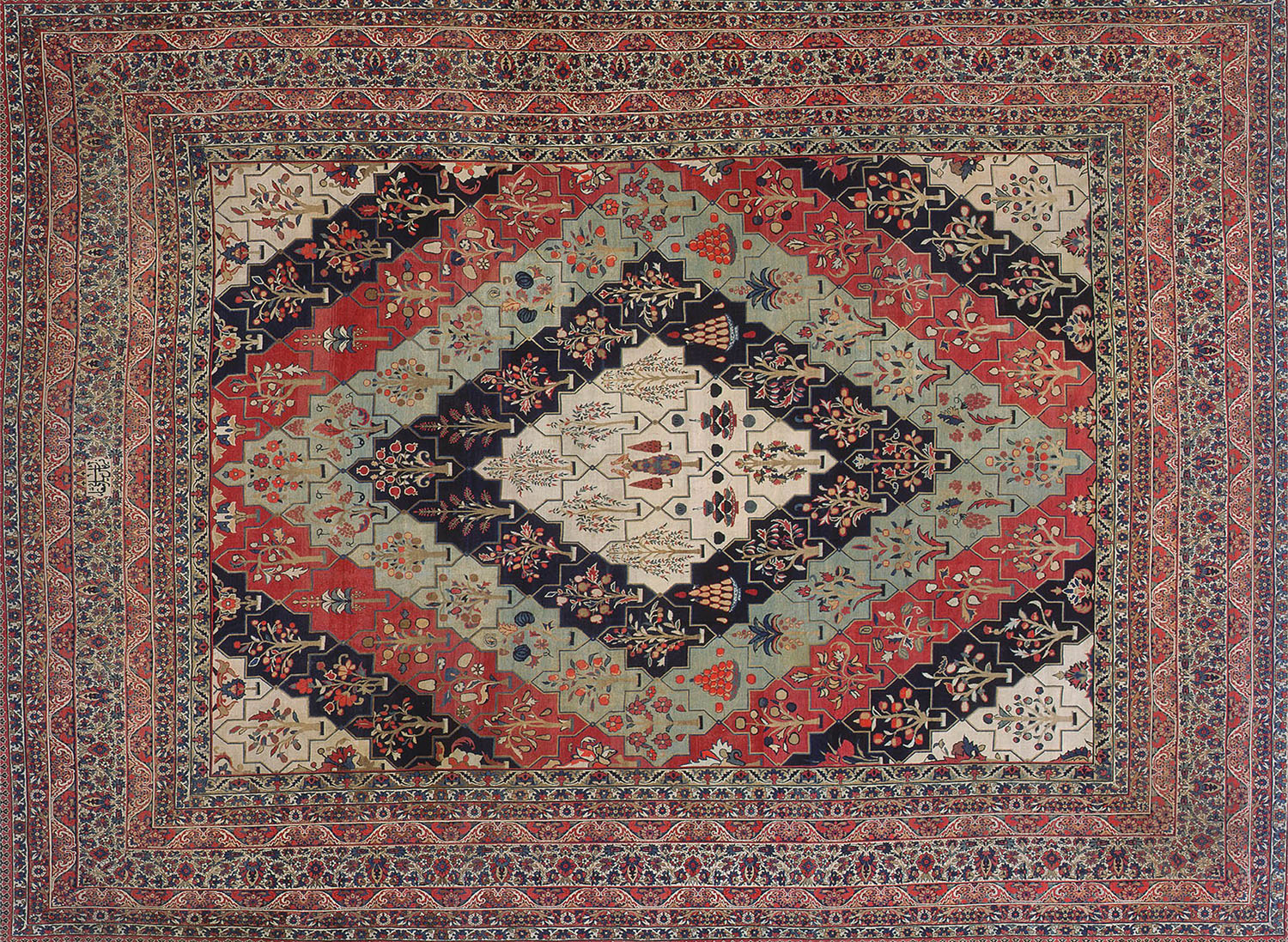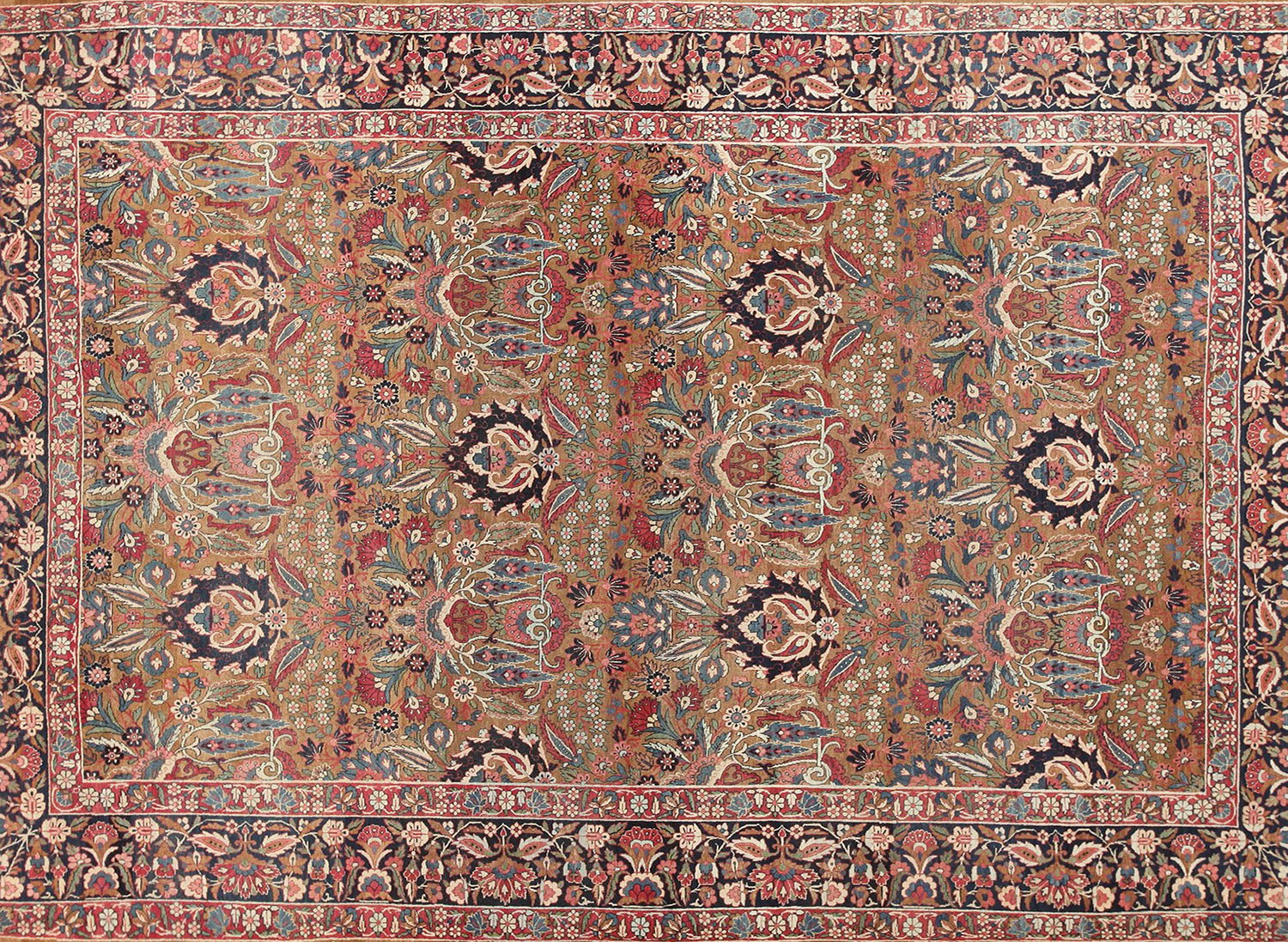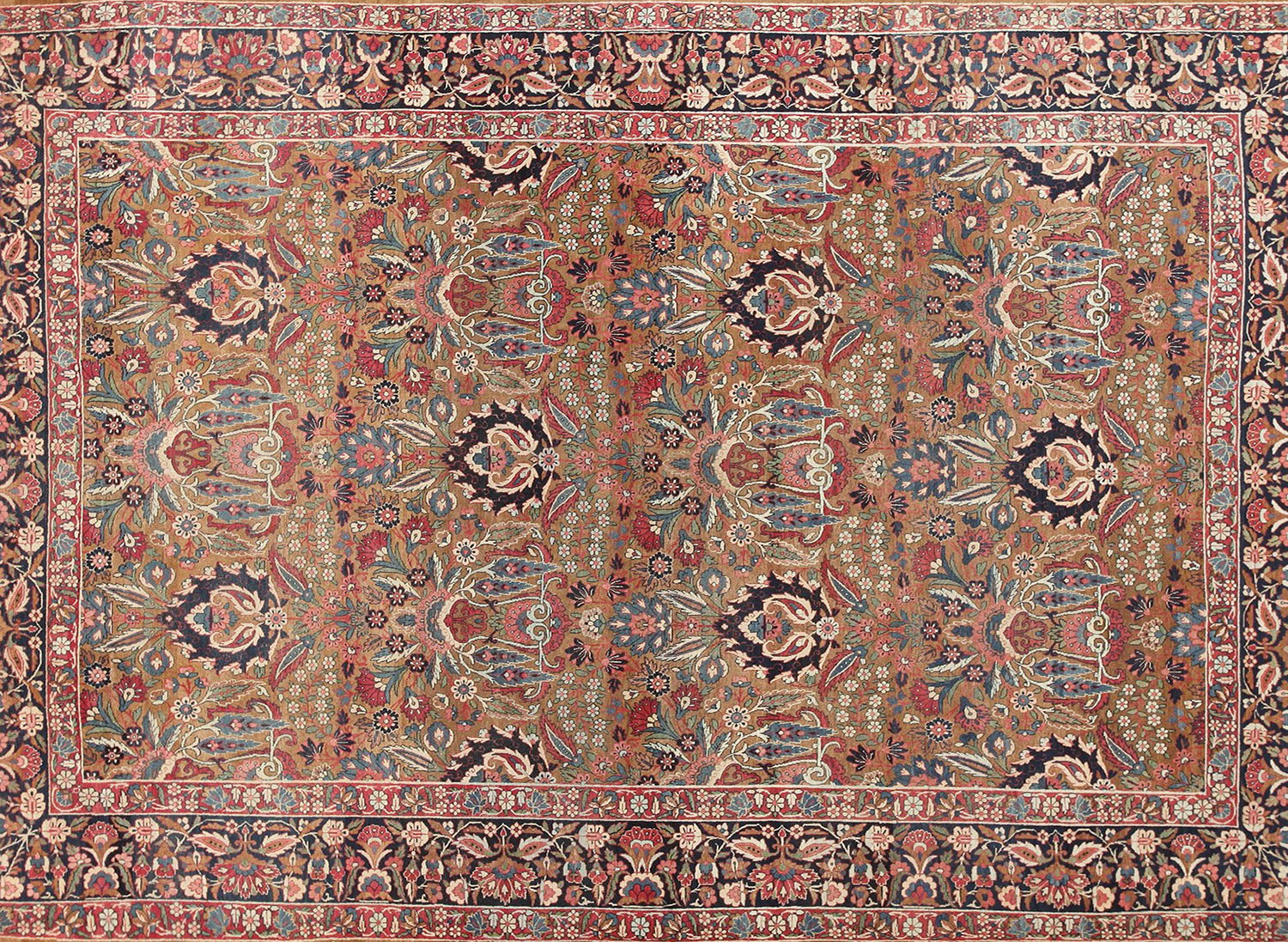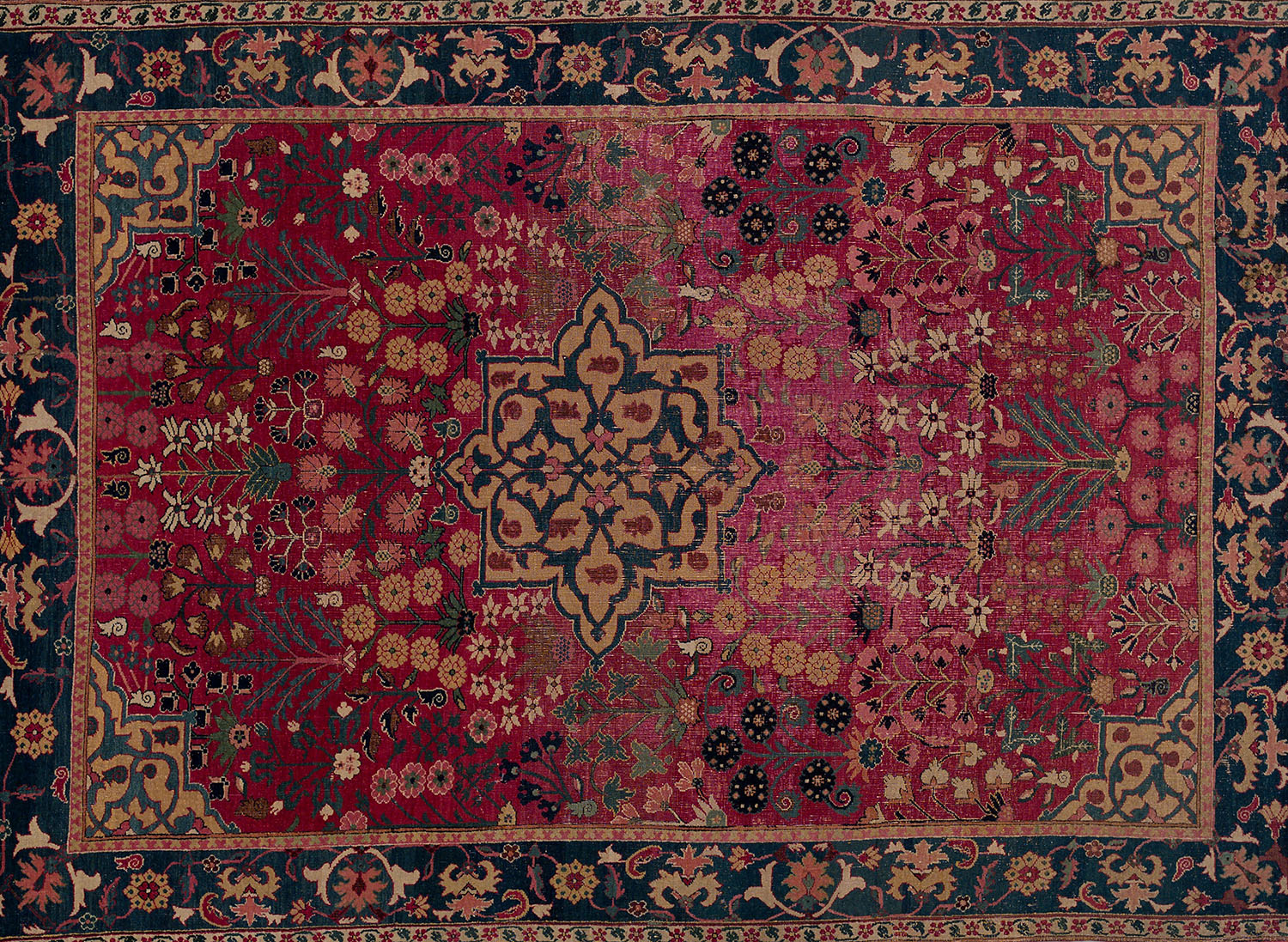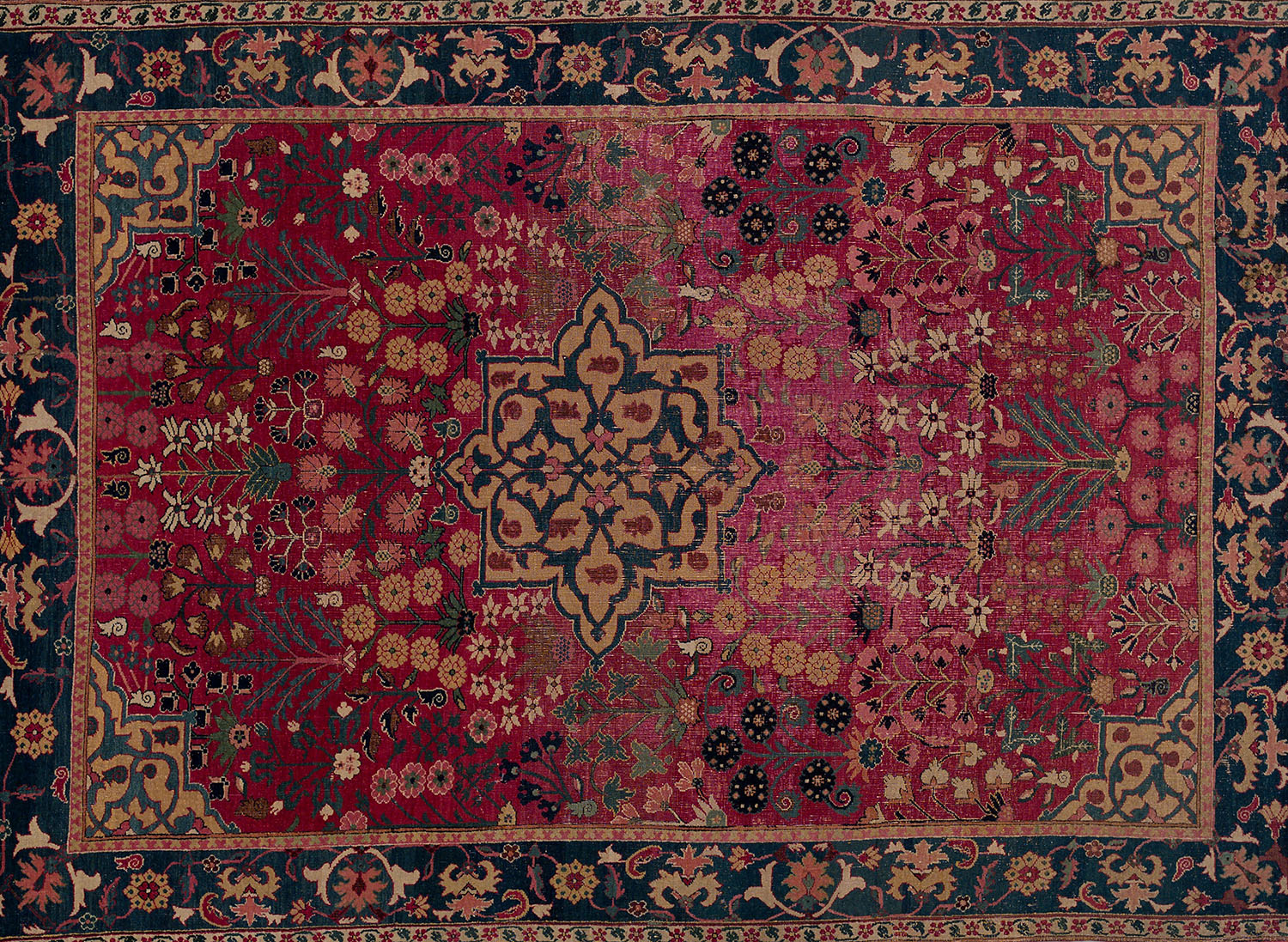 The arrangement of the knots, warp and weft of the carpet can be used to determine the origins of the carpet. The weavers use a naksha to render the designs on the carpet. The design consists of geometric and floral motifs, including individual boteh, interlinked boteh and vases in the borders and background patterns. Whereas there are design variations depending on the village and region where the carpet is produced, all Kerman carpets feature floral motifs, such as the carpets produced by the Kijar Afshars, which are densely floral and feature medallions. While the vase carpets have been attributed to different places, the broadly held view is that they originated from Kerman. Another common motif is the palmette, lancet-leaf and the hooked diamond subsidiary motif, which reflect a Turkish lineage. The 1950s saw a French influence on Kerman designs, such as the incorporation of rococo on the scrolling leaves and flowers on the carpet.
Kerman carpets were widely exported till the First World War, even incorporating Biblical themes in their designs. However, the rapid industrialisation of the industry in the twentieth century due to increased demand in Europe led to a decline in the quality of the product. Today, many of the traditional carpets are regularly auctioned. Examples of Kerman carpets are also held in the collections of the Victoria and Albert Museum, London; the Albert Hall Museum, Jaipur; and the Textile Museum, Washington DC.
Bibliography
Our website is currently undergoing maintenance and re-design, due to which we have had to take down some of our bibliographies. While these will be re-published shortly, you can request references for specific articles by writing to hellomapacademy@map-india.org.