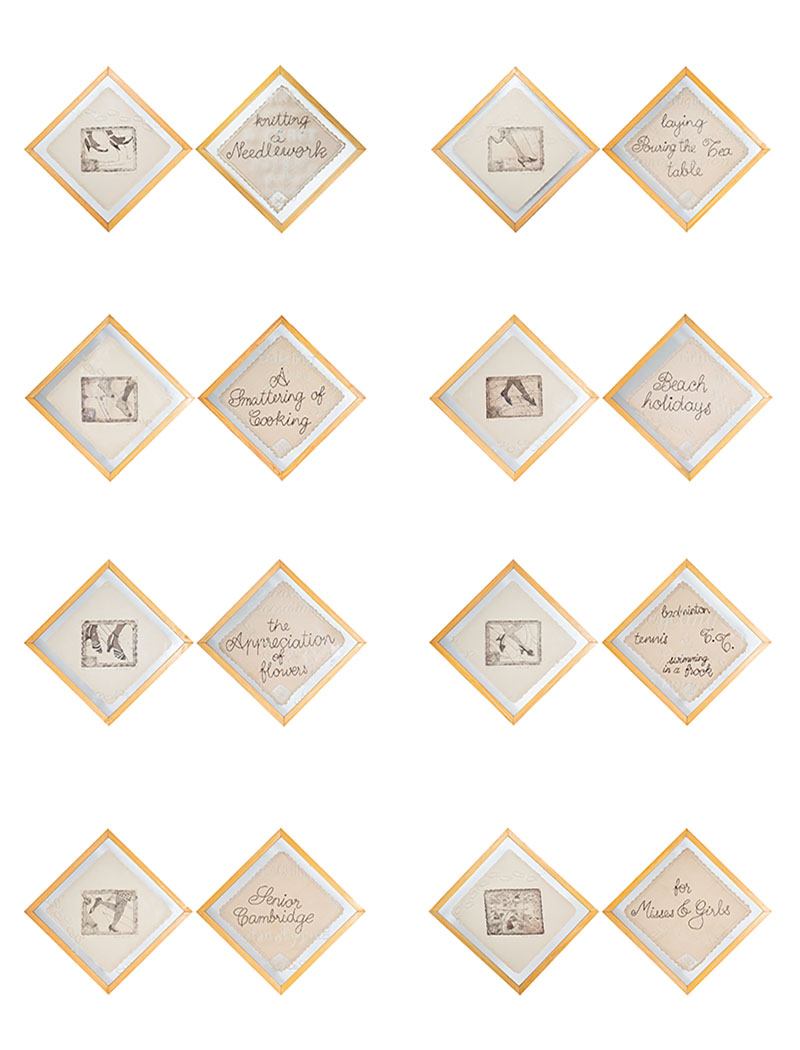 For Misses and Girls.; Paula Sengupta; c. 2006; Embroidery on found linen, etching on paper and glass; 41.5 x 41.5 cm; Museum of Art & Photography (MAP), Bengaluru
A writer, academic and artist, Paula Sengupta works primarily in printmaking alongside other media such as installation, sculpture and painting. Her work is concerned with issues of gender and cultural ancestry, and her research interests as a writer are heavily influenced by her art practice.
Born in London, UK, Sengupta received her BFA in painting from the College of Art, New Delhi in 1989, and an MFA in Printmaking from Kala Bhavan, Visva Bharati University, Shantiniketan in 1992, where she studied under artist Sanat Kar. She subsequently completed her PhD on the history of Indian printmaking from the same institution. From 1999 to 2003, she was also a guest lecturer at the National Institute of Fashion Technology, Kolkata, and in 2000, she spent time at the Staatliche Akademie der Bildenden Künste, Stuttgart, Germany as a resident artist.
During her doctorate, as well as the rest of her career, Sengupta has worked as an artist and writer simultaneously, with much of her written work involving a detailed exploration of the history of printmaking. Her thesis became the base for her well-known book The Printed Picture: Four Centuries of Indian Printmaking, which was published by the Delhi Art Gallery (DAG) in 2012. She later published Foreign and Indigenous Influences in Indian Printmaking with Lambert Academic Publishing in 2013, and Haren Das: To Tread Alone with DAG in 2014. Her art practice, while using forms of printmaking such as woodblock and broadsheets, also involves a variety of textiles and techniques that are central to the history of South Asian and Bengali craft, such as chintz, muslin and nakshi kantha embroidery. Her work also reflects on regional and personal histories, particularly those of women and Bengali families affected by the Partition, as seen in No.8, Shorts Bazaar/#8 Short Street (2006), an installation on the seven generations of women who had lived in her mother-in-law's ancestral home.
Sengupta has participated in a number of solo and group exhibitions over the years, notably Real & Constructed Memories (2004) at Right Lines Gallery, Bengaluru; No.8 Shorts Bazaar/#8 Short Street (2006 and 2007) at Project 88, Mumbai and Akar Prakar, Kolkata; Rivers of Blood (2010) at Chemould Prescott Road; Connecting Threads – Textiles in Contemporary Practice (2018-2019) at Bhau Daji Lad Museum; and, most recently, an online fundraiser exhibition Mask d'Art organised by Art for Concern. Her curatorial projects include Rooted (2014), which she co-curated with Kristine Michael at Gallery Espace, New Delhi, and the soul (un)gendered (2019), a retrospective on Anupam Sud at DAG, New York. She won the Charles Wallace India Trust Research Grant in 2007 and has participated in artist residencies at the Kala Art Institute, Berkeley USA (1997–1998) and Britto Arts Trust, Dhaka (2008).
At the time of writing, Sengupta lives and works in Kolkata, where she is an assistant professor at the Faculty of Visual Arts, Rabindra Bharati University and secretary of KHOJ International Artists' Association, Kolkata.
Bibliography
Our website is currently undergoing maintenance and re-design, due to which we have had to take down some of our bibliographies. While these will be re-published shortly, you can request references for specific articles by writing to hellomapacademy@map-india.org.